Read This Before You See Metal Lords
This content was paid for by Netflix and created by Looper.
Get ready to rock your socks off when "Metal Lords" arrives on Netflix on Friday, April 8. The film centers on a pair of heavy metal-loving misfit teens who decide to put their talents to the test by entering the Battle of the Bands. Their only problem is, well, they need a third person to actually form a band, and they can't quite agree on who that should be. While they technically need a bassist, the next best thing might be the girl who plays the cello. If they can all somehow work together, they can finally achieve the glory and power that they've been looking for.
"Metal Lords" comes from the creative minds behind some of your favorite shows and movies, including "Game of Thrones" and "Harold & Kumar Go to White Castle," and it features some impressive young stars leaning into the rhythm of the story. So before the film arrives, here's a look at everything you should know about "Metal Lords."
Metal Lords will introduce some fresh faces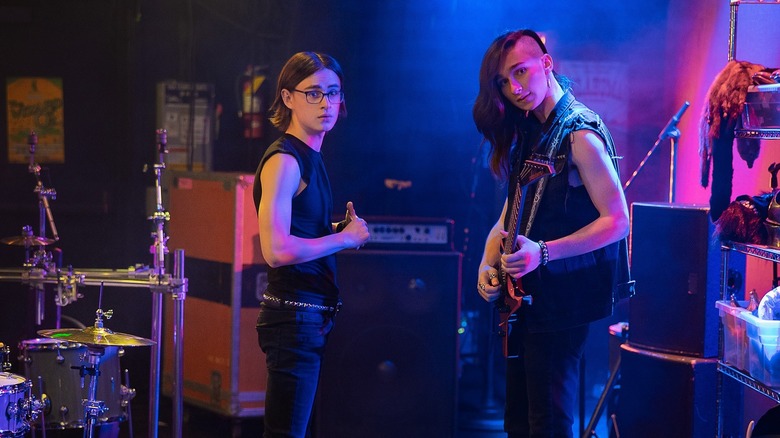 Scott Patrick Green/Netflix
At the center of the eardrum-bursting action in "Metal Lords" is a trio of young actors who know how to rock. Jaeden Martell leads the cast of the film as Kevin Schlieb, a drummer who's already part of the Glenwood Lake High School marching band but has dreams of winning the Battle of the Bands. Fans may recognize Martell for several of his recent screen roles, including the recent adaptation of Stephen King's "It," along with films like "Midnight Special," "Knives Out," and shows like "Defending Jacob," to name a few.
Kevin's best friend in the film is Hunter Sylvester, a kid who's all-in on the metal life — including sporting some Kiss-inspired costuming — but has some serious reservations about their potential third member. The character is portrayed by debut actor Adrian Greensmith, who studied at the Royal Central School of Speech and Drama in London.
Meanwhile, actress Isis Hainsworth portrays Emily Spector, the unlikely third member of the metal band newly formed by Kevin and Hunter. Like Kevin, Emily is a member of the marching band, but judging by her angry outbursts, it's not a satisfying endeavor for her. Her cello skills may just be the ticket to bringing his band into the big time at last. Audiences may recognize Hainsworth for her small screen roles in series like "Harlots" or films like "Emma" and "Misbehaviour."
Also starring in the film are "Stranger Things" standout Brett Gelman and "Magic Mike" favorite Joe Manganiello, who actually has a very hardcore connection to the film's creators.
There's a dynamic duo behind the scenes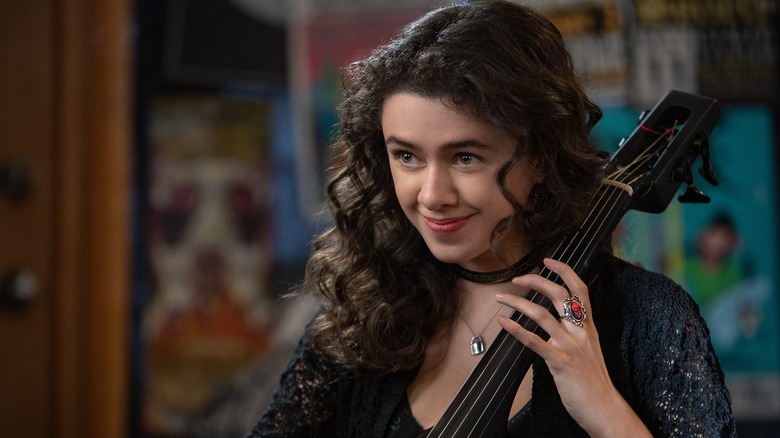 Scott Patrick Green/Netflix
"Metal Lords" is written and executive produced by D.B. Weiss, who audiences may recognize for his work on the epic television adaptation series "Game of Thrones." Weiss produces alongside his "Game of Thrones" partner David Benioff, and this is the first film in a series of productions the pair are slated to produce as part of an overall deal with Netflix. (They're also expected to adapt stories like "The Three-Body Problem" and "The Overstory," and they previously served as executive producers on the hit 2021 dramedy series "The Chair.") As anyone who paid attention to the multitude of musician cameos in "Game of Thrones" already knows, these two have a real love of metal music. 
Plus, the film is directed by an auteur who certainly has some experience dealing with musical movies. Peter Sollett — who previously helmed the instant cult classic film "Nick and Norah's Infinite Playlist" — directs "Metal Lords" from Weiss' script. And the pic is also produced by Bernadette Caulfield (who previously worked with Weiss and Benioff on "Game of Thrones" and "The Chair"), Robin Mulcahy Fisichella (producer of pics like "Jurassic World: Fallen Kingdom"), James Moran ("Ouija," "The Forever Purge"), and Greg Shapiro ("The Hurt Locker," "Harold & Kumar"). 
Meanwhile, overseeing the movie's music is a living legend — Tom Morello. Morello is, of course, the acclaimed guitarist for some truly influential rock bands, including Rage Against the Machine, Audioslave, and Prophets of Rage, and here, he serves as the film's executive music producer.
Interestingly, Morello has a very fun real-life connection with Weiss, Benioff, and Joe Manganiello. Morello is a part of Manganiello's "Dungeons & Dragons" player group, and after the "Game of Thrones" pair expressed an interest in joining, he brought them into the exclusive circle of "D&D" faithful. Sounds like all of those nights spent diving into fantastic scenarios paid off for these creative giants, and fans will be in for a real headbanger when "Metal Lords" arrives on Netflix on April 8.