Why Squid Game Fans Will Love Choose Or Die
This content was paid for by Netflix and created by Looper.
Desperate times call for desperate measures, and there are some who will gladly take advantage of the people willing to risk it all in their most vulnerable hour. Fans of the mega hit series "Squid Game" certainly know that to be true. The show features hundreds of down-on-their-luck individuals trying to survive a series of deadly games in hopes of winning a life-changing prize. Even after the contestants realize how vicious the challenges will be and have an opportunity to leave, many of them still return to the playing field to put their lives on the line for a big score.
What happens from there is a captivating and grisly series of events that keeps audiences on the edge of their seats until the very end. The show is exciting not just for its macabre reinventions of childhood pastimes but also for the emotional arcs of the characters, who will do anything for a chance to win. It nimbly blends horror, drama, and even some moments of humor throughout the action. And as satisfying as the show is, we can't help but want to see more after the final credits roll.
Luckily, there are already several other shows and movies that "Squid Game" fans may enjoy in the Netflix library right now, but there's something truly special arriving to the streaming service on Friday, April 15. The upcoming original horror film "Choose or Die" is a picture-perfect pick for "Squid Game" fans because it centers on a game with big prizes ... that goes very, very wrong. But it also reveals some deeper truths as the intensity ratchets up. Here's a look at why "Squid Game" fans will love "Choose or Die."
The classic setup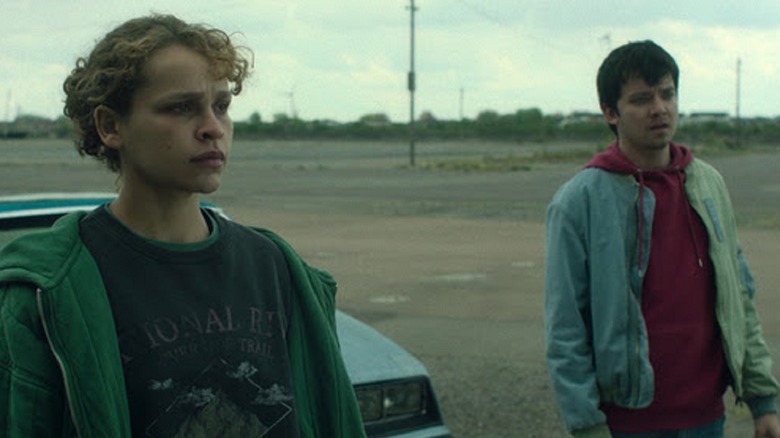 Netflix
When "Choose or Die" became a hot commodity at the 2021 Cannes Film Festival market, the pic was still tentatively titled "CURS>R" as a nod to the unusual game at the center of the story. As with the series of childhood favorites turned twisted traps in "Squid Game," there's something truly disarming about the apparent innocence and familiarity of the "CURS>R" game upon first blush.
After all, it initially appears to be just a harmless retro game in a simple box that brings up some old-school computer graphics and text for a keyboard input adventure. However, it doesn't take long for the grave reality of the situation to become abundantly clear to the poor souls trying for the game's grand prize of $125,000.
Just as the players in "Squid Game" are stunned to experience the deadly consequences of the first round of competition — a horrifying twist on the classic "Red Light, Green Light" — our heroes in "Choose or Die" soon discover that there are untold terrors ahead for them as they're fully immersed into the game's settings and forced to decide between one atrocity or another in order to win. At a certain point, it becomes completely clear that the stakes of success are about so much more than a heap of cash; it's also become a game of survival.
The sympathetic players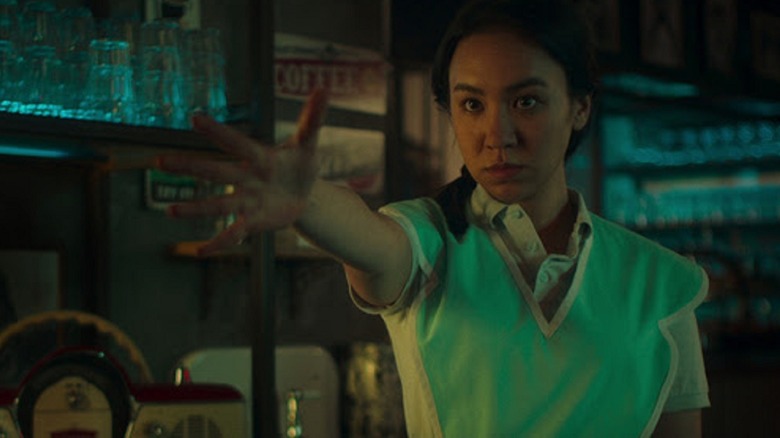 Netflix
Another similarity between "Choose or Die" and "Squid Game" can be found in the sympathetic nature of the players. Just as we can't help but fall in love with Gi-hun (Lee Jung-jae) and the many other characters who have simply nothing left to lose in the violent Korean series, the protagonist in "Choose or Die" has a similarly compelling backstory.
Kayla (portrayed by actress Iola Evans) is in clearly dire financial straits, as she loses her job and faces eviction from her already humble home. When her friend, Isaac (Asa Butterfield), finds a vintage game that could provide her access to some much-needed prize money, she sees it as a chance to finally dig herself out of poverty once and for all.
Of course, nothing good ever comes easily, and as soon as Kayla is connected to the game, her entire reality becomes immediately warped, and she's forced to make a series of terrifying decisions ... or die herself. The first trailer for the film offers a small taste of the nightmarish situations Kayla will face as she attempts to make it to the end. And on top of these choices being gruesome and completely chilling, they're also quite tricky, challenging her to think outside of the box.
The cool cast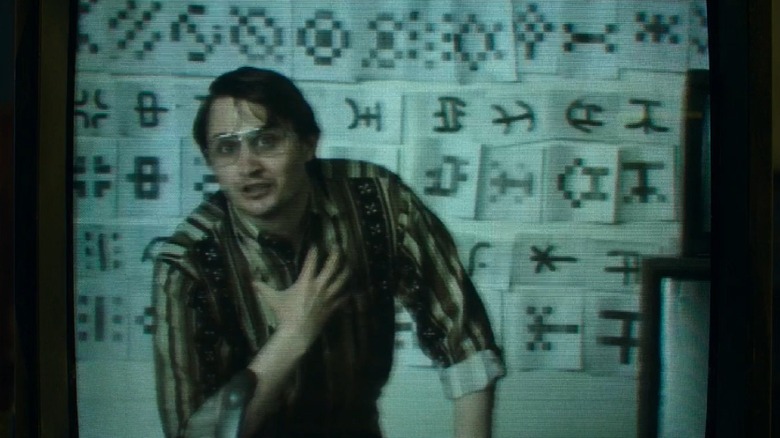 Netflix
Another aspect of "Squid Game" that really lands with audiences is its impressive ensemble of stars. The cast of "Choose or Die" is similarly strong. Iola Evans, who portrays Kayla, is a take-notice screen presence and someone you might already know for her work in "The 100." Meanwhile, Asa Butterfield — who plays her friend and fellow game participant, Isaac — is one of the most celebrated actors of his generation, known for his work in films like "Hugo" and "Ender's Game" and his celebrated turn as Otis Milburn in the hit series "Sex Education."
The cast also includes horror legend Robert Englund, who audiences will soon see in "Stranger Things" Season 4 and will undoubtedly already know for his iconic role as Freddy Krueger throughout the "Nightmare on Elm Street" movies. And as if that weren't enough, the pic also features veteran screen stars Eddie Marsan, Kate Fleetwood, Ryan Gage, and Angela Griffin, among others. "Choose or Die" is co-written and directed by debut auteur Toby Meakins, and it promises to be a completely immersive and terrifying experience for survival game story fans across the globe.