The Meghan Markle Character You Likely Forgot About On Castle
Chris Jackson/Getty Images
Before marrying Prince Harry and becoming the Duchess of Sussex, Meghan Markle was a successful actress in Hollywood. According to a 2017 interview with Vanity Fair, Markle didn't officially decide to pursue acting as a career until after she graduated from Northwestern University with a double major in theater and international relations. However, the Los Angeles-born actress's ties to Hollywood actually run quite deep.
In fact, Markle's dad, Thomas, who made headlines in 2018 for not attending his daughter's royal wedding (via TIME), previously worked on the set of a number of notable television series. According to his IMDb page, Thomas Markle is credited with cinematography and camera work in many episodes of "Married... with Children" and "General Hospital." Notably, the two series actually served as the Duchess of Sussex's first on-screen roles in 1995 and 2002 (via IMDb). 
Needless to say, by the time Markle decided on a career in acting, television sets were a familiar environment for her. During her 2017 interview with Vanity Fair, Markle said, "Every day after school for 10 years, I was on the set of 'Married... with Children,' which was a really funny and perverse place for a little girl in a Catholic-school uniform to grow up."
After graduating from college, she spent the next decade guest-starring in various television series and films before she was hired to play Rachel Zane in "Suits." Nowadays, few people remember that, before "Suits" became successful, she played a very unlikely role in the crime-comedy "Castle."
Meghan Markle played a killer on Castle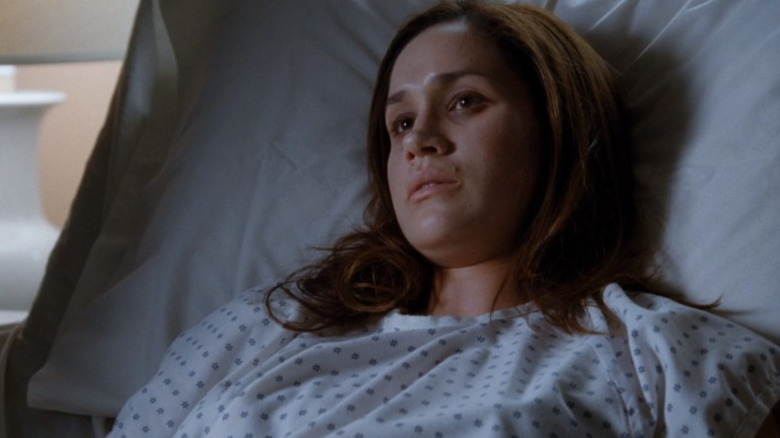 ABC
In 2012, Meghan Markle played Charlotte Boyd in "Castle" Season 4, Episode 17 ("Once Upon a Crime"). In the episode, two women are found dead, and both are dressed as fairy tale characters — Little Red Riding Hood and Snow White. However, besides the similarly themed costumes, Castle (Nathan Fillion) and Beckett (Stana Katic) struggle to find a connection between the two until they trace the origins of the costumes. In a moment of panic, the team realizes that a Sleeping Beauty outfit was also purchased, meaning another victim could be around the corner.
When Charlotte Boyd turns out to be Sleeping Beauty, the team think they're saving the third victim, but things quickly take a complicated turn. They realize Darren Thomas (Taylor Kinney), the man who blackmailed the women because he thought they killed his brother, isn't actually the killer they're looking for — Charlotte Boyd (aka Sleeping Beauty) is. While all three women agreed to pay the blackmailer money, it was actually Boyd who was responsible for the death of Thomas' brother. After the three women pay, Boyd realizes that the other two could turn her in, so she decides to murder them and pin it on the blackmailer.
Of course, this guest-star role was one of a handful of brief jobs the actress took before starring in "Suits." She also appeared in everything from "Fringe" and "Knight Rider" to "90210" and "Horrible Bosses."