The Castle Couple Who Couldn't Stand Each Other In Real Life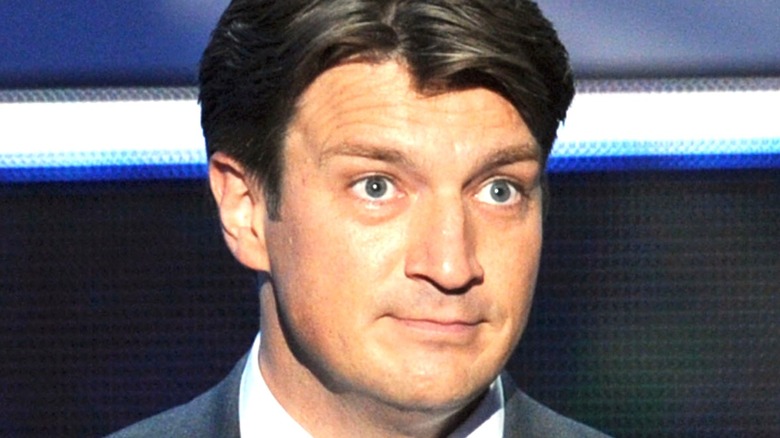 The history of TV and movies is filled with actors who played best friends or spouses on the screen but could not stand each other in real life. But some onscreen duos are so believable and convincing on screen that it can be hard, if not downright impossible, for fans to accept that they're not actually the best of friends when the cameras stop rolling.
This particular situation certainly applies to Nathan Fillion and Stana Katic, who stuck it out across eight whole seasons of the popular ABC crime procedural "Castle." In the series, Fillion plays Castle, a mystery writer who gains access to the NYPD and joins investigations for his work. Eventually, he teams with detective Kate Beckett (Katic). As "Castle" progressed, so did Castle and Beckett's relationship, with the pair going from partners in the field to partners in life.
While the two had terrific chemistry on screen during the original run of "Castle," we now know that Fillion and Katic were not at all friendly when they weren't working on the ABC hit. Things were reportedly so tense between them that it may have even contributed to both Katic's shocking departure from the show, which was announced by Deadline just one month before the show's cancellation in 2016 (via Variety).
There were cold shoulders on the set of Castle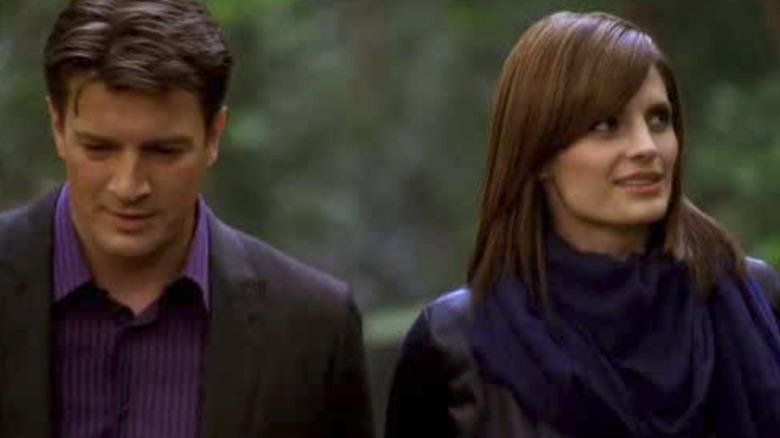 ABC
Following the cancellation of "Castle" in 2016, Us Weekly published a grim picture of the real-life working relationship between Stana Katic and Nathan Fillion. Per the outlet's report, "[Katic and Fillion] completely despise each other. They will not speak when they are off set, and this has been going on for seasons now." The precise source of the tension between Fillion and Katic doesn't appear to be a matter of public record as of this writing. However, a separate source claimed at the time, "The friction was very evident. Nathan has been nasty to Stana for a long time. Stana was a pro, [she] just wanted to get in there and do her job."
But it eventually became severe enough that, on the set of "Castle," Katic could reportedly be heard crying in her dressing room in between takes, according to one of the Us Weekly sources. The same source also claimed the actors attended sessions with a couples' counselor in order to try and deal with their feelings towards one another.
In a 2018 Entertainment Weekly interview, Katic characterized the firing as a surprise and didn't claim to know the reasons behind the decision. She explained, "I'm actually still not clear on the thought process behind the way that it went down. It hurt, and it was a harsh ending." Deadline's report on Katic's exit notes the actress was apparently not approached by ABC to renew her contract. It's also been speculated that her salary quote for the show's ninth season was too high, so it might have been a simple matter of contract negotiations or a budgetary decision gone wrong.
Whatever the reason for the show's somewhat abrupt conclusion, we probably won't know the full details for some time, if ever. "Castle" fans will likely be wondering about this rumored feud until those details come out.
Stana Katic looks back fondly on her time on Castle
They say time heals all wounds, and while it's unclear if Nathan Fillion and Stana Katic will ever be ready to play nice for good, it seems like Katic, at least, isn't letting the bad times overshadow the good. In 2020, four years after "Castle" ended, Katic spoke with The Daily Mail about her exit from the series, and while certain aspects of the experience still hurt her, it sounds like it's water under the bridge, as she stated, "Time has passed, and I am so thankful to have been a part of that project, for it to have affected as many people as it did."
She went on to say, "It would be a disservice to the work that I did, which I feel partly contributed to the success of the show, if I looked back on it and was anything but grateful for the awesome run." Noticeably, Katic didn't mention anything about her dynamic with Nathan Fillion during this particular interview, but she praised her other coworkers, noting, "I met so many beautiful people on that project, and we collaborated on something really unique in that it's not every day that you get a show, or a series, that has eight seasons and that it was a hit for the network."
Stana Katic hasn't done too bad for herself in the aftermath of "Castle." She landed another main TV role as Agent Emily Byrne on "Absentia" as well as parts in "The Possession of Hannah Grace" and "Justice Society: World War II." Just don't expect her to star alongside Fillion for an upcoming project any time soon.