The Character Everyone Forgets Meghan Markle Played In Horrible Bosses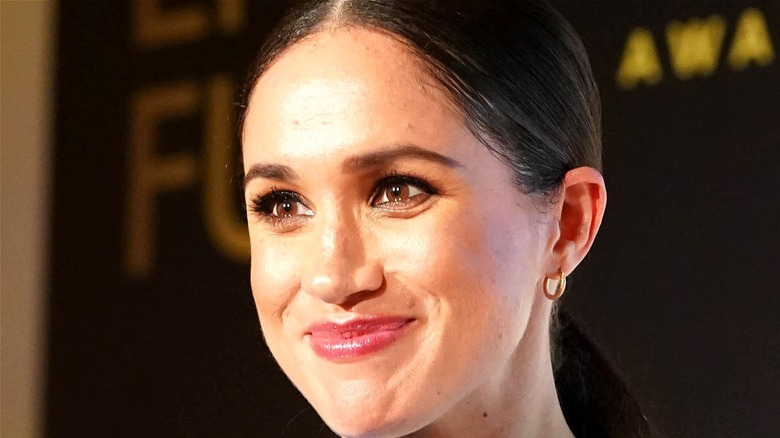 Wpa Pool/Getty
Prior to her marriage to Prince Harry, Meghan Markle was arguably best known for her series regular role as Rachel Zane on seven seasons of the USA Network legal drama, "Suits." However, even before her role as a paralegal and the love interest to Mike Ross (Patrick J. Adams), Markle's early acting career allowed her to pop in on a variety of different Hollywood productions.
With appearances on "Deal or No Deal," "Castle," "CSI: NY," and even a two-episode stint as FBI Agent Amy Jessup on "Fringe," Markle may not have been a household name prior to becoming the Duchess of Sussex, but plenty of television-friendly audiences probably recognized her long before the rest of the world. While most of Markle's roles throughout her acting career were in television, she also landed herself a handful of film roles (via IMDb). One of these roles was a brief appearance in the 2011 film, "Horrible Bosses."
Meghan Markle played a FedEx delivery woman in Horrible Bosses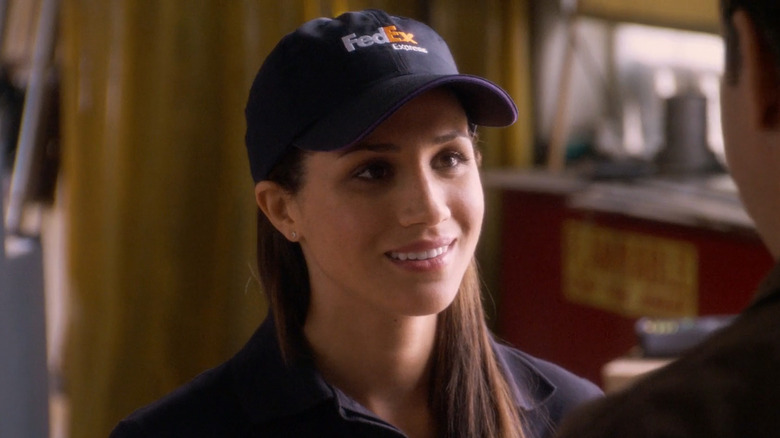 Warner Bros. Pictures
Towards the beginning of "Horrible Bosses," Kurt Buckman (Jason Sudeikis) is explaining the pros and cons of his job as a manager in a chemical factory, when he notices that one of the other factory employees is signing for a FedEx Express delivery. In one brief scene, Meghan Markle plays Jamie, the FedEx delivery employee left waiting for a signature.
Within seconds of noticing her, Kurt quickly (and needlessly) inserts himself into the situation to ask if he can help her. Jamie (Meghan Markle) replies, "I'm good. He's just signing for these packages. Thank you." Never one to take a hint, Kurt insists that the signing of a FedEx delivery is "important stuff" and takes the job away from one of his underlings. Suddenly, Kurt says, "What's going on here? Is this one of those hidden camera shows?" 
After Jamie responds with confusion, Kurt says, "I mean you're way too cute to be just a FedEx girl. I mean you've got to be like a model or actress or something, right? Like, what happens when I open up one of these boxes? Is something gonna jump out and bite me in the penis?" Laughing at the infamous flirt's ridiculous suggestions, Jamie simply says, "No, nothing's going to jump out. I'm just a FedEx girl." With that exchange complete, Jamie retrieves the paper from Kurt and leaves. Unbeknownst to Jamie, however, Kurt has intentionally failed to sign the paper in the hopes that she will be forced to return at a later date. 
We have to wonder what Markle thinks of her brief film role as the FedEx girl all these years later.