15 Greatest Grace Kelly Movies Ranked Worst To Best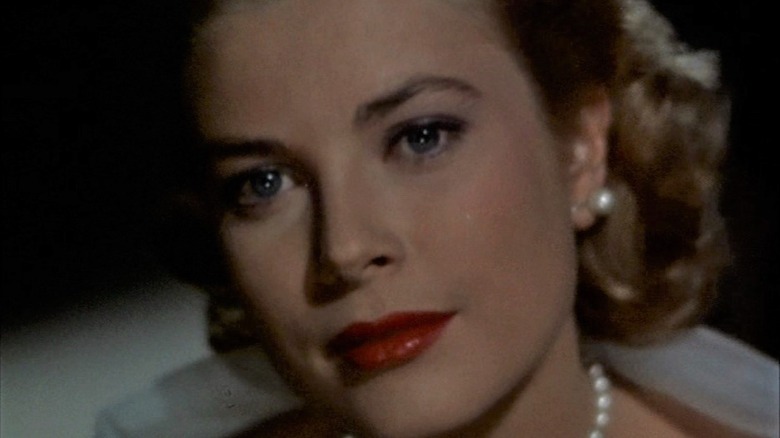 Paramount Pictures
Grace Kelly is a name synonymous with Old Hollywood elegance and beauty. Born in 1929, Kelly began her career on the stage and television, but she was destined for the big screen; in only her second film role, she starred opposite legendary actor Gary Cooper in "High Noon," one of the greatest Westerns of all time.
Grace Kelly has remained a style icon well into the twenty-first century, and that is a testament to her talent, which built a legend on essentially a five-year run of films made between 1951 and 1956. In those five years, she made eleven films, was nominated for two Academy Awards (winning one), and cemented her place as the ultimate Hitchcock Blonde. 
Kelly retired from acting at the tender age of 26 upon her marriage to Prince Rainier III of Monaco, bringing new meaning to  "Hollywood Royalty." Occasionally, up until her death in 1982, the Princess of Monaco made special appearances in film, usually with surprising results. Let's examine the cinematic legacy of the actress Hitchcock called "a snow-covered volcano," from the ice-cold to the red hot. Which films stand out as classics, with the hindsight of so many decades? Read on as we rank every Grace Kelly movie from worst to best.
15. The Rockingham Tea Set (1950)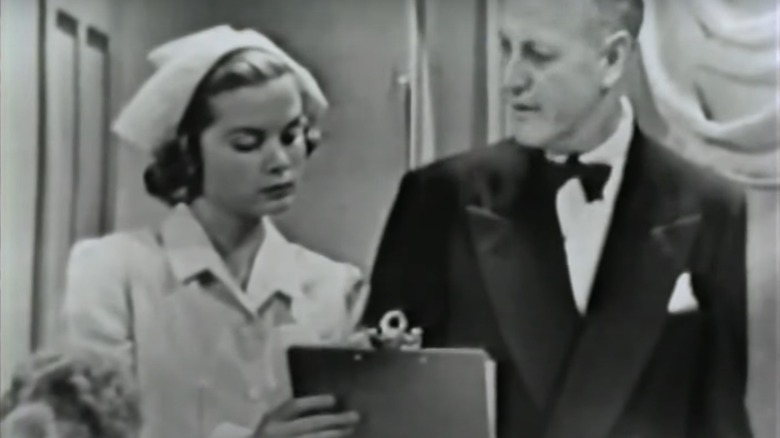 CBS
Before she graduated to feature films, Grace Kelly was a stage actress who appeared on television during its "Golden Age" in the 1950s. Anthology programs proliferated on broadcast television, including "Westinghouse Studio One," which aired on CBS from 1948 to 1958. "Studio One" offered viewers a new teleplay every week. These included adaptations of beloved novels like "Little Women" and original dramas such as "Twelve Angry Men" (1954), written for television three years before Sidney Lumet adapted it into an Academy Award-nominated film.
Grace Kelly had an early starring role in the "Studio One" teleplay "The Rockingham Tea Set" (1950). She plays Sara, a young nurse who tells a prospective employer about her last job, in which she was almost wrongly indicted for murder. In flashback, we see Sara being hired to care for Celia Arden (Louise Allbritton), a wealthy young woman paralyzed in a car accident that she blamed on her fiancé David (Richard McMurray). As Sara grows closer to David, she discovers that Celia has been keeping a terrible secret that could destroy more than one life.
"The Rockingham Tea Set" is an engaging story that suffers from the rawness of the new medium — it is frequently stilted and stagey, with most of the cast (especially Allbritton as Celia) giving broad, scenery-chewing performances. Kelly is the clear standout in "The Rockingham Tea Set" as the gentle, put-upon nurse. A late twist hinting at the supernatural is also underdeveloped, making the teleplay very weak tea. Nevertheless, the broadcast was such a hit that in 1952 the series aired a remake with Cloris Leachman in the Kelly role.
14. The Poppy is Also a Flower (1966)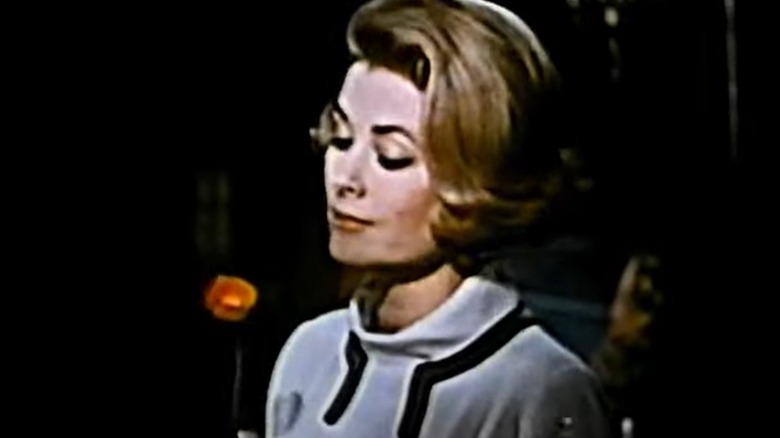 ABC
"The poppy has no smell. Not even the smell of evil." So begins Grace Kelly's introduction to "The Poppy is Also a Flower," a 1966 anti-drug film. The Princess of Monaco talking about heroin would be surprising enough, but the film boasts an unusual pedigree. "The Poppy is Also a Flower" was part of a series of television films promoting the United Nations, starring actors who waived their usual salaries. This jet-setting spy film was also developed from a story by James Bond creator Ian Fleming and directed by Terence Young ("Dr. No"). It has little in common with their more famous works, save for an appearance by Harold Sakata ("Goldfinger") and a plot revolving around a cargo of radioactive opium.
Alongside Grace Kelly, the star-studded cast includes Yul Brenner, Rita Hayworth, Omar Sharif, and Eli Wallach, making the film a classic Hollywood predecessor of "Cartoon All-Stars to the Rescue" (1990). Most of these famous faces are extended cameos, with E.G. Marshall and Barry Sullivan playing the U.N. agents tracking the opium alongside a mysterious woman (Angie Dickinson). Kelly's portentous monologue sets the tone for the self-important film. In a scathing review, Time dismissed it as "another James Bond film without James Bond," adding, "many will wish it had been filmed without film."
If you or anyone you know is struggling with addiction issues, help is available. Visit the Substance Abuse and Mental Health Services Administration website or contact SAMHSA's National Helpline at 1-800-662-HELP (4357).
13. Green Fire (1954)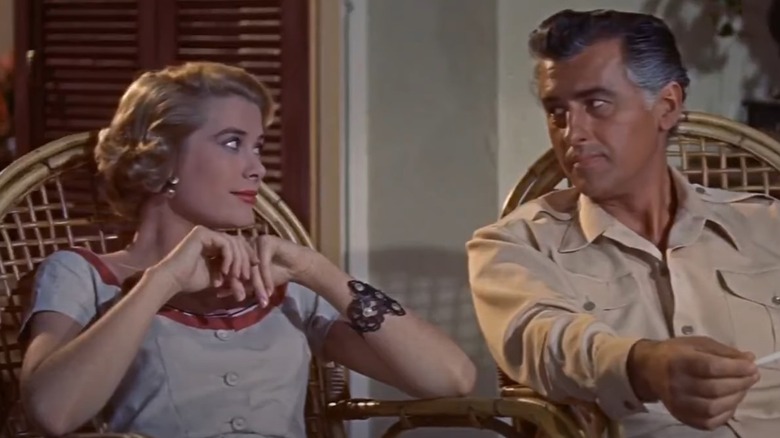 MGM
True love with Grace Kelly, or the lost emerald mine of the conquistadors? Stewart Granger must choose between the two in "Green Fire," a 1954 adventure film from MGM. 
The emeralds are, of course, the green fire of the title, and they risk turning Granger into the green-eyed monster as he searches for the lost riches in Columbia. Injured by bandits, Granger (as the improbably-named Rian X. Mitchell) is treated at a coffee plantation owned by fellow American Catherine Knowland (Kelly). Catherine falls for Mitchell, but his mining operation threatens the existence of her family's plantation, leading to an explosive conclusion.
"Green Fire" is rather forgettable as an adventure film. Stewart Granger's type of movie hero — sweating, shirt ripped to the waist, deep voice bellowing lines like, "Oh Cathy, stop thinking like a woman!" — has aged about as well as the film's colonialist underpinnings. Grace Kelly is beautiful and assured in a role that asks little of her, but "Green Fire" is one of her weakest features.
12. The Wedding in Monaco (1955)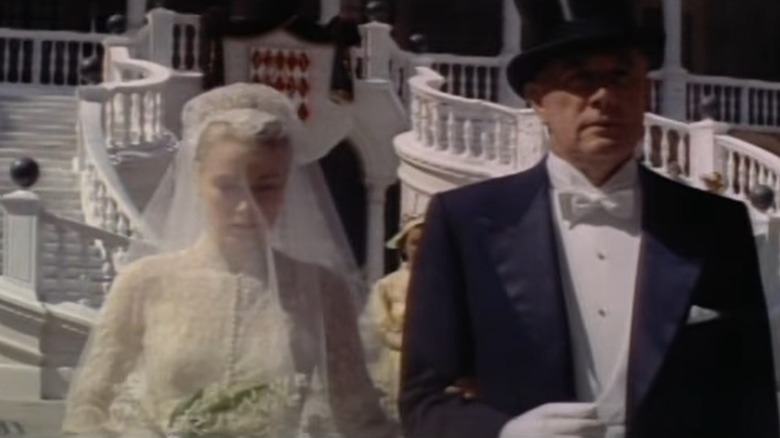 MGM
Grace Kelly's engagement to Rainier III, Prince of Monaco, was, to the general public of 1955, something out of a fairy tale — or, perhaps, a Grace Kelly movie. A beautiful blonde movie star marrying into royalty was a modern-day Cinderella story, so perfect that it should be filmed — which is exactly what Metro-Goldwyn-Mayer did. "The Wedding in Monaco" (1956) is an MGM documentary feature filmed in CinemaScope to capture every detail of the royal nuptials, from Kelly's arrival in Monaco via ocean liner to the wedding ceremony itself.
In the current era of high-profile celebrity weddings, "The Wedding in Monaco" is a fascinating historical document. It pays rapturous attention to the preparations, including a ballet performance and a fireworks display. The purple, flowery narration saves its highest praise for the newly wedded Princess Grace, calling her "the bride of the century." Though this slight feature is only as heavy as a puff piece, "The Wedding in Monaco" is filled with royal splendor.
11. The Swan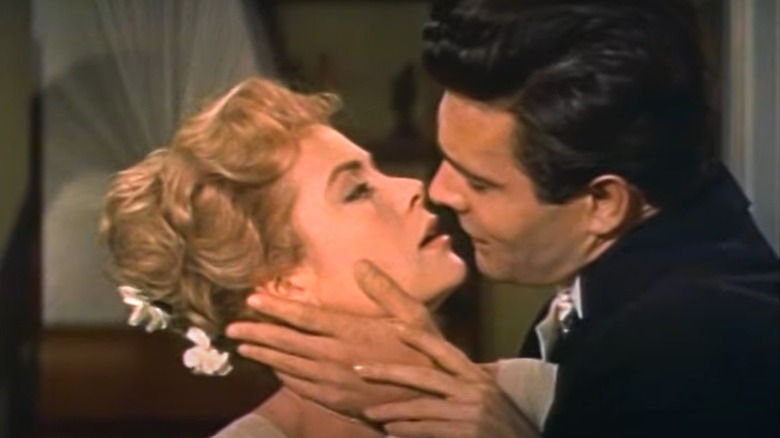 MGM
Speaking of royal weddings ... consider "The Swan" (1956), in which Grace Kelly attempts to win the hand of a prince, filmed while the actress courted a prince in real life. MGM leapt on this fantastic coincidence and deliberately invited comparisons: "The Swan" premiered in Los Angeles on April 18, 1956, the day of her civil ceremony to Prince Rainier.
The future Princess of Monaco plays Princess Alexandra, the daughter of an exiled European royal family desperate to regain their lost station. Alexandra's mother urges her to marry Prince Albert (Alec Guinness, pre-Obi-Wan Kenobi), a stranger to her. To get Albert's attention, Alexandra dances with a handsome tutor, Nicholas (Louis Jourdan), and finds herself attracted to him instead. Nicknamed "the Swan" by her father ("So dignified, so silent, so regal"), Alexandra's poise is shattered when she must choose between duty and love.
Kelly, Jourdan, and Guinness imbue their characters with enough nuance that they don't fit into broad archetypes, leading to a surprising, if bittersweet conclusion. The two characters in the final scene may not be in love, but they do, at least, finally understand each other.
10. Mogambo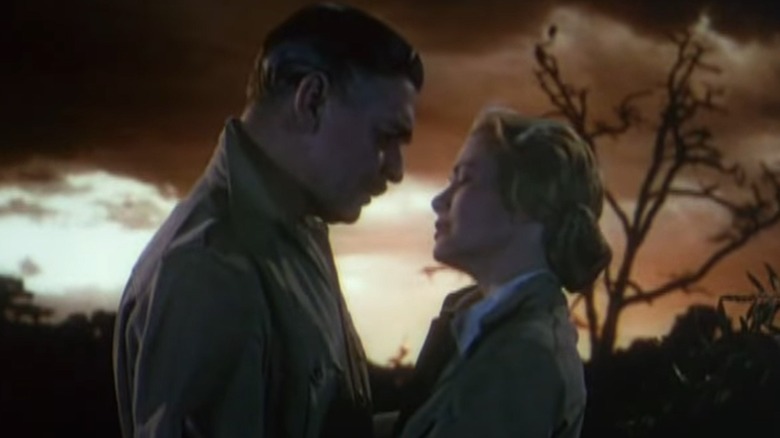 MGM
"Enjoyable hokum which never takes itself too seriously," was Maclean's verdict on "Mogambo" (1953), the Technicolor adventure film directed by John Ford. A remake of the 1932 hit "Red Dust," "Mogambo" stars a still-virile Clark Gable in the role he originated 21 years earlier. Victor Marswell (Gable) is a big game hunter in Kenya involved with two women: hot-blooded "Honey Bear" Kelly (Ava Gardner) and frosty, married Linda Nordley (Grace Kelly). A perilous safari trip far away from Western civilization may be too hot for even Marswell to handle, with it all leading to a shocking, violent confrontation.
Grace Kelly earned her first Oscar nomination for "Mogambo." She gives a convincing performance in a strenuous role — but as written, the uptight, anxious Linda pales next to the sarcastic-but-sweet Honey Bear (fittingly, Kelly was nominated for best supporting actress, while Gardner was up for best actress). "Enjoyable hokum" may be the best way to describe "Mogambo," though Gable's portrayal of the "Great White Hunter" (a stereotype rooted in racism and colonialism) makes it somewhat difficult to watch today.
9. The Bridges at Toko-Ri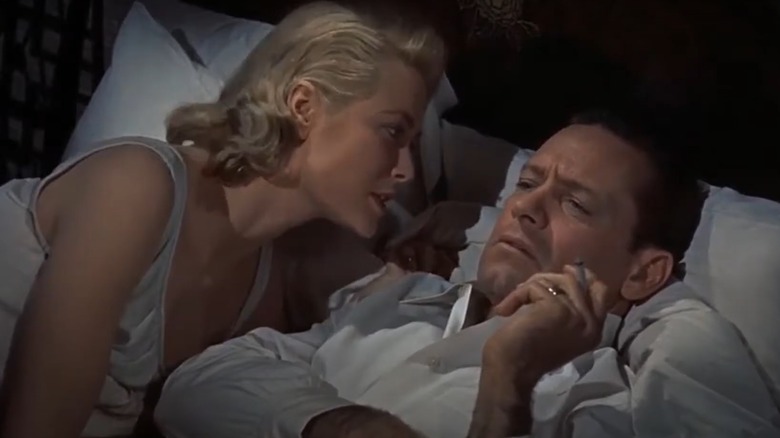 Paramount Pictures
The 1955 war epic "The Bridges at Toko-Ri" remains grounded in deep, human emotion even as it takes to the skies with spectacular aerial footage. Based on the book by Pulitzer Prize-winning writer James A. Michener, the film stars William Holden as Lt. Harry Burbank. A happily married lawyer and veteran of World War II, Harry is frustrated at being called back to active duty as a U.S. Navy pilot during the Korean War. Grace Kelly plays Harry's wife, Nancy, who visits him during his leave in Tokyo only to learn that he has been hiding the truth of his war experiences from her, including his upcoming mission to bomb the bridges at Toko-Ri.
The second-billed Kelly is "briefly bewitching" (per The New York Times) as the dutiful wife who realizes that she "has to face those bridges too" and accept the dangers of war. But the real stars of "The Bridges at Toko-Ri" are the Academy Award-winning special effects featuring real jet fighters, striking reminders of what could be achieved onscreen in the decades before CGI.
8. The Children of Theatre Street (1977)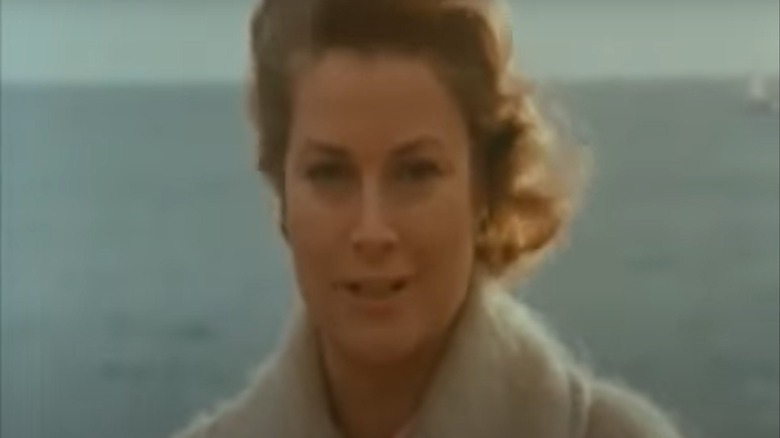 Peppercorn-Wormser Film Enterprises
One of Grace Kelly's least known projects is "The Children of Theatre Street" (1977), an Academy Award-nominee for Best Documentary. The Princess of Monaco lends her presence and warm, refined voice to this documentary about the Vaganova Academy of Russian Ballet (also called the Kirov Ballet), a prestigious and highly competitive school for young dancers.
"The Children of Theatre Street" nimbly shifts from past to present, explaining the origins of Russian ballet in the 1700s over footage of present-day students. Serious, if at times ponderous, the film doesn't shy away from the rigorous, physically demanding training required of the children and young adults. It includes moments of joy too, including a scene of students running across the beach to the sounds of Tchaikovsky. As the dancers on-screen speak un-subtitled Russian, Grace Kelly's narration is essential and omnipresent, her words flowing like music: "Ballet has flourished because ... one thing has remained the same: the immense inner joy of the dancer."
7. High Society (1956)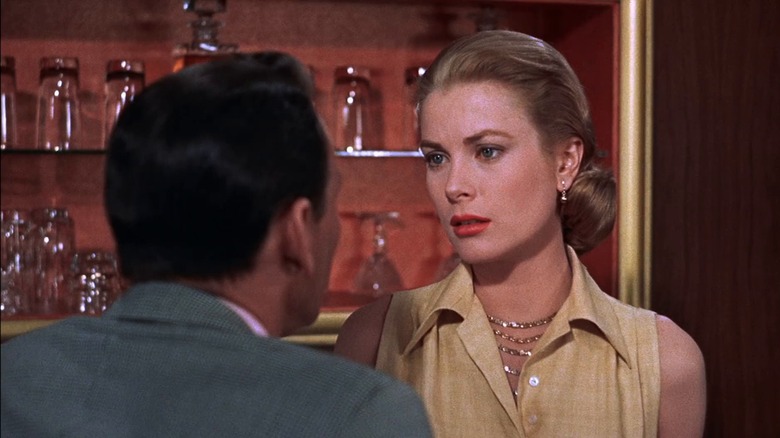 MGM
A musical remake of the Academy Award-winning romantic comedy "The Philadelphia Story" (1940), "High Society" has Kelly inheriting the role of prim socialite Tracy Lord from the legendary Katherine Hepburn. Tracy is preparing to remarry, but her ex-husband, jazz musician C. K. Dexter Haven (Bing Crosby), wants to win back her affections. Meanwhile, two tabloid reporters (Frank Sinatra and Celeste Holm) infiltrate high society to report on Tracy's nuptials, with comedic results. Before long, Tracy tumbles into a love quadrangle with her ex-husband, her fiancé (George Lund), and Sinatra's crooning reporter, Mike Connors.
Featuring songs by Cole Porter and Louis Armstrong (who also plays a small supporting role), "High Society" is as bright and sparkling as an engagement ring — and Grace Kelly wore her actual engagement ring from Prince Rainier III during filming. Kelly may lack Hepburn's acerbic wit, but she beautifully portrays Tracy's inner vulnerability. The nearly thirty-year age gap between Bing Crosby and Kelly makes his C.K. Dexter Haven feel more like a whimsical uncle than a genuine romantic interest, slightly denting the film's impact. Still, "High Society" is essential viewing for Grace Kelly fans, as it marks her final leading role in a Hollywood film. Though she would occasionally appear in movies as the Princess of Monaco, she would never again performed in a role of this caliber.
6. Fourteen Hours (1951)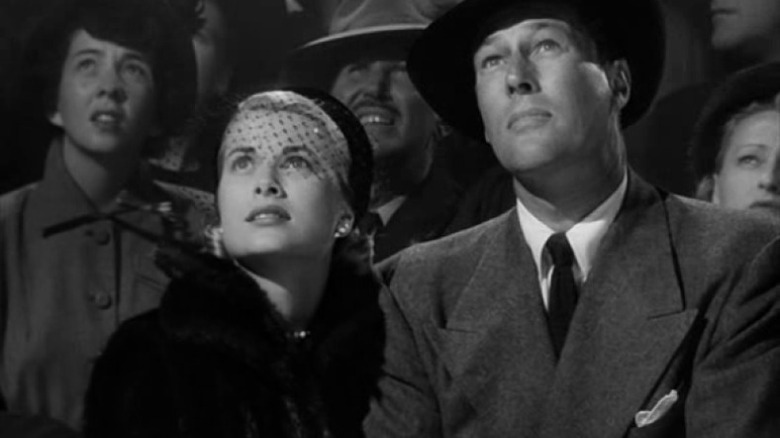 Twentieth Century-Fox
The nail-biting drama "Fourteen Hours" marked Grace Kelly's official film debut. Loosely based on the events surrounding the death of John William Warde, the film stars Richard Basehart as Robert Cosick, a troubled young man who stands on the ledge of his hotel's fifteenth floor for fourteen hours. As a policeman (Paul Douglas) desperately tries to talk Cosick out of jumping, New York City comes to a standstill with hundreds of onlookers reacting to Cosick's plight.
One witness is Mrs. Louise Ann Fuller, played by the young Grace Kelly. Dressed like a widow, Louise is eager to become a divorcée, and she is initially upset by the police blockade disrupting her plans. Inside her lawyer's office, she becomes emotionally involved in Cosick's ongoing ordeal and reunites with her still-loving husband. Despite the Hollywood ending to a real-life tragedy, "Fourteen Hours" is a tense, effective drama anchored by the performances of Basehart, Douglas, and Kelly. Though Kelly's role is comparatively small, she has a striking presence in the film that foreshadows her future stardom.
If you or anyone you know is having suicidal thoughts, please call the National Suicide Prevention Lifeline​ at​ 1-800-273-TALK (8255)​.
5. The Country Girl (1954)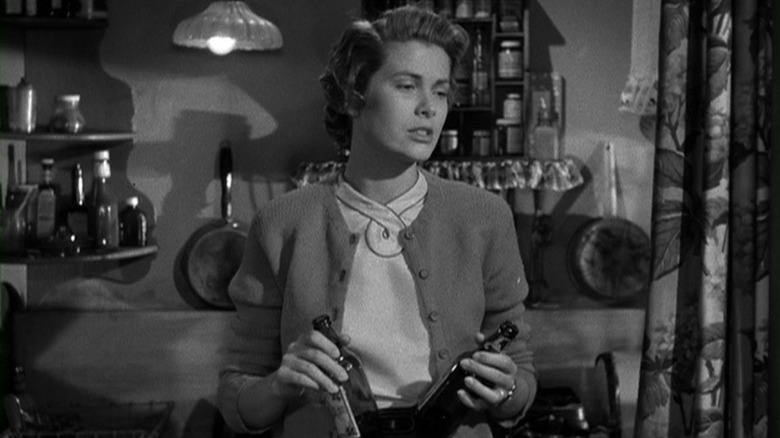 Paramount Pictures
Grace Kelly won her only Academy Award for best actress for her performance in "The Country Girl." In what is a prototypal example of a Hollywood actress de-glamorizing herself for a serious movie role, Grace Kelly exchanged her Edith Head-designed gowns for glasses and cardigans to play Georgie Elgin. The "country girl" of the title, she is the long-suffering wife of song-and-dance man Frank Elgin (Bing Crosby, in their first on-screen pairing).
Theater director Bernie Dodd (William Holden) hires Frank for a role in his upcoming musical, despite Frank's reputation for unreliability. Frank and Georgie's marriage has been in freefall since the death of their son; though Frank puts on a polite face to Bernie, he blames all his troubles on Georgie even as he clings to her for emotional support. Georgie hopes the musical will bring Frank success because it's her ticket out of the marriage, but Bernie's growing attraction to her poses a problem.
Grace Kelly's Oscar win was controversial. Judy Garland was favored to win in 1955 because of her comeback role in "A Star is Born" (1954), and Kelly's upset has been called "the greatest snub in Oscar history" (via Entertainment Weekly). Nearly 70 years later, the legacy of "A Star is Born" has been secured, but "The Country Girl" is no less worth watching. Kelly gives a sterling performance as the strong-willed but desperate Georgie, and the film is a showcase for her range as an actress.
4. To Catch a Thief (1955)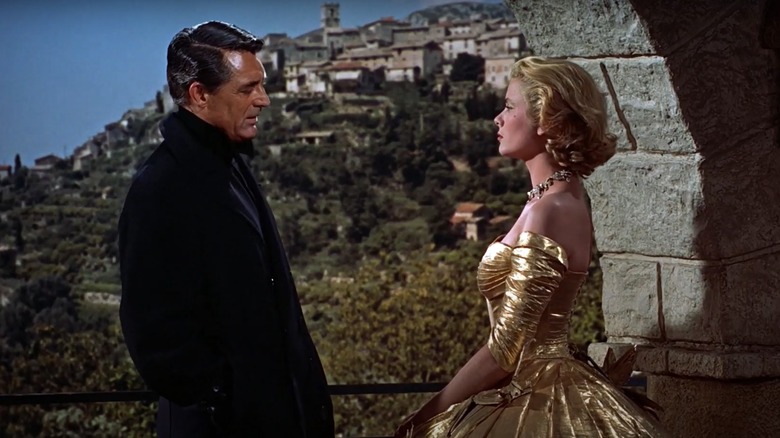 Paramount Pictures
"To Catch a Thief" is a jewel of a caper from the director known as the "Master of Suspense." Capturing the French Riviera in all its Technicolor glory, Alfred Hitchcock's daring film sets its sights on the reformed burglar formerly known as "The Cat," John Robie (Cary Grant, in another masterful collaboration with Hitchcock). When a series of jewel heists puts suspicion on him, Robie decides to catch the thief himself. Complicating his search for the copycat is the adventurous socialite Francie Stevens, whose roadside picnic with Robie turns into a playful seduction: "Do you want a leg or a breast?"
The film is witty, suspenseful, and painfully romantic, most memorably in the scene in which Robie and Francie kiss in front of a sky exploding with fireworks. Francie is one of the most dynamic roles of Kelly's career; whether she's outracing the police in her convertible or arriving at a masquerade in a showstopping, shimmering gold ballgown, she proves that she is more than a match for The Cat.
The Orlando Sentinel's contemporaneous review captures the charm of "To Catch a Thief" in a single sentence: "It literally bubbles with humor, spice, sparkling dialogue and baffling complications which keep the moviegoer on tenterhooks right up to the heap big surprise ending."
3. High Noon (1952)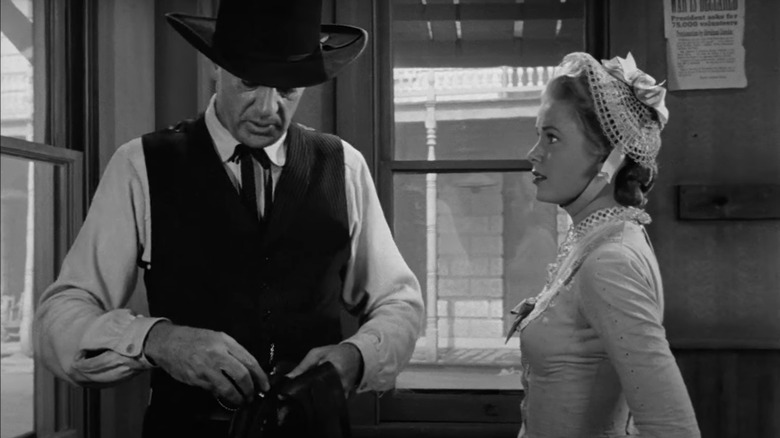 United Artists
"High Noon" has been called many things. John Wayne called it "the most un-American thing I've ever seen in my whole life." The American Film Institute called it one of the greatest films ever made.
Director Fred Zimmerman created "one of the first revisionist westerns" (via Art of the Movie) with the story of stoic U.S. Marshal Will Kane (Gary Cooper). When "High Noon" begins, Kane is ready to retire and leave Hadleyville with his young bride, Amy (Grace Kelly). Word reaches Kane that Frank Miller (Ian MacDonald), an outlaw he once put in prison, is set to arrive on the noon train, with his gang waiting for him. Kane tries to assemble a posse, but the townspeople, including his friends, want nothing to do with it. Confronted with the cowardice of his community, Kane prepares to stand alone against Miller and his gang at high noon.
Set against a ticking clock, "High Noon" builds tension while mostly eschewing the explosive action expected in a Western. Born in the Blacklist era, it's an undeniably political film, particularly regarding Kelly's idealistic Amy. A Quaker, Amy abhors violence and wants to leave Hadleyville at noon, with or without Kane, until a conversation with Kane's ex-lover, Helen (Katy Jurado), convinces her to fight for the man she loves. Kelly projects an image of quiet strength throughout the film, culminating in an act of bravery that saves Kane's life. In "High Noon," Kane and Amy earn their ride into the sunset.
2. Dial M for Murder (1954)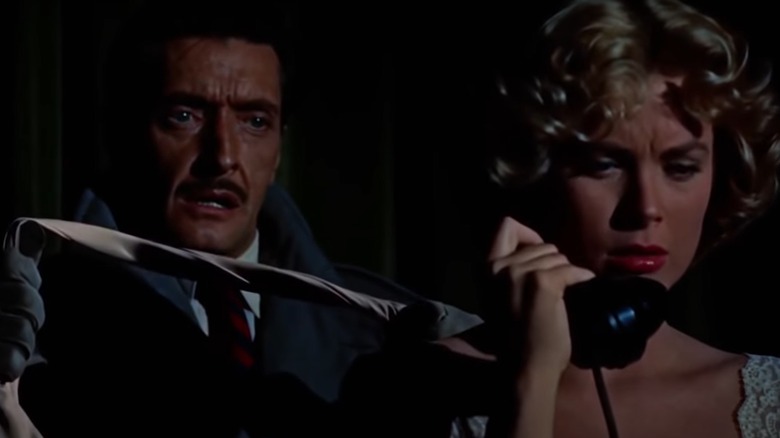 Warner Bros.
Grace Kelly gives a three-dimensional performance as an imperiled wife in "Dial M for Murder" — the only film she and director Alfred Hitchcock ever made in 3D. Kelly is Margot Wendice, a London socialite torn between her loyalty to her husband, Tony (Ray Milland), and her love for the American writer Mark Halliday (Robert Cummings). Tony, who married Margot for her money, has an unorthodox solution for this love triangle; namely, he blackmails a criminal acquaintance into breaking into their apartment to murder Margot. When Margot fights back, killing her attacker with a pair of scissors, she foils Tony's perfect crime. Or does she?
Kelly's first collaboration with Hitchcock is a taut thriller expertly adapted from the stage play by Frederick Knott. A drawing-room mystery driven by dialogue (save for that extraordinary murder scene) is an unusual choice for a 3D film, but Hitchcock's inventive camerawork favors disorienting angles and deep shadows that turn everyday objects into murder weapons. The meticulous attention to detail in "Dial M for Murder" extends to Grace Kelly's wardrobe: she first appears onscreen in a striking scarlet dress that hints at her adultery, but her clothing becomes plainer and darker as Tony's trap closes in on her. Kelly is the captivating center of this "chic and malevolent" film that The New York Times called "a technical triumph."
1. Rear Window (1954)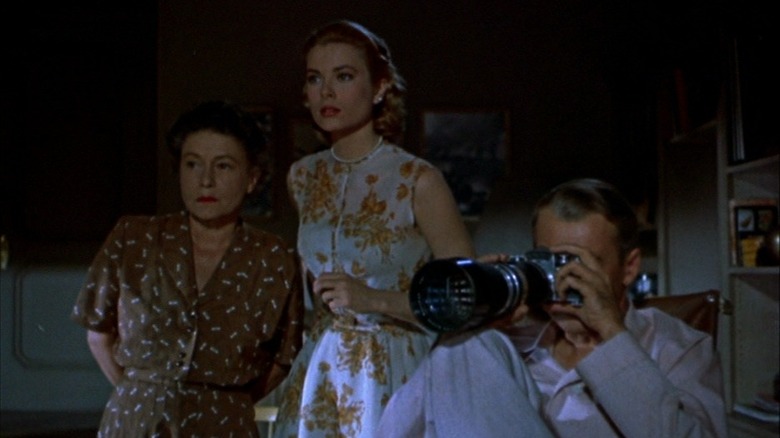 Paramount Pictures
"She's too perfect, she's too talented, she's too beautiful, she's too sophisticated," says L.B. Jeffries (James Stewart) of his glamorous and adoring girlfriend, Lisa Fremont (Grace Kelly). "She's too everything but what I want." In Alfred Hitchcock's "Rear Window," Jeff is a globetrotting photographer confined to his apartment with a broken leg; despite Lisa doting on him, Jeff pushes her away, believing their lifestyles are incompatible. But Lisa will prove braver and more resourceful than Jeff could ever have imagined as she helps him investigate the murder he may have witnessed from his window.
"Rear Window" is widely considered one of Hitchcock's masterpieces, a sly thriller that the American Film Institute, Empire, and Time Out have called one of the best films ever made. As Jeff spies on his neighbors and slides deeper and deeper into voyeurism, Hitchcock indicts the audience along with him — are we witnesses to a crime or simply peeping toms? Grace Kelly gives a career-defining performance in "Rear Window," the best of all her films. In his "Great Movies" article, Roger Ebert describes one of her most memorable on-screen moments thusly:
"[Grace Kelly] leans over him to kiss him, and the camera succumbs to her sexuality even if Jeff doesn't; it's as if she's begging the audience to end its obsession with what Jeff is watching, and consider instead what he should be drinking in with his eyes — her beauty."