The Top 10 Westerns According To The AFI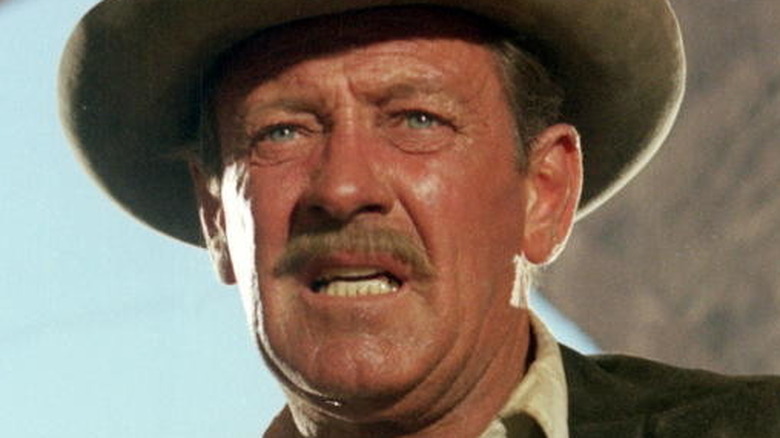 Warner Bros. Pictures
Is there any genre more classically and uniquely American than the Western? Cowboys, vast desert landscapes, saloon fights, chases on horseback — the Western has it all, as stories of legendary gunslingers, outlaws and sheriffs have played an enormous role in American mythmaking. The American Film Institute defines the Western "as a genre of films set in the American West that embodies the spirit, the struggle and the demise of the new frontier."
The genre was enormously popular in the days of Classical Hollywood but has more or less disappeared from the big screen in the last few decades. The Western is experiencing something of a comeback these days, with a couple of major 2021 films, including "The Harder They Fall" and "The Power of the Dog" being notable examples. But what are the very finest Western films? That's a question the AFI dared to answer, surveying experts to create a list of the very best Westerns in cinema history. In order to help you choose your next great film experience, here are the top 10 Westerns according to the AFI.
10. Cat Ballou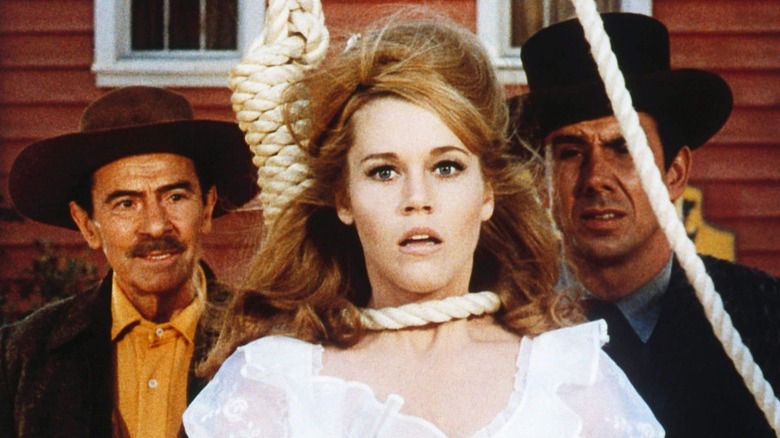 Columbia Pictures
Many Western films are often very serious, featuring murder, revenge, and epic shootouts. It's rather surprising, then, that one of the genre's most enduring efforts, Elliot Silverstein's "Cat Ballou," is an out-and-out comedy, taking the very serious Roy Chanslor novel "The Ballad of Cat Ballou" and sprinkling it with a whole lot of laughs.
Narrated through song by music legends Stubby Kaye and Nat King Cole, the story has the makings of your archetypal Western: "Cat Ballou" stars Hollywood legend Jane Fonda as the titular Cat Ballou, who is about to be executed in Wyoming. Before this, we go back in time to learn that Ballou is an extremely determined and confident woman who will do whatever it takes to protect her family, specifically her father's ranch. While the elements are there to make it a standard Western, the fact that the lead character is female was a huge change for a genre typically dominated by men (who, by the way, are the prominent characters in every other film on this list). Lee Marvin stars in an Oscar-winning double role as the menacing Tim Strawn and the drunken mess Kid Shelleen, both of whom are gunslingers.
"Cat Ballou" is hilarious, while providing plenty of surprises and standout moments. It's genuinely exciting to see a genre that has a reputation for being stuck in its ways receive such a glorious send-up, and we're willing to bet that's why the film comes in at number 10 on the AFI's list of the best Westerns.
9. Stagecoach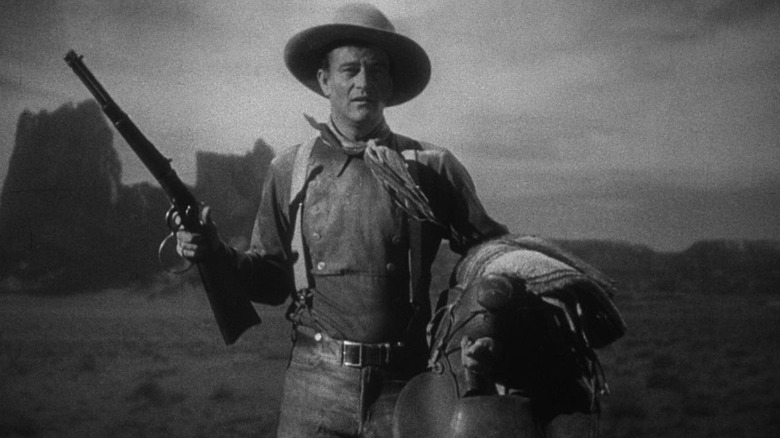 United Artists
No director has won more Best Director Oscars than legendary filmmaker John Ford, who won four. While Ford's work encompassed just about every genre, he's best known for his extraordinary mythmaking in Westerns like "The Man Who Shot Liberty Valance," "Rio Grande," and "She Wore a Yellow Ribbon," among many others. The Western genre itself was considered a category best suited for B-movies –- that is, until Ford's 1939 breakthrough, "Stagecoach." The film follows a group of distinct characters who end up traveling on a stagecoach together, a simple, familiar premise that has had an enormous influence on filmmaking.
"Stagecoach" marks Ford's first collaboration with John Wayne, who, after making box office bomb "The Big Trail," was doomed to obscurity for the rest of the 1930s. But Ford was seemingly determined to make Wayne a superstar, a gamble that those familiar with film history can tell you paid off handsomely. Wayne became a success for his ability to feel like the ultimate everyman. His role as the Ringo Kid, who breaks out of prison after learning that his family was murdered and vows revenge against their killer, provided the perfect opportunity to hone his persona.
As a film, "Stagecoach" is extremely entertaining, taking characters saddled with Western stereotypes — including the prostitute with a heart of gold and a doctor with a passion for alcohol — and subverting them, all while elevating the genre itself. Plus there's nothing quite like watching Wayne leap from horse to horse during an epic shootout.
8. McCabe & Mrs. Miller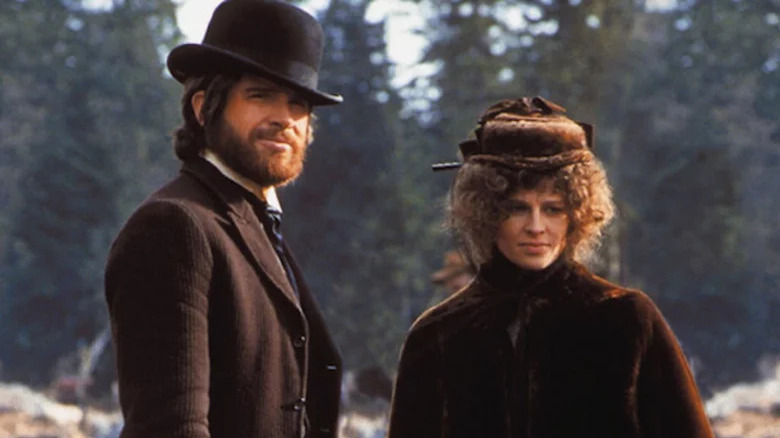 Warner Bros.
Few films are as strikingly beautiful as Robert Altman's "McCabe & Mrs. Miller." This is largely thanks to the fantastic eye of cinematographer Vilmos Zsigmond, who creates a resonant contrast between the peaceful winter snow and the overarching threat to McCabe (Warren Beatty). There's also fantastic music from Leonard Cohen, as well as Altman's unique method of recording dialogue, in which conversations and noise overlap but characters' voices are not emphasized. It's a bit of a disorienting experience but feels grounded in realism, which is one of the film's greatest strengths.
The film follows McCabe, a wealthy gambler who opens a successful brothel in a quiet Washington town with the help of a British woman named Constance Miller (Julie Christie). The two begin a romance as well, but McCabe's refusal to sell his business to a mining company carries potentially grave consequences. "McCabe & Mrs. Miller" takes great pleasure in exploring the minute details of everyday life, and often feels like the closest we can get to see what life was actually like in the Wild West of the early 1900s. All of the sheen and artifice typical of the Western genre is nowhere to be found here, as characters speak plainly and foully, and things like prostitution are properly explored rather than being charmingly glossed over. A biting critique of early capitalism and a resonant story, "McCabe & Mrs. Miller" is an intoxicating, hypnotic revisionist western.
7. Butch Cassidy and the Sundance Kid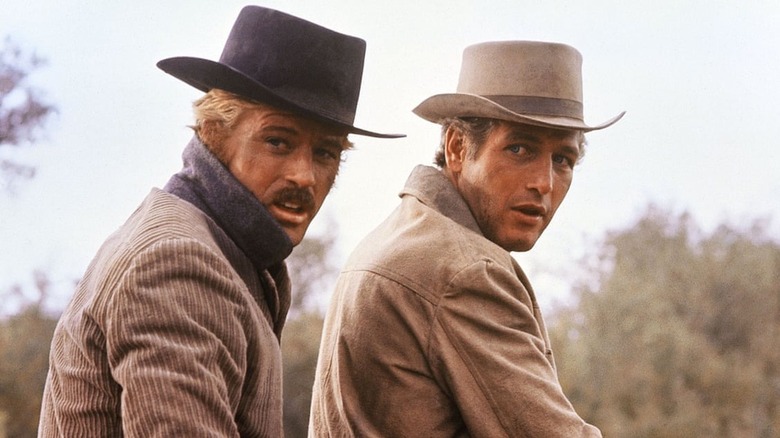 20th Century Fox
One of the all-time great screen pairings, if only for their immeasurable levels of cool, Paul Newman and Robert Redford lead "Butch Cassidy and the Sundance Kid." The duo star as the eponymous Cassidy (Newman) and Sundance Kid (Redford), expert train robbers on the run from a group of lawmen who will do whatever it takes to take the pair down. As Butch and the Kid, along with the Kid's partner Etta Place (Katharine Ross), look to escape, it appears their only chance at safety involves fleeing to South America. The trio succeed and find themselves in Bolivia, though their irresistible desire to commit crime provides their biggest challenge.
Director George Roy Hill, working with a cutting, banter-filled script from William Goldman, had a surefire hit on his hands, and "Butch Cassidy and the Sundance Kid" became the highest-grossing Western ever in 1969. Hill, obviously impressed by the duo of Newman and Redford, brought them together again for his 1973 film "The Sting," which won seven Oscars including Best Picture. That said, "Butch Cassidy" has made a greater cultural impact, winning four Oscars of its own. The film comes to life with the amazing charisma of its leads, creative and memorable train sequences, and a unique use of pop music, including the Oscar-winning song, "Raindrops Keep Fallin' on My Head," which is deployed in a fantastically joyful sequence.
6. The Wild Bunch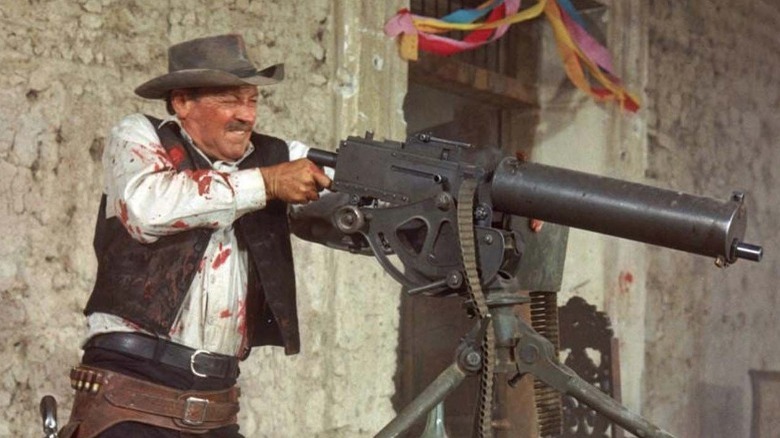 Warner Bros. Pictures
Drenched in shocking depravity and violence, Sam Peckinpah's "The Wild Bunch" is a startling revisionist Western. The subgenre was known for taking traditional elements of the Western and turning them on their heads, such as making the villains the protagonists of the film — which is what "The Wild Bunch" does. This group of outlaws takes great pleasure in one-upping each other in debauchery and law-breaking. Few directors were better suited to turn the genre upside down, as Peckinpah made his name directing Western TV shows and films like "The Rifleman," "Ride the High Country," and "Major Dundee," and his film is a disturbing, yet sensational masterwork.
"If they move, kill 'em," is the line that starts the film off with a literal (and figurative) bang. The titular Wild Bunch -– played by William Holden, Ernest Borgnine, Edmond O'Brien, Ben Johnson, Jaime Sanchez, and Warren Oates — dress as soldiers to pull off one last robbery. When they discover their "earnings" from the robbery are actually a decoy, it makes them even angrier and more vengeful in their quest for riches. The film's constant barrage of violence left critics deeply divided. As Roger Ebert, who considered the film one of his "Great Movies," noted, Peckinpah's film "became one of the most controversial films of its time — praised and condemned with equal vehemence." In terms of just how transgressive "The Wild Bunch" is, it is almost as if Peckinpah had a shootout with the Western genre –- and walked out on top.
5. Red River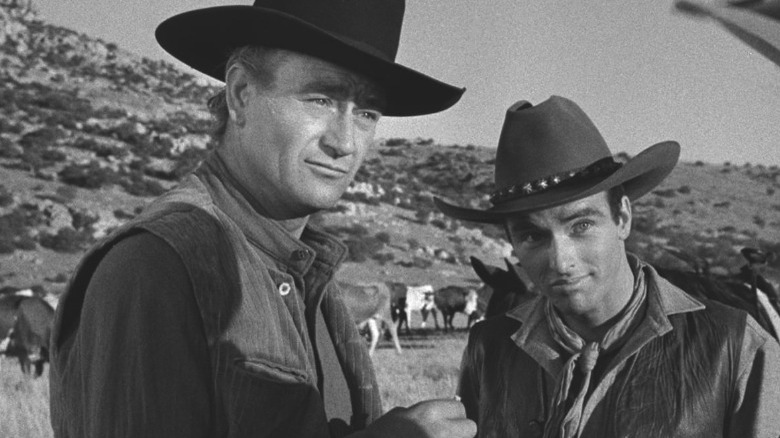 United Artists
One of the biggest takeaways from watching the fantastic Howard Hawks Western "Red River" is just how incredibly expansive everything feels. The film has John Wayne unraveling his everyman image as Thomas Dunson, who leads the very first cattle drive along the Chisholm Trail from Texas to Kansas. Dunson, working with right-hand man Groot (Walter Brennan) and adopted son Cliff (the excellent Montgomery Clift), goes from a benevolent leader to a whip-cracking one, rarely allowing anyone to take breaks and pushing everyone to their limits. To paraphrase Dunson, tired men can't run away. As the crew begins to turn against one another, a rift forms between father and son, taking the film in an exciting and unexpected direction.
"Red River" is rather limited in action -– though the action sequences it does have are brilliantly shot and executed — and the film's focus is instead on the dynamic between Dunson and Cliff, plus the staggering scale of the cattle drive. The film features a seemingly endless amount of cattle, as well as countless extras, carriages, and stagecoaches. While a number of the films on AFI's list are on a more intimate scale, "Red River" is undoubtedly the biggest Western on the survey and one of those glorious films that make you wonder how on Earth they possibly could have shot it all. For those who love Westerns for their massive scope, none do it better than "Red River."
4. Unforgiven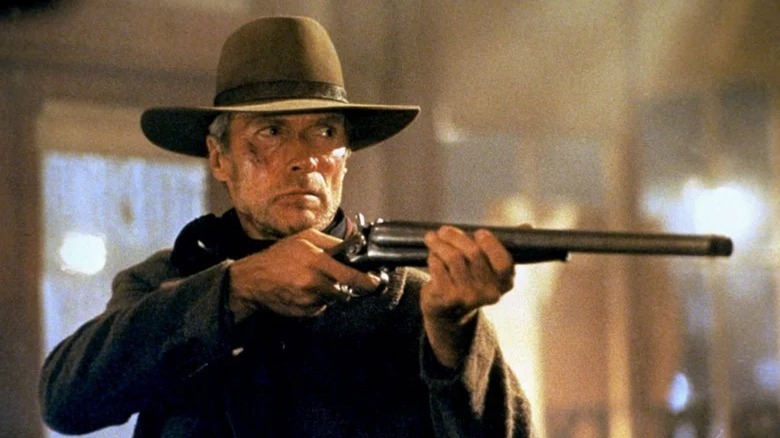 Warner Bros.
The Western genre peaked in popularity throughout the 1940s, '50s, and '60s, before virtually disappearing from cinemas in the 1980s. Though Kevin Costner struck gold with "Dances with Wolves" in 1990, actor-director Clint Eastwood took a stab at reviving the true old-school Western with "Unforgiven" in 1992. It's hard to say that anyone was up to the task more than Eastwood, who became a star in his own right in '60s Westerns like "The Good, the Bad and the Ugly" and "Coogan's Bluff." He also directed a number of them in the '70s, when the genre was waning in popularity, like "High Plains Drifter" and "The Outlaw Josey Wales." With a man who understood the genre as intimately as Eastwood, it's no wonder that "Unforgiven" may just be his masterpiece, winning him Oscars for Best Director and Best Picture (he was also nominated for Best Actor).
"Unforgiven" revitalizes the old Western trope of taking "one last job" — in this case, an offer that retired gunfighter William Munny (Eastwood) cannot resist when approached by the Schofield Kid (Jaimz Woolvett). Munny is given a chance to get back to his old ways (which feels like a distinct parallel to Eastwood's own life), all while claiming an enormous cash reward — something he desperately needs to save his farm. Featuring an outstanding cast that includes brilliant turns from the iconic Gene Hackman, Morgan Freeman, Frances Fisher, and Richard Harris, "Unforgiven" is a perfect reminder of the glory of the Western, all while delivering a fresh take on the genre.
3. Shane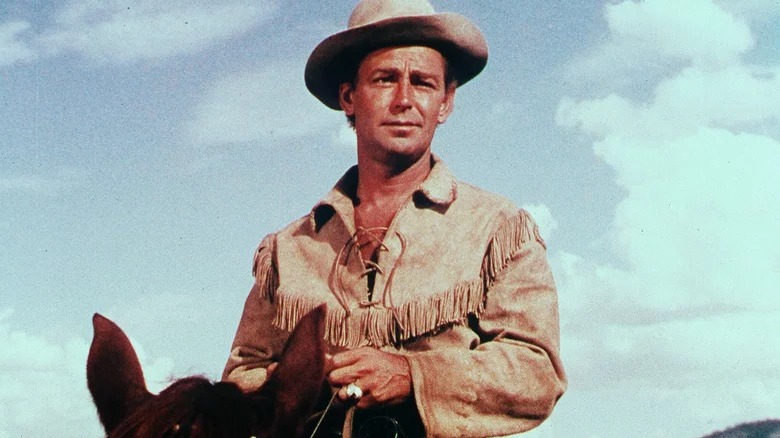 Paramount Pictures
A beautiful deconstruction of the myth of the American cowboy, George Stevens' 1953 classic "Shane" stars Alan Ladd — in one of cinema's most heartbreaking and powerful performances — as Shane, a cowboy of few words but undeniably impressive fighting skills. Shane wanders into a quiet valley where he is hired by the Starrett family, who are being intimidated out of their land by the vicious cattle baron Rufus Ryker (Emile Meyer), to protect their land. Westerns are often known for their epic shootouts, but most of the violence in "Shane" comes from brutal fistfights, including a standout, expertly choreographed brawl in a saloon.
"Shane" has been influential in Hollywood for decades and referenced in countless films such as "Pale Rider" and "The Negotiator." It also shows up in plenty of surprising places, like 2017's "Logan," which includes clips from "Shane" as well as quoting the film's closing monologue. Speaking of the closing monologue, it remains one of the most beautiful, devastating, and memorable in film history, with young Joey's (Brandon deWilde) cries for Shane to come back now a permanent part of pop culture.
2. High Noon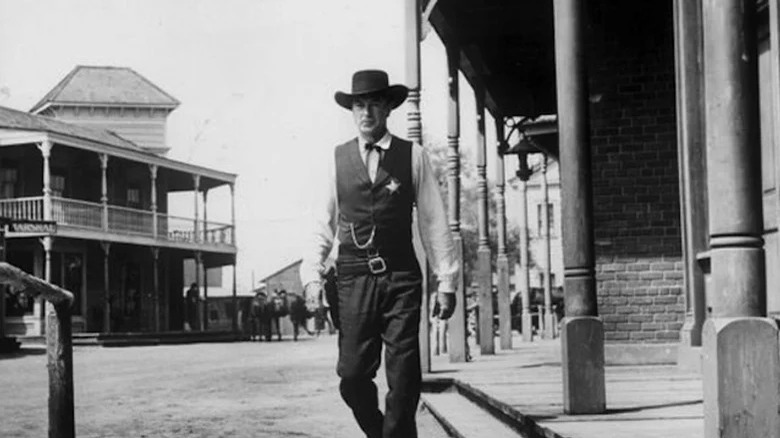 United Artists
The line "Do not forsake me, oh my darling" rings out in the ballad "High Noon," the title song of this outstanding 1952 Western. The film subverted audience expectations, with many anticipating lots of exciting shootouts typical of the genre. What they got instead was a quiet, meditative film about duty and obligation, with plenty of moral quandaries for its characters — especially Marshal Will Kane (Gary Cooper). About to retire and leave the small town he's served, Kane learns that an outlaw he sent to jail, Frank Miller (Ian MacDonald), is coming on the noon train to seek out Kane after being set free. As the film unfolds in real-time, Miller and his wife, pacifist Amy Kane (Grace Kelly), have to decide whether they should flee or Kane should stay and face Miller once and for all.
The film's messages drew diverse reactions, with Western icon John Wayne calling "High Noon" in an interview "the most un-American thing I've ever seen in my whole life." Wayne seemed particularly offended by the film's ending, with Cooper stepping on his Marshal's badge. The film was written by Carl Foreman, one of the writers blacklisted by Hollywood in the 1950s for suspected communist activities. With that context, it's clear how the film drew such intense reactions, but regardless of Wayne's opinion, "High Noon" is one of the finest Westerns ever made, and one of Hollywood's best pictures regardless of genre.
1. The Searchers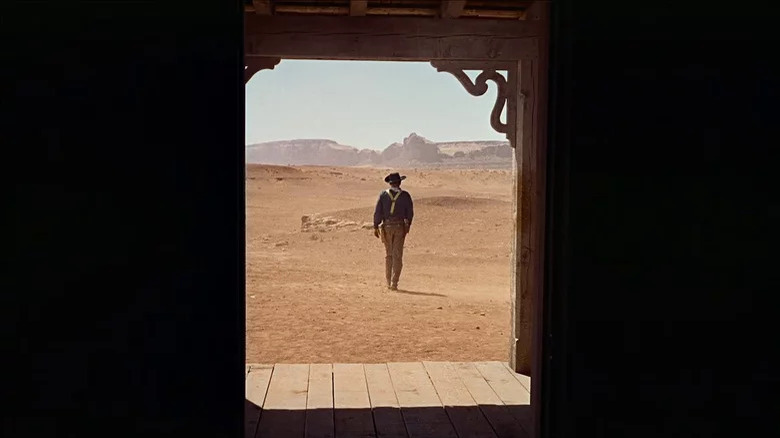 Warner Bros.
When thinking of what the Western genre encompasses, it's typical to conjure up images of Monument Valley, cowboys, horses, and shoot-'em-ups. But perhaps the single most enduring image of the genre is the final scene of John Ford's "The Searchers," in which John Wayne is standing in a doorway, the vast valley at his back, before he turns away and walks off into the empty expanse of the Wild West.
In Ford's masterpiece, John Wayne stars in his finest role as Ethan Edwards, a nasty, vengeful man utterly consumed by his hatred for Indians. After a long time away from home, Ethan returns to discover his niece Debbie (Natalie Wood) was kidnapped by Comanches, who murder her family and burn down their home. This sends Ethan on a mission — not to save his niece, but to shoot her, because Ethan believes that Debbie has been irreparably tainted by the Comanches and cannot be saved.
The film certainly has its issues, particularly in its portrayal — quite common in the genre for decades — of Native Americans as savages. Roger Ebert wrote, "Ford was trying, imperfectly, even nervously, to depict racism that justified genocide ... Ethan's racism was invisible to [the original audience] because they bought into his view of Indians." Despite its issues, which were unfortunately extremely commonplace both in Westerns but in Hollywood as a whole at the time, "The Searchers" is a timeless classic that features everything people love about the extraordinary Western genre. It's no surprise that it tops the AFI's list.