The Improvised Dr. No Moment That Shaped The Future Of The James Bond Franchise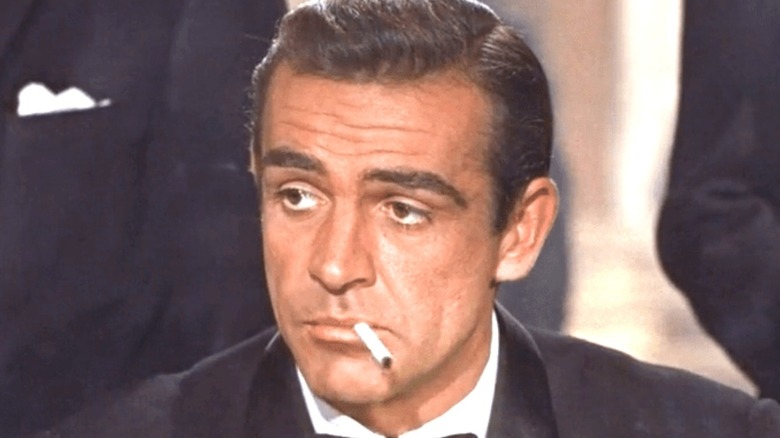 United Artists
As of this October, Daniel Craig's run as the famed MI6 Agent, James Bond aka 007, has come to an end. Craig carried the mantle of the character across the mid-2000s to 2021 in five films, most recently, "No Time to Die." Some have even argued that Craig might be the best Bond ever, although he is up against some pretty stiff competition with a multitude of great actors who played the character before Craig.
Adapted from Ian Flemming's books, James Bond first appeared on screen in 1962's "Dr. No," played by Sean Connery. Connery gained immediate popularity from his portrayal of the character and ended up setting a high standard for future Bond actors. Connery starred in six Bond films from 1962-1967, and then returned in 1971 for "Diamonds are Forever" and again in 1983 for "Never Say Never Again." 
Although each actor played the character a little differently, one thing that has remained the same for every portrayal of James Bond is the way he introduces himself as "Bond...James Bond." So, where did that iconic line come from? None other than the first Bond, Sean Connery.
The way James Bond introduces himself was improvised by Sean Connery
The line of "Bond...James Bond" when the character is asked his name has become so famous that someone who hasn't ever seen the James Bond films before would likely know the quote. As with many famous lines in cinema, this iconic way Bond states his name was completely improvised by Connery. In the original script, it was written that James Bond would introduce himself to the character of Sylvia Trench (Eunice Gayson) with "I am James Bond." However, while shooting the scene Connery noted that this didn't feel strong enough for the character, so when they began rolling Connery introduced himself as "Bond...James Bond" instead (via Express UK).
That's not all though. Before the take, Connery was seen practicing the line as well, seemingly trying to time the cadence of the answer for the best effect. In the scene in "Dr. No", he was also smoking a cigarette, so Connery decided to state his last name of Bond, pause and puff the cigarette, and then finish with his full name. It's something that may seem so simple, and yet it completely laid the foundation of the essence of the suave character. In fact, imagining James Bond saying his name like "I am James Bond" probably feels as weird for fans — and for that Sean Connery, we thank you.
Despite the reporting, there's always a chance that this story is apocryphal. Some evidence suggests the original screenplay actually contained this line, and that it was adapted directly from Fleming's work. Without access to that manuscript, however, this contrarian account is difficult to confirm and — to be honest — we'd just as soon continue thinking of this famous line as a Connery original.
It's unclear what the future of the franchise holds or who will play James Bond next, despite all of the rumors. However, one thing is for certain based on the post-credits of "No Time to Die"— James Bond will return.