The Best Director-Actor Pairs In Movie History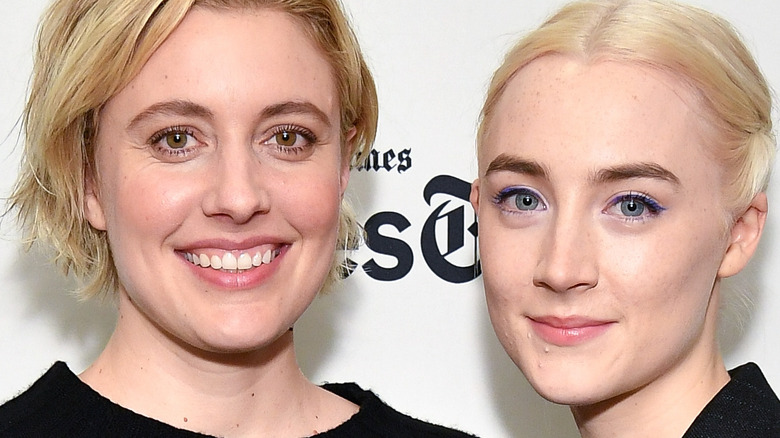 Dia Dipasupil/Getty Images
Great directors and great actors don't (usually) become great after only one or two movies. They spend their entire careers honing their crafts, building on what worked in the past, learning from their mistakes, and trying to influence culture at least as much as they're influenced by it. Along the way, they meet countless other people in the world of filmmaking, ranging from producers and crew members to other directors and actors. They won't get along with everyone, but plenty of seasoned pros discover early on that they work brilliantly well with specific people. We're talking someone who's on the same page as them cinematically, who can contribute to and elevate their ideas, and who respects them enough to give them artistic freedom while still keeping them anchored to a shared creative vision.
Some of the greatest films ever made are the result of these iconic pairings, especially between directors and actors. These people are creatively attached at the hip and support and challenge each other in all the right ways. But which director-actor tag-teams are the best in history? When considering the possibilities, you have to look at factors like the quality of their films and the length of their partnerships. You also have to consider the number of movies they've released, whether the actor stars or merely supports the director's films, and the impact the team has had on the world of movies. We've done all that for you, so grab some popcorn as we look at the best director-actor pairs in film history.
Adam McKay and Will Ferrell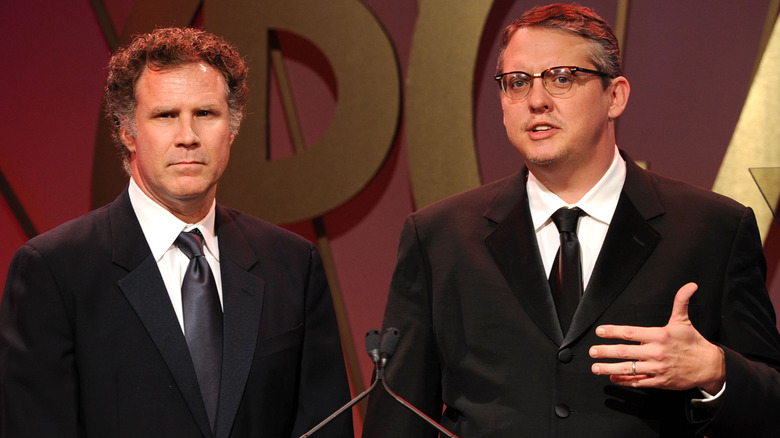 Kevin Winter/Getty Images
Surprised? Don't be. Their comedies aren't necessarily masterpieces, but Adam McKay and Will Ferrell have created some of the most popular and overquoted flicks of the 2000s. There are some duds in this relationship -– the universally maligned "Holmes and Watson" comes to mind -– but between "Anchorman," "Talladega Nights: The Ballad of Ricky Bobby" and "Step Brothers," we'd say they have a mighty comedy backlog.
Often supported by John C. Reilly, Ferrell clearly has a blast with these projects. His Ron Burgundy character from the "Anchorman" movies is one of the most iconic of the 2000s. "Talladega Nights" never got a sequel, but it doesn't need one. Between Ricky Bobby's foul-mouthed kids, his French racing rival (Sacha Baron Cohen), and his father putting a wildcat in his car to teach him to focus on the road, the movie is almost impossible to forget. And in "Step Brothers," Ferrell and Reilly play two overgrown 40-something man-children who become stepbrothers when their single parents marry each other, and they eventually put their rivalry aside after discovering a long list of shared interests, ranging from Velociraptors to Shark Week to night vision goggles.
However, "The Other Guys" might just be McKay's best Ferrell-fronted film, with the comedian and Mark Wahlberg playing a pair of inept, unappreciated cops who wind up saving the day. It's all dumb stuff, but that's the point. And it doesn't make it less funny.
Tim Burton and Johnny Depp
Dave M. Benett/Getty Images
Tim Burton is primarily known for two things. First, there's the strange and playfully dark tone and subject matter of his movies, which usually deal with the lightly supernatural and feature eccentric and mysterious characters. Secondly, he's famous for the eight films he's collaborated on with Johnny Depp, who plays eccentric and mysterious characters better than almost any actor alive. We think we're seeing a pattern here.
With Burton behind the camera, Depp has played an inept filmmaker in "Ed Wood" (based on the life of the man himself), a confused, ancient, and recently resurrected vampire in "Dark Shadows," and the titular character in "Edward Scissorhands," who's an unfinished artificial creation with knives and various other bladed tools in lieu of hands. Plus, he's starred as the science-loving Ichabod Crane in "Sleepy Hollow" and the brilliant (and criminally irresponsible) candy magnate Willy Wonka in "Charlie and the Chocolate Factory," as well as a murderous, vengeful barber in "Sweeney Todd: The Demon Barber of Fleet Street," a nervous groom to be in stellar stop-motion movie "Corpse Bride," and "Mad Hatter" Tarrant Hightopp in "Alice in Wonderland."
Burton and Depp's movies, which also frequently feature actress and Burton's ex-wife Helena Bonham Carter (whose work with Burton nearly got its own entry on this list), are dependably watchable at the very least, occasionally excellent, and always unforgettably and wonderfully strange. "Edward Scissorhands" and "Ed Wood," in particular, are close to masterpieces.
Wes Anderson and Bill Murray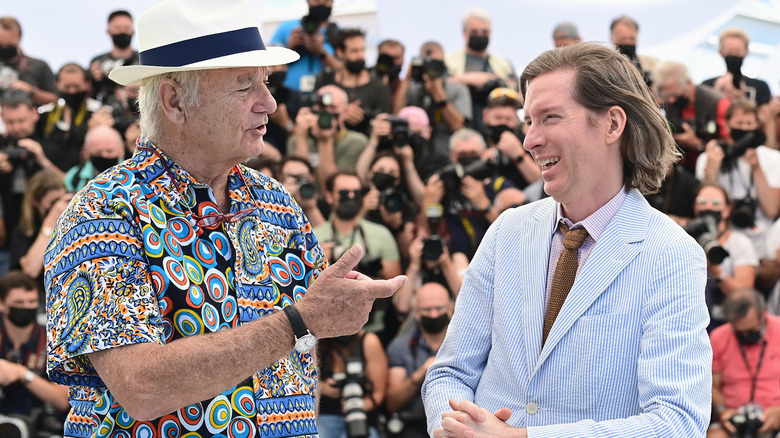 Pascal Le Segretain/Getty Images
Wes Anderson's films often blur the line between drama and comedy, telling thought-provoking stories with thematic depth, all neatly balanced by playful humor and a unique brand of off-beat quirkiness. They're hard to describe if you've never seen one, but once you get a feel for what Anderson's all about, you can start picking out his work anywhere. And Bill Murray has been in nine — count 'em, nine – Wes Anderson vehicles. 
It makes sense. Murray, like many other comedic actors, turned to drama when he wanted to be taken a bit more seriously. Anderson was a godsend for his career, giving him solid dramatic material while still allowing Murray's brand of distinctive humor to shine through. Their dynamic was crystal clear from their first film together, "Rushmore," proving the two are a match made in film heaven.
Since then, their collaborations have included "Fantastic Mr. Fox," in which Murray stars as Badger, one of the animal residents endangered by the antics of George Clooney's Mr. Fox, as well as "Isle of Dogs," another animated feature which sees Murray as Boss, a dog whose career as a baseball mascot was cut short when he was thrown onto Trash Island with all the other canines in Megasaki. Plus, Murray gives a wonderfully understated performance as neurologist Raleigh St. Clair in "The Royal Tenenbaums," and he plays the complicated undersea hero in Anderson's "The Life Aquatic with Steve Zissou."
Granted, Murray isn't always the leading man (see "The Grand Budapest Hotel," "The Darjeeling Limited," or "Moonrise Kingdom" for proof), but he's always integral to Anderson's quirky little world.
Quentin Tarantino and Samuel L. Jackson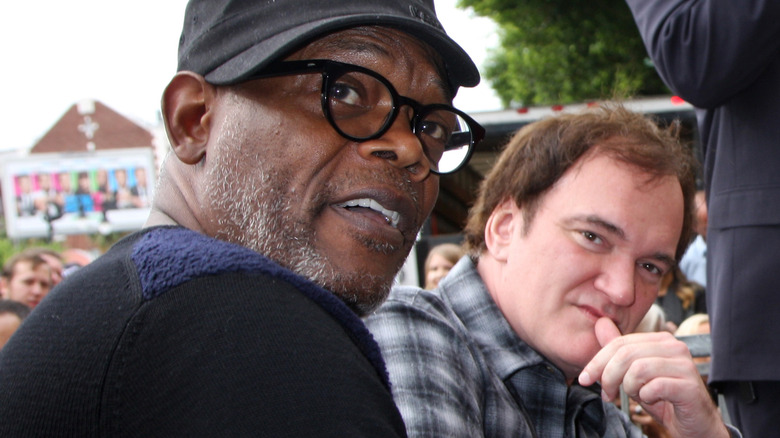 Kathy Hutchins/Shutterstock
Samuel L. Jackson is in pretty much everything. He's Nick Fury in the MCU. He's Jedi Master Mace Windu in the "Star Wars" prequels. He's in "Jurassic Park," "Unbreakable," "Die Hard: With a Vengeance," both "Incredibles" movies, "Kong: Skull Island," "Goodfellas," and more. Finding him in the movies is like finding the back of your own hand. But despite all the excellent performances he's given us over the years, his greatest and most memorable work has to be his collaborations with writer-director Quentin Tarantino.
Jackson makes a small appearance as the Narrator in "Inglourious Basterds," plays Rufus the poor piano player in "Kill Bill Vol. 2," and portrays ruthless and impulsive arms dealer Ordell in "Jackie Brown." But he gets even more room to play in a few other Tarantino movies. He makes an absolute meal out of the clever, gunslinging Major Marquis Warren in "The Hateful Eight." His character in "Django Unchained" is almost the opposite. Rather than being a racist-hating gunfighter, he plays Stephen –- Calvin Candie's loyal house slave who doesn't trust the movie's slave-freeing heroes.
Most notably, Jackson plays Jules in "Pulp Fiction," arguably Tarantino's masterpiece and one of the greatest films of the '90s. Jules, far too smart for his job as a gangster's hitman, delighted us all with his badass Bible verse quoting and reluctant existentialism. It was also a once in a lifetime role for Jackson and proof that Tarantino had found his man.
Greta Gerwig and Saoirse Ronan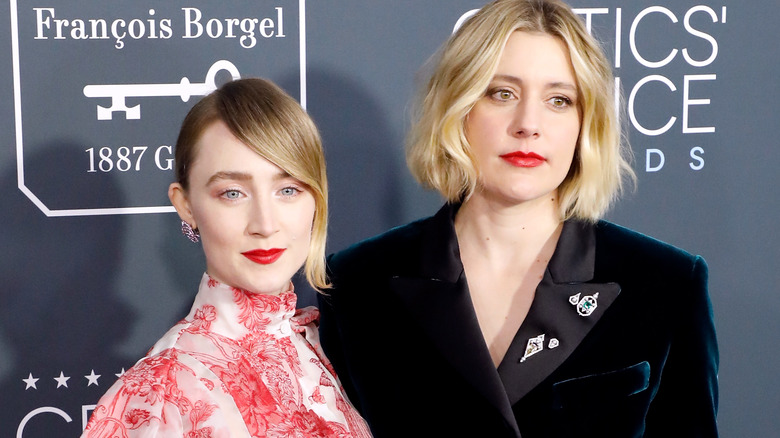 Taylor Hill/Getty Images
Don't dismiss them because they're new. Director Greta Gerwig and her trusty favorite lead actress, Saoirse Ronan, don't seem capable of turning out anything less than pure cinematic gold.
Their first collaboration was 2017's "Lady Bird," in which Ronan plays Christine "Lady Bird" McPherson, a quirky high school senior who has a strained relationship with her mother. To give you an idea of how good this coming-of-age dramedy is, it briefly held the record for highest-reviewed film ever on Rotten Tomatoes before eventually being bumped all the way down ... to 99%. That's still astonishingly high given its nearly 400 featured reviews. Plus, the film was nominated for five of the most enviable Oscars: Best Picture, Best Actress, Best Supporting Actress (for the excellent Laurie Metcalf, who played Christine's mother, Marion), Best Original Screenplay, and Best Director. Pretty impressive for Gerwig's directorial debut. Yeah, you read that right.
That's hard to top. But they came close with 2019's "Little Women," based on Louisa May Alcott's novel of the same name. The ensemble cast — in which Ronan joins Emma Watson, Florence Pugh, and other solid names — brought the story to life brilliantly and unforgettably with the help of director Gerwig, fully in command of her craft. This isn't another tired adaptation. It's cinematic excellence.
Sure, they've only done two films so far, but they're on track for a mighty legacy.
Christopher Nolan and Michael Caine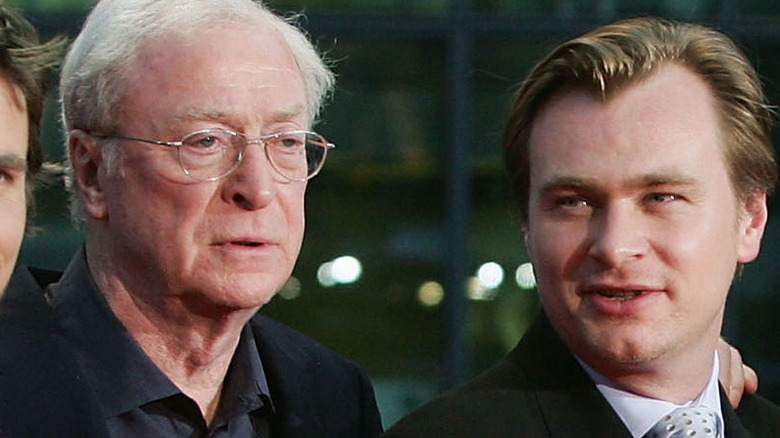 Sean Gallup/Getty Images
Michael Caine rarely stars in Christopher Nolan's movies, but he's almost always somewhere in them. He was Dom Cobb's former father-in-law in 2010's "Inception," about a team of thieves who steal secrets from dreaming targets. He played an aging NASA scientist in 2014's "Interstellar," who sends astronauts through a wormhole to search for a new home for mankind as the Earth becomes increasingly inhospitable. He also played the unseen but briefly heard Fortis Leader in 2017's "Dunkirk," a fighter pilot in the RAF who helps cover the evacuation of 400,000 British troops from a beach during the Nazi conquest of France in 1940.
Most notably, he played Alfred Pennyworth, the most famous fictional butler of all time, in the "Dark Knight" trilogy. Nolan, who abhors genre tropes and does his best to give depth and significance to every character in his movies, made sure that Caine's Pennyworth wasn't a flat, submissive, "more tea, sir?" type character. Instead, Alfred is a wise, indispensable, and fiercely loyal friend to Christian Bale's Bruce Wayne. He's a character who even makes mistakes and occasionally fights with his boss over the dangers of Batman's reckless vigilantism.
We have to knock this partnership a little bit for the simple fact that, again, Caine is never more than a (sometimes minor) supporting character in these movies. But still, when these movies include the likes of "Tenet" and "The Prestige," we definitely can't complain.
David Fincher and Brad Pitt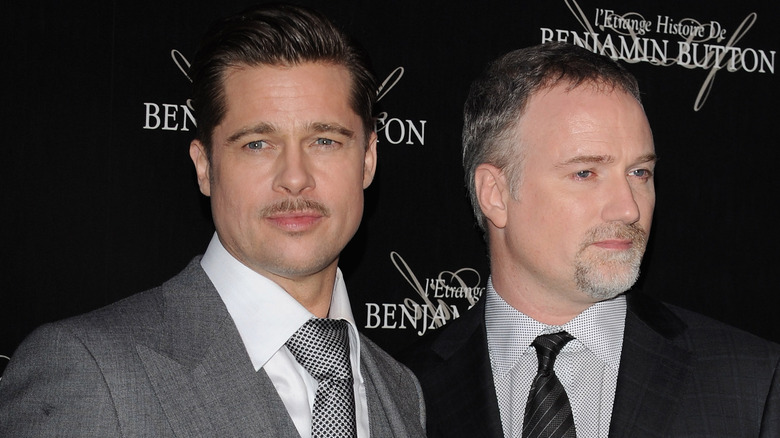 Pascal Le Segretain/Getty Images
Most of the creative partnerships featured on this list have turned out six or eight movies. But director David Fincher and actor Brad Pitt have only made three. So their inclusion here must mean those three films were absolute knockouts. And they were. 
The first movie they made was "Se7en." It's a sharp, nightmare-inducing psychological thriller in which Pitt plays a hotshot young detective who's paired with a tired vet (Morgan Freeman) and sent on a mission to track down a serial killer who uses the seven deadly sins as inspiration. But honestly, the movie needs no introduction. It's a masterclass in the thriller genre that's been frequently imitated but rarely equaled since its release.
The duo's next film, "Fight Club," was more divisive upon release but has since become widely regarded as one of the best films of the '90s. Here, Pitt plays Tyler Durden, a wicked cool rebel who gets Ed Norton's Narrator out of his unfulfilling white collar stupor by forming the titular fight club with him. The movie's final twist is its most famous part, but everything about the movie holds up and is worth at least a yearly rewatch.
The duo's most recent collaboration is their weakest, but 2008's "The Curious Case of Benjamin Button" is still a solid, thought-provoking, and perfectly memorable film. It's further proof that Pitt's effortlessly cool and dependable performances are a perfect match for Fincher's sharp, confident, and assured direction.
Bong Joon-Ho and Song Kang-Ho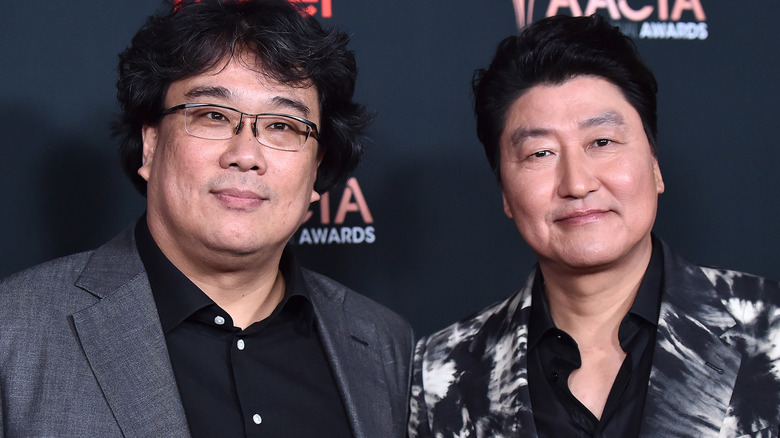 DFree/Shutterstock
South Korean director Bong Joon-Ho and his favorite leading man, Song Kang-Ho, have teamed up four times, and each outing is excellent. The first was 2003's "Memories of Murder," inspired by true events, in which Song plays a detective trying to catch an elusive killer. The film, as tightly and brilliantly executed as any crime thriller out there, is tragically overlooked. Then there's 2006's "The Host," in which Song tries to rescue his daughter from a monster. According to Rotten Tomatoes, this is the worst of the Bong/Song team-ups ... with its 93% approval rating.
Bong finally received more worldwide attention for his excellent 2013 action-thriller "Snowpiercer." In this movie, Song joins Chris Evans and Octavia Spencer as imprisoned passengers leading a rebellion aboard the titular train, which carries the last remnants of humanity on a world-spanning track after a failed attempt to stop climate change turned the Earth into a ball of ice.
But Song Kang-Ho and Bong Joon-Ho's next film together, 2019's "Parasite," brought them whole new levels of international acclaim. The movie, in which Song plays the patriarch of a family of impoverished South Koreans who con their way to financial stability by taking advantage of a wealthy family, is filled with fantastic, layered social commentary, sharp jokes, excellent characterization, and unforgettable visuals. It's not only the best movie of 2019 -– thoroughly deserving its Best Picture win at the Academy Awards — but one of the greatest films ever made. We can't wait to see what this pair gets up to next.
Edgar Wright and Simon Pegg/Nick Frost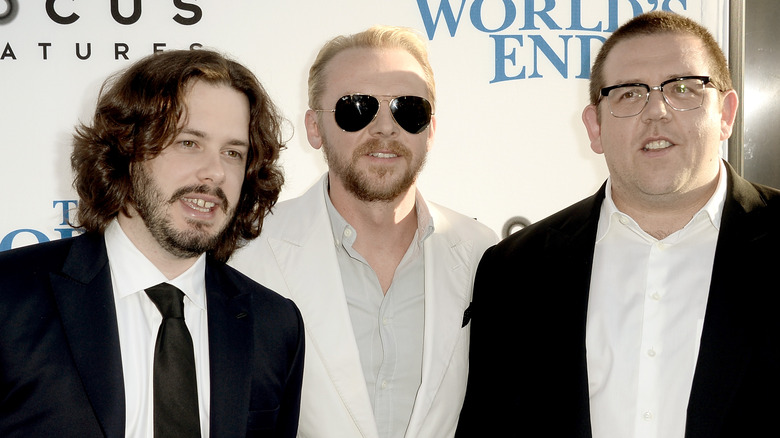 Kevin Winter/Getty Images
We've got two actors here, but they're so charmingly inseparable — and the movies they've made with comedic mastermind Edgar Wright are so good — that we're willing to look past it. This trio is of course responsible for the "Three Flavors Cornetto" trilogy, in which the three films are narratively unconnected but stylistically and tonally very clearly the work of the same gloriously twisted minds.
The first film is 2004's "Shawn of the Dead," in which Pegg and Frost play best friends trying to navigate getting older and a sudden zombie apocalypse in their London suburb. Filled with brilliant jokes and disarmingly effective character arcs, this is one of the greatest horror comedies ever made. The 2007 follow-up, "Hot Fuzz," sees leading man Pegg as a London cop transferred to a small English town, where he meets and befriends Frost's buffoonish yokel of a constable. Together, they join forces to catch a deadly killer. Like "Shawn," "Fuzz" is riotously funny and almost impossible to poke holes in. And 2013's "The World's End," about five friends whose hometown pub crawl is interrupted by aliens, is a slight step down from the previous two entries but only because the bar is so high. It's still excellent and worthy of your time.
Overall, Pegg and Frost's peerless and endearing comedy chops are perfectly paired with Wright's passionate and visionary direction. Each project they tackle is a love letter to fans and the art of filmmaking.
Alfred Hitchcock and Cary Grant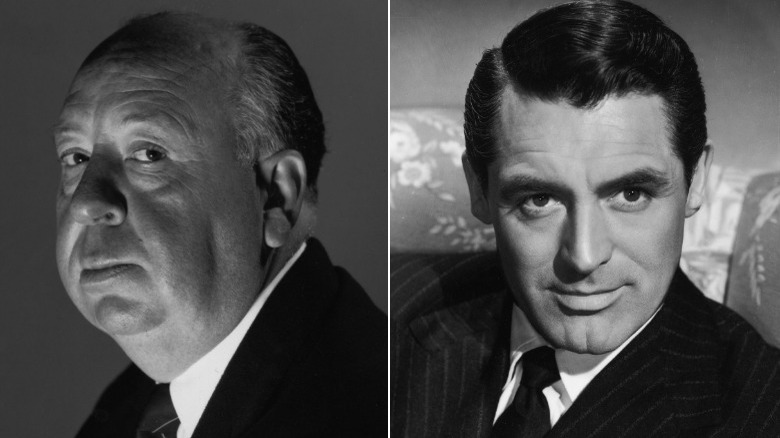 Baron, Getty Images/Getty Images
It's hard to find two Golden Age titans more impactful than the "Master of Suspense," Alfred Hitchcock, and Cary Grant, one of the most prolific actors of the '40s and '50s. The two collaborated on a modest four films, but each project changed Hollywood forever.
There's "Suspicion," in which Grant plays a womanizer whose wife — after enduring years of his manipulation and anger — comes to believe he's planning to murder her. The movie nabbed Hitchcock his third Best Picture nomination and still holds up.
"To Catch a Thief" features Grant as John "The Cat" Robie, a retired burglar who's on a mission to prove his innocence after being framed for a series of robberies in the French Riviera. It also features one of the all-time kissing scenes between Grant and Grace Kelly. "Notorious," about a U.S. government spy who reluctantly pushes his love interest to seduce the leader of a Nazi group to further his investigation, has all the intrigue, romance, and thrilling twists that made Hitchcock a master.
And then there's 1959's "North by Northwest," one of both men's greatest films. This one stars Grant as an advertising executive on the run from both the government and nefarious agents after being mistaken for a spy. We won't spoil the specifics, but let's just say that "North by Northwest" is still a masterclass in the action-thriller genre that modern espionage movies are still trying to live up to. Some have come close. But very few, if any, are truly the equal of this influential masterpiece.
Martin Scorsese and Robert De Niro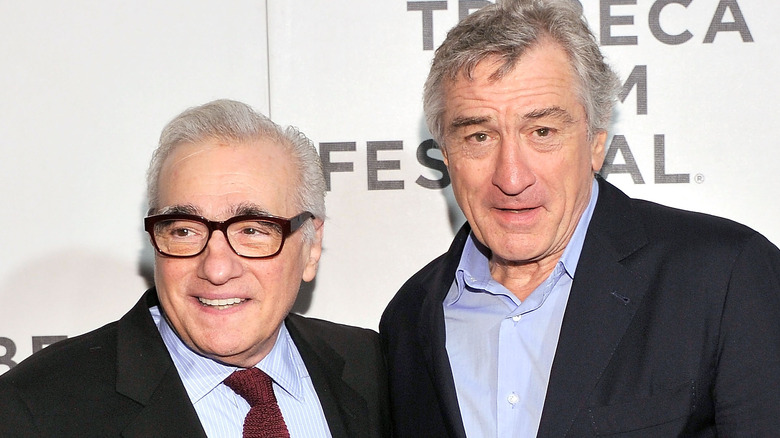 Stephen Lovekin/Getty Images
Martin Scorsese's nine-movie partnership with Robert De Niro has yielded a veritable laundry list of some of the greatest films ever made, and that puts them quite comfortably at the top of director-actor pairings (sorry, Leo). Just look at some of the names here: "Mean Streets," "Taxi Driver," "Raging Bull," "The King of Comedy," "Goodfellas." "Casino," "The Irishman." Sure, a lot of them are about the mafia, but they're Scorsese-De Niro mafia movies — collectively, the bar every crime flick since 1973 has been measured against. And there's a lot more variety in there than you might think.
In "Taxi Driver," De Niro plays Travis Bickle, a cab driver whose service in Vietnam has saddled him with serious mental health issues and who starts acting out violent fantasies after being rejected by the woman he's been seeing. In "Raging Bull," De Niro is Jake LaMotta, a real-life boxer whose self-destructive behavior ruins his relationship with his family. In "The King of Comedy," De Niro is Rupert Pupkin, a down-on-his-luck stand-up who struggles with mental health issues as he seeks success in comedy. You get the point. It's not just gangsters.
Anchored by De Niro's dependably excellent, and frequently award-winning performances (not infrequently supported by Joe Pesci), Scorsese and De Niro's movies explore themes of mental health, family, crime, and success as well as any film ever made. If you've never seen these masterpieces, you're seriously missing out.