Gal Gadot Has An Exciting Wonder Woman 3 Update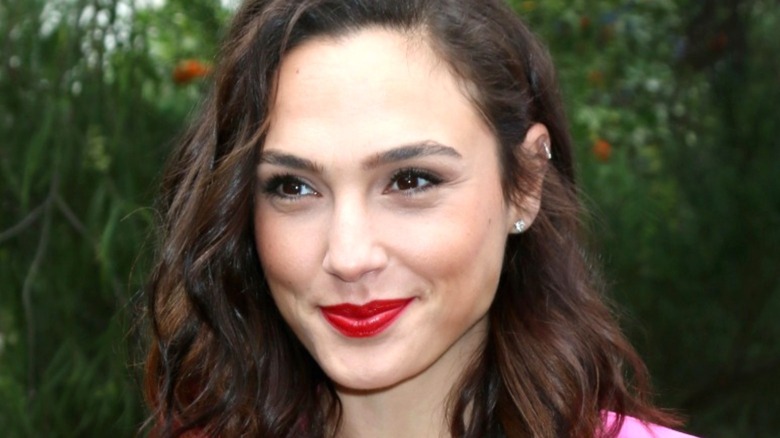 Kathy Hutchins/Shutterstock
The recent merger of Discovery and WarnerMedia is complete, possibly leaving the future of many DCEU projects in a rather unstable position. It was reported that the company, now Warner Bros. Discovery, is planning significant changes in regard to DC Entertainment (via Variety), which could mean different things for the characters that we have come to know over the past few years. Matt Reeves' "The Batman" was recently released to an incredibly positive reception, and as most fans know, the upcoming movie slate for DC projects is pretty packed. We are awaiting projects ranging from Ezra Miller's "The Flash" movie (which is set to feature Michael Keaton and Ben Affleck's Batman once again), "Shazam! Fury of the Gods," "Black Adam," "Batgirl," and a number of others.
It seems most of the original members of the DCEU's "Justice League" are all still having their own solo adventures. It's unsurprising that both Jason Momoa's Aquaman and Gal Gadot's Wonder Woman are still getting their own movies, as both of their first self-titled flicks stand as some of the highest-rated DCEU movies to date (via Rotten Tomatoes). Although Momoa's sequel is yet to come in December of this year, "Wonder Woman 1984" came out in 2020 to a reception that was still mostly positive.
Since then, there has been minor discussion on "Wonder Woman 3" – although this may have officially changed due to a statement from Gadot in a recent interview. Here's what we know.
Gal Gadot says a script is in the works for Wonder Woman 3
While speaking with Forbes during a conversation about her mac and cheese company GOODLES and any upcoming projects, Gal Gadot addressed speculation on a possible "Wonder Woman 3" when asked. The actress explained that her and director Patty Jenkins are talking and "in the mix of working on the script" for the third film, setting up for a "Wonder Woman" trilogy of sorts. Gadot went on to say that the "wheels are working and turning" and she is thrilled for fans to come out and see "Wonder Woman 3" whenever it's officially released in theaters.
For any fans of Gadot's version of the iconic DC Comics character, this is certainly amazing news. If Warner Bros. Discovery and Gadot are truly in this process, it will be interesting to see not only what "Wonder Woman" villain may serve as the main antagonist, but also when the story will actually take place in regard to timing with "Batman v. Superman" and "Justice League." As we know, "Wonder Woman" takes place during the events of World War I, and "Wonder Woman 1984" is self-explanatory. It could be possible that the third film would take place after the events of "Justice League," but that may all depend on what occurs with the multiverse happenings in "The Flash." We'll keep you posted.