The Academy Slaps Will Smith Back With Severe Penalty
Neilson Barnard/Getty
Ever since Will Smith slapped Chris Rock on stage at the 94th annual Academy Awards, the story has continued to dominate headlines as the situation rapidly evolves, and it now appears that something of a conclusion has been reached. The "King Richard" star, who slapped Rock and then cursed at him from the crowd after the comedian quipped about Jada Pinkett Smith, went on to receive the award for best actor mere minutes later. It was his first Oscar, and may prove to be his last for quite some time.
The Academy of Motion Picture Arts and Sciences opened a formal review into Smith's behavior at the ceremony the next day, and Smith soon issued an apology, calling his actions "inexcusable." A few days later, on April 1, Smith took the drastic step of resigning his Academy membership, noting that he would accept any additional consequences and writing, "I betrayed the trust of the Academy. I deprived other nominees and winners of their opportunity to celebrate and be celebrated for their extraordinary work. I am heartbroken."
Though the Academy accepted Smith's resignation, President David Rubin made clear that the organization's board of governors would continue disciplinary proceedings against the actor at their next meeting in accordance with its code of conduct. Today, after meeting 10 days earlier than planned, the Academy has finally come to a decision, imposing a harsh penalty on Smith.
Will Smith is banned from the Oscars for the next decade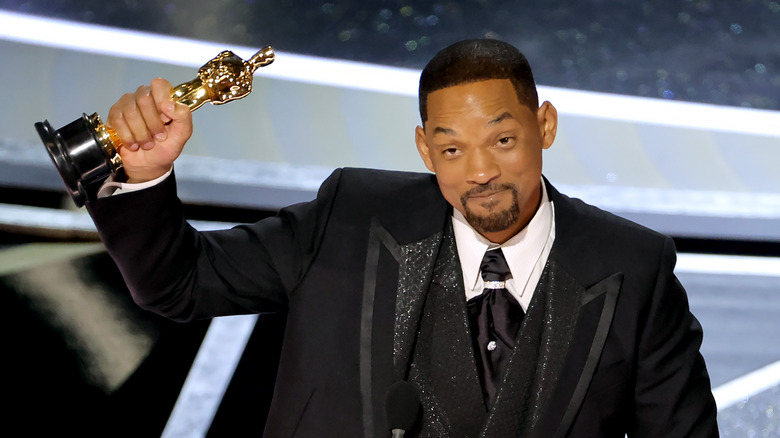 Neilson Barnard/Getty Images
The Academy of Motion Picture Arts and Sciences has ruled that Will Smith is banned from attending the Oscars or any other Academy event for the next 10 years (via Deadline). The decision, delivered Friday in a joint statement from Academy President Dave Rubin and CEO Dawn Hudson, followed a virtual all-hands meeting of the Academy board of governors convened early that morning.
Though originally scheduled for April 18, the meeting was held early on the morning of April 8, and the decision reached therein prevents Smith from attending any Academy event, whether virtually or in-person, until the year 2032. The statement from Rubin and Hudson called the penalty "a step toward a larger goal of protecting the safety of our performers and guests, and restoring trust in the Academy."
Additionally, the statement expressed "deep gratitude" to Chris Rock for "maintaining his composure under extraordinary circumstances," and apologized for a lack of action on the night of the awards ceremony following Smith's attack. Oscars producer Will Packer had previously claimed that he intervened to prevent Academy staff from asking Smith to leave because Rock declined to press criminal charges.
Smith's ban means that he will not have the opportunity to present the award for best actress at next year's Academy Awards, as is tradition for the previous best actor.