Possible Game Of Thrones Finale Details Leak Online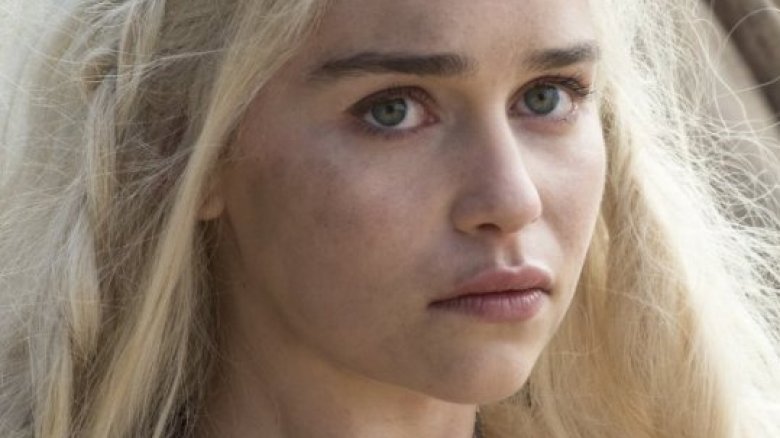 Over the past few weeks, it's been a game of hacks, leaks, and cyber scandals for HBO and its hit fantasy drama series Game of Thrones. And with less than 48 hours until the show's penultimate season wraps on Sunday, August 27, hackers have delivered another blow: Details of the season seven finale have reportedly leaked online.
According to Deadline, individuals claiming to be connected to the most recent hack on HBO have uploaded information regarding the upcoming longest episode of Game of Thrones. The hackers are referring to themselves as "Mr. Smith," and first posted the details on a Reddit subthread, where the data was presented as a detailed outline of the David Benioff and D.B. Weiss-written episode. A portion of an early draft of the episode's script was also uploaded to Reddit. 
The material overall looks to have originated from pre-production work conducted back in 2016, and the confidential plot outline appears to provide an exact account of how season seven will end. Many outlets have chosen not to publish the explicit details in their reports, so as to not spoil the finale for fellow fans. 
The Mr. Smith hacking group contacted another outlet, Mashable, writing in an email, "Game of [Thrones] is over. Wait for major waves! Rest in peace, HB-Old." Additionally, the hackers stated that they sold some of the data stolen from HBO to three customers on the deep web and earned half of the requested ransom, which was reportedly around $6.5 million in Bitcoin, a worldwide cryptocurrency and digital payment system. 
"We put a condition for our respected customers and they approved. We will leak many many waves of HBO's internal stuff to punish them for playing us and set an example of greedy corporation," the hackers continued. "We know exactly what HBO and shoemakers around are doing now. Unlike HBO, we never getting surprised. Pattern analysis of HBO's silly hidden acts are as we expected. We eagerly waiting for Fireye's report... tell them to hurry up." This is presumably a reference to the cybersecurity company FireEye Inc. 
As far as HBO is concerned, it's paying as little mind to the situation as possible. When asked to address the current reported information leak, the network referred Deadline to its previous statement given in response to the hackers stealing and leaking episodes of Curb Your Enthusiasm on August 13. "The hacker may continue to drop bits and pieces of stolen information in an attempt to generate media attention," HBO said in the comment of two weeks ago. "That's a game we're not going to participate in."
Not only have these hackers affected Game of Thrones and additional HBO properties, they also compromised the safety of a number of HBO executives by reportedly getting a hold of personal data, including addresses, emails, phone numbers, and social security information. Another hacking collective known as OurMine even broke into the social media accounts of HBO and several of its properties, though this act doesn't appear to be linked to the ongoing incidents that started on July 31.  
When the first hack was reported, HBO issued a statement that read, "HBO recently experienced a cyber incident, which resulted in the compromise of proprietary information. We immediately began investigating the incident and are working with law enforcement and outside cybersecurity firms. Data protection is a top priority at HBO, and we take seriously our responsibility to protect the data we hold." In the time since, it's been reported that four people have been arrested in connection to the cyber attacks.
Though the anonymous collective has threatened to drop the 80-minute-long "The Dragon and the Wolf" online ahead of its official release, footage of the actual episode has yet to pop up anywhere online as of the time of writing. 
Until we can see the Game of Thrones season seven finale ourselves, brush up on everything you missed in the most recent episode.