Kara Killmer Reveals Why Brett Stayed In Chicago And Didn't Move With Casey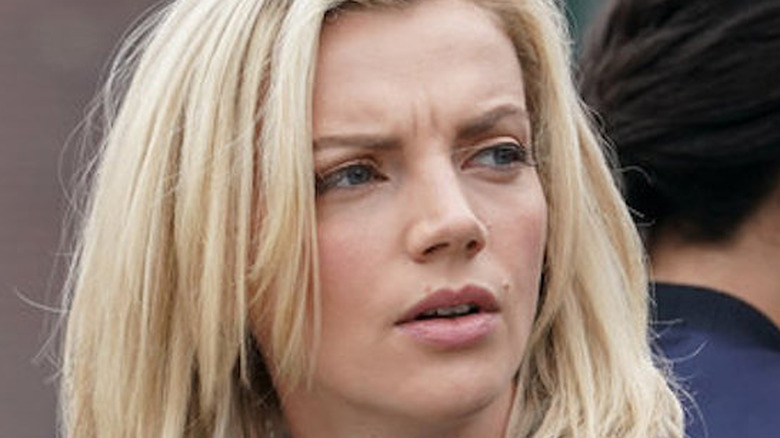 Lori Allen/NBC
"Chicago Fire" star Kara Killmer has shared with fans why her character, Sylvie Brett, chose not to move from the series' main location of Chicago to Portland, Oregon, with Matthew Casey (Jesse Spencer). The dilemma is nothing new to fans, as "Chicago Fire" is built off of intense first responder scenarios as much as it is the complicated and interpersonal relationships of the firefighters, paramedics, and others living in the Windy City.
There's no denying the strategy has worked; the NBC series is currently airing Season 10 and is already renewed for Season 11. On top of this, it's also inspired multiple spinoffs, including "Chicago P.D.," "Chicago Justice," and "Chicago Med." Some of those sister shows have become major successes too. "Chicago P.D." was greenlit through Season 9, and "Chicago Med" is guaranteed to make it through at least Season 8, per Deadline.
Brett and Casey became a quick favorite relationship on the series, but it was one soon put to the test when Casey revealed he needed to move to Portland to help care for his late friend Andy Darden's (Corey Sorenson) kids. Some may have been expecting Brett to make a giant leap with Casey, but they instead chose to attempt a long-distance relationship, which of course comes with its own particular drama. For those who may be wondering exactly why Brett stayed, Killmer has revealed there is something strong keeping her character in Chicago.
Casey is the reason Brett stays in Chicago
Ironically, Matthew Casey (Jesse Spencer) is actually the reason Sylvie Brett (Kara Killmer) stays in Chicago, according to none other than Killmer. When asked why Brett does not move to Portland with Casey during a "One Chicago" franchise event (via YouTube), Killmer recalled a Season 8 scene where the two characters bond. At one point, Brett expresses how the fictional Firehouse 51 is not like other firehouses in terms of how they operate. In the scene, Brett tells Casey, "One of the first things you learn at the academy is [that] you get the victim to the hospital [as] best you can, and you don't look back. As soon as I started at 51, I noticed nobody follows that rule here — especially you."
According to Killmer, it's this extra dedication that makes the crew on "Chicago Fire" so different. "Everyone doesn't do a good job of following the rules of leaving work behind. They always take work with them, and they go the extra mile to make sure that their victims are okay, and the people that they tend to are ... it stays with them." Brett learns from Casey how to go above and beyond in this way to care for others, and, in turn, it makes her feel a responsibility to her firehouse.
Staying behind while Casey leaves is no doubt a difficult decision for Brett. But, it's a reminder of the positive nature of this "Chicago Fire" couple's relationship that the reason behind their separation is rooted in the weight Brett and Casey feel about their responsibilities. They are trying to live up to the image of the people the two first admired in each other.