Casey Just Left Chicago Fire And Fans Are Not Happy
The entire "One Chicago" franchise has been a juggernaut for NBC, starting with the flagship series "Chicago Fire." The show debuted in 2012, and it's shown what's possible with an interconnected TV universe, with characters crossing over into the likes of "Chicago Med," "Chicago P.D.," and "Chicago Justice." Each episode brings a new disaster for the team to overcome, and as expected from emergency service personnel in the windy city, these folks are built different. 
Of course, there's only so much a character can withstand before losing their gumption for the career. Plenty of characters have come and gone from these four shows over the years, but few have hit quite as hard as the untimely departure of Lieutenant Matthew Casey (Jesse Spencer). The firefighter's been around from the very beginning of "Chicago Fire," appearing in 200 episodes of the series. In the show's milestone 200th episode, appropriately titled "Two Hundred," fans had to say goodbye to Casey. As tends to be the case, it's resulted in some strong opinions across social media.
Chicago Fire fans think Casey deserved a better exit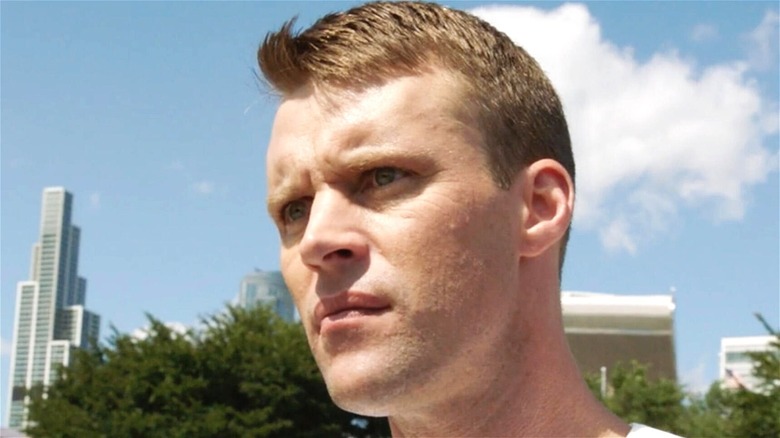 NBC
Whenever a beloved character exits a primetime procedural, there tends to be a reaction among fans to question whether it's genuinely permanent. Sad to say, that does appear to be the case for Jesse Spencer leaving "Chicago Fire." He spoke in an interview with TVLine about his decision to step down from the series and how he felt like it was time to move on to other things. He leaves the door open for a return down the road, but it's clear audiences won't see him again for quite some time, if at all.
Fans quickly turned to Reddit to voice their frustration, with u/KnightSaziel voicing many fans' opinions: "For a 200th episode celebration, that was a very ho-hum episode and one of the weakest longtime characters send offs I've ever seen. Casey's leaving felt like an after-thought with how little fanfare there was." Others also thought that Casey's leaving to Oregon didn't feel as though it was built up enough to have any kind of lasting impact, like u/TakenAccountName37, who wrote, "Right! There wasn't much focus on him leaving until they all walked out and said goodbye. Then, when he pointed at the ambo, he just seemed like a guy having fun. Goodbyes tend to be more emotional."
Casey's exit is naturally subjective and open to interpretation. But it's clear some fans think Casey deserved a bit more after starring in 200 episodes of "Chicago Fire."