Ranking Every Couple On Chicago Fire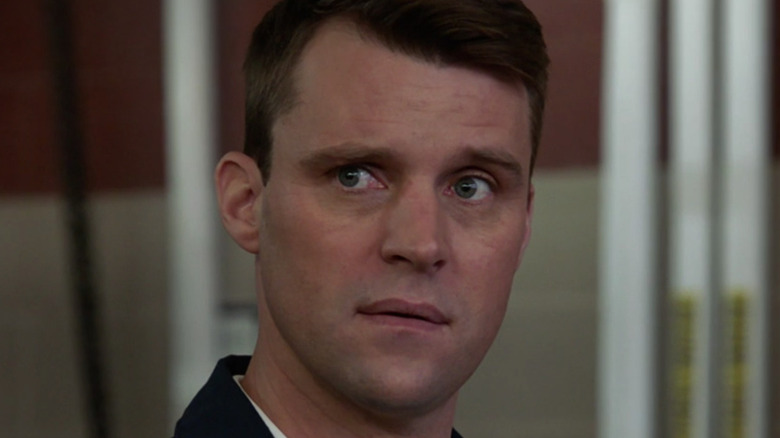 NBC
The series that kicked off the "One Chicago" franchise has seen its fair share of romances. "Chicago Fire" has well over a dozen memorable characters — some of which have come and gone — and all of them have been involved in some sort of romantic storyline throughout the course of the series. While a good portion of these were something worth rooting for, others were a total disaster to watch unfold. Some "Chicago Fire" couples continue to stand the test of time, while several had only a few episodes worth of story before they fizzled out.
"Chicago Fire" definitely gives "Chicago P.D." and "Chicago Med" a run for their money in the romance department — which could be thanks to Mr. Kelly Severide (Taylor Kinney) — as the series has had more relationships than the others during its tenure. We decided to rank all of these couples from worst to best, and it wasn't an easy feat. There are some flings missing from the list, as it primarily focuses on stronger relationships, and we'd honestly be here forever if we included every hookup from the show. Take a scroll and see if your favorite "Chicago Fire" couple landed toward the top.
23. Gianna Mackey and Blake Gallo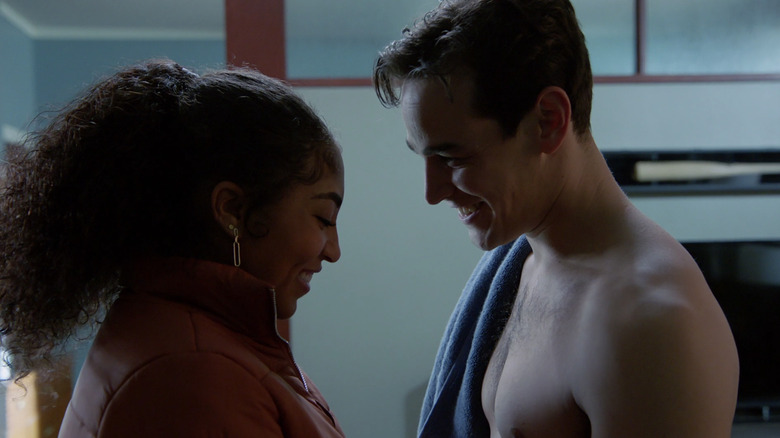 NBC
Season 9, Episode 1 ("Rattle Second City") introduced Gianna Mackey (Adriyan Rae) to the "Chicago Fire" world as the replacement of Emily Foster (Annie Ilonzeh). She didn't have too long of a stint on the series, only appearing in nine episodes as she decided to take a paramedic position with another firehouse. Despite having a short go with Firehouse 51, Mackey still got to sneak a little romance in with fireman Blake Gallo (Alberto Rosende).
It was evident from the get-go that Mackey had a thing for her co-worker, and she wasn't shy about expressing her feelings, even if they rattled her friend Joe Cruz (Joe Minoso). The two enjoy flirting, and Gallo even risks his life to save his new friend from an explosion. They eventually hook up in Season 9, Episode 6 ("Blow This Up Somehow"), but everything comes to a halt when Mackey leaves the show just three episodes later. The duo's chemistry was so-so, but we weren't given a chance to see enough of them to really cheer them on.
22. Renee Royce and Kelly Severide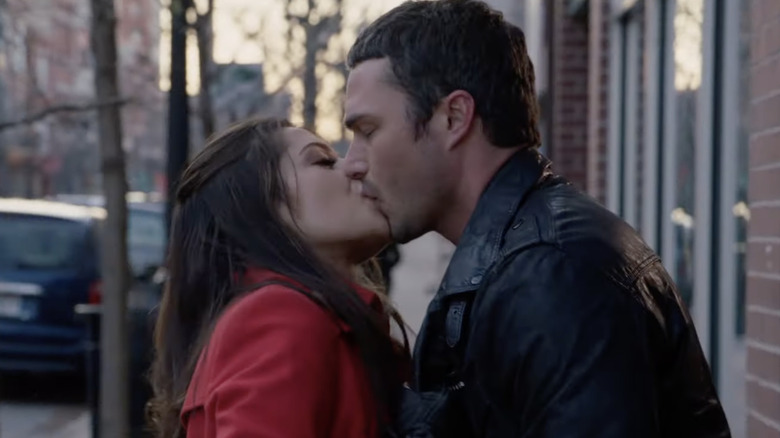 NBC
Renee Royce (Sarah Shahi) is the perfect trickster. She works her way into Kelly Severide's life in Season 1, and the two seem to fall in love with one another genuinely. Renee ends up moving to Spain for a job promotion, and despite getting an invitation to come along, Kelly stays in Chicago. He is pretty devastated from the breakup, but Renee comes flying back into his life in the Season 1 finale and tells him that she's pregnant with his baby.
In the Season 2 premiere, Leslie Shay convinced Kelley that the math doesn't add up regarding Renee's pregnancy. When she's called out on it, Renee finally admits the baby isn't Kelly's, and the pair officially break up. It's not the last we see of her conniving ways, as she tries to work her way back into Kelly's life in Season 6 when she asks for his help in a court case. Despite being warned by Stella Kid (Miranda Rae Mayo), Renee tries to woo him to back off. At this point in the game, Kelly's a changed man and only has eyes for Stella. Despite Renee and Kelly starting off on great terms, she becomes a garbage person, which makes their relationship one of the worst in the series.
21. Sylvie Brett and Joe Cruz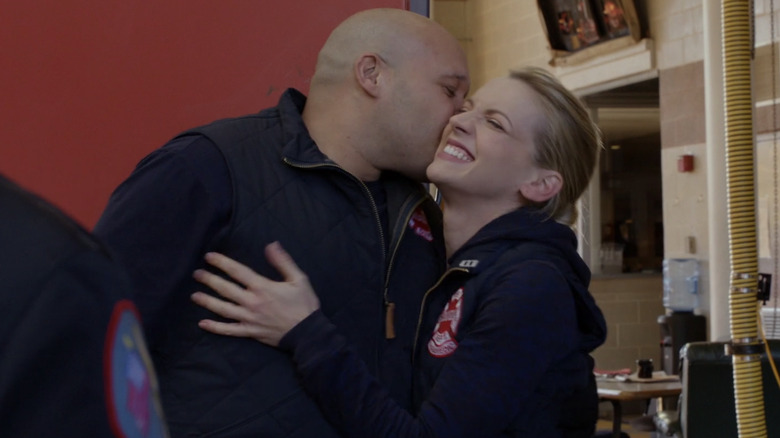 NBC
Somehow two very lovable people made the most awkward couple in the "One Chicago" universe. Sylvie Brett (Kara Killmer) and Joe Cruz seem more like brother and sister than they do boyfriend and girlfriend, and during the brief stint that they dated, it was more than awkward to watch. The two formed a deeper bond when Sylvie unknowingly attended a Zumba class hosted by Cruz, but he started to catch feelings.
When Sylvie realized she also had feelings, the two dated briefly in Season 3, but their relationship never felt right, so they ended things. For some reason, the writers and showrunner didn't want to drop their storyline and had Cruz re-develop feelings for Brett later in Season 6. He never admits it to her but becomes overly jealous of any man who spent time with her, making his character rather insufferable.
20. Violet Mikami and Blake Gallo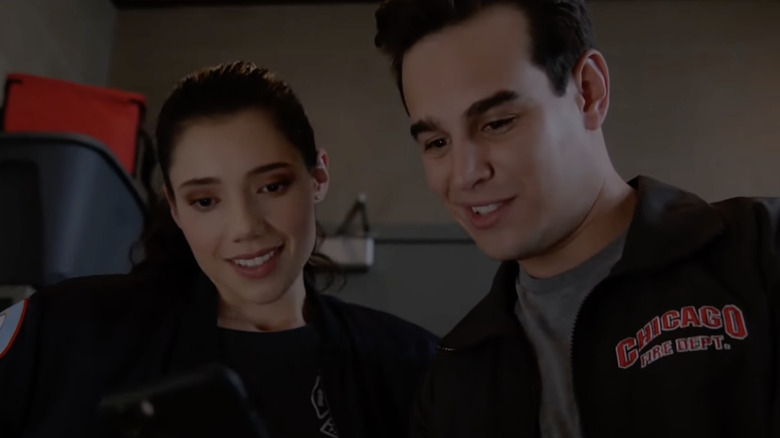 NBC
Violet Mikami (Hanako Greensmith) joined "Chicago Fire" in Season 8, Episode 10 ("Hold Our Ground"), and we learned she has a history with Blake Gallo. The two attended the fire academy together, and it's clear they have some sexual tension from the get-go. Once they alleviate that tension, they start dating but soon declare themselves non-exclusive — a stance that always works out.
In a twist that surprised no one, Gallo and Violet's jealousy causes them to break up. They are one of the most easily forgotten couples in "One Chicago" history, which is no easy feat given that they are also one of the most recent. This duo serves much better as friends than lovers, and we choose to keep their coupling a distant memory. It seems as if a romance was the easiest way to introduce Violet into the show, but she appears to be on to bigger and better things these days (ahem, Hawkins).
19. Clarice Carthage and Leslie Shay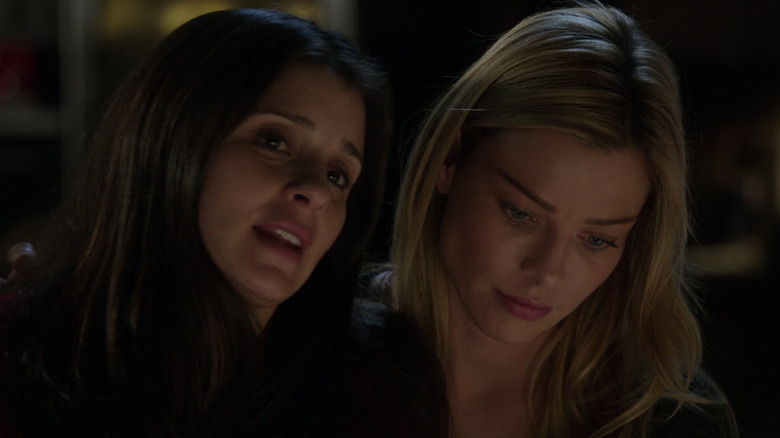 NBC
Leslie Shay (Lauren German) and Clarice Carthage (Shiri Appleby) were another "Chicago Fire" couple who had a rich history before Season 1. The duo dated for years, but they were already broken up by the time we met Clarice. The two came face-to-face when Shay responded to a 911 call at Clarice's baby shower. They start talking again, and eventually, Clarice leaves her husband and moves in with Shay and Kelly Severide.
Clarice gives birth, and shortly after, she and Shay start house hunting for a bigger space where they can raise her baby boy. Clarice's ex-husband files for sole custody, and instead of fighting him for it, she gives in and chooses to go back to him. She tells Shay at a house viewing, completely devastating the paramedic. The two seemed like they might have a real shot, until Clarice showed her true colors and left Shay in the worst state.
18. Hallie Thomas and Matt Casey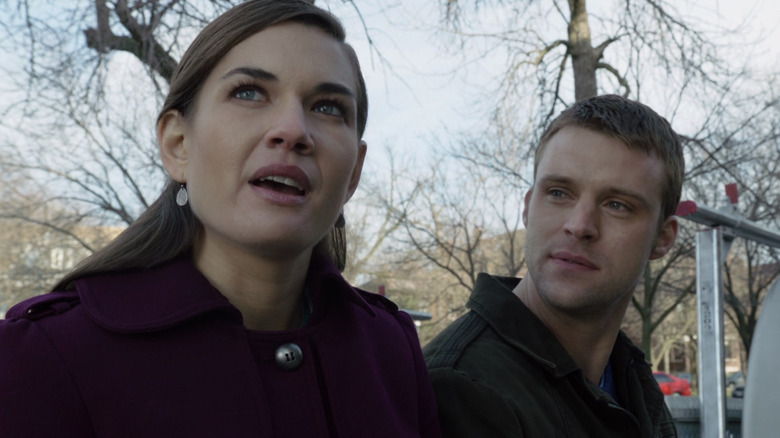 NBC
When we first met Matthew Casey (Jesse Spencer), he was hiding the fact that his engagement to his fiancée, Hallie Thomas (Teri Reeves), was over. No one at Firehouse 51 knew, but eventually, Gabby Dawson (Monica Raymund) and company caught on. Casey and Hallie had an on-again, off-again relationship for about eight years, but the last that they were on again, they were quite the couple. Hailee is murdered in Season 1 when she accidentally discovers a drug trafficking operation at a clinic she volunteers at, which absolutely guts Casey.
Hallie and Casey were a decent enough couple, but it was always obvious that this relationship was just a roadblock in what would eventually be known as Dawsey. It wasn't a relationship you could take seriously, because Casey and Dawson were clearly going to end up together — especially with how the show constantly showed off how jealous the latter could get at times.
17. Sylvie Brett and Greg Grainger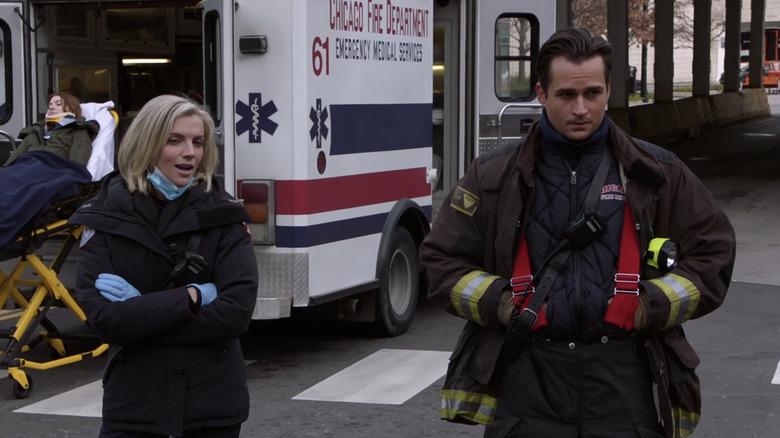 NBC
Just as there were many speedbumps on the way to Dawsey, there were also many on the way to Brettsey (Sylvie Brett and Matthew Casey). Lieutenant Greg Grainger (Jon-Michael Ecker) was one of them, as he and Brett's brief fling in Season 9 put Brettsey on hold. This short romance was very much like Brett and Kyle's — two very good people who just didn't get the timing right. It could be argued that if it wasn't for Brett's feelings for Casey, she and Grainger might have made it down the aisle. The Lieutenant was a very good guy and perfect for Brett in so many ways.
The two split because Grainger noticed Brett could never fully commit to him. He was no dummy and knew that Brett had something for Casey, and he knew that he was never going to be her number one. Thankfully, this breakup led to one of the most beloved couples in "One Chicago" history.
16. Gabby Dawson and Peter Mills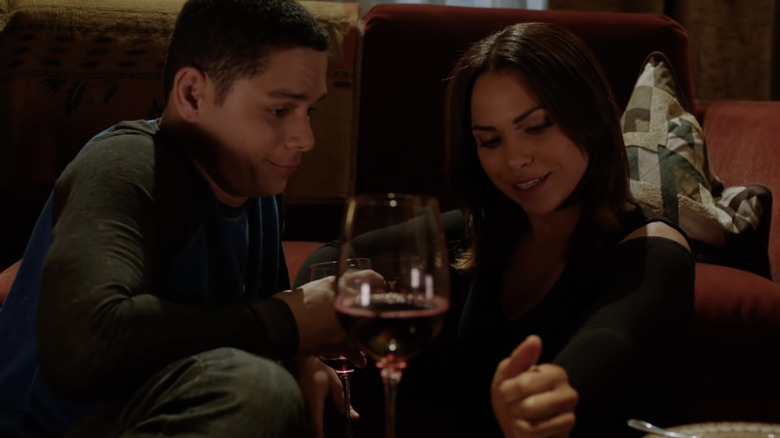 NBC
Gabby Dawson always had a crush on Matt Casey. He was unattainable due to his relationship with Hallie Thomas, and then later, his drama with his mother made his life too complicated for a girlfriend. Gabby was never able to go after the man she wanted, so she set her sights elsewhere. Romance blossomed out of a friendship with Peter Mills (Charlie Barnett), but something never felt quite right about it.
Peter was never going to be Gabby's number one, as Casey always held that spot. Gabby led Peter on for far too long, as she could never shake her feelings for the lieutenant. Gabby also finds out that Chief Boden (Eamonn Walker) had an affair with Mills' mother and holds the secret for a while. When Mills finds out, they break up, which is probably the best thing that ever happened to him. He was also onto Gabby about having feelings for Casey, and this relationship just seemed like the second roadblock to Dawsey becoming a thing. Gabby and Mills actually become really great friends, and we wish they never dipped their toes into the romance pool.
15. Eric Woodruff and Daren Ritter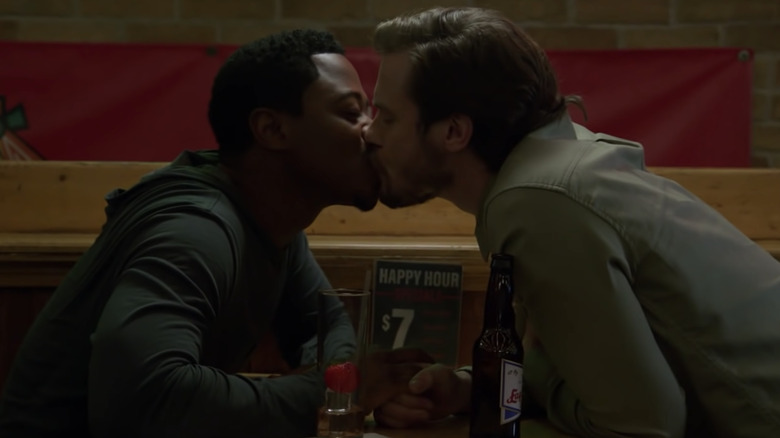 NBC
Darren Ritter (Daniel Kyri) is easily one of the most likable people on "Chicago Fire." Introduced in Season 7, the candidate serves on Engine 51 and becomes close with Christopher Hermann (David Eigenberg) and Mouch McHolland (Christian Stolte). We met his boyfriend Eric Woodruff (Curtis Edward Jackson) in Season 8, but their relationship gets a stronger storyline in Season 9.
After quarantining together during the pandemic, Eric and Ritter broke up because they spent too much time together. Ritter went on a blind date with someone else, who also happened to date Eric. The blind date talked trash about Eric, which caused Ritter to defend him, and the exes rekindled their relationship. However, it came to an end for the second time in Season 10, when Eric realized he would never be able to understand Ritter's place in the firefighting world. The duo came to the conclusion they wouldn't be able to work, especially since Ritter loves his job as a firefighter too much.
14. Erin Lindsay and Kelly Severide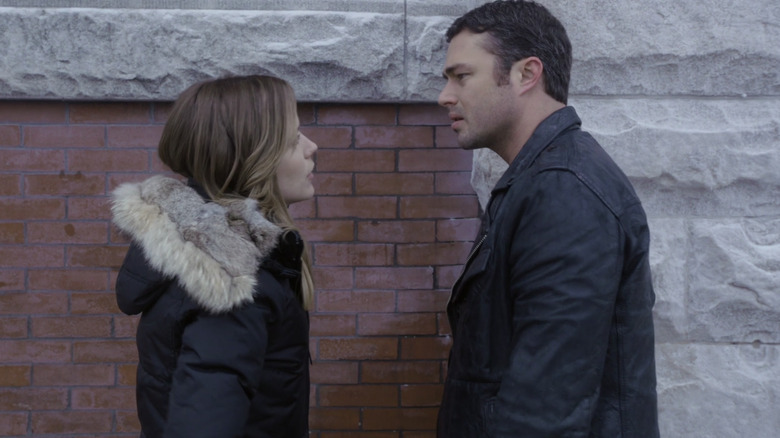 NBC
Severide and Erin Lindsay (Sophia Bush) are one of the many "One Chicago" crossover relationships. While it might be better to classify their relationship as a fling, there were some serious feelings between the two, and they were a duo that fans definitely had opinions on at the time. The "Chicago P.D." star made her way into the "Fire" family in Season 2 when she investigated the kidnapping of Katie. She and Severide are attracted to one another immediately and share one of the steamiest kisses in "Chicago Fire" history.
However, the death of Shay brings their fling to an end as Kelly slips into a depression and stands up Lindsay on several occasions. She promises to always be there for him but says she is not a woman who will sit around and wait for him. Luckily, she moves on rather quickly to Jay Halstead (Jesse Lee Soffer), and they serve as one of the best couples ever on "Chicago P.D."
13. Anna Turner and Kelly Severide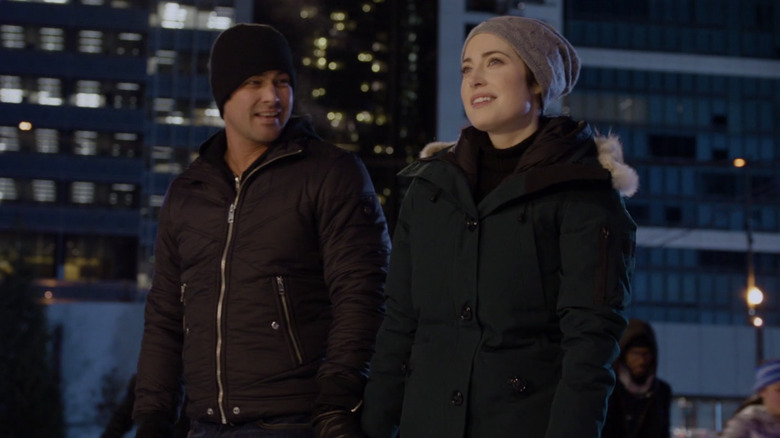 NBC
Anna Turner (Charlotte Sullivan) made her "Chicago Fire" debut in Season 5 for the series' landmark 100th episode. Former 51 member Jeff Clarke (Jeff Hephner) suggests Severide get tested to see if he can donate bone marrow to Anna (who has leukemia), and he turns out to be a match. Severide and Anna go through with the procedure and start dating shortly after. Anna even moves to Chicago to be near Severide and takes a pediatric nurse position at Med.
They have a whirlwind romance, but it comes to an abrupt stop when Anna's health starts deteriorating again. Tired of fighting her leukemia, she signs a DNR. This frustrates Severide, but he's able to be by her side when she takes her last breath. The two made for a decent couple, but it never looked like Anna was going to be Severide's forever. It was one of the softest we've ever seen Severide, and made him the more compassionate and loving person we know him as all these seasons later.
12. Katie Nolan and Otis Zvonecek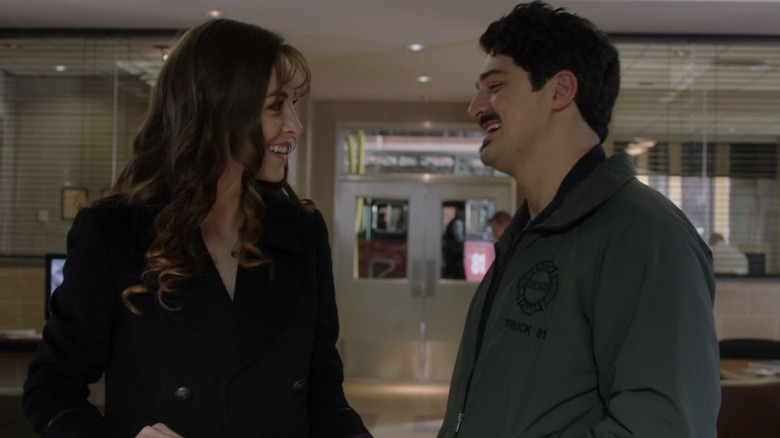 NBC
The first love interest we get to see for Brian "Otis" Zvonecek is Katie Nolan (Brittany Curran), the half-sister of Kelly Severide and daughter of Benny Severide (Treat Williams). The two tried to keep their affection from one another away from Kelly, who was overly protective of a half-sister he never knew existed. Otis and Katie only get to date for a few episodes, but we get to see how much he cares for her after Vince Keeler (Jacob Weary) kidnaps her as revenge against Kelly.
Otis visits Katie in the hospital after she's rescued, but the two have to end their fling because she is too traumatized to stay in Chicago. She ends up moving to New York to accept a position in a restaurant (one she initially debated taking because of Otis), but she goes on to live a happy life in the Big Apple. She returns for Benny's funeral in Season 7 and runs into Otis, and it's obvious there are still sparks between the two, but he had moved on to someone else at this point. If Katie was never kidnapped, she very well might have lived a happy life with Otis — until his untimely death in Season 8, that is.
11. Brittany Baker and Kelly Severide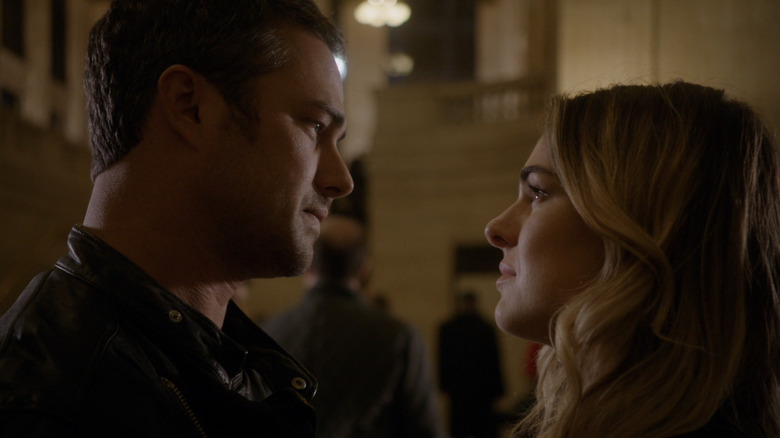 NBC
In Season 3, Kelly Severide shocked everyone at Firehouse 51 when he returned from Las Vegas a married man. Severide met Brittany Baker (Serinda Swan) while at a craps table, and the two instantly fell in love. Within 24 hours of knowing each other, they got married and were truly head over heels.
We later find out that Brittany was in Vegas to help get her mind off her sister's death, while by pure coincidence Severide was on vacation to distract himself from Shay's death. They were exactly what one another needed to get through very tough times. They eventually realized that their marriage just wasn't going to work, since Brittany was homesick and wanted to return to Florida. No one did anything wrong; no one lied; no one was mean. It just wasn't meant to be. They were a very fun couple to watch together, despite how short-lived their four-episode marriage was.
10. Sylvie Brett and Kyle Sheffield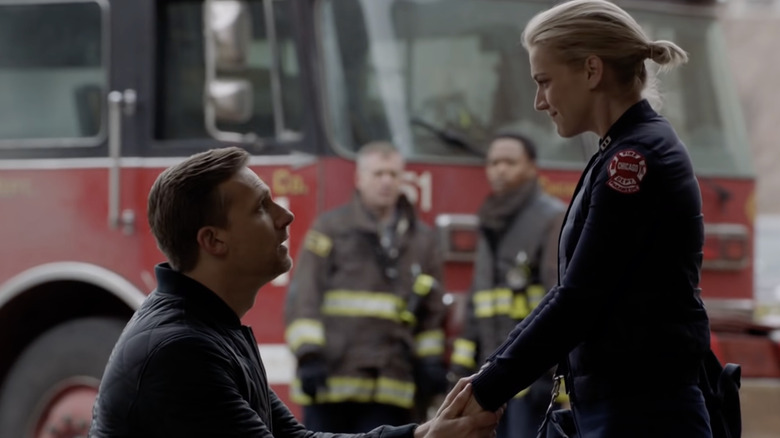 NBC
The sparks are instant between Sylvie Brett and Kyle Sheffield (Teddy Sears) in Season 7. The new Chaplain for the CFD takes a liking to Brett instantly, but he ends up breaking her heart when he dumps her because of his job. Matt Casey makes an excellent point to the Chaplain — that it's hard for people of the CFD to confide in him if he's dating someone within the department. However, it's not the end of their romance.
Kyle proposes to Sylvie in the Season 7 finale after he's offered a position in Indiana, which will take him out of the CFD. Knowing how incredible she is, he wants her to come with him, and Sylvie somewhat hesitantly accepts the  proposal. Around this time, something starts to brew between Casey and Brett, but she still accepts and leaves Chicago. In the Season 8 premiere, she tells Kyle she can't be with him and misses 51 too much. She moves back to Chicago and back into Casey's life.
Brett and Kyle made a really great couple, and there was nothing wrong with their chemistry or relationship. They were just two wonderful people who wanted different things.
9. Lily and Otis Zvonecek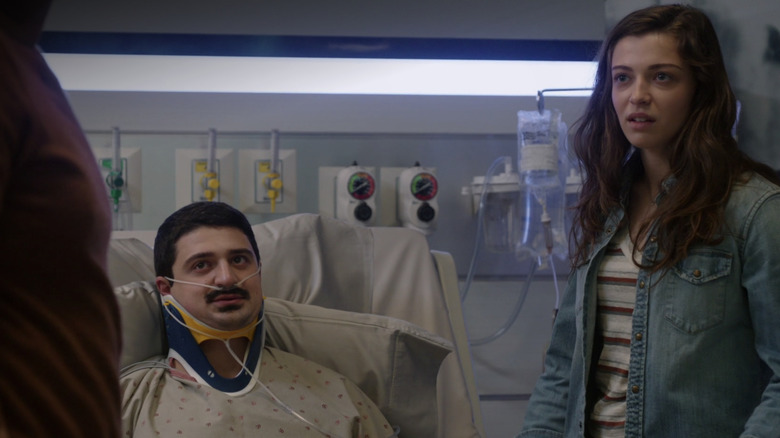 NBC
In Season 6, Lily (Ariane Rinehart) is introduced as the daughter of a bar owner who recently had to close down his business. When Otis goes in to see if he can buy any used equipment for Molly's, he meets Lily, and there is a spark immediately between the two. Otis is smitten with Lily, and the feeling is mutual. He goes from looking for some cheap equipment to buying the bar, and he convinces Hermann and Dawson to hop on board. Lily's family bar is now known as Molly's North, thanks to Otis.
Lily is also a tremendous support for Otis after his neck injury in Season 6, and sticks by him in the hospital and during his grueling physical therapy. This is Otis's second and last relationship on the show, but he definitely has one of the healthiest love lives out of any "Chicago Fire" character. We don't get to see Lily's reaction to losing Otis in the Season 8 opener, but we find out that she chose to close down Molly's North, as it was too much of a reminder of her fallen beau.
8. Sylvie Brett and Antonio Dawson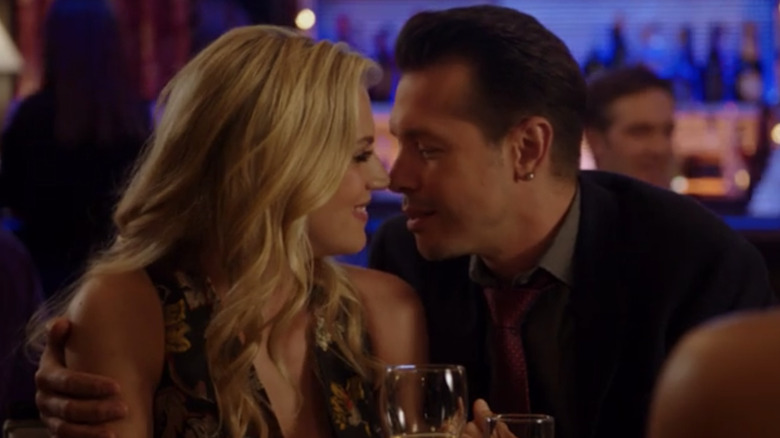 NBC
Antonio Dawson (Jon Seda) was a staple on "Chicago Fire" before "Chicago P.D." was even a thing. He's introduced as Gabby Dawson's brother in Season 1 and is constantly helping out the firefighters of 51 when they need police assistance. In Season 5, he and Brett begin their on-again, off-again relationship, which is quite steamy. Antonio tries to thwart Brett's advances at first but eventually falls for her. They start dating but end things, only to get back together again in Season 6.
Antonio and Brett are a super messy couple, despite having great chemistry. It was another one of those situations where the timing wasn't right — thanks largely in part to Antonio's ex-wife. They further prove that crossover relationships in the "One Chicago" universe are doomed from the start, no matter how fun or perfect they might appear. We wish they had more time to grow with one another, because Antonio and Brett sure were a lot of fun to watch.
7. Gabby Dawson and Matt Casey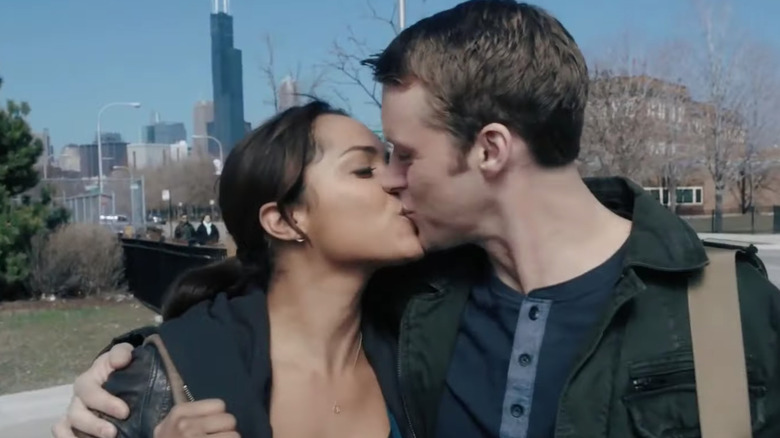 NBC
Gabby Dawson and Matt Casey seemed like they would be endgame for "Chicago Fire." It's evident in Season 1 that Gabby has a massive crush on Matt, but – because of Hallie — he can't do anything about it. They finally come together in Season 2 and are the central couple of the series all the way until Season 7, when Gabby moves to Puerto Rico to help with hurricane relief. Their divorce was devastating for fans of Dawsey, but it had to come when Monica Raymund decided to leave "Chicago Fire" for other opportunities.
The trials and tribulations of Dawsey are far too extensive to explain here, but toward the end of their relationship, their chemistry and love seemed to fade episode by episode. Some fans also became increasingly annoyed with the change in Dawson's character, as she became rather self-centered and tended to think of herself and not her and Casey as a unit.
6. Chloe Allen and Joe Cruz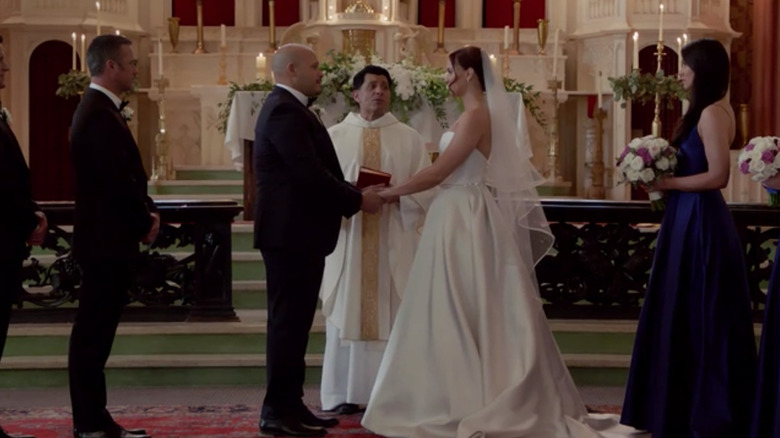 NBC
Cruz had a complicated romantic run on "Chicago Fire" before eventually finding Chloe Allen (Kristen Gutoskie). He saved his soon-to-be-wife in her debut episode, Season 7's "Going to War," and nothing was the same for him after. The two hit it off immediately, and Cruz's love was Chloe was more evident than ever when she got in a car wreck that same season. He met her parents at the hospital, and Chloe's mother told Cruz that he was one of the best things that happened to her and that she needed him badly.
After Otis's death, Chloe gets nervous about dating a firefighter but ends up staying with Cruz, and they get married late into Season 8. They welcome a baby boy in Season 9, named Brian after Cruz's late friend. Only one of the few married couples on "Chicago Fire," Chloe and Cruz solidify themselves as one of the best couples on the series and will hopefully stick together for the show's tenure.
5. Donna Robbins and Wallace Boden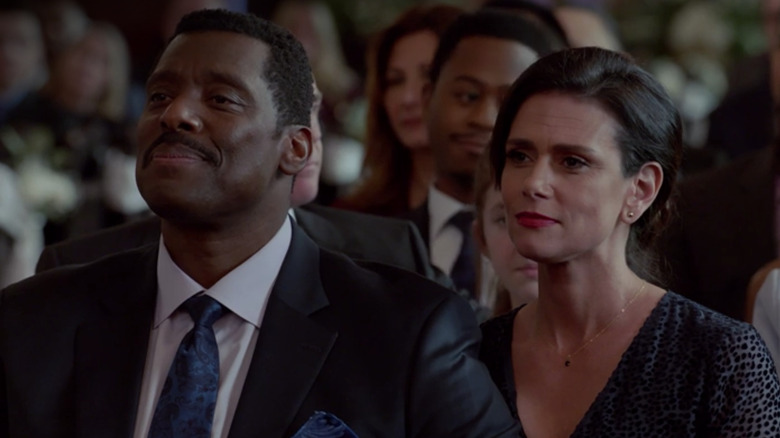 NBC
Who knew Chief Wallace Boden had a soft side? We saw the tough fire chief soften up a little bit when he first met Donna Robbins (Melissa Ponzio) in Season 2's "Out With a Bang" episode. There was a fire at Donna's apartment building, and she later brings Boden a treat at the firehouse as a way of saying thanks. He kicks up the flirtation by visiting her apartment to "fix her sink," and a romance sparks between the two.
Boden breaks up with Donna shortly after their coupling because he thinks he's damaged goods (two failed marriages). A few episodes later, Donna shows up at the firehouse and reveals she's pregnant with his child. He later proposes, and the rest is history. The duo has one of the strongest relationships on the show and is also one of the most real depictions we see of a couple. They often disagree, fight, compromise, and makeup. It would be truly shocking if we were to see them break up, and we think this is one "Fire" couple that will outlast the show.
4. Sylvie Brett and Matt Casey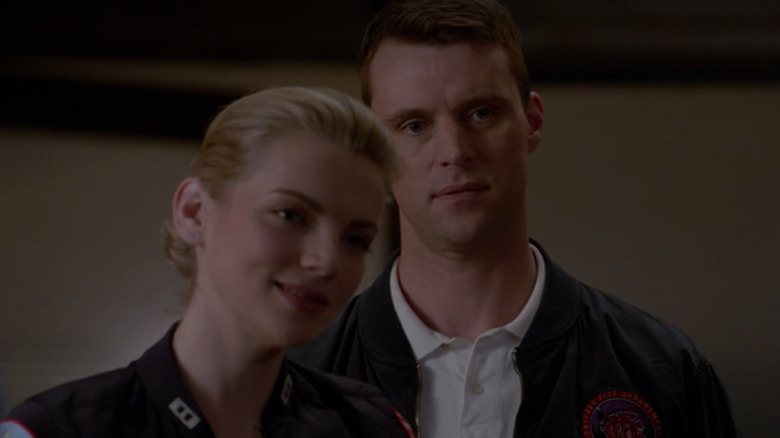 NBC
If someone told a "Chicago Fire" fan in Season 5 that Sylvie Brett and Matt Casey were going to be a thing one day, they probably would have rolled your eyes. After the demise of Dawsey, it only took a handful of episodes before there were side glances between Brett and Casey. However, neither one of them realizes it until Brett's spin instructor points out that they are meant for each other. With the seed planted, Brettsey began to bloom. Is it weird that Casey was married to Brett's best friend? Or that Brett dated Casey's former brother-in-law? Sure. But this is a Dick Wolf series, and the rules that might apply in our world don't on his small screen.
Brett and Casey have a really wonderful relationship from mid-Season 9 through mid-Season 10, but the "Chicago Fire" fandom was shocked when Jesse Spencer left the series. The two are still going strong as a long-distance couple, and we'd be surprised to hear they'd call it quits. Here's hoping they reunite at Stellaride's wedding, and maybe Casey will come back to Chicago, or Brett will head off to Oregon.
3. Cindy Hermann and Christopher Hermann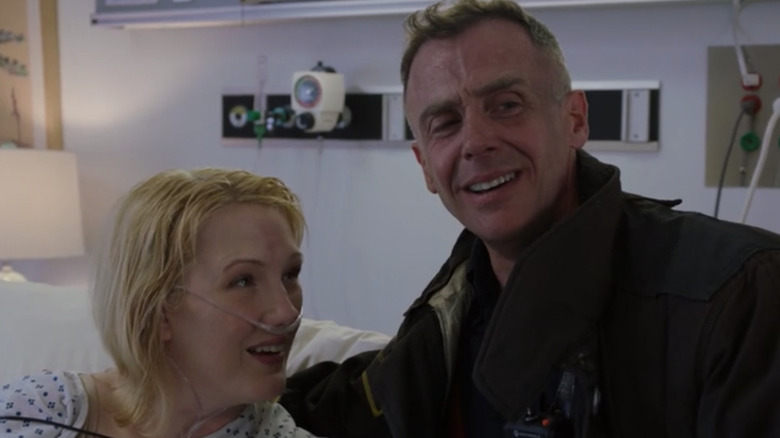 NBC
There is only one couple in the "Chicago Fire" world that has been around since day one, and that's none other than Christopher and Cindy Hermann (Robyn Coffin). They are a fan-favorite couple, most likely because Cindy is basically an angel on Earth. She is extremely supportive of her husband's work and is never afraid to put him in his place when the situation calls for it.
While Christopher can be a real stubborn you-know-what sometimes, it's always nice to see his softer side when he's around Cindy and their children. The love between the two is undeniable, thanks largely in part due to the chemistry between David Eigenberg and Coffin. If anything were to happen to this couple, it's safe to say that fans would riot (on social media, that is), and we're hoping Dick Wolf and the good folks at "Chicago Fire" keep this happy couple just that.
2. Stella Kidd and Kelly Severide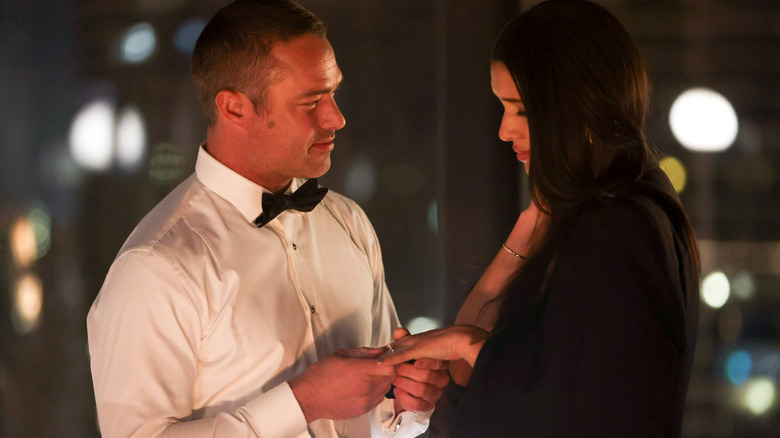 Adrian S. Burrows Sr./NBC
Stellaride. One of the best "Chicago Fire" pairings and one of the best couple nicknames ever created. When Stella Kidd joined the hit series in Season 4, it was obvious there was a connection between her and Kelly Severide. The chemistry between the pair was undeniable, and there was no fighting their relationship, no matter how many flings got in their way.
Despite having some serious bumps in their road, Stellaride is one of the most beloved couples on "Chicago Fire," and their engagement was the cherry on top. They might have had a very rocky Season 10, but their bond is something that's simply unbreakable. We saw Severide in his playboy days, and Stella is clearly the only person that can make him a one-woman man. Stellaride has a legion of fans behind them, hoping to see the best wedding the One Chicago universe can offer.
1. Trudy Platt and Mouch McHolland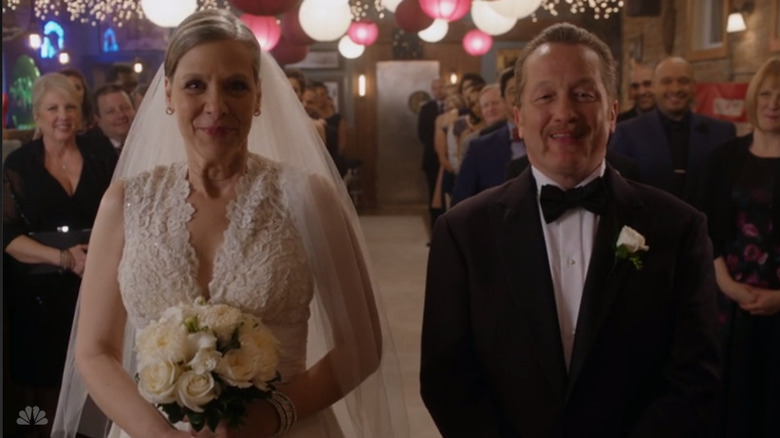 NBC
As if any other couple was going to be number one on this list. Trudy Platt (Amy Morton) and Mouch McHolland are the definition of "relationship goals" and the only couple to withstand the "One Chicago" crossover curse. They are the yin to each other's yang and are perfectly quirky — providing comic relief for the even tensest of moments.
The two meet at Chief Boden's wedding in Season 2 and hit it off right away. Their quirkiness compliments one another, and they get married in Season 4 at Molly's. When they aren't being ridiculously silly with one another, they are being supportive. Trudy often puts her silliness to the side and supports Mouch when he's down on himself or ill — especially after his heart attack, and also when he was considering retirement after too many "old" jokes from Otis. They are the partner everyone should hope to have in their life at some point and hands down the best couple on "Chicago Fire" and the "One Chicago" franchise as a whole.