Will Mads Mikkelsen Save The Fantastic Beasts Franchise?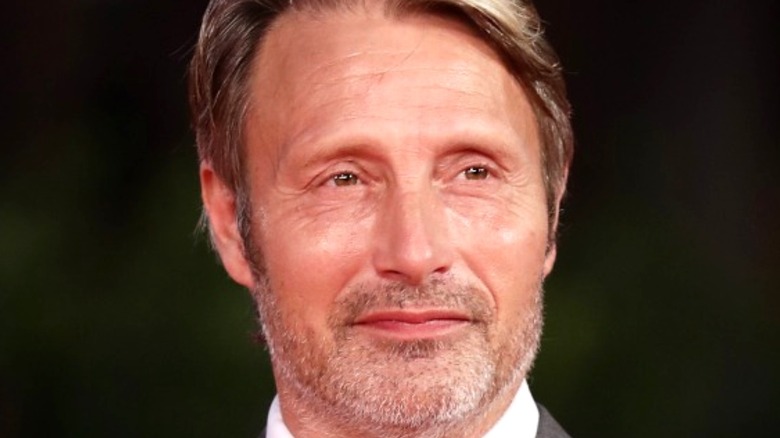 Vittorio Zunino Celotto/Getty
As millions of "Harry Potter" and "Fantastic Beasts" fans ready themselves for the upcoming release of the 11th film in the Wizarding World franchise, many of us are undoubtedly looking around and wondering, "How did we get here?"
At this point, it is truly difficult to know where to begin with the problems in this franchise. The first eight films in the "Harry Potter" series seemed to stroll through more than a decade's worth of production with heavy praise (via Rotten Tomatoes) and, with only rare instances of drama unrelated to the movies (via Daily Mail). The "Fantastic Beasts" films, on the other hand, have found themselves in a decidedly different camp after a mere two entries on the big screen. From less-than-stellar reviews, as recorded on Rotten Tomatoes, to struggling box office numbers (via Box Office Mojo) and multiple public controversies involving key talent leading the franchise to be branded by Entertainment Weekly as the "most problematic franchise" in 2020, the Wizarding World has seemingly entered a state of perpetual meltdown in recent years. After such a long list of controversies, few would deny that the future of this franchise is at stake. 
However, "Fantastic Beasts: The Secrets of Dumbledore" could soon stand to offer the floundering franchise a reset of sorts. After Johnny Depp's controversial departure from the series in November 2020, Deadline reported Mads Mikkelsen would replace Depp in the role of Gellert Grindelwald, an evil-doing wizard with a close relationship to Jude Law's Albus Dumbledore. While some fans are evidently split over the replacement, others have admitted excitement. Those eager to see Mikkelsen's take on the character may, like us, be curious to see the actor could breathe new life into the franchise, and, perhaps, even save it. Of course, the possibilities for redemption in Hollywood are nearly endless, but does Mikkelsen really stand a chance at righting a ship that has found itself so far off course?
Mikkelsen has an uphill battle, but many elements are out of his control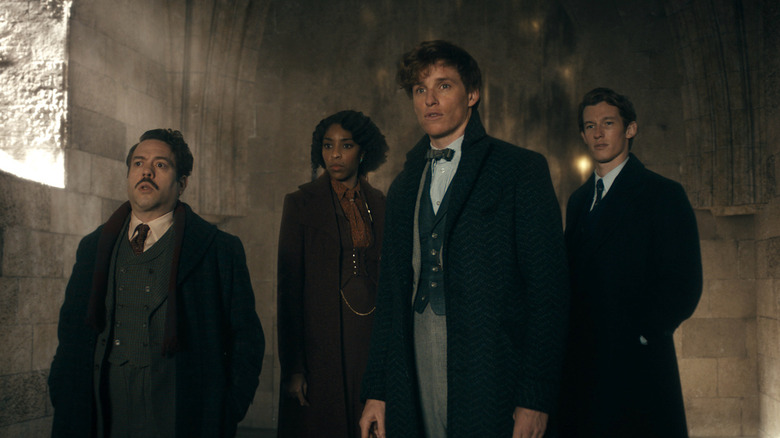 Courtesy of Warner Bros. Pictures
The various controversies at the heart of the "Fantastic Beasts" film series involve a plethora of different people and moving pieces. Despite the positive impact Mads Mikkelsen could have on the series, beginning with "The Secrets of Dumbledore," it seems unwise to expect the addition of a single new cast member to adjust this franchise's reputation. In point of fact, some of the biggest problems this franchise has faced in the past don't have anything to do with Grindelwald or any other on-screen character.
Johnny Depp, the actor who previously played the character of Grindelwald, found himself entrenched in public controversy as a result of abuse claims made by his ex-wife, Amber Heard (via E! News). While we won't seek to relitigate every aspect of their legal battles, Heard's allegations against Depp and his subsequent defamation lawsuits against the "Aquaman" star significantly impacted Depp's reputation, ultimately leading to his ouster from the series (via Variety).
Of course, Depp isn't the only one in this franchise mired by controversy. Ezra Miller, who plays Credence Barebone (aka Aurelius Dumbledore), has also struggled with a variety of off-screen issues. In April 2020, a video of Miller allegedly choking a woman outside of a bar went viral (via Variety). Less than two years later, "The Flash" actor was also arrested in Hawaii on charges of disorderly conduct and harassment, capping off a month where they were the subject of 10 other phone calls to the police (via Page Six).
Additionally, "Fantastic Beasts" controversies have not been limited to on-screen talent either. "Harry Potter" creator and "Fantastic Beasts" screenwriter J.K. Rowling's litany of comments about the transgender community and political issues involving that community has earned the author fierce online backlash (via IndieWire). In the years since she began publicly commenting on the topic, the author's public presence has significantly decreased. Notably, she didn't participate in the "Harry Potter" HBO Max reunion. With all of this in mind, what might Mikkelsen offer this struggling franchise?
Mikkelsen's unique talent could usher in a fresh start for the franchise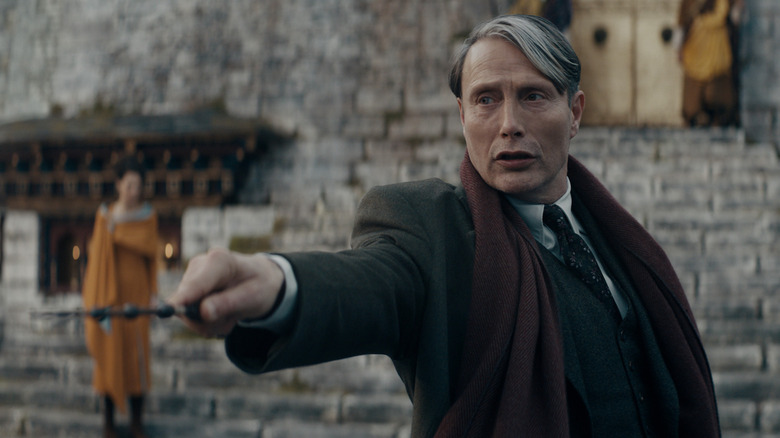 Courtesy of Warner Bros. Pictures
Even with the actions of some "Fantastic Beasts" figures casting a large shadow over "The Secrets of Dumbledore," a masterful performance from Mads Mikkelsen might be able to erase some of the ill will the franchise is currently burdened with. "Fantastic Beasts: The Crimes of Grindelwald" quickly became the lowest-rated film in the entire Wizarding World following its release in 2018. According to Rotten Tomatoes, the movie only managed to impress a whole 36% of critics — an astounding defeat for a franchise of such high caliber. While it certainly seems foolhardy for anyone to suggest that Mikkelsen's casting could suddenly fix all of the various issues at hand, including the reception of the film immediately preceding the one he makes his debut in, there is at least one aspect in which Mikkelsen seems perfectly suited to deliver.
Most fans of Mikkelsen probably know the actor best from his previous roles in NBC's "Hannibal," in which the actor played the titular criminal with an exotic appetite, and 2006's "Casino Royale," in which he portrayed the villain Le Chiffre. As of this moment, "Hannibal" owns a 92% score from critics on Rotten Tomatoes, while "Casino Royale" actually sits a whole two points higher (via Rotten Tomatoes). Anyone who watches those productions will quickly recognize that Mikkelsen thrives best when he's playing a mysterious and charismatic villain. In fact, his participation in those productions almost certainly played a substantial role in their successes.
Needless to say, anyone poised to be considered an equal to a figure as legendary as the great Albus Dumbledore will need to focus their efforts on portraying the most interesting villain possible. A particularly magical evil-doer persona from Mikkelsen seems likely to inject this series with a much-needed dose of excitement. In fact, if Mikkelsen can do that with the same gusto he has in previous roles, "Fantastic Beasts" might actually stand a chance at fulfilling the adjective in its title.
"Fantastic Beasts: The Secrets of Dumbledore" will be released in theaters on April 15.