The Internet Can't Help But Compare Ezra Miller's Fantastic Beasts Look To A Series Favorite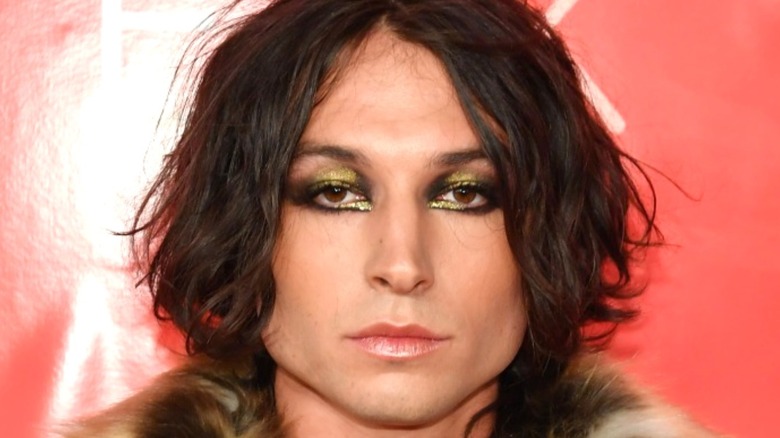 Dimitrios Kambouris/Getty
The third installment of the "Fantastic Beasts" films, "Fantastic Beasts: The Secrets of Dumbledore," is hitting theaters on April 15, and as usual, the anticipation of returning to the wizarding world is high. Each new trailer and peek into the movie is an opportunity for fans to catch a glimpse of the characters. With much of the established cast returning to their prospective wizard or Muggle roles, it's been exciting to see how their characters might have changed in terms of appearance.
One character who is no stranger to a change in appearance is Credence Barebone (Ezra Miller). Miller's portrayal of Credence has undergone several different looks through the years, mostly in terms of hairstyle, including a bowl cut and a much shorter trim as well. This time around, there's been a lot of hype surrounding the new look of Credence's locks, and it's for a very specific, albeit slightly nostalgic, reason.
Credence Barebone now resembles Severus Snape
Ezra Miller has been playing Credence Barebone since 2016's "Fantastic Beasts and Where to Find Them." Though the character's hair has changed with each film, in the trailer for "Secrets of Dumbledore," Miller can be seen sporting dark, shoulder-length hair that some fans say looks very similar to an iconic and beloved character in the wizarding world: Severus Snape, played by the late Alan Rickman. Snape is known for being an unapproachable character who kept his dark hair shoulder-length at all times, and fans were quick to point out the similarity.
The hair comparison began with a tweet from Ashley Reese (@offbeatorbit). From there, @LocalSoundwave poked fun at the character with "Snape who listens to Asking Alexandria" (a British rock band), and @CovenGodess simply tweeted "Snape?" Comparisons aside, the shoulder-length look is a step up from the bowl cut Miller had before, and the excitement surrounding "Fantastic Beasts: The Secrets of Dumbledore" remains high.