Why Johnny Depp Was Just Forced To Quit His Fantastic Beasts Role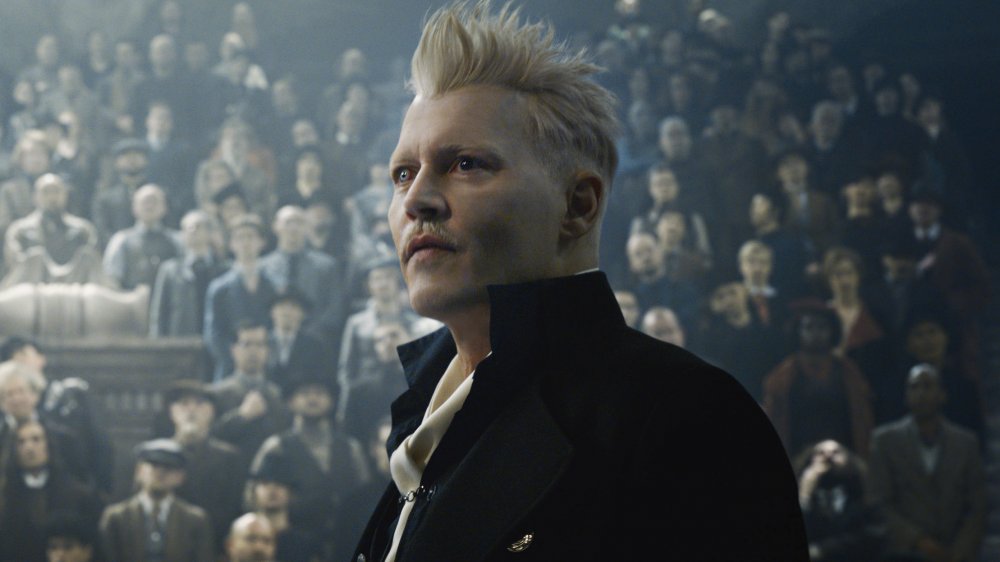 Warner Bros.
After Harry Potter and the Deathly Hallows: Part 2 pulled in $1.3 billion at the box office in 2011, the Potterverse took a cinematic hiatus. When it returned in 2016 with the spin-off-slash-prequel Fantastic Beasts and Where to Find Them, the would-be inheritor to the franchise performed decently, with about $814 million in worldwide box office returns. However, its follow-up, The Crimes of Grindelwald, dipped significantly lower, earning $654 million globally upon its debut in 2018.
Whether or not the quality of the Fantastic Beasts films is lesser than that of the Harry Potter movies that came before them is a matter of opinion, but there can be no question that Fantastic Beasts has been in a state of controversy for quite some time, due to one actor: Johnny Depp.
In Fantastic Beasts and Where to Find Them, audiences were introduced to the Potterverse's latest villain, Percival Graves (Colin Farrell). At the close of the film, it's revealed that Graves was Gellert Grindelwald (played by Depp) in disguise. Grindelwald is the former lover of Albus Dumbledore (played by Jude Law in the Fantastic Beasts franchise) and genocidal madman who wishes to wipe all non-magic users from the face of the Earth.
However, it wasn't Grindelwald's fictional villainy that was so unpopular with fans, but rather the real-life accusations of assault and abuse made against Johnny Depp by his former spouse Amber Heard. Countless fans were shocked to see him in Fantastic Beasts and Where to Find Them, and were outraged that Depp still had a part in The Crimes of Grindelwald. Ever since, many have called for studio Warner Bros. to remove him from the franchise altogether.
On Friday, November 6, 2020, Depp himself announced that he will no longer be playing Grindelwald moving forward. Let's talk about why that is.
Johnny Depp's public legal battles likely impacted Warner Bros.' decision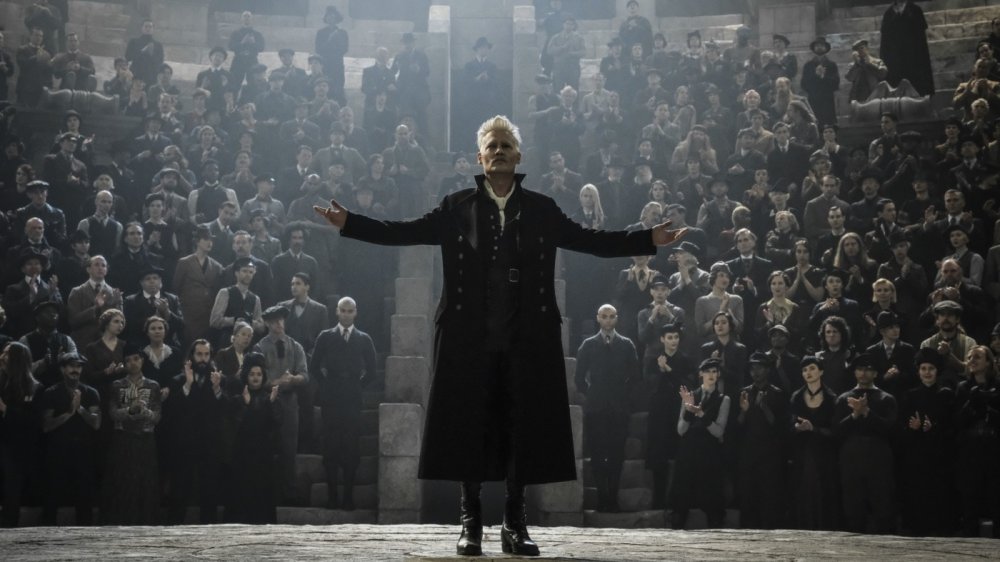 Warner Bros.
On May 23, 2016, Amber Heard filed for divorce from Johnny Depp. At the same time, she also obtained a retraining order after publicly accusing Depp of physical assault, according to CNN. By August of that year, an out-of-court settlement was reached in the amount of $7 million, which was accompanied by a joint statement that read, "Our relationship was intensely passionate and at times volatile, but always bound by love. Neither party has made false accusations for financial gain" (via The Hollywood Reporter). According to People, Heard gave away the $7 million to charity.
As you might imagine, these real-life events colored the way fans viewed Depp's inclusion in the Fantastic Beasts movies. While Harry Potter author and Fantastic Beasts writer J.K Rowling herself (more on her later) publicly defended Depp and his casting, many fans remained frustrated by his inclusion in the franchise. Depp's continued portrayal of the wizard in Fantastic Beasts: The Crimes of Grindelwald in 2018 wasn't benefited when, in that same year, Heard penned an op-ed for The Washington Post, speaking about the long-term impact of being abused.
Beginning in 2019, Depp's attorneys began defamation suits against Heard. Recorded phone calls revealed Heard stating that she had hit Depp (via Variety). In July 2020, Depp began a libel suit against New Groups Newspapers over The Sun referring to him as a "wife beater." On November 2, courts ruled against Depp.
Just a few days later, on November 6, Depp released an official letter on Instagram thanking fans for their "support and loyalty" before announcing he will depart the Fantastic Beasts franchise. "I wish to let you know that I have been asked to resign by Warner Bros. from my role as Grindelwald in Fantastic Beasts and I have respected and agreed to that request," Depp wrote. "
Johnny Depp isn't the only Fantastic Beasts creative in hot water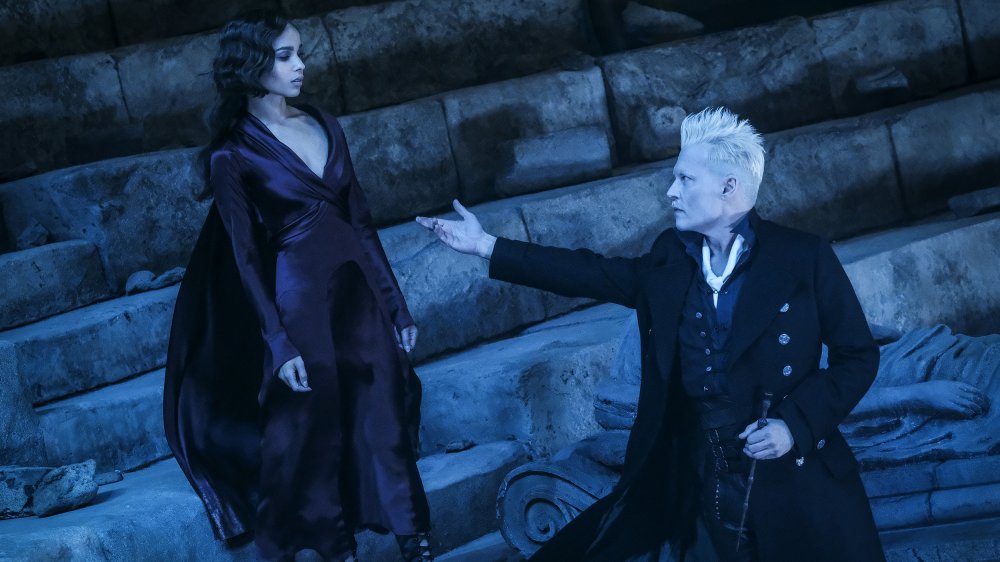 Warner Bros.
While it can't be definitively stated that accusations of substance abuse and assault made against Depp are the reason he was asked to resign by Warner Bros., it is notable that he discussed those same ongoing accusations in the announcement letter posted to Instagram.
"The surreal judgment of the court in the U.K. will not change my fight to tell the truth and I confirm that I plan to appeal," wrote Depp. "My resolve remains strong and I intend to prove that the allegations against me are false. My life and career will not be defined by this moment in time."
It is also noteworthy that Depp isn't the only figure related to the Fantastic Beasts franchise who has come under scrutiny recently. In 2020, J.K. Rowling began tweeting concerning statements about issues related to transgender people. While discussing concern for transgender children seeking care in the process of medically transitioning towards their affirmed identity, Rowling repeatedly used language that read as both harmful and insulting to many trans fans and trans allies. She also stated concerns that men could claim a trans identity in order to harass and assault women in women's-only spaces like restrooms — an accusation with no merit or precedent.
With the continued outcry against Rowling's statements, it wouldn't be unfair to state that neither Harry Potter nor Fantastic Beasts is in the financially successful place Warner Bros. anticipated. It seems unlikely that the company would (or could) fire the woman responsible for creating those worlds. Dismissing an actor and covering any costs for breaking contract, however, is entirely within the studio's means.
As of now, the Fantastic Beasts franchise will continue without Depp, but it's presently unknown who will replace him in the role of Grindelwald, if at all.