Fantastic Beasts: The Secrets Of Dumbledore - What We Know So Far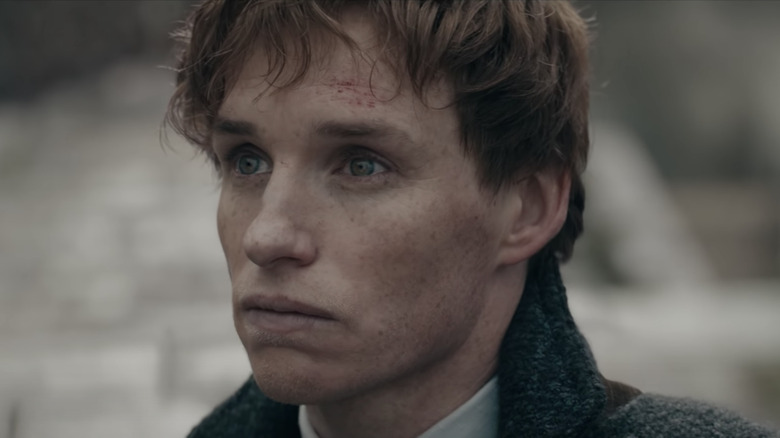 Warner Bros.
The "Harry Potter" movies cast a spell on the world from 2001 to 2011, instantly becoming one of Warner Bros' most successful franchises, as the original films grossed over $7.7 billion at the worldwide box office (via Fortune). Based on the best-selling book series by controversial author J.K. Rowling, the "Wizarding World" movies are part of the third highest-grossing franchise of all time, when not accounting for inflation (per The Numbers). For a franchise banking that much money at Gringotts, it's no surprise that a prequel series quickly followed the original films in 2016. However, the "Fantastic Beasts" spinoff series proved to be not nearly as lucrative as its predecessor. 
Sure, the first film, "Fantastic Beasts and Where to Find Them," grossed a healthy $814 million worldwide, according to Box Office Mojo.  Yet the second film, "Fantastic Beasts: The Crimes of Grindelwald" grossed a less stellar $654 million, the lowest earnings of the entire franchise. It also received mixed-to-negative reviews on Rotten Tomatoes. Still, the film did turn a profit and Warner Bros. pushed ahead with the third film, settling on the title "Fantastic Beasts: The Secrets of Dumbledore." Between casting changes, new and compelling plot points teased in the trailers, and missing characters, here's everything we know so far about the upcoming film.
When will Fantastic Beasts: The Secrets of Dumbledore release?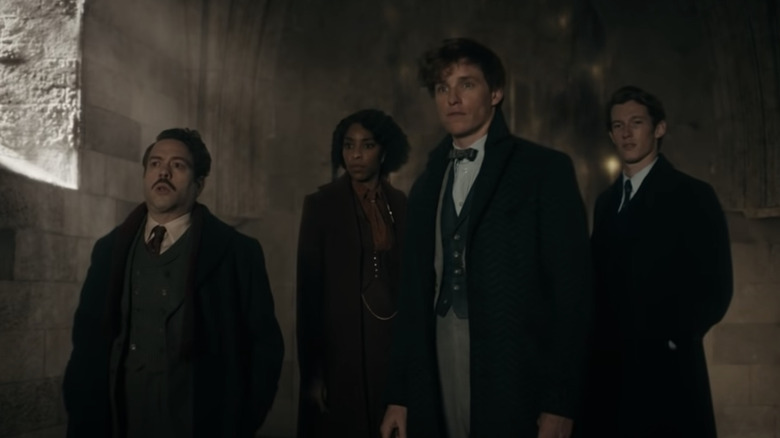 Warner Bros.
"Fantastic Beasts: The Secrets of Dumbledore" originally had a release date of July 15, 2022. However, according to The Hollywood Reporter, the film will now release on April 15, 2022. This puts the movie on track to debut just in time for the Easter holiday. Per Deadline, this particular opening weekend has proven to be successful for Warner in the past, with hits like "Batman v Superman: Dawn of Justice" and "Ready Player One" opening to big numbers.
Much like its original July release date, this is a step away from the November release that the first two films in the "Fantastic Beasts" series employed. The new date may be an attempt to garner a higher gross for the third film than its predecessors. However, it could just as easily be the result of filming and the Grindelwald casting shakeup going smoother than expected during COVID. Whatever the reasoning, how this release date bump will pay off remains to be seen, but if past Warner films are any indication, this could be a lucrative move for the studio.
What's the premise of Fantastic Beasts: The Secrets of Dumbledore?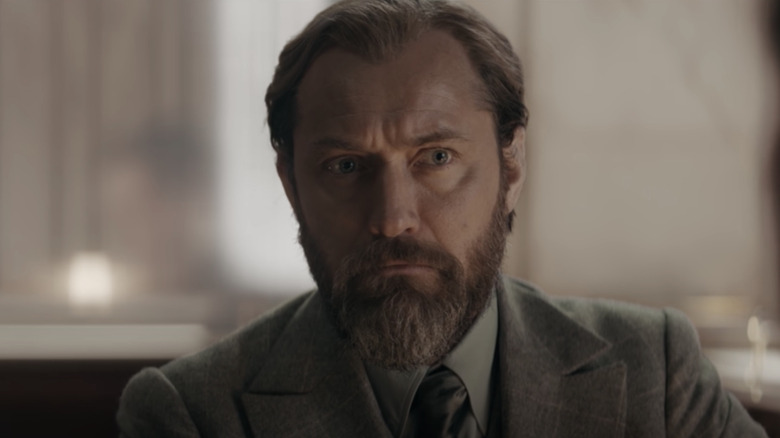 Warner Bros.
According to The Hollywood Reporter, "Fantastic Beasts: The Secrets of Dumbledore" will pick up sometime after the second film and continue to follow Scamander and his friends as they attempt to stop Grindelwald.
Elaborating on this, Warner Bros. released an official synopsis for the film (via The Wrap). That synopsis reads: "Professor Albus Dumbledore knows the powerful Dark wizard Gellert Grindelwald is moving to seize control of the wizarding world. Unable to stop him alone, he entrusts Magizoologist Newt Scamander to lead an intrepid team of wizards, witches and one brave Muggle baker on a dangerous mission, where they encounter old and new beasts and clash with Grindelwald's growing legion of followers. But with the stakes so high, how long can Dumbledore remain on the sidelines?"
This synopsis, the film's title, and the trailers indicate that Law's Dumbledore will play a much bigger part in the movie than he did previously, hopefully answering some of the questions that fans have had for years about the mysterious wizard.
The Grindelwald shakeup in The Secrets of Dumbledore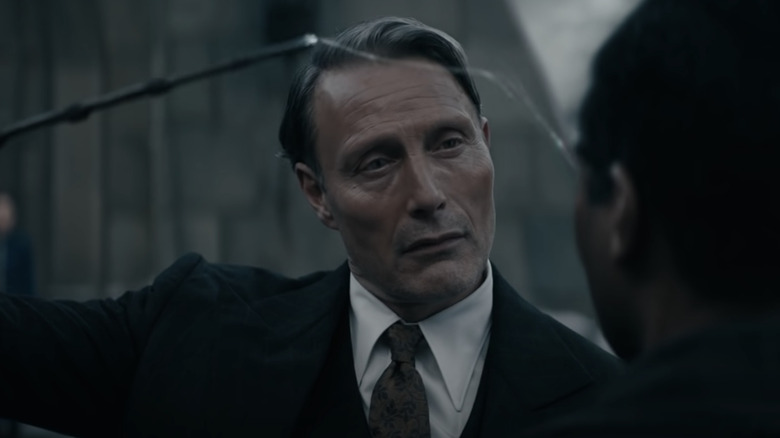 Warner Bros.
For fans who noticed a significant change in Grindelwald's appearance from "The Crimes of Grindelwald" to "The Secrets of Dumbledore," don't worry. You don't need new glasses (unless you're Harry Potter). Between flashback sequences, polyjuice potions, and actor shake-ups, more than a few actors have played the ruthless dictator throughout the years. Yet when "Fantastic Beasts and Where to Find Them" first unmasked Johnny Depp's version of the character, Depp seemed like the tried and true version of this era's Grindelwald. However, Depp's ongoing legal battle with ex-wife Amber Heard led to the studio's ultimate decision to recast the role.
But don't fret. Mads Mikkelson is picking up where Depp left off, and he's sporting an entirely different look than his predecessor. Depp's Grindelwald opted for bleach blonde hair and pallor so gaunt he looked like he came straight from the morgue's makeup room. Mikkelson's version of the character seems much less eccentric — right down to the eyes. If you watch the trailer closely, it looks like Grindelwald's signature Heterochromia is still there, but it's much less pronounced.
Given that Grindelwald is taking his rise to power to a political level, his stark appearance change could be attributed to his need to win over the wizarding population as he begins his war on muggles. As he says to Dumbledore, "With or without you, I'll burn down their world." He just apparently needs his suit pressed to do it.
The main cast returning in Fantastic Beasts: The Secrets of Dumbledore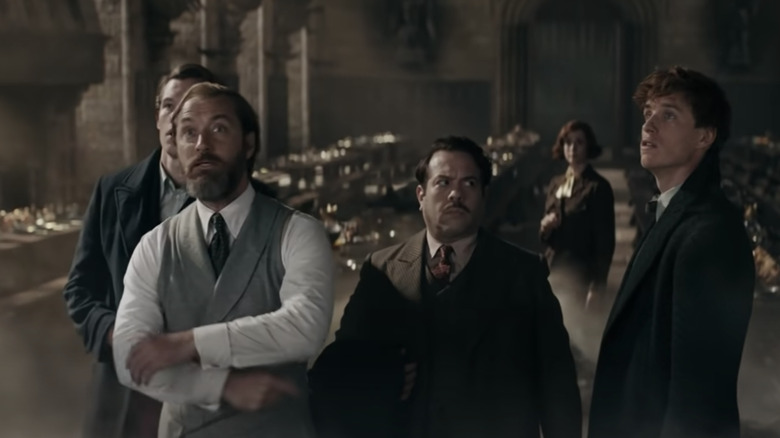 Warner Bros.
There may have been a few shakeups in "Fantastic Beasts" casting, but the majority of the series' staples from the franchise's first film will return in "Fantastic Beasts: The Secrets of Dumbledore." Of course, there's no "Fantastic Beasts" without magizoologist Newt Scamander. Eddie Redmayne plays Newt, the wizarding world's most notorious (and relatable) Hufflepuff. Meanwhile, given that the film is titled "The Secrets of Dumbledore," it's no surprise that Jude Law is reprising his role as the much younger Dumbledore. 
Appearing again to fight the good fight is Katherine Waterston's softspoken yet fierce character Tina. Also returning is everyone's favorite comedy relief No-Maj Jacob, played by Dan Fogler. If the trailers are anything to go by, fans are getting a healthy dose of Jacob-centric laughs in the upcoming movie. Though with a new wand in tow, the wizarding world's most notorious No-Maj just might be a No-Maj no-mo. 
As much as fans love heroes like Jacob and Tina, the villains are equally exciting for a franchise like "Fantastic Beasts." Queenie's descent to Grindelwald's side was a shock for most fans, but the trailer poses a few epic villainous moments for her, expertly carried out by Alison Sudol. And who could forget Ezra Miller's electric performance as Credence Barebone (or maybe Aurelius Dumbledore?) as he works through his trauma while toting an Obscurus? Grindelwald may be the main show, but his lackeys hold their own just fine.
The secondary characters appearing in Fantastic Beasts: The Secrets of Dumbledore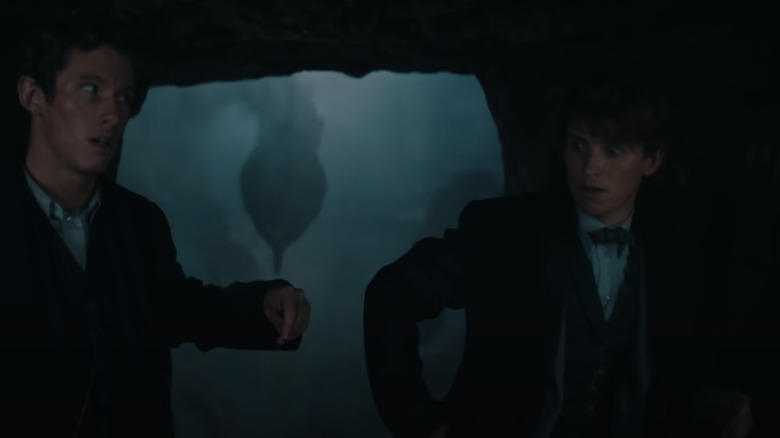 Warner Bros.
"The Crimes of Grindelwald" introduced fans to Newt's auror brother Theseus Scamander, but the new film's trailers imply that Callum Turner will play a much more significant role in the quest to take down Grindelwald. Joining the anti-Grindelwald movement in what seems like a big way is Jessica Williams' Ilvermorny charms professor Eulalie Hicks — who appears in much of the trailers' showiest moments despite her minor introduction in "Crimes of Grindelwald." And, of course, a trip to Hogwarts wouldn't be right without a cameo from a young Minerva McGonagall (Fiona Glascott), who alerts Dumbledore to Grindelwald's plans. 
Fans didn't get many scenes with Newt's "Crimes of Grindelwald" assistant Bunty, but it looks like Rowling might carry out some of her plans for the character in the third movie. Victoria Yeates returns for the film, and the trailer is positioning her as a soldier in Dumbledore's first army against Grindelwald. 
Poppy Corby-Tuech is also coming back to the third "Fantastic Beasts" film as Vinda Rosier, ready to fight for Grindelwald with everything she's got. Alternatively, William Nadylam's Yusuf Kama may have had a rocky start in "The Crimes of Grindelwald," but Leta Lestrange's half-brother quickly goes from a pseudo villain to a hero, spurning Grindelwal's invitation and saving Nagini. Though Leta herself met an untimely demise, Yusuf will be back in "The Secrets of Dumbledore" to carry on her legacy.
Will Michael Gambon return as Dumbledore in The Secrets of Dumbledore?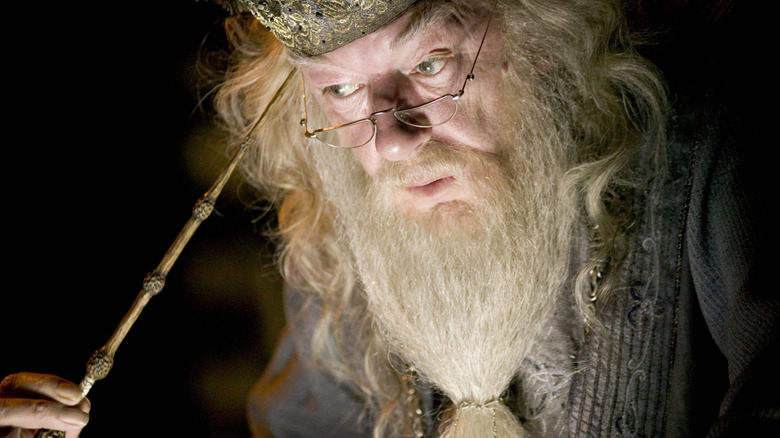 Warner Bros.
For anyone who hasn't seen "Harry Potter and the Half-Blood Prince" in a minute, Michael Gambon's appearance in the second "Fantastic Beasts: The Secrets of Dumbledore" trailer may have come as an exciting shock. However, his cameo is a bit of a bait-and-switch. While the trailer implies that we may see an aged-up Dumbledore grace our screens once more, the clip is recycled and edited footage from the sixth "Potter" film.
The trailer starts with Gambon saying, "Memory is everything. Without it, we are blind. Without it, we leave the fate of our world to chance." Of course, this snippet is simply an edited-down version of Dumbledore's speech to Harry when he takes the teenage wizard on a trip down Tom Riddle's memory lane through his Pensive. There, Harry watches a young Riddle ask Slughorn about Horcruxes.
In its full form, Dumbledore's speech goes: "This memory is everything, Harry. Without it, we are blind. Without it, we leave the fate of our world to chance. You have no choice. You must not fail." So, is Michael Gambon returning to the wizarding world in "Secrets of Dumbledore"? Doubtful. The doctored version of the quote is likely just an attention-grabber that turned Dumbledore's pressure-filled pep talk into a wistful monologue about memory. While stranger things have happened in the wizarding world, "It does not do to dwell on dreams and forget to live."
What we know about the new cast and characters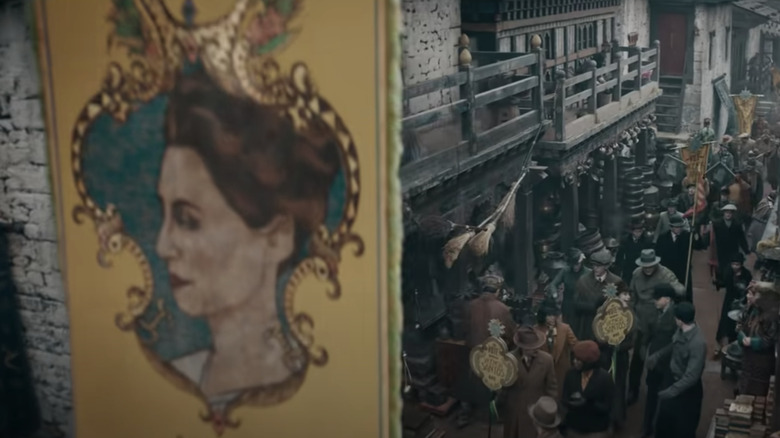 Warner Bros.
Along with the return of the franchise's mainstays and secondary characters, "Fantastic Beasts: The Secrets of Dumbledore" is adding some new blood and fresh characters to the mix. Maria Fernanda Cândido is playing newcomer Vicência Santos. Based on the voting banners we see in the trailer, it looks like there's going to be an election going on for Supreme Mugwump of The International Confederation of Wizards. The election seems to pit her against Grindelwald and fellow newcomer Liu Tao, played by Dave Wong. Rumor has it that actor Oliver Masucci's character Anton Vogel is the current Supreme Mugwump getting replaced, but we'll have to see the movie for a definitive answer on that.
Most excitingly, fans will meet a young Aberforth Dumbledore, with Richard Coyle taking on the role of Albus' brother. Other new actors and roles include "The King's Man" alum Valerie Pachner playing a mysterious character whose name hasn't been revealed, Aleksandr Kuznetsov as an Auror named Helmut, and Ramona Kunze-Libnow as newcomer Edith.
The return of the Dumbledores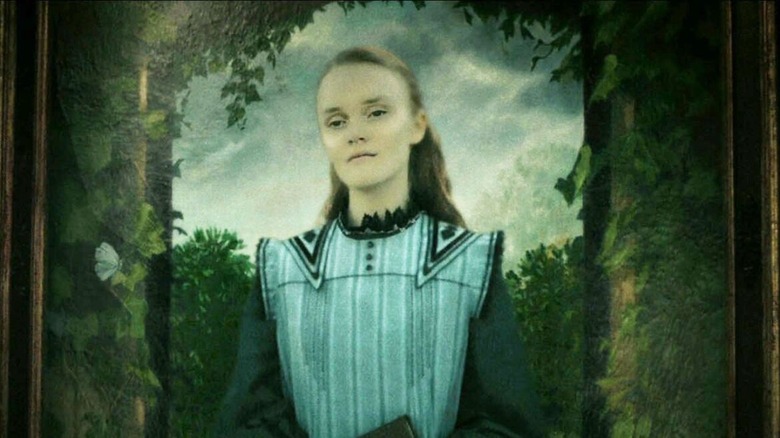 Warner Bros.
The "Fantastic Beasts: The Secrets of Dumbledore" title sets fans up with serious expectations in diving into Dumbledore's backstory. According to Entertainment Weekly, back in 2007, J.K. Rowling announced that she "always thought of Dumbledore as gay" and envisioned a relationship between the Hogwarts headmaster and Grindelwald – yet the books barely hint at this plotline. 
Given that we've gone through two movies that specifically revolve around young Dumbledore and Grindelwald, it's been frustrating for fans to again rely on subtle clues rather than concrete scenes or conversations detailing this relationship. However, we do see the former friends and possible lovers square off in the trailer, implying that Dumbledore broke his no-fighting blood pact with Grindelwald. Hopefully, fans will also get clarity on the pair's history and relationship when they spar. 
Like his sexuality, Dumbledore keeps his family history close to the vest. However, Hebe Beardsall is returning as Albus and Aberforth's sister Ariana, so maybe fans will get answers on what happened between Aberforth, Ariana, Albus, and Grindelwald all those years ago. Though because the trailer teases a big Room of Requirement moment, Ariana and Aberforth's cameos might be as superficial as they were in the final two installments of the original "Potter" movies. It looks like Aberforth is already running the Hog's Head Inn, while Ariana has long since passed — making it likely that she'll resume her role as a portrait guide rather than a developed character.
The fantastic beasts (and where to find them)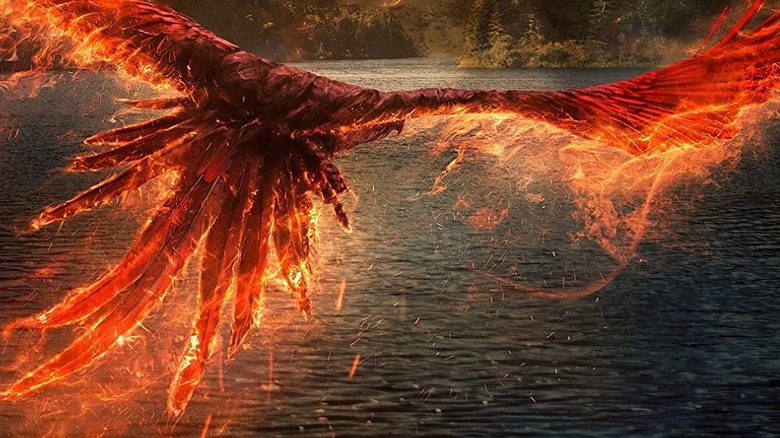 Warner Bros.
There can't be a "Fantastic Beasts" movie without some fantastic beasts, and it looks like "The Secrets of Dumbledore" is prepared to deliver. Not only do the movies trailers feature some beloved creatures like Pickett the Bowtruckle, but we finally have a name for Newt's trusty Niffler — Teddy.
Another major beast to make its way into the trailer is Credence's phoenix — lending more credence to him being a Dumbledore. Now, it certainly wouldn't be beyond Grindelwald to fabricate the entire thing by planting a phoenix on Credence. Still, it's equally possible that there's even more murky family history surrounding the Dumbledore name than fans initially thought. In fact, the title says "The Secrets of Dumbledore," not "The Secrets of Albus Dumbledore." There's a very real possibility that the title is pointing to the secrets of another Dumbledore entirely. Outside of Credence, there are at least two other Dumbledores in the movie. Finally, the trailer teases an illegible message left on Aberforth's mirror that begins with "Do you know." Can someone get ol' Abe a paternity test? The trailer also shows Albus facing off with Credence, so there's likely more to this story.
On top of the beasts we have names for, the trailer depicts a new kind of magical bird, some adorable crab creatures, and a massive creature that lunges at our heroes from the darkness. All in all, the movie isn't shaping up to disappoint on creature comforts.
Jacob's No-Maj situation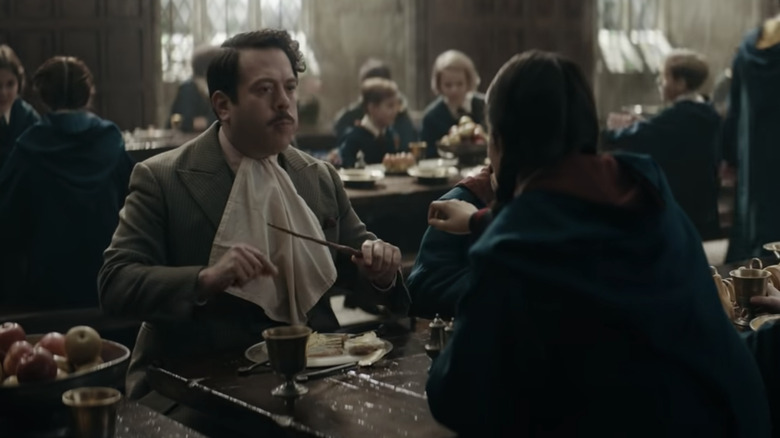 Warner Bros.
Famed wandmaker Garrick Ollivander likes to say that the wand chooses the wizard. But for a wand to choose a wizard, the wielder must be an actual wizard, right? If you ask any Squib (a non-magical individual born into a wizarding family), they'll probably tell you that a wand on its own doesn't wield all that much power — it's just a tool, after all. Sure, some wands are more potent than others, but then again, some witches and wizards are more powerful than others, and wands choose their match. So, how is it that No-Maj Jacob is wielding a wand in "Fantastic Beasts: The Secrets of Dumbledore"? 
From what we see from Squibs like Argus Filch and Arabella Figg, along with the Wizarding World entry on the phenomenon, it appears that these individuals have no magical casting abilities whatsoever. So if a Squib born into a magical family can't even pick up a wand and get it going, what use would a wand be in the hands of a No-Maj? 
In the second "Fantastic Beasts: The Secrets of Dumbledore" trailer, Dumbledore asks Newt to give Jacob a wand. Now, Dumbledore is typically regarded as an all-knowing figure, and while Jacob certainly isn't a wand-wielding prodigy, he seemingly causes a pretty major magical reaction in the second trailer — unless the moment is all Queenie's doing. Could there be magic in Jacob after all? There might be a reason why the wizards let a muggle tag along on their quests for years — and an explanation for how he breaks through a memory wipe. 
Where is Nagini in Fantastic Beasts: The Secrets of Dumbledore?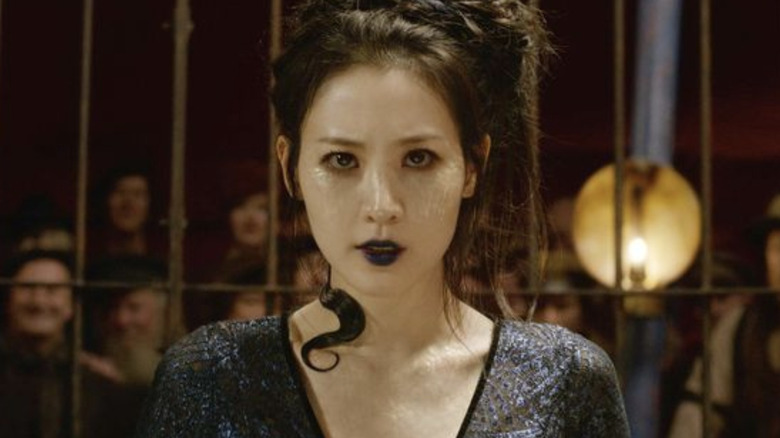 Warner Bros.
There are quite a few significant characters from the "Fantastic Beasts" films whose stories are currently hanging in plot limbo, waiting for a revival. It's certainly possible that some of the seemingly missing cast members and characters might show up anyway. However, based on the trailer and the announced cast on IMDb, it doesn't look like fans will be hearing from any of these heroes, frenemies, or foes in "Fantastic Beasts: The Secrets of Dumbledore."
Most notably absent is Claudia Kim, who plays the human iteration of Voldemort's snake Nagini. "Crimes of Grindelwald" faced a significant amount of backlash for setting the groundwork for Voldemort to essentially enslave an Asian woman — and then later encase a portion of his warped soul inside of her. Rowling defended the franchise casting an Asian woman in this deeply oppressed role because of the Naga mythology's alleged Indonesian roots. Yet South Korean actress Claudia Kim isn't Indonesian, and each region of Asia has its own culture. According to Marie Claire, "The Secret of the Nagas" author Amish Tripanthi fired back at Rowling on Twitter, explaining that Naga mythology originated in India.
On top of those issues, the film also underutilizes Nagini, making her a prop for yet another man. This time, it's Credence who ditches her for Grindelwald. Whether Nagini's absence is due to the backlash against the character, her casting, or because her arc with Credence is over, it doesn't look like Nagini will return to snag more depth, development, and autonomy before she becomes Voldemort's slave snake for decades.
Former Fantastic Beasts cast members who aren't yet confirmed for The Secrets of Dumbledore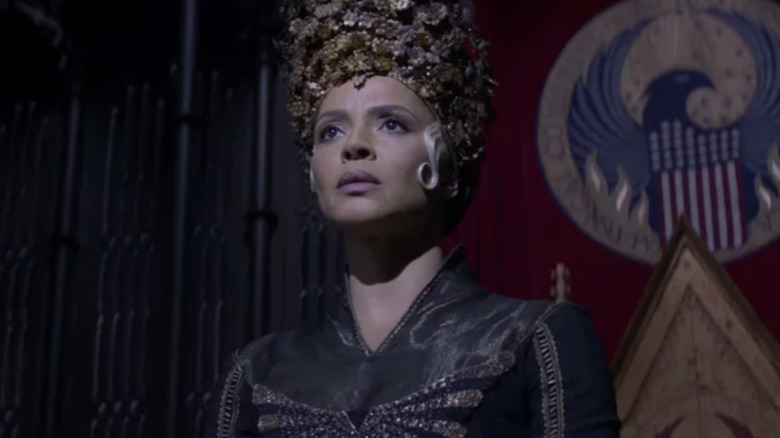 Warner Bros.
On the flip side, Carmen Ejogo's role as Madam President Seraphina Picquery establishes that while the wizarding world faces its own set of magic-based prejudices, it's far ahead of the No-Maj world in voting for a Black woman for president back in the 1920s. It's hard to imagine a "Fantastic Beasts" film without Picquery leading The Magical Congress of the United States of America (the U.S. version of the Ministry of Magic). But even if she's not still president, she's a commanding force that would be helpful in the battle against Grindelwald. However, as of yet, there are no whispers of Ejogo's return.
Also absent are Simon Meacock as Krafft (a Grindelwald follower), Wolf Roth as Rudolph Spielman (Head of Incarceration at the International Confederation of Wizards and survivor of Grindelwald's escape from custody), and Derek Riddell as Torquil Travers (Head of Magical Law Enforcement for the Ministry of Magic, Dumbledore's antagonist, and likely ancestor of future Death Eater Travers).
Brontis Jodorowsky also gave a captivating performance as Nicolas Flamel in "The Crimes of Grindelwald," and we know his story isn't over for more than a few decades when he depletes his Sorcerer's Stone for Harry. As of now, Jodorowsky isn't slated for the third movie, but we probably haven't seen the end of Flamel just yet.
Abernathy is no more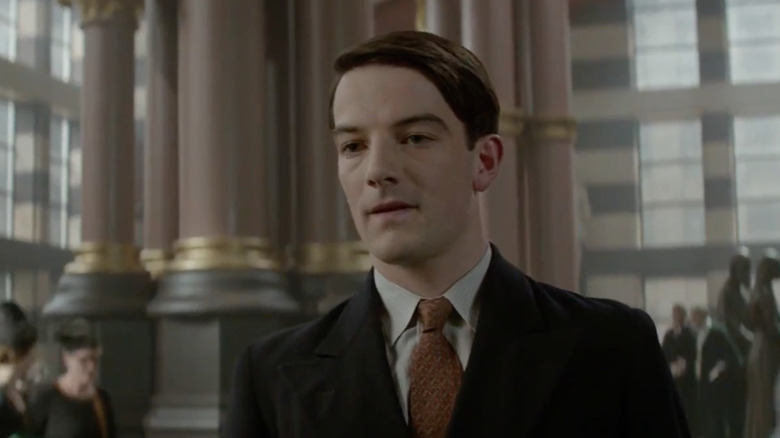 Warner Bros.
Fans might be wondering what's going on with Kevin Guthrie's character Abernathy in "Fantastic Beasts: The Secrets of Dumbledore." Abernathy was shaping up to be a fascinating addition to Grindelwald's crew, as all of his choices to follow the dictator stemmed from clear fear — making him much like a 1920s version of Peter Pettigrew mixed with Percy Weasley. There's something deeply compelling about someone who isn't inherently evil by nature but chooses that path out of cowardice and convenience. Yet, unlike Pettigrew and Percy, Abernathy is actually a skilled wizard with impeccable wandsmanship. As a Wand Permit Office worker in The Magical Congress of the United States of America, he offered a glimpse into the inner workings of American wizarding politics along with having some clear history with Tina and Queenie.
However, fans aren't going to see the villain return any time soon. According to The Wrap, in 2021, Guthrie landed a three-year prison sentence for a sexual assault that allegedly occurred in 2017 — one year before the release of "Crimes of Grindelwald." Given his conviction, it's unlikely he will appear in any future "Fantastic Beasts" films. Time will tell if the creative team will write Abernathy out or replace him like Grindelwald. 
If you or anyone you know has been a victim of sexual assault, help is available. Visit the Rape, Abuse & Incest National Network website or contact RAINN's National Helpline at 1-800-656-HOPE (4673).
Who's writing and directing Fantastic Beasts: The Secrets of Dumbledore?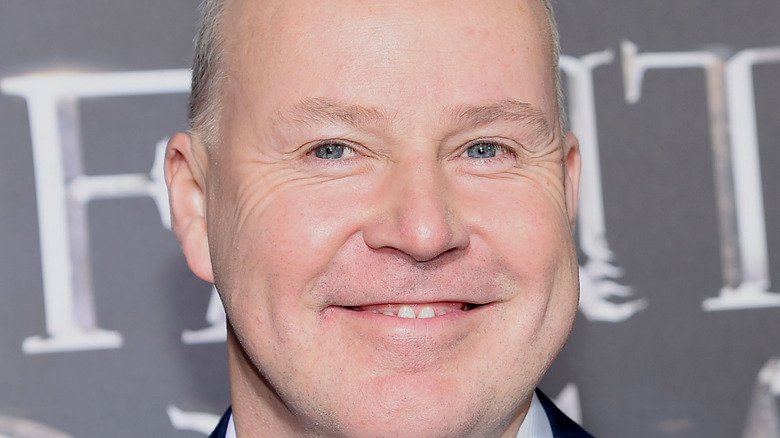 Ben Gabbe/Getty Images
One significant change from the previous films that fans may not have noticed has nothing to do with the cast. In the first two "Fantastic Beasts" films, "Harry Potter" author J.K. Rowling retained sole writing and screenwriting credits for both movies. Yet in "Fantastic Beasts: The Secrets of Dumbledore," fans may recognize a familiar writing credit on IMDb: Steve Kloves. 
Kloves was responsible for screenwriting seven of the eight "Harry Potter" films, and now it looks like Kloves is back on his broomstick to assist in screenwriting the newest "Fantastic Beasts" installment. The real reason for the assist is unknown, but it could have something to do with the hot water Rowling has doused herself in by alienating her LGBTQ+ fans with anti-transgender statements, as remembered by Glamour. Regardless of the reason, however, perhaps Kloves' addition to the script will help the movie surpass its predecessor in earnings. 
Like Kloves, director David Yates is a "Potter" staple, having directed "The Order of the Phoenix" through "Deathly Hallows: Part 2" and continuing his reign through the first two "Fantastic Beasts" films. The director returns for "Fantastic Beasts: The Secrets of Dumbledore" to add a level of continuity that's rare for a franchise so massive.