Cable Is Beat Up In New Deadpool 2 Set Photos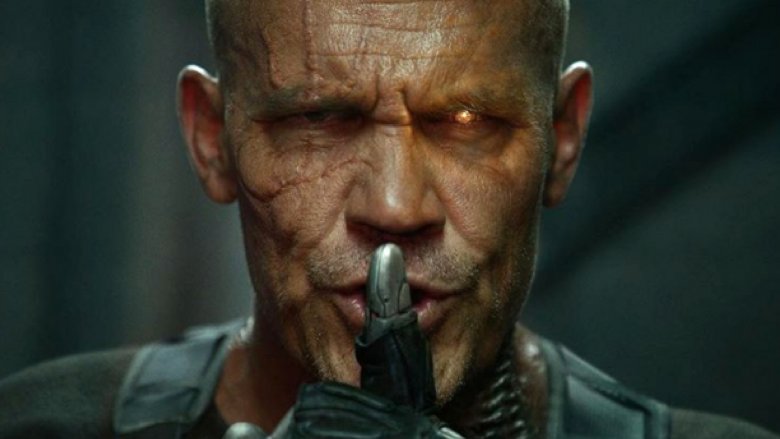 Josh Brolin is looking a little rough in the latest photos from the set of Deadpool 2. The photos, shared on social media by Twitter user Universo X-Men and viewable below, show Brolin's Cable looking like he's just gone through the ringer, covered in dirt and sporting a bloody nose.
#DEADPOOL 2: New picture of Josh Brolin as #Cable!! #xmen #marvel pic.twitter.com/mHdREpNL4i

— Universo X-Men (@universoxmen) August 20, 2017

The photos come shortly after production on Deadpool 2 was halted due to the death of stuntwoman Joi SJ Harris, who was killed while performing a motorcycle stunt in Vancouver last Monday. Production was shut down for two days, but quickly resumed, putting the next outing for the merc with a mouth back on track for its 2018 release date.
Brolin's Cable is one of the most anticipated parts of an already highly anticipated movie. The actor won the role after an extensive casting search that also included the likes of Michael Shannon, Brad Pitt, and David Harbour. He has been gung-ho about the project ever since, hyping fans up with pics teasing a jacked physique for his time in the spotlight as the mutant. He also has the rest of the cast and crew firmly in his corner, with director David Leitch saying that he is the perfect Cable because he is able to "find humanity" in every character he plays.
While rumor has it that Cable and his backstory may not be huge pieces of Deadpool 2, Brolin seems to be very excited about what the script has to offer. "There's a lot of stuff going on in [Deadpool 2] that's very surprising and that will be very satisfying when you see it," he previously said. "To me, it's even funnier than the first one... Cable can be very funny. He can be a lot of different things, but he also can be very funny."
#DEADPOOL 2: New picture of Josh Brolin as #Cable !!! #marvel #xmen pic.twitter.com/xaL5r4nSoa

— Universo X-Men (@universoxmen) August 21, 2017

Cable isn't the only notable new addition for Deadpool 2. Zazie Beetz has also joined the cast as fan favorite mutant Domino, who will help assist Ryan Reynolds' Deadpool as he fights off against The Strain's Jack Kesy, who many believe will be playing Black Tom, a mutant who can fire concussive blasts using a wooden object and who can manipulate energy through plants. Other new cast members include The Outsiders' Shioli Kutsuna and Hunt for the Wilderpeople's Julian Dennison.
In addition to Reynolds, the movie will also see the return of a few other notable actors from the first movie, including T.J. Miller's Weasel, Morena Baccarin's Vanessa, Brianna Hildebrand's Negasonic Teenage Warhead, Stefan Kapacic's Colossus, Leslie Uggams' Blind Al, and Karan Soni's Dopinder. Leitch takes over as director for Tim Miller, working off a script from the first movie's Rhett Reese and Paul Wernick. The movie is set for a June 1, 2018 release; while we wait, see why the finished product will blow everyone away.