Celebs React To Will Smith's Oscars Attack On Chris Rock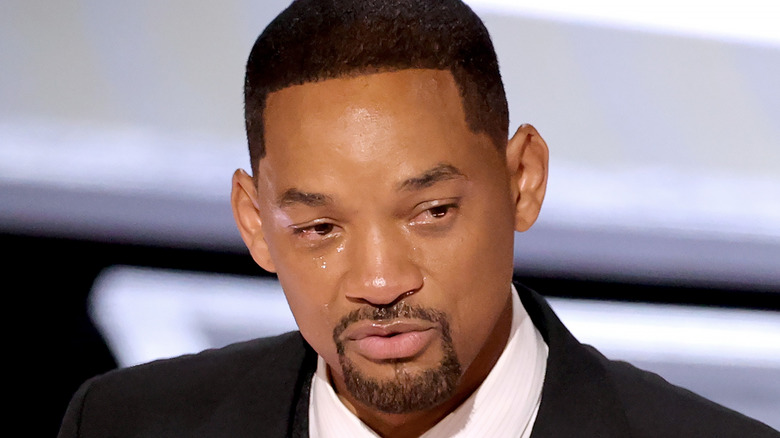 Neilson Barnard/Getty Images
The Oscars, aka the biggest night in Hollywood, has come and gone, and something tells us this year's award show will go down in history. Funny ladies Amy Schumer, Regina Hall, and Wanda Sykes were tapped to host, which resulted in a fierce roast session from Schumer and a bit of an awkward joke from Hall. The show also saw several history-making moments, such as Ariana DeBose as the first openly queer Afro-Latina to win an Oscar, plus Troy Kotsur as the first deaf male actor to be nominated for and to win an Oscar. But sadly, those moments are sure to be overshadowed by Will Smith publicly attacking Chris Rock during the show.
While Rock was presenting the award for best documentary feature, he made a jab at Jada Pinkett Smith, comparing her to "G.I. Jane" because of her shaved head. Rock's remark immediately earned him an eye roll from Pinkett Smith, but Smith took it a step further when he got up, walked over to Rock, and smacked him in the face. Rock tried to play everything off, making plenty of people wonder if the whole thing was a bit. But it soon became all too real upon Will Smith returning to his seat, where he screamed: "Keep my wife's name out of your f***ing mouth!"
The whole fiasco had just about everyone's jaw dropped for the rest of the awards show. Many celebs who weren't in attendance even took to Twitter to react.
Some celebs joked ...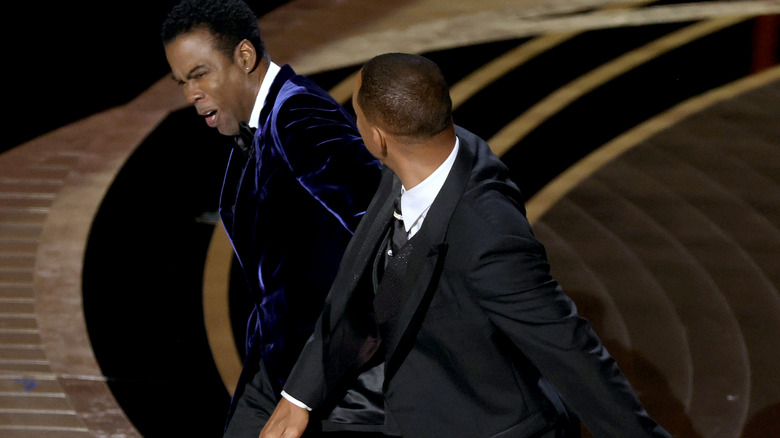 Neilson Barnard/Getty Images
Moments after the Chris Rock and Will Smith incident occurred, the hashtag #whatjusthappened started trending on Twitter, and several celebrities chimed in with their thoughts.
Some took a more lighthearted tone with the issue. Comedian John Fugelsang joked that the two actors will kiss and make up with a new movie, tweeting: "Right now the agents of Will Smith and Chris Rock are sitting at an #Oscars after-party negotiating the most lucrative buddy film in history." No doubt wanting to get in on the jokes, Conan O'Brien tweeted, "Just saw the Will Smith slap. Anyone have a late-night show I can borrow just for tomorrow?"
Meanwhile, Diedrich Bader saw a unique opportunity arise from the controversial moment, writing, "As a minor celebrity, I feel like I have 27-30 hours to do anything I want and no one will notice." The actor proceeds to list a myriad of things he did that would normally elicit a strong reaction, going so far as to provide faux real-time updates of shocking acts, like "drop[ping] trow and [sitting] on the Neapolitan ice cream at the drug store" and "scratch[ing] 'DIEDRICH BADER' on a '92 Camry," pretending that he did them when, in fact, he had not.
At the end of the day, New York Times journalist Dave Itzkoff summed everything up nicely by tweeting, "I hope everyone has enjoyed the last Oscars ever." It's unclear what the slap heard around the world will entail for the future of the ceremony, but some celebrities weren't as quick to make a joke out of the proceedings.
... Others thought Will Smith went too far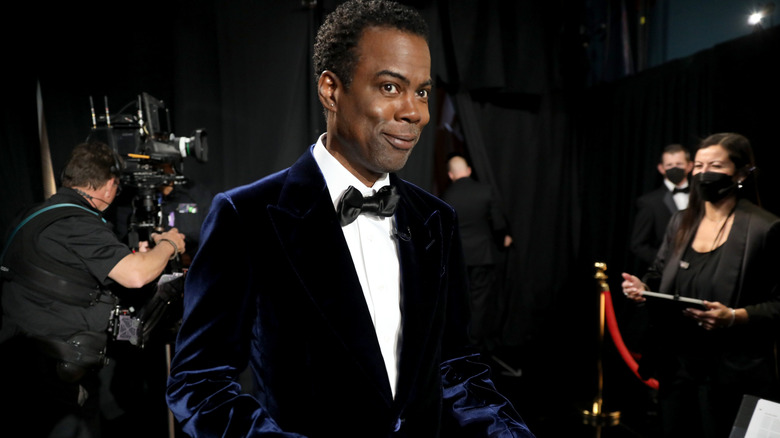 Handout/Getty Images
It wasn't all fun and games on Twitter in the aftermath of Slapgate.
Others thought the issue was much more serious, and Will Smith never should have gotten violent. Kathy Griffin wrote that Smith's move just made things dangerous for comedians, tweeting, "Let me tell you something, it's a very bad practice to walk up on stage and physically assault a comedian. Now we all have to worry about who wants to be the next Will Smith in comedy clubs and theaters." Director Rob Reiner also argued Smith went too far, writing: "Will Smith owes Chris Rock a huge apology. There is no excuse for what he did. He's lucky Chris is not filing assault charges. The excuses he made tonight were bull****."
There were some celebrities who took the opposite approach to the situation. Many, like Nicki Minaj, believed Smith was justified in his actions and was merely standing up for his wife. She wrote, "You just got to witness in real-time what happens in a man's soul when he looks over to the woman he loves & sees her holding back tears from a 'little joke' at her expense. This is what any & every real man feels in that instant. While y'all seeing the joke, he's seeing her pain."
Just minutes after the bizarre altercation, Smith accepted the award for best actor for his performance in "King Richard." On stage, he apologized to the Academy and noted, "Love will make you do crazy things."