The Regina Hall Oscars Joke That Viewers Think Went Too Far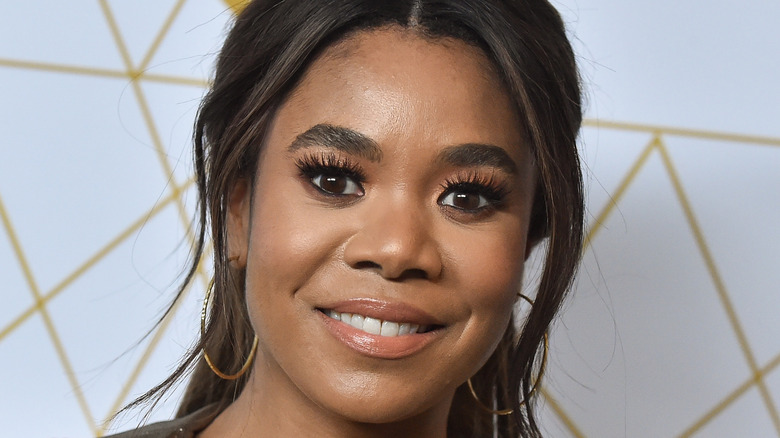 DFree/Shutterstock
This year's Oscars ceremony has proven historic in many ways. The first televised win of the night went to Ariana DeBose for her portrayal of Anita in "West Side Story." DeBose became the first openly queer Afro-Latina star to win Best Actress in a Supporting Role. She wasn't alone in making Oscar history, either — "CODA" star Troy Kotsur became the first deaf man to win an Academy Award for acting. Additionally, "CODA" made Apple TV+ the first streaming service to win Best Picture.
Also historic? The triple lineup of presenters for the night. Hosting the Academy Awards this year is an all-female team of Amy Schumer, Regina Hall, and Wanda Sykes. Never before had there been a trio of hosts who were all female. The individual accomplishments of all three women in the past made them joining together an exciting combination.
Schumer, for instance, has had her own sketch comedy show and led comedic films like "I Feel Pretty." Sykes is respected in the stand-up world and has made countless writing and acting contributions in film and television. Similarly, Hall has a lengthy film and television career that includes 2017's "Girls Trip." And yet, even with this impressive array of talent on the stage, it didn't necessarily make the broadcast perfect.
While the incident between comedian Chris Rock and Best Actor winner Will Smith continues to dominate the conversations on social media, one of the jokes made by Hall didn't sit well with audiences and led to backlash on Twitter.
Viewers did not think it was the time or the place for the COVID-19 test joke
Jokes are never a sure thing for the Oscars. While jokes are an expected part of the formula, some hosts have made controversial choices in recent years. This year has been no different, and some viewers had a strong reaction to an early sketch: Regina Hall's bit about COVID-19 tests.
Hall begins the joke by inviting Bradley Cooper, Timothée Chalamet, Tyler Perry, and Simu Liu onstage for "quick emergency testing." She adds that it's "totally random" before sending Javier Bardem away when she remembers that he's married and jokes about Will Smith and Jada Pinkett Smith's open marriage.
She explains that the men will have to remove their masks and clothes so she can "swab the back of your mouth with my tongue" and "some other freaky stuff." Some viewers took to Twitter to criticize the joke.
"Can we not do COVID jokes?" asked @Merckkk. "How cringey is it to make entire joke about something that has killed millions and millions of people?"
At this time, as the country is still struggling with the pandemic, many on Twitter agreed that it was unnecessary. "Watching the Oscars, and I found it very disheartening to see jokes about COVID-19 pandemic still affecting many people to this day," wrote @DrDebWilliams.
The Oscars are a celebration of film, and many viewers found the subject matter inappropriate. Rather than a reprieve from real life, movie fans were forced to watch an uncomfortable sketch that went on for too long — and that wasn't the only aspect of Hall's joke that viewers were unhappy with.
Some viewers were uncomfortable with the joke's sexual nature
In addition to the polarizing joke about COVID-19 tests, some viewers were uncomfortable with Regina Hall's "objectification" of the actors. Following the bit, the host also gave Josh Brolin and Jason Momoa a "COVID pat down" before leaving the stage.
"The theme of this #Oscars is apparently sexual harassment and covid jokes? Come on man," posted @ShannCanWrite. Others echoed this point, noting that if the genders had been swapped it would've caused a major uproar.
"Unpopular opinion probably: The sketch they just did with Regina Hall on the Oscar's was out of taste... not bc of COVID jokes but the pat down of the men or objectification... if a man did that exact thing there wouldn't be laughter. Like yeah they are all attractive but..." tweeted @MorganLeeG101.
"Strange air of disrespect through Oscars," said @HighSierraMan. "'Joke' of sexually assaulting good-looking young men tricked into getting COVID tests makes light of both epidemic + harassment."
Others called it a "vile mess" and said it wasn't funny that Hall joked about "Euphoria" star Jacob Elordi being "legal."
"Sexualizing ANY gender as a joke, will never be funny," said @mocjaune. "Those Covid test jokes were terrible."
Regardless of where viewers landed on Hall's jokes, it seems unanimous that most would've preferred to watch the categories that had been controversially cut from the broadcast.
"How about we give more time to the cut 8 categories during a LIVE telecast rather than joke about sexual assault with fake covid tests for 5 minutes?" asked @FantasySuiteSex.