The Prudence Moment That Went Too Far On Bridgerton Season 2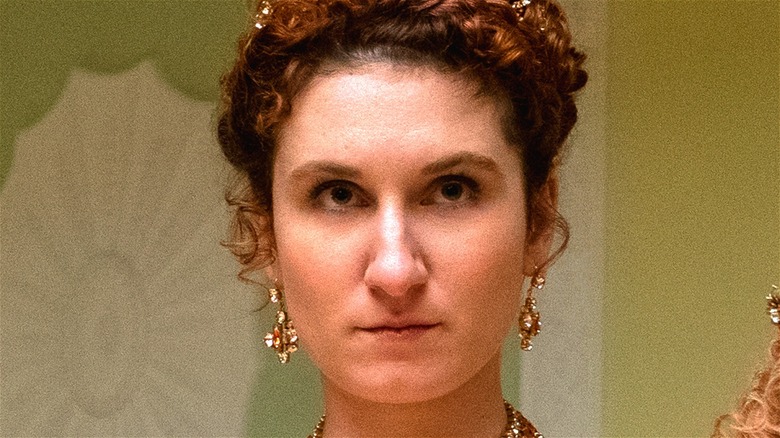 Liam Daniel/Netflix
The Shonda Rhimes-produced Netflix series "Bridgerton" enchanted audiences when it debuted in December 2020, becoming the most-watched show on the streaming service. The period drama is set in London during the Regency era and follows eight siblings from the powerful Bridgerton family as they each attempt to find love.
While Season 1 focused on the steamy romance between Daphne Bridgerton (Phoebe Dynevor) and Simon Basset, Duke of Hastings (Regé-Jean Page), Season 2 hones in on the pressure Anthony, Viscount Bridgerton (Jonathan Bailey) faces following his sister's marriage.
As the eligible bachelor finds himself in an increasingly complicated love triangle with sisters Kate (Simone Ashley) and Edwina Sharma (Charithra Chandran), the rest of their high-society peers continue to stir up drama and controversy in the pursuit of marriage and status.
The notoriously single Prudence Featherington (Bessie Carter) manages to snag an engagement after multiple failed presentations. Granted, it's to her fourth cousin, Lord Jack Featherington (Rupert Young), so it's not totally a fairytale.
Prudence is too oblivious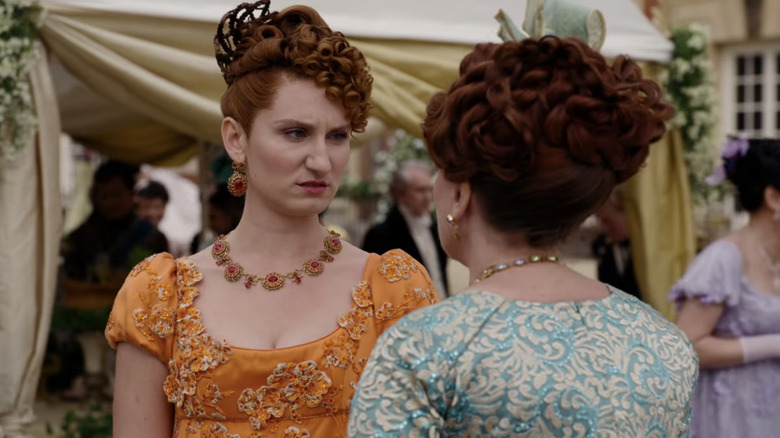 Netflix
"Bridgerton" fans know that the Featherington sisters aren't always the brightest, but Prudence's desperation to be married has her overlooking glaring red flags. Or rather, red rubies. After Lady Portia Featherington (Polly Walker) convinces Lord Jack Featherington to propose to her eldest daughter, the recently-widowed mother learns the grim truth about his financial status.
Lady and Lord Featherington come up with a scheme to entrap investors with fake gemstones to become wealthy. Prudence, who is already being used as a pawn by her mother with this arranged marriage, obliviously finds herself hawking their products at Anthony and Edwina's dramatic wedding.
While Prudence mills around the reception, Lady Featherington confronts her about not showing off the ruby necklace gifted to her by Lord Featherington. She initially reacts with ambivalence, pointing out that he "barely" speaks to her. However, her attitude changes when her mother warns her that if she messes up this engagement, she could wind up "without any prospects" like her sister Penelope (Nicola Coughlan).
"Heaven forbid," she gasps, turning to make the rounds and show off the necklace. Rather than questioning the significance of this necklace, Prudence continues to be easily manipulated by everyone around her.
Season 2 of "Bridgerton" is now streaming on Netflix.