Every Bridgerton Love Scene Ranked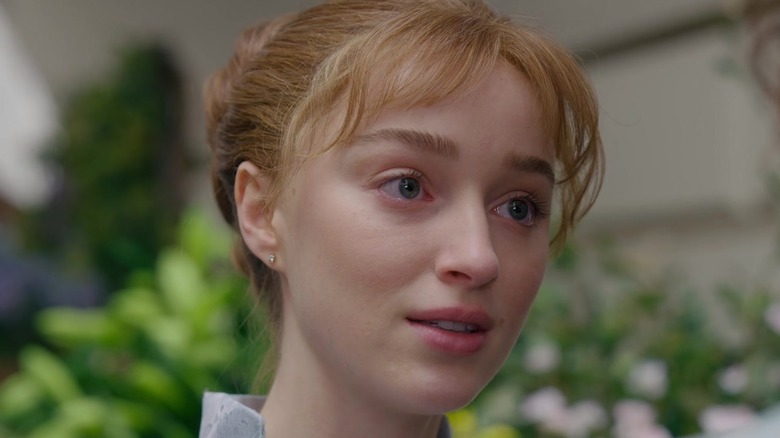 Netflix
When Netflix's "Bridgerton" premiered on Christmas Day in 2020, a floodgate of opinions shot through the web discussing its many aspects — especially the love scenes. Viewers more familiar with sentimentalist period dramas inspired by Jane Austen's novels found themselves in shock because of the explicit showcase of pleasure, aimed specifically towards catering to the female gaze. Fans and critics alike began using phrases such as "It's not your grandmother's period drama" to describe the show, while Simon Basset's "I burn for you" speech caught on like wildfire.
"Bridgerton" isn't the only period drama to include graphic love scenes. Shows like "The Tudors," "Outlander," and more have come before it. Still, we can attest to the fact that "Bridgerton" is responsible for opening more viewers to the world of Regency fiction, which takes up a solid chunk of the romance literature genre. These novels predominantly celebrate the importance of sexual pleasure for both parties and emotional character journeys, which result in happy endings. 
Thus, "Bridgerton" tapping into these elements and doing so through intimacy coordinators and meticulous attention to details isn't for shock value but rather for the sake of inclusion that broadens human connections on-screen. Each scene serves the characters, and even if a few perhaps take it too far, the love scenes at the center of "Bridgerton" deserve respectful discussions.
1. Wildest Dreams montage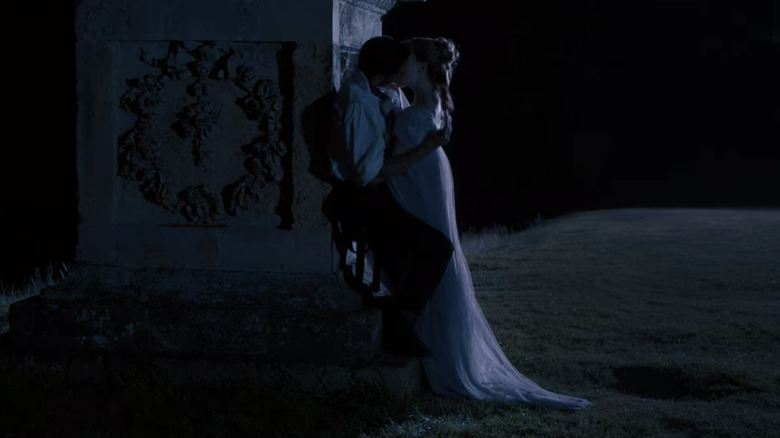 Netflix
Simon and Daphne's love scene montage to Taylor Swift's "Wildest Dreams" is perhaps the most visually satisfying and thematically beautiful showcases of the honeymoon phase. It's a celebratory moment all over the grounds of their home as Duomo's cover blasts through our speakers. It is an iconic scene, one which even casual fans of "Bridgerton" are likely fully aware of.
Twitter is still full of comments about the scene. User @13banisters expressed enthusiastic shock that Swift's song was used so effectively. This isn't the only time the cover has gained traction on the web in all caps. Fans were even hoping there'd be a similar montage to yet another song by Taylor Swift in "Bridgerton" Season 2. While there isn't, at least this love scene reigns as an exhibition of the bliss that Simon and Daphne discover in the rain, in their library, by the lake, and more.
2. Kate and Anthony outside of Bridgerton House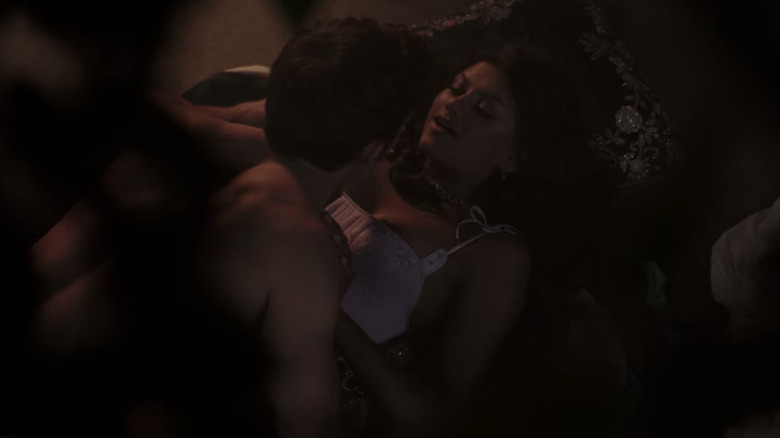 Netflix
Longtime romance fans will vouch that there is nothing quite like the moment where the two sworn enemies finally give in to the feelings within them. Although this moment in the Bridgerton house gazebo is vastly different from Kate and Anthony's first time on their wedding night, it's still a stunning representation of their adoration to an orchestral cover of Calvin Harris' "How Deep Is Your Love."
As necessary as the first love scene is, what makes this sequence so notable is that this is the moment where they are both finally choosing for themselves instead of the duties they're so adamant on pushing. The series' tasteful means of catering to female pleasure makes this love scene the kind of beautiful exhibition of what it means to have the people who often give finally receive. Equally memorable is Anthony's speech that occurs right before this event.
3. Kate and Anthony at Aubrey Hall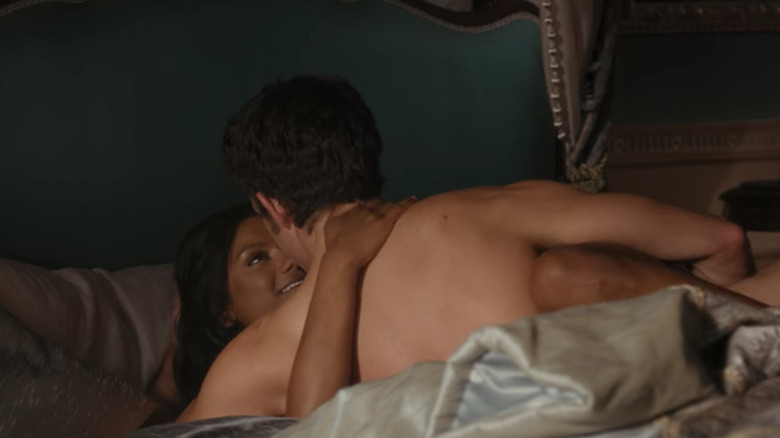 Netflix
Kate and Anthony's final love scene at Aubrey Hall is brief, but it's crucial in authenticating that the viscount and viscountess are ultimately at ease. It's a much lighter and more joyous love scene than their first time, and, as we learn, six months have passed since his proposal at the Featherington's ball. The love scene shows us that the darknesses they've endured because of grief are starting to heal as a result of loving one another. Since the two of them are so alike in their troubles, finding the one person who understands it all is a sign of a true love match.
The location of Aubrey Hall matters significantly at this moment as it allows their story to come full circle, considering this is the place where we could argue that they start to fall in love. It's also the place that holds tremendous sadness for Anthony and the Bridgerton family, which tells us that having happiness shadow the doorsteps is something their late father Edmund would want too. In the books, we learn that Anthony rarely ever revisits Aubrey Hall because of his heartaches, which makes this scene even sweeter for fans aware of this.
4. Simon and Daphne after the rain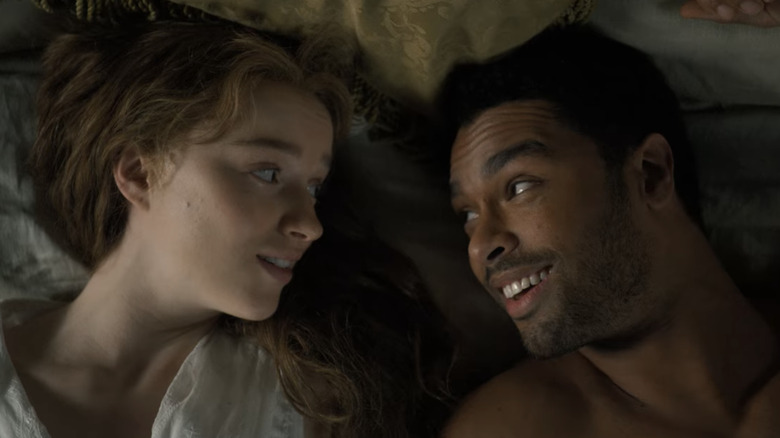 Netflix
Much like Kate and Anthony's final love scene at Aubrey Hall, Simon and Daphne's love scene in the Season 1 episode "After the Rain" is the culmination of their entire journey as it signifies the moment where they are both all in. Nothing is more apparent during this scene than the detail that Simon understands that he does not need to be perfect for Daphne to love him. After standing in the rain for seemingly hours, his decision to walk into their bedroom shows that he realizes what a blessing children can be. Since the epilogue of their son coming to the world follows, audiences can see that this is the one that matters the most.
In what represents the more proper consummation of their marriage, the love scene showcases how much the two have grown since beginning their ruse and how far they are willing to go to ensure that the other understands just how loved they are. Juxtaposing all the scenes they've had before, the broad daylight hides nothing physically, while internally, we can discern the characters are entirely transparent with one another as well.
5. Simon and Daphne's first time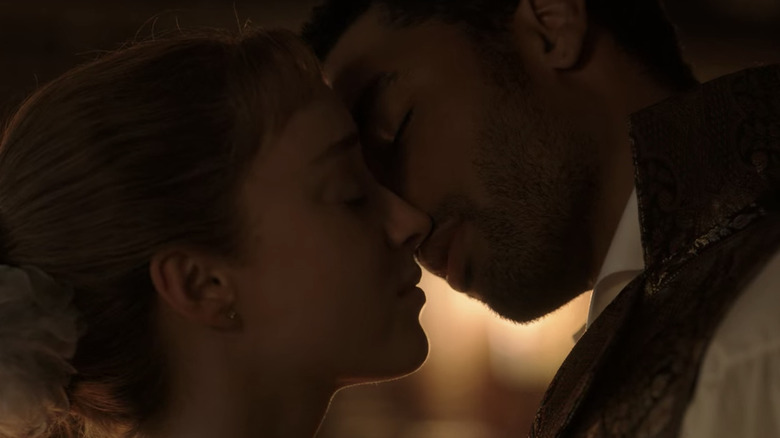 Netflix
Simon and Daphne's first time in Season 1, Episode 5, "The Duke and I," is the kind of love scene that romance fans dream of. It's the buildup of the fake dating trope becoming more and more real as viewers finally see it come to pass in a way that feels earned. However, what makes Simon and Daphne's so special — other than the breathtaking cover of Celeste's "Strange" by Kris Bowers — is that it's gentle, warm, and utterly respectful of a woman's choices.
It's also one of the best-known love scenes in "Bridgerton," as it occurs right after Simon's prevalent "I burn for you" line. The scene makes it clear that though they don't marry by choice, at the end of the day, they would still choose one another. Simon patiently waits, not wanting to do a single thing until he understands, with zero uncertainties, that Daphne wants him as well. The lighting in the room and the honest conversations they carry exhibit how comfortable they are together as best friends first and foremost.
6. Benedict, Madam Delacroix, and Lucy Granville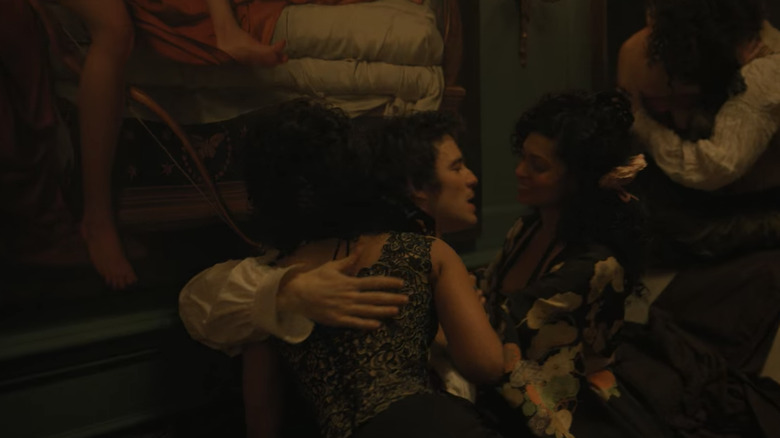 Netflix
The intriguing thing about Benedict Bridgerton's brief yet memorable threesome with the modiste, Madame Delacroix, and Henry Granville's wife, Lucy, is that it almost alludes to the love triangle he finds himself in during his own story. In the third book, "An Offer from a Gentleman," Benedict is essentially pining for a mystery woman he meets a masquerade and a servant he's falling for that he meets two years later. What Benedict doesn't know, however, is that Sophie Beckett, the servant, is the very same woman he's been in love with since masquerade.
It's more comical than romantic in this regard, but as far as character development goes, this scene shows viewers that societal rules and etiquette don't bind Benedict's choices. While perhaps none of his brothers or sisters would engage in intercourse like this, he has no problems with it. It also shows viewers who are paying close attention that Benedict does not judge how people choose to live their lives.
7. Simon and Daphne on the stairs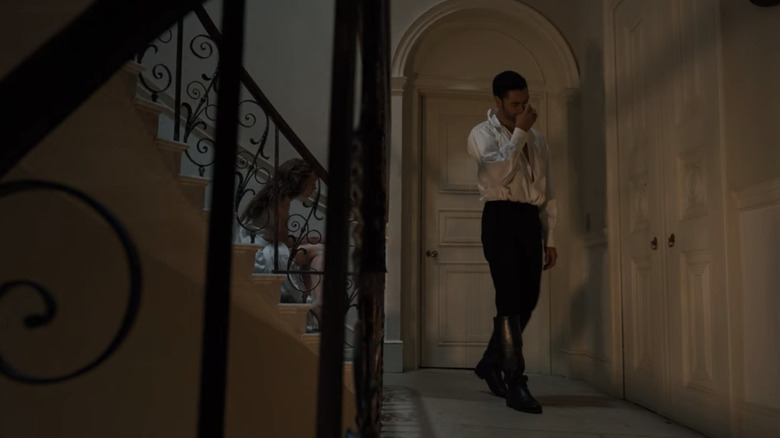 Netflix
If nothing else, the love scene between Simon and Daphne in Season 1, Episode 7 "Oceans Apart" is stunning in cinematography. As the series once again caters to the female gaze and prioritizes a woman's pleasure, we see Simon allowing Daphne her pleasure despite their recent fight.
As stunning as the stairs and the couple look, it is hard to look beyond the fact that Simon essentially says to her that they will remain married by name only if she is not pregnant, showcasing that he is still angry because she took advantage of him. It shows the mixed signals Simon sends while simultaneously revealing that the two care for one another despite everything. However, out of all the memorable love scenes in "Bridgerton," this is one the series could've gone without. Alternatively, there could've at least been a follow-up of what it truly means to consent even when two people are in a committed marriage.
8. Anthony and Siena before the breakup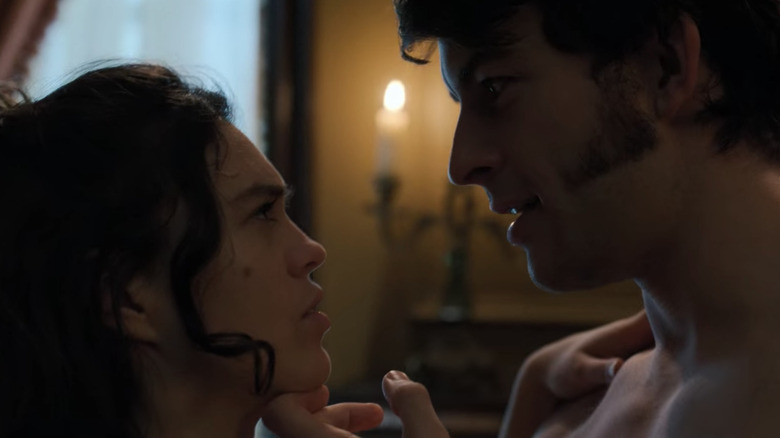 Netflix
Love scenes between Anthony and Siena are complex. However, the moments they share are essential in exhibiting power dynamics and societal differences that "Bridgerton" examines. Their love scene before the final break-up in the Season 1 episode "After the Rain" is gorgeous in the laughter they share, but it deals with the detail that they two don't truly know each other. As Anthony loosens up a bit more, he invites Siena to accompany him to a ball.
Of all their scenes together, this is the one that perhaps shows the potential they both have in finding a match with whom they could be their authentic selves. Siena knows what she wants and deserves, but Anthony has much to learn. Still, the scene reveals to the audience that beyond their wild moments against trees and under bleachers, the two are capable of enjoying quiet moments as well.
9. Anthony and Siena before the duel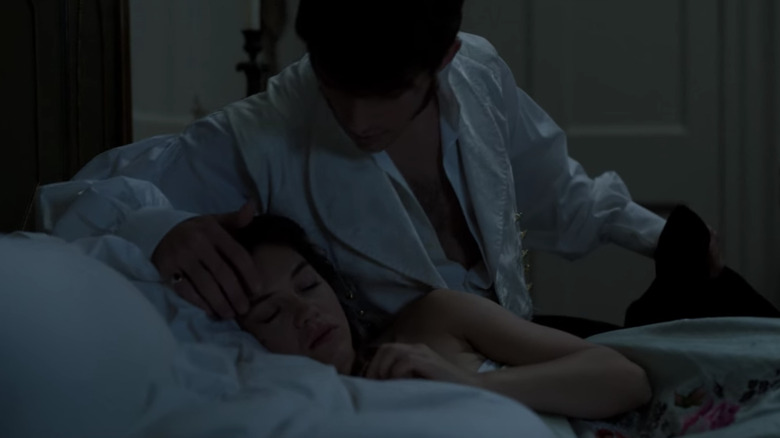 Netflix
This brief scene between Anthony and his mistress, Siena, is perhaps more important for his character journey than anything else. It is a scene that tells the audience that the viscount feels more than he allows others to see by simply showing us that all he wants is one last moment with a woman he cares for if he dies.
Anthony tells Siena as much when he enters the room, demonstrating that he not only misses her and everything they have had but also his desperation to do something for himself that he doesn't have to overthink. Anthony also tells her that if he survives, it means he could be free of all his duties, allowing the two of them to run off without the responsibilities his viscountcy entails. A scene like this ultimately shows us Anthony's tenderness and how much he is capable of, despite how harsh and careless others presume he is. It's more important for his character journey than everything else, allowing us to see how much turmoil is inside of him at all times.
10. Anthony and Siena by the tree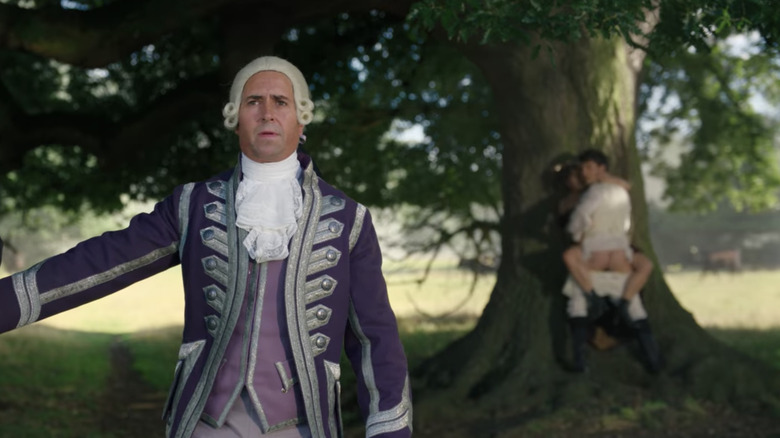 Netflix
This is the first love scene we see in the premiere episode "Diamond of the First Water," and it's far from the series' best. Not only does it look painfully uncomfortable against the tree, but there is nothing more awkward than the footman standing near, knowing (and hearing) exactly what is happening behind him. It's also extremely awkward knowing that Anthony is late in accompanying his family at the queen's debut.
However, despite how humorous and jarring the scene might be, barely five minutes into the show, long-time fans of the books will notice that this is the first time we catch a glimpse of Anthony's late father's pocket watch. Though we don't get it in this scene, Siena comments on the pocket watch shortly after while they're in bed, stating she'd like to tear it up bit by bit since he's always looking to it. It's a massive Easter egg to show that for Anthony Bridgerton, especially, time is of the essence.
11. Simon and Daphne in his office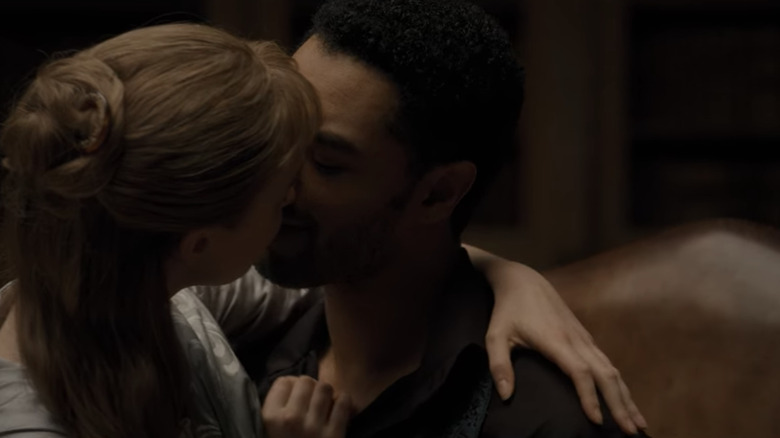 Netflix
On par with the more graceless moments in "Bridgerton" that lead to disastrous outcomes is Simon and Daphne's love scene in his office. It is all acceptable in the beginning as they finally see one another after a long day where Simon's duties force him to act as a recluse in his office. One thing leads to another, but Daphne puts two and two together when he leaves behind a tissue.
She visits her lady's maid afterward to ask about how a woman comes to be with child, showing the audience that despite her mother's attempt to educate her, Daphne still doesn't have a clue. It's an awkward, messy scene that also forces fans to question why on earth Simon simply leaves the tissue on his desk instead of taking it with him. Of all the things for maids to clean up, this shouldn't be one of them.
12. Daphne takes advantage of Simon in Swish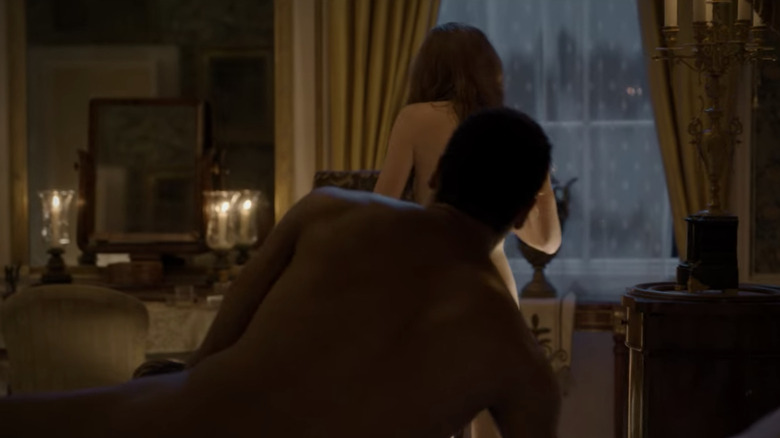 Netflix
Daphne and Simon's love scene at the end of "Swish" is undisputedly the worst moment in the show's first season. While book fans can vouch that the scene is far more brutal on text, the show's version is just as uncomfortable. After Rose explains everything to Daphne about pregnancies, she decides to test it all herself, hoping for a moment that Simon wouldn't be lying to her. Instead, it proves to be true, and as he tries to push her off, Daphne continues to keep going.
Simply put, it's sexual assault. Simon might not be as drunk as he is in the books and unable to consent to the sex fully, but it leaves a bad taste in viewers' mouths because she could've merely asked. Daphne could have allowed him the opportunity to come clean about everything through transparency as opposed to resorting to such matters. While perhaps most scenes on this list are ones people could re-watch, this one certainly isn't.
If you or anyone you know has been a victim of sexual assault, help is available. Visit the Rape, Abuse & Incest National Network website or contact RAINN's National Helpline at 1-800-656-HOPE (4673).