Biggest Unanswered Questions In Bridgerton Season 2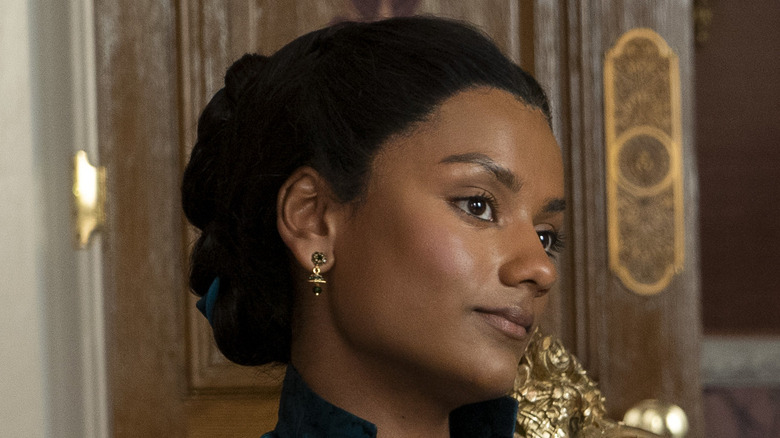 Netflix
Netflix's vastly adored series, "Bridgerton," returns with plenty of drama and double the romance. As an anthology series, the biggest mystery in Julia Quinn's novels is the identity of the anonymous regency gossip columnist, Lady Whistledown, voiced pristinely by Dame Julie Andrews. However, the TV show explores wider angles, forcing some storylines to bleed into future seasons instead of resolving them quicker.
That's the case with "Bridgerton" Season 2, as it diverts rather heavily from Quinn's second novel, "The Viscount Who Loved Me." The season not only follows Anthony Bridgerton in his quest to find a wife, but it also leads us towards storylines of self-discovery with the newly arrived Sharma sisters. The season also allows audiences to see more of the younger Bridgerton siblings, whose stories are yet to come. In courting one sister (Edwina) and falling head over heels for another (Kate), the season dives deep into Anthony's psyche and the grief the entire family carries after their father's death. Simultaneously, it brings to life the scandal the Sharma family endured after Lady Mary married Kate's father, an ordinary clerk, and moved with him to India. The season again gives Golda Rosheuvel's Queen Charlotte far more drama to concoct, as she essentially goes head to head against Whistledown to unmask her. Still, unlike its debut season, "Bridgerton" Season 2's unanswered questions take priority over the concluding arcs.
The following article contains spoilers for the "Bridgerton" books and Season 2 of the Netflix show.
Where is Francesca?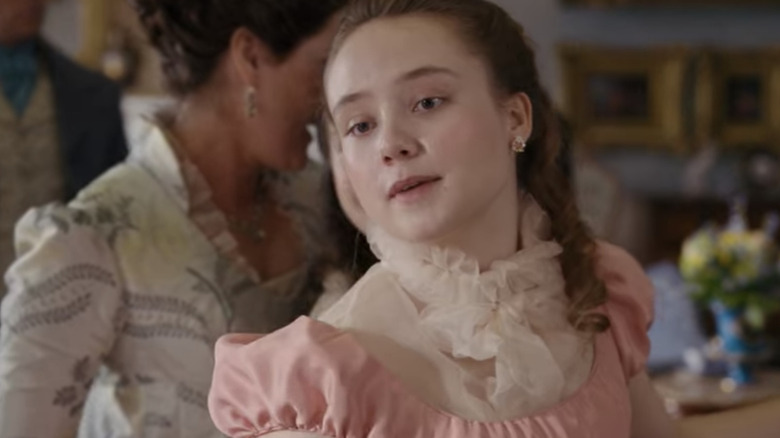 Netflix
Francesca Bridgerton (Ruby Stokes), the sixth Bridgerton sibling, seems to be frequently missing from most family affairs. Thus far, the audience gets small glimpses of her in both seasons, but she later disappears and is absent from significant events, such as weddings. In the first season, she returns by the end, and we learn that she had been visiting their Aunt Winnie. After the brief shot of her at Aubrey Hall, their ancestral home, she is nowhere in sight — and this time, no one even mentions where she is. Have they Kevin McCallister-ed her and left her home alone?
For non-book readers, many forget or aren't even aware that she exists. Considering she is absent from the family dance in Season 2, Episode 7, "Harmony," it's almost certain she wasn't at the event at all. She should be making her debut by next season if they follow the books, so perhaps that means we'll finally see more of her than quick glimpses.
Can Eloise and Penelope put this fight behind them?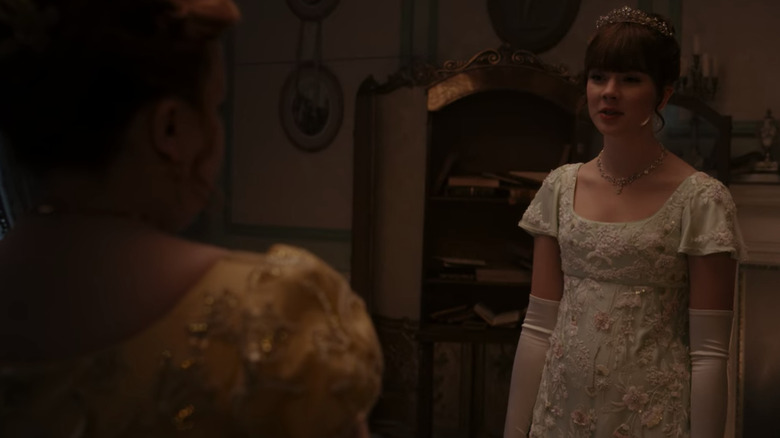 Netflix
The steadiest friendship in both the books and the TV show is the bond between Eloise Bridgerton (Claudia Jessie) and Penelope Featherington (Nicola Coughlan). Bound together from a young age, the two are inseparable until Eloise finally learns Whistledown's true identity. When Queen Charlotte suspects that Eloise is Lady Whistledown and forces her to confess in three days, Penelope takes Madam Delacroix's advice and prints a column about Eloise to throw the queen off her tracks. However, the plan backfires when she reveals that Eloise has attended a radicalized women's meeting, causing far more scandal than necessary.
Eloise is significantly less angry in the books when she learns the truth, but the series sees a tremendous fight break out between the women, ending with Eloise saying she never wants to see Penelope again. It's worse this time around because the secret costs Eloise her newly budding friendship with Theo Sharpe, and Penelope's actions bring far more shame on the Bridgerton family name. While fans could be hopeful that the best friends will make amends, how that will happen or how long it takes isn't something anyone can predict.
Will Edwina meet the Prince?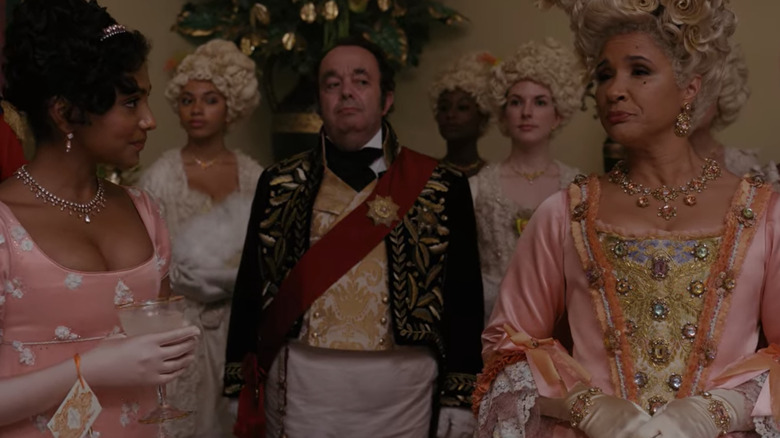 Netflix
"Bridgerton" Season 2 takes a massive leap with Edwina's character by having her fall in love with the viscount, only to leave her alone in the end. The two never make it down the aisle in the book, and Anthony never proposes either, but Edwina's prospects are large as gentlemen come to court her daily. More than halfway into the book, we learn that she is falling for a man named Mr. Bagwell, and it is easy to assume that they'll be the ones to wed. 
Bagwell doesn't exist in the Netflix series, but Prince Friedrich (Freddie Stroma) still does, and the queen mentions wanting to introduce the two in the season finale. Will this actually happen? Can the queen finally have her wish to see her nephew wed after two failed attempts? If the third time's a charm, then both Edwina and the queen are in luck — but since we don't know whether or not Charithra Chandran will return in Season 3, it's hard to tell who she'll marry. After all, this is a romance — she wants to find love, and she should.
Will the Featherington heir retaliate or disappear?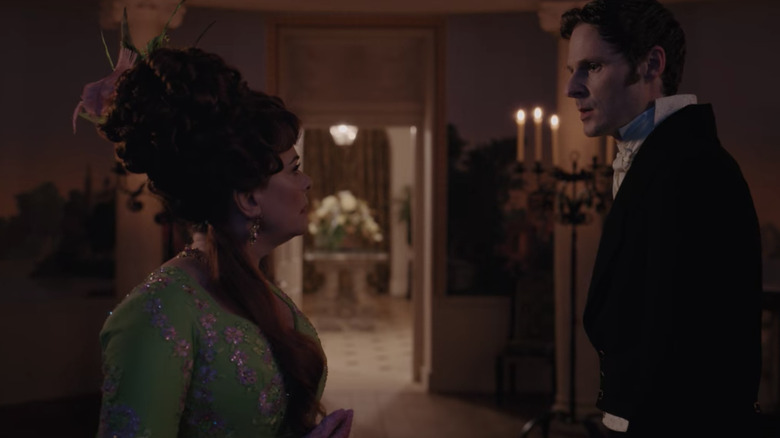 Netflix
The Featherington heir, Jack (Rupert Young), takes months to arrive, and proves to be an even bigger liar and cheat than the now late Baron Featherington. When Portia realizes that he fabricated the existence of their funds and the booming status of the mines, she teams up with him in a ruse to sell counterfeit ruby necklaces. Only after he clarifies that they should relocate to America, pulling a move on her while engaged to her daughter, does Portia finally choose her children, casting him out and securing some of the funds for her family. However, such men never depart easily. Jack knows far too much about the family (including Portia forging documents). This raises the question, will he retaliate or will he disappear?
It's also easy to wonder where Will Mondrich (Martins Imhangbe) fits into all this, since the earnings from his final boxing match are a result of throwing the punch in favor of Lord Featherington's bet. The new heir knows about this and even tries to use it against him; thus, with Colin Bridgerton now siding with Will, could Jack use this information to continue bribing someone else? Will he spend time away and return more conniving than ever before? Penelope could hold him off for a while if she chooses to use her pen to vouch for her family, but everything could blow up in their faces once the entire ton learns her identity.
Can Benedict ever go back to the art academy?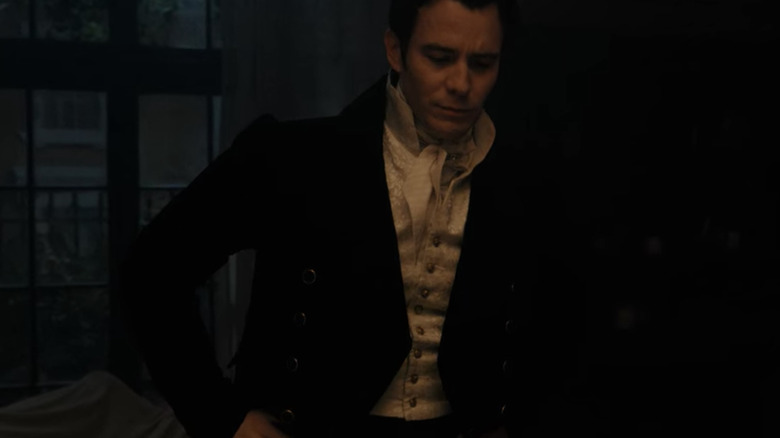 Netflix
The second eldest Bridgerton's journey with art is much more pronounced in the TV show than in the books, allowing him to quickly explore the prospects that take him years in the text. Benedict has not only improved his skills this season, but he's taking more significant steps towards finding his place as an artist. In Season 2, Episode 3, "A Bee in Your Bonnet," he learns that he has a position at the Royal Academy Schools, only to discover later that Anthony's sizable donation guaranteed his spot.
Realizing that he didn't get in on his own accord and suffering through imposter syndrome, Benedict drops out in the final episode, seemingly putting his brushes down for good. In the books, he explores his talents much later, but what happens to his position after he drops out? Can he reapply? Will he take another route towards becoming the renowned artist we read about in later books? We might not know of any of this now, but since Sophie Beckett inspires him to pursue his dreams in "An Offer from a Gentleman," perhaps she'll be the one to do so in Season 3.
How far will Penelope go as Whistledown?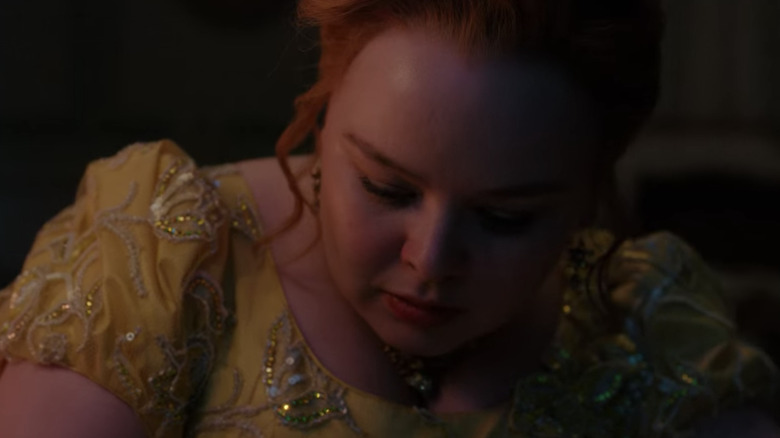 Netflix
Penelope Featherington not only loses her best friend in the finale, but she overhears Colin Bridgerton telling other gentlemen that he would "never dream of courting her, not even in their wildest fantasies." Book fans will know that Penelope overhears a similar conversation between Colin and his brothers, but something about this situation stings even worse. Penelope is undoubtedly more distraught now than ever before, and though she decides she will carry on as Lady Whistledown, how far she goes is what can determine how quickly Eloise will forgive her.
In a sense, it feels like an anti-heroine era for her — a chance to really dig deep and dismantle all the toxicity within this society. As angry as Eloise is, we can be confident that she'll likely keep Penelope's secret, but we don't yet know how far Penelope will go to protect her family — and maybe even her former best friend's family. Will she still try to be close friends with Colin or will she begin to reject his offers to dance, forcing him to also question what changed?
Will Queen Charlotte still name diamonds of the season?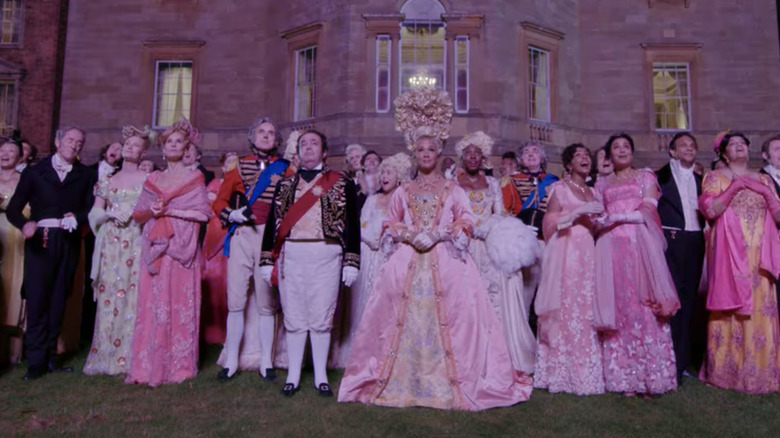 Netflix
Though the tradition of naming the season's diamond is an excellent addition to the series, it could get repetitive seeing it every year. That's especially the case this time out, considering this season's diamond isn't the one to wed, but her sister instead. After everything Queen Charlotte went through to plan a wedding and secure her reputation while inadvertently in a brawl with Whistledown, will she change the tradition to throw the writer off?
We get to know her inner heartaches with the King a bit more this season, and thus it forces us to question how the series could continue fleshing her out more without necessarily changing her vigor or eccentric needs. Now that she is fully aware that Whistledown is a member of high society, will she start to do things differently and more spontaneously? Will she keep the diamond a secret until the end, perhaps, declaring whoever marries that season the one as opposed to doing it earlier? If next season is true to the books, then Sophie Beckett, the main character who's to marry Benedict Bridgerton, will not be a ton member. Since she is a servant, she cannot debut, which could demonstrate how the queen will change her views in certain situations.
Where exactly was Simon?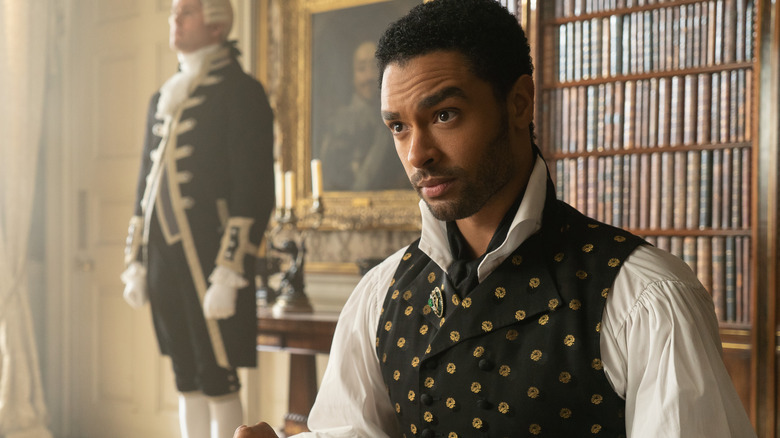 Liam Daniel/Netflix
While the Duke and Duchess of Hastings are doing perfectly well in their marital relations, the series doesn't necessarily explain Simon's absence. As we learned last year, Regé-Jean Page wouldn't be returning to the series, leaving many fans saddened and even speculating what that could mean.
We hear that Daphne won't be attending a ball because their son Augie has a lingering cough, but we never really hear why she is traveling alone during the other occasions. And sure, audiences could presume he's occupied with the many duties of a duke, especially those pertaining to restructuring the formerly abandoned estate. Still, a simple explanation could've at least given audiences who aren't looking so carefully respite. However, audiences learn that Daphne and Simon are always finding new ways to challenge one another and how to conquer situations together as a united front.
Will Anthony be more open with his siblings?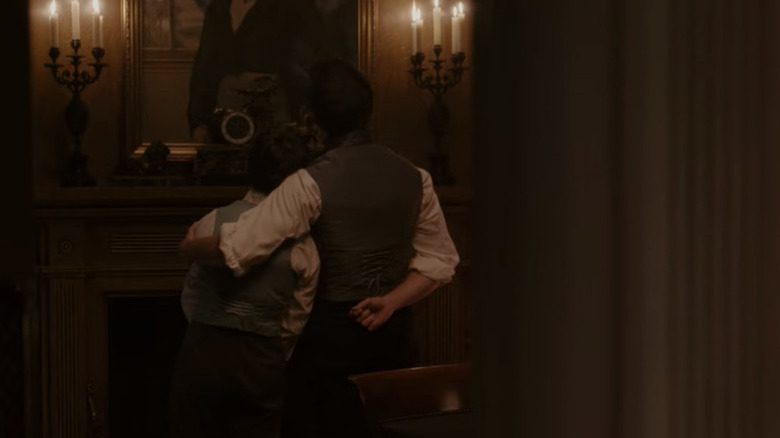 Netflix
Anthony Bridgerton's arc this season is a masterclass in execution, showing the audience the severe pangs of guilt and how they affect communication. While Anthony does a solid job managing the family's funds as the viscount, he has broken relationships with most of his siblings. In a quiet conversation with his youngest brother, Gregory, he vocalizes his awareness of showing up too late. In a joyous moment with the entire family, we see him dancing with his youngest sister, Hyacinth. He even finally admits to Benedict that it took him far too long to see the perspective his art brought to life.
Now that Anthony is no longer carrying his burdens alone, we could hopefully expect more involvement in his siblings' lives and more openness. In some way, they've each hidden something from him out of fear, but perhaps they'll all feel more inclined to communicate with this new beginning. And that could be paramount in Benedict's case if Sophie is still a servant, needing his brother's sincere blessing to marry her.
Is Kate not afraid of thunderstorms?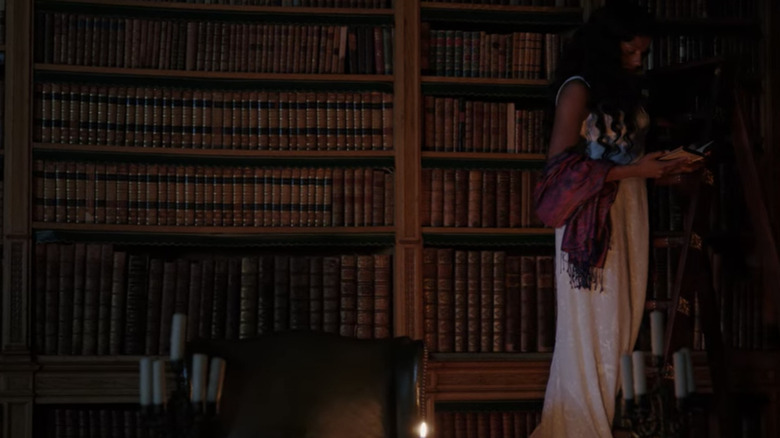 Netflix
Kate Sheffield (now Sharma) harbors tremendous fear of thunderstorms in the books. It's a crucial part of her character, as readers learn that a terrible storm was brewing outside the night her mother died, a deeply traumatic experience at the very young age of three that scarred her for life. While she wasn't aware of any of this until her stepmother Mary tells her, storms merely seem to unsettle Kate in the show. It doesn't force her into a state of panic, much like Anthony's fear of bees.
In the show, Kate is also older, which could mean she wasn't three when her mother passed away. She also tells Anthony that, because her father is no longer here to read to her, storms remind her of him. It could still suggest that an even more significant storm could scare Kate, or it could be that the trauma isn't as intense as it is in the books, given the age difference. But even though a key part of her character journey in overcoming fears, it remains glossed over.
What will happen to Theo Sharpe?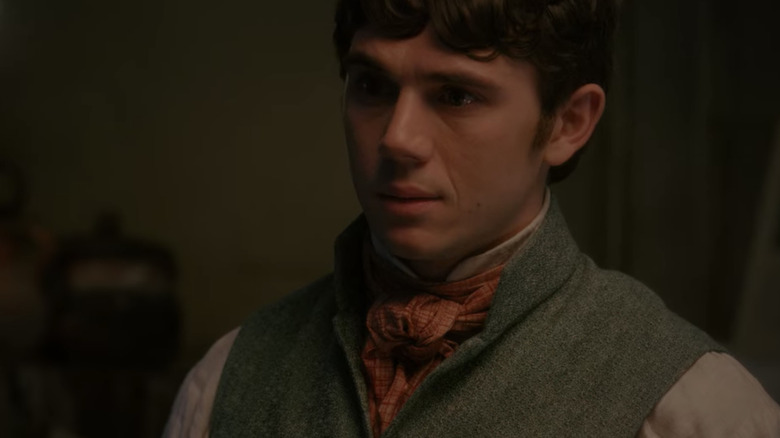 Netflix
Calam Lynch's Theo Sharpe isn't just a simple assistant — he's a kid fighting against society's demands, and a crucial part of Eloise Bridgerton's arc this season. The two develop a close friendship while bonding over books and their similar beliefs. Theo Sharpe isn't in the books, and as readers will know, Eloise's book follows her relationship with Sir Phillip Crane (Chris Fulton) — but at the moment, he is currently with Marina Thompson.
Though Eloise doesn't entertain any prospects in the books until she meets Sir Phillip, this change in the series lets us get to know her desires more. It also shows us that it isn't necessarily that she doesn't want marriage or companionship, but that she detests how it happens for members of the ton. Friendships like this feel more organic and worthwhile, which matches Eloise's personality, but what will happen to Theo now isn't all that predictable. Will Eloise return to the printer shop and continue to befriend him, now that she knows Penelope's secret? Will he go work somewhere else after this heartbreak? Their final scene doesn't feel like closure so hopefully, audiences can witness something more substantial if they're never to see each other again.
Why didn't we see any of the key moments between Kate and Anthony during the time jump?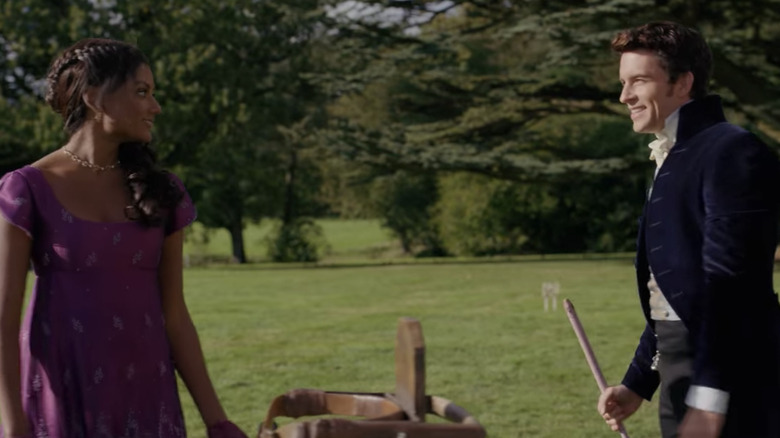 Netflix
As a romance series, Kate and Anthony's development (and the quieter moments in their relationships) are crucial to getting to the genre's heart. While we see their longing throughout the season, their wedding is out of sight, and the six-month time jump feels a bit clunky. Though there are significant time jumps from the books, their marriage takes place in the middle of the text rather than the end, allowing readers to get to know more of their story.
We don't yet know whether Jonathan Bailey and Simone Ashley will return in Season 3, but if they don't, ending the series without showing audiences the meat of their story adds more questions to the equation than answers. Benedict is to meet the Lady in Silver at the Bridgerton Masquerade, which also acts as a celebration for Kate and Anthony officially moving into the house — could this mean we'll see them then? Could this also mean that the family will still reside in the house with them? It's large enough to fit them all, and this could be a change from the book that would make sense. Will their firstborn still be named after Anthony's late father, Edmund? Do they still bicker? Has Newton warmed up to Anthony? Who beat whom at the last game of Pall Mall? Clarification about their return could answer the more burning questions book readers will likely have.