Why Edwina Sharma From Bridgerton Season 2 Looks So Familiar
Dearest readers, have you heard the news? Netflix officially announced that the Regency-era drama "Bridgerton" is coming back for Season 2. Though fans were (rightfully) disappointed to hear that Regé-Jean Page wouldn't be returning to reprise his role as the Duke of Hastings, there's sure to be plenty of scandal in the newest season.
"Bridgerton" is based on author Julia Quinn's "Bridgerton" series that chronicles the Bridgerton siblings in their quests for love. While Season 1 of the Netflix show was based on Quinn's first novel in the series, Season 2 will follow her second book, titled "The Viscount Who Loved Me." Season 2 will center on oldest brother Anthony Bridgerton (Jonathan Bailey) and his love interest is Kate Sharma (Simone Ashley). One of the recently announced cast members is Charithra Chandran, who is set to play Kate's sister, Edwina (via Deadline). If the British actress looks familiar, it's likely you've seen her dominating the stage in one of the productions she's been a part of or heard the buzz surrounded another role she recently landed.
Charithra Chandran has a long list of credits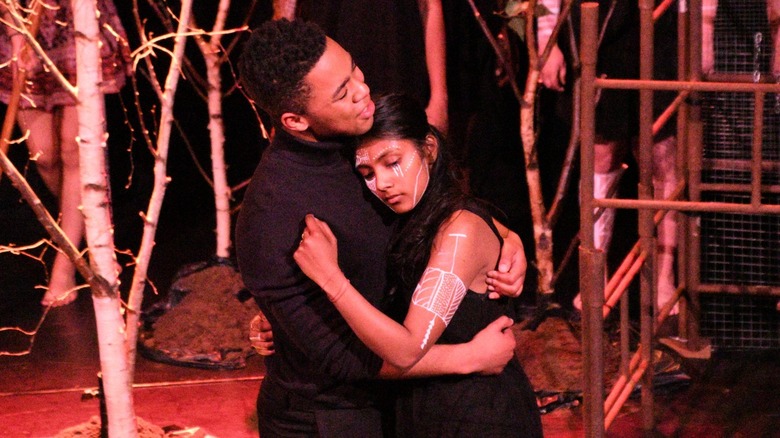 Khameleon Productions
Chandran's online portfolio has several credits listed, including plays and short films. According to her agency profile, she recently graduated from Oxford University with a degree in Philosophy, Politics, and Economics. Among her roles, she was in the movie "Being Kate Brown" as Julie, in "The Love Bet" as Cia, and in "The Talents" as Bekkie.
Chandran has also spent some time on stage and spent it well, earning glowing reviews. She played the titular role in "Medea," and Oluchi Ezeh of Cherwell noted that "There is a complexity to the performance that cannot be understated – anger, sadness, and frustration all feed off each other in every movement and become the sign of a truly talented actress." She also had a standout performance in "The House of Bernada Alba" as the family servant La Poncia. Ela Portnoy of Cherwell praised Chandran for her use of "facial expressions and gestures in such a beautifully sparing way, and radiated a rich quality of motherliness and old gossip, which was seriously impressive given her age."
Chandran's casting in "Bridgerton" comes as no surprise once you see the overwhelmingly positive reviews she received earlier in her career, and she has a few exciting projects coming up in the next year.
Charithra Chandran is making big moves in 2021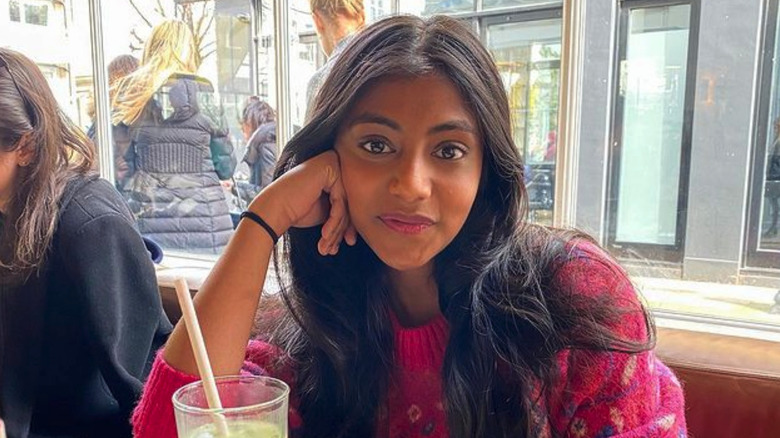 Instagram
If you take a look at her IMDb page, you'll only see a few credits to Chandran's name. Only a few months before she was cast in "Bridgerton," Chandran landed a role in the Amazon Prime Video and IMDb TV show "Alex Rider" (via Variety) Based on author Anthony Horowitz's book series of the same name, "Alex Rider" is about a teen recruited by M16 who goes on exciting spy missions. Chandran is slated to play Sabina Pleasance, the smart daughter of a journalist. Chandran took to Instagram with a screenshot of the announcement, captioning it "Big up 2021." She is also slated to star as Stella in the UK web series "Pillow Talk," which follows Stella's attempts to move on from her ex, Astrid (via Four Eyes Productions).
Though "Alex Rider" will be Chandran's first big role, her time on "Bridgerton" is likely to be the one to catapult her into fame. According to Quinn's novels, Edwina was the first to capture Anthony Bridgerton's attention, which means we're in for plenty of drama in Season 2 as the Sharma sisters are pitted against one another for his hand. We're excited to see Chandran tackle her latest roles, and see where she ends up next.