All The Hints You Missed About Lady Whistledown's True Identity In Bridgerton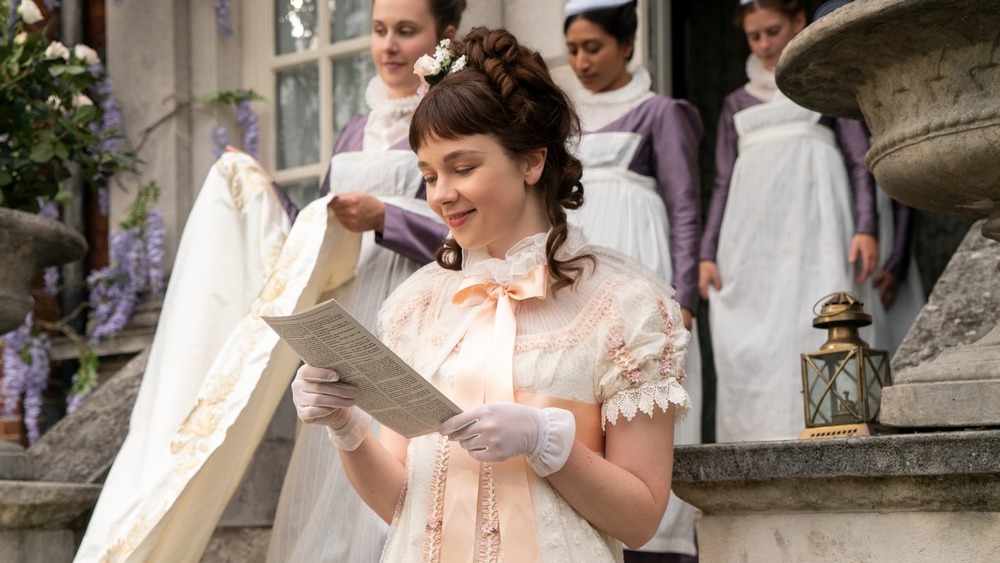 Netflix
Netflix's less-than-stuffy period drama Bridgerton — the eight-episode (so far) adaptation of Julia Quinn's series of historical romance novels — has enough scandal-laden cliffhangers to keep viewers hitting the Next Episode button until they've worked through the whole series in one go. But the most tantalizing mystery that runs through the season (of both the social and TV variety) regards Lady Whistledown's true identity.
London's most-read — and most-royally-despised — gossip columnist is voiced by the legendary Julie Andrews. However, Andrews doesn't appear in Bridgerton, as Lady Whistledown is merely a pseudonym for one of the other characters in the series. The popularity of Bridgerton means there's likely to be a Bridgerton season 2 one day, but just in case there won't be more episodes, the show generously didn't force viewers to wait to find out who had been writing those provocative papers. (Consider this your last chance to avoid spoilers.)
The final scene of Bridgerton season 1 reveals that Lady Whistledown is actually Penelope Featherington, played by Nicola Coughlan. (If she looks familiar, it might be from the hilarious Netflix comedy you didn't know Bridgerton's Nicola Coughlan is in.) Penelope is the youngest daughter of the Featherington family, famous for their brightly colored clothing and their matriarch Portia's (Polly Walker) social ambitions.
Even Eloise Bridgerton (Claudia Jessie) — Penelope's best friend and Lady Whistledown's admirer-slash-sleuth — couldn't figure out that her friend was behind those barbed words. But the evidence was there all along. These are all the hints you missed about Lady Whistledown's true identity in Bridgerton — for your next rewatch.
Bridgerton's Penelope had the means to observe all of the scandalous happenings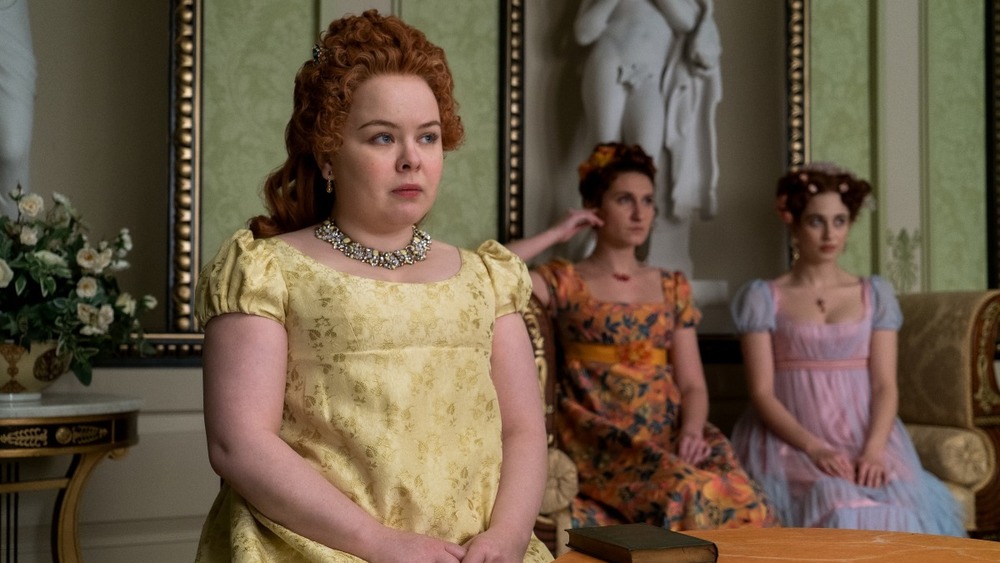 Netflix
Eloise doesn't guess the right suspect, but she does hit on one fact: Lady Whistledown must be someone who has access to high society's events, but also someone no one pays attention to. As a member of a notable family, Penelope attends balls, promenades, and picnics, but she's often left alone on the side. Cressida Crowper (Jessica Madsen) even spills a drink on Penelope's dress because (she claims) she didn't see her standing at the side of the dance floor.
Penelope is often right behind or next to characters at important moments that are immediately documented by a Lady Whistledown voiceover. For example, she's standing behind Prince Friedrich (Freddie Stroma) when Daphne (Phoebe Dynevor) accepts his invitation to dance, and she's watching Colin (Luke Newton) and Marina (Ruby Barker) laughing together as the voiceover predicts their engagement.
Unfortunately, Eloise points out her revelation about Lady Whistledown being invisible to Penelope just after Marina has announced that she believes Colin will propose to her. In doing so, she inadvertently reminds her friend that she's overlooked by everyone, including her love interest. This explains Penelope's sharper than usual reaction.
In addition to having access, Penelope proves to have a sixth sense for sussing out a scandal. She works out that her mother forged George's signature on a fake letter to Marina, and points out to Colin that Lady Trowbridge's (Amy Beth Hayes) baby looks a lot like her footman. And as Eloise notes, she and Penelope are "the two smartest girls in the ton." Sadly, Eloise isn't quite smart enough to realize that if no one else has the wit to be Whistledown, and it's not her, it must be Penelope.
Coincidences link Lady Whistledown and Penelope throughout Bridgerton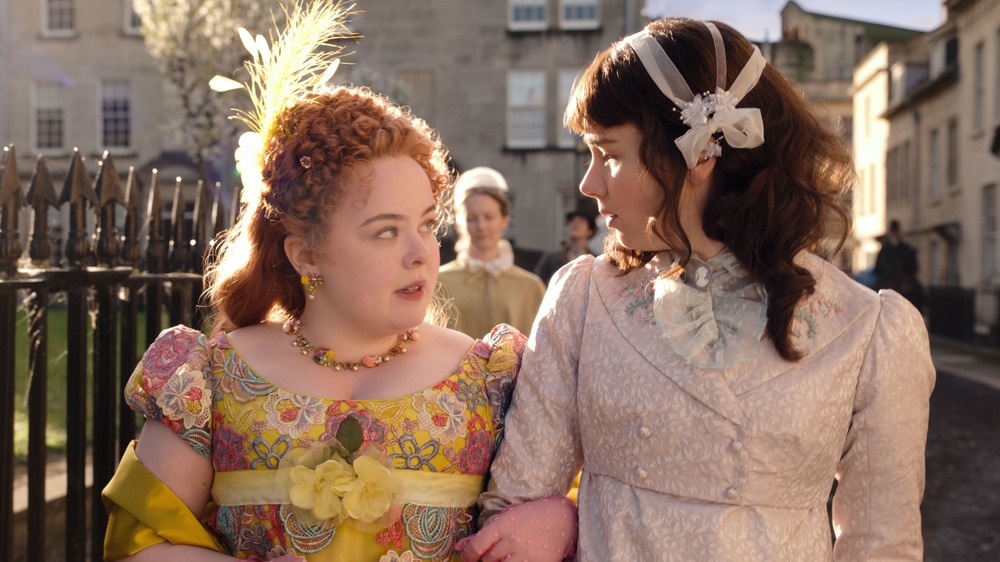 Netflix
Lady Whistledown and Penelope have a lot in common. In the very first Lady Whistledown pronouncement, she describes Portia Featherington as "tasteless and tactless." Immediately after this, Penelope questions her mother's demand that her sister's corset be pulled tighter. She also makes multiple subtle digs at Portia's fondness for bright yellow gowns throughout Bridgerton.
Speaking of yellow, Eloise missed another giveaway that Penelope is Lady Whistledown. The coachmen driving Lady Whistledown wore bright yellow stockings — the same ones as the coachmen who drove the Featheringtons to meet the Queen in episode 1. Also, the coach looks quite similar, with a blue door. You would think Eloise, as smart as she is, would have realized Lady Whistledown uses the same coach as her neighbors. 
The biggest giveaway that Penelope is Lady Whistledown is that she's one of the few people who knew about Marina's pregnancy — and it's revealed just in time to save Colin from the marriage, only after Penelope has tried everything else to stop it. Lady Whistledown's war metaphor is also interestingly relevant to the father of Marina's baby, Sir George Crane, a soldier.
After the Featheringtons are disgraced, Lady Whistledown stops writing as much. This is partly out of guilt over outing Marina, but it's also because Penelope and her family have been disinvited from the events. That's why she doesn't write about the Queen's luncheon: She wasn't there.
Speaking of access, there's an obvious piece of evidence that no one in the ton seems to consider. If Lady Whistledown is a well-connected but low-key widow, why has she just started writing this season? Of course, it's because this is the first season Penelope has been out in society, with the chance to attend events. But Bridgerton fans hope it won't be the last.