The Saddest Moment In Bridgerton Season 1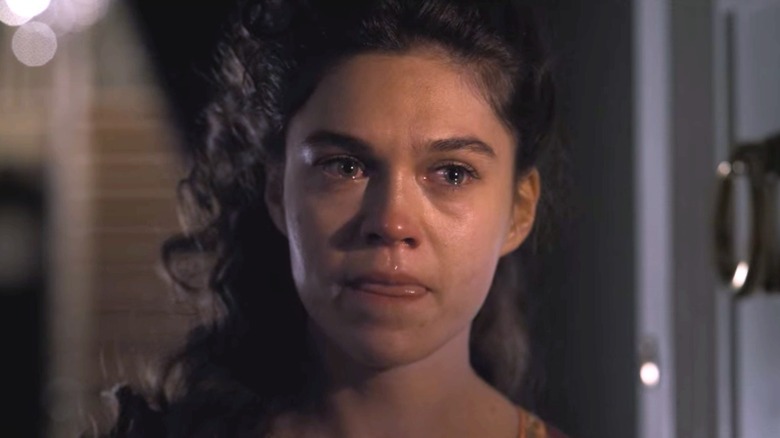 Netflix
Since its December 25th debut on Netflix in 2020, "Bridgerton" – the "Gossip Girl"-meets-Jane Austen narrative about about the trials, tribulations, and titillating tea-spilling of the Georgian period, as envisioned by executive Producer Shonda Rhimes' and creator Chris Van Dusen – has continually compelled and surprised its audience with revelations ranging from the comedic and trivial to the downright devastating. 
While the series doesn't shy away from engaging in a few aesthetic and dramatic anachronisms, for the most part, the obstacles its characters' run up against are representative of its early 19th-century setting. The series' protagonists and antagonists alike are bound by the rigid, often ridiculous rules and catty social customs of the at once buttoned-up and impractical era, including Season 1's lovestruck newlyweds Daphne and Simon Basset (Phoebe Dynevor and Regé-Jean Page, respectively). Though the inaugural season of "Bridgerton" came with its share of emotional moments — among them, the tearful reunion between Claudia Jessie's Eloise Bridgerton and Nicola Coughlan's Penelope Featherington — there's one scene in particular that brought many fans to tears, both the first and second times around.
Episode 7 brings heartache for the series' central couple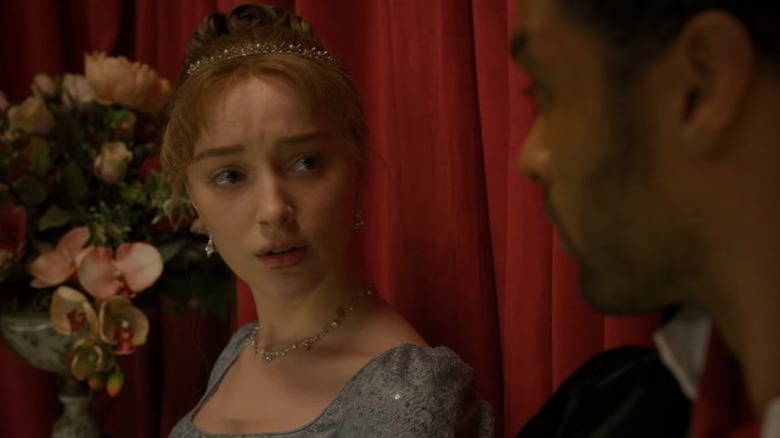 Netflix
The penultimate episode of "Bridgerton" Season 1 sees tensions between the series' most beloved couple go from bad to seemingly unrepairable in the wake of Daphne's announcement to Simon that she believes she's pregnant. The son of an absentee father with whom he had a terrible relationship, Simon vowed long ago to never have children. Rather than tell his wife this, he simply lied about his ability to have them, while, for her part, Daphne made an attempt to conceive with her husband anyway, despite his protests. In Episode 7, in the midst of a climactic argument, Simon explains that if Daphne is pregnant, he'll do his duty and remain by her side, if reluctantly and bitterly — and if she is not, they'll simply go their separate ways in response to what he perceives as Daphne's betrayal. 
While this disappointing turn in their hard-won marriage was upsetting enough in its own right, many fans were more acutely saddened by Daphne's realization that she's not, and was not, pregnant. During an opera performance, when it almost looks as though Simon may forgive her and embrace the baby, Daphne gets her period. 
It's this scene, and the scene where Daphne cries in her mother's arms following her discovery, that most pulled on the pathos of its audience. In a thread on the series' subreddit, fans discussed the Season 1 scenes that made them cry, and Daphne's emotional response to learning she's not with child was a common source of tears.
Many a tear was shed when Daphne discovered she wasn't pregnant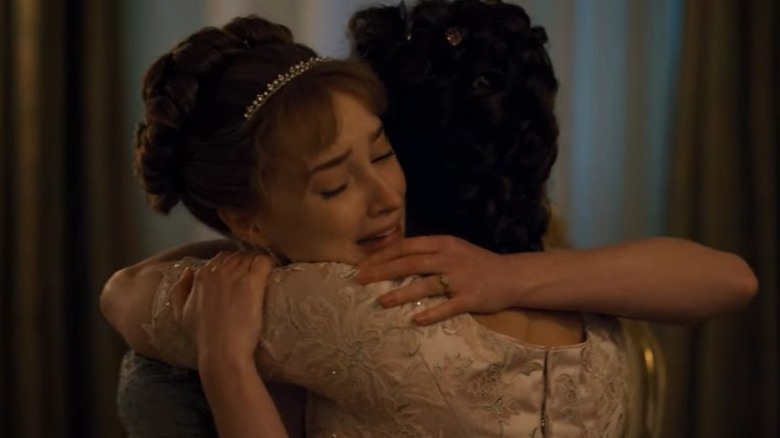 Netflix
User th987 wrote that they cried at Daphne's disappointment, "especially when Simon tears up, too," while user dabbling-dilettante confessed that "the scene where Daphne gets her period and learns she's not pregnant gets me all the time." User MiikaRaavan echoed the fans' sentiments, building on them with the observation that Daphne now knows she'll "lose Simon and without the child, she'll have nothing of him," that deep down, Simon had come around on wanting a child, and that both actors "did an excellent job showing all that emotional turmoil and sadness."
The episode put both Daphne and Simon through a rollercoaster of emotions, driving a wedge between them, then giving the couple some semblance of hope before dashing it away entirely in one swift move. Importantly, though it's not explicitly mentioned in the episode, the era's unwillingness to educate unmarried women about sex (and, in particular, conception) only adds to the heartache Daphne's inevitably feeling. In Episode 2, when Penelope and Eloise wonder if babies are born only when a couple is "in love" (before quickly dismissing the idea), their naïveté is as historically accurate as the series' abundance of empire waists. 
As Den of Geek's Kayti Burt explains, despite the era inviting a great deal more sexual freedom than its Victorian successor, "most freedoms in Georgian-era England benefited the white, heterosexual, rich men first, most, and sometimes to the exclusion of all others." (In other words, most women of Daphne's status didn't have a clue about their bodies). Daphne's unspoken lack of awareness that most women don't become magically pregnant on their first try — whether or not they're in love — adds an unspoken layer of sadness to her (eventually remedied) heartache.