The Ending Of Netflix's Bridgerton Season 1 Explained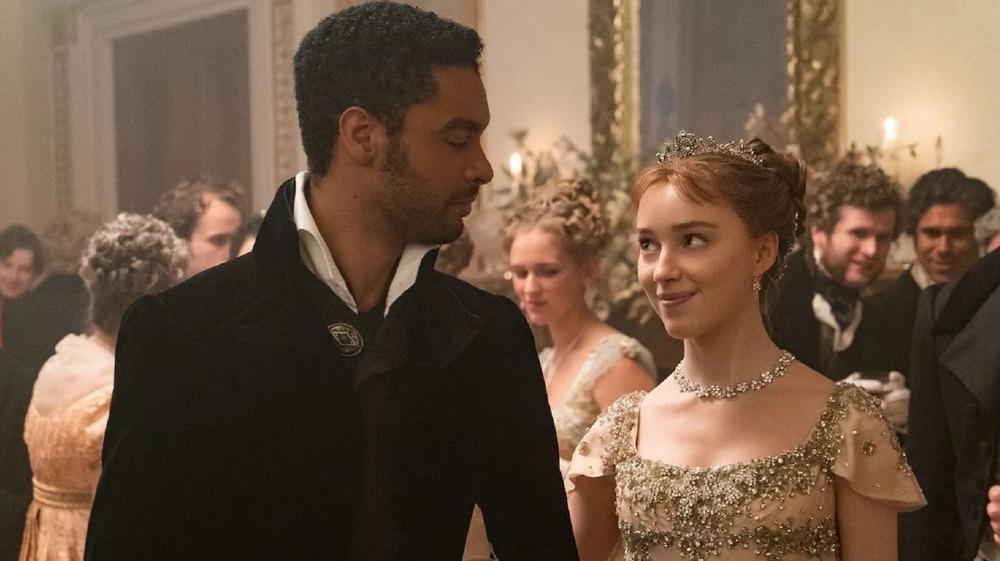 Netflix
Bridgerton crammed enough scandal, intrigue, and salacious gossip into season 1 to overflow a corset, so you could be forgiven for feeling overwhelmed by the end. Especially since the finale spun as many new storylines as it tied up. (That's just one reason you couldn't let it become one of the best Netflix originals you missed in 2020.)
Set in 1813, Bridgerton's plot centers on Britain's high society (aka "the ton") who have gathered in London for the social season. At the center are the Bridgertons and their aspirational neighbors the Featheringtons.
Struggling to find a husband despite an endorsement from Queen Charlotte (Golda Rosheuvel), oldest Bridgerton daughter Daphne (Phoebe Dynevor) makes a deal with her oldest brother Anthony's (Jonathan Bailey) friend Simon, the newly inherited Duke of Hastings (Regé-Jean Page). They'll pretend to be courting, which will raise her value in the merciless marriage market and keep the ton's social-climbing mothers off his back. Meanwhile, Anthony — a Viscount — is lusting after opera singer Siena (Sabrina Bartlett) instead of looking for a wife suitable for his high-ranking position.
Across the street, the Featheringtons are trying to find husbands for three daughters and a cousin — and keep a scandalous secret. Youngest daughter Penelope (Nicola Coughlan) has found someone she'd like to marry — third-oldest Bridgerton son Colin (Luke Newton) — but he's part of her mother's plan to escape social ruin.
Reporting on it all is a gossip pamphlet written by the mysterious Lady Whistledown, who knows everything about everyone, but whose identity not even Eloise Bridgerton (Claudia Jessie) — one of the two smartest girls in the ton, alongside Penelope — can sleuth out.
Everything is even more tangled by the finale. Here's where everyone stood at the end of Bridgerton season one, and plot points that could be explored in season two.
Daphne and Simon have a happy ending, but Anthony doesn't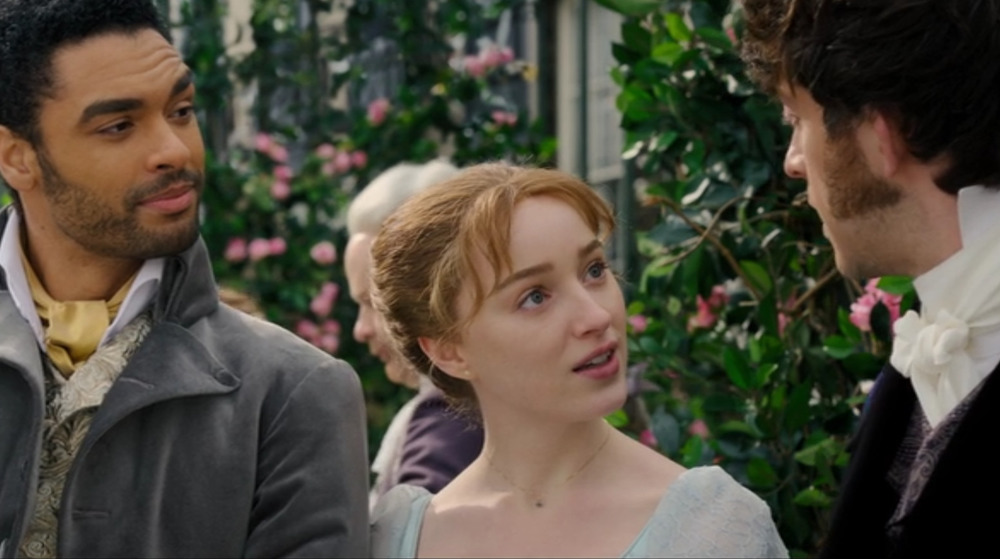 Netflix
Daphne and Simon's deal turns into real romance, but that's just the start of their intense up-and-down relationship. A scandalous make-out session in the gardens at the Trowbridge ball forces them to marry, lest Daphne's reputation be destroyed. But the would-be happy couple is tense, each believing they have forced the other into the union. 
On their wedding night, Simon tells Daphne that he feels guilty for marrying her when he can't have children, knowing she wants a large family. She says she can accept this and have an extremely horny honeymoon. But then Daphne gets some long-awaited sex education and learns that Simon's inability is not physical but based on a vow he made to his hated father, in which he swore the Hastings line would die with him.
The final episode finds the happy-unhappy-happy-unhappy couple reconciling. Daphne reads Simon's childhood letters to his father and realizes why he feels so bitter toward him. After spending approximately two minutes with Daphne's younger siblings, Simon miraculously changes his mind about having children. At the end of the finale, we see Daphne give birth to a son, with an apparently thrilled Simon at her side.
Simon has a similarly fluctuating relationship with Anthony, who is less lucky in love. He vows to make his relationship with Siena public, only to find her with another man. She tells him that life in the ton is not for her, and that he should find a wife who will be happy to share him with his Viscount responsibilities. Anthony decides to marry respectably, but gives up on love. (Netflix period drama fans may remember the ending of The Crown season 4 goes a similar way.)
The Featheringtons' fortunes come crashing down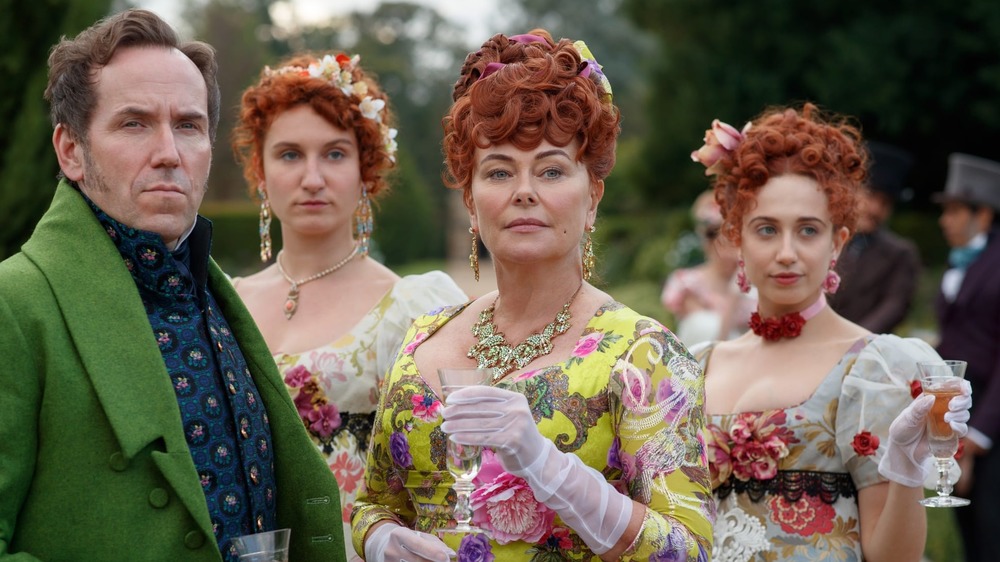 Netflix
Life is not going so well for the Featheringtons, either. After patriarch Archibald (Ben Miller) gambled and lost the family's fortune, he manages to make it back by convincing boxer Will Mondrich (Martins Imhangbe) to throw a fight, betting big on his opponent. However, while spending some of his winnings at a house of ill repute, Archibald is murdered by the men he placed the bet with, who steal back the money.
Earlier in the finale, Featherington cousin Marina Thompson (Ruby Barker) gets similar bad news when she learns that the father of her unborn child, Sir George Crane, has died in battle. The messenger is George's younger brother Phillip (Chris Fulton), who assures Marina that George did love her and planned to marry her — and then offers himself as a replacement. Marina initially refuses, pointing out — correctly — that she doesn't even know Phillip. However, after Baroness Featherington (Polly Walker) explains how she willed herself into loving her late husband, Marina grudgingly accepts Phillip's proposal and leaves with him.
Marina had previously gotten speedily engaged to Colin Bridgerton — Penelope's crush — who broke off the engagement when he learned that she only wanted to marry him to give the pregnancy a veil of legitimacy. Much to Penelope's disappointment, Colin tells her that he's taking his heartbreak on the road, specifically the road to Greece and then the rest of continental Europe.
So it's bad news on the whole for the Featheringtons. But at least we finally learn who Lady Whistledown really is, and we're already excited for Netflix's Bridgerton season two.