How Bridgerton's Nicola Coughlan Really Feels About Her Character Penelope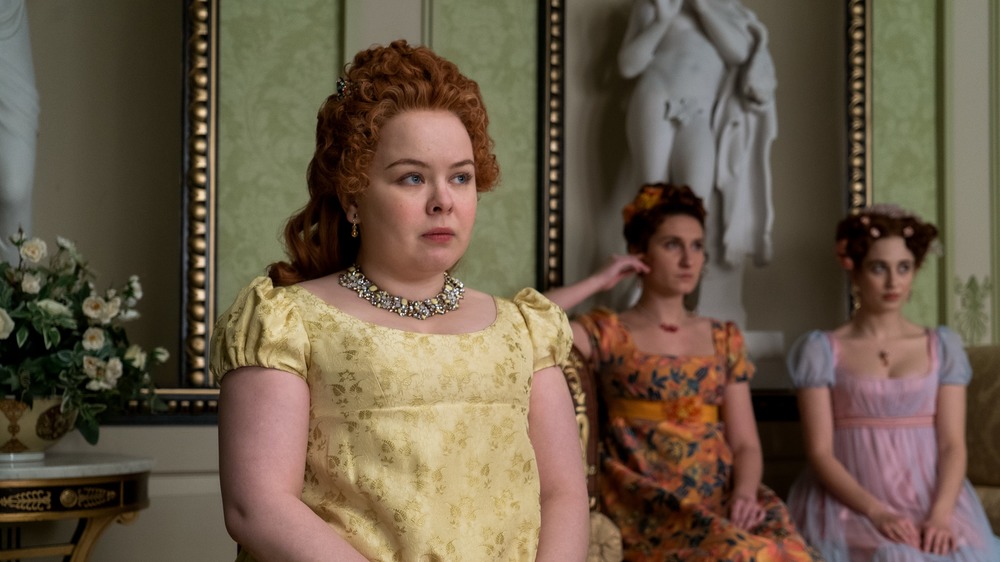 Netflix
Contains spoilers for Netflix's Bridgerton Season 1
There's a lot about Netflix hit Bridgerton that makes it stand out, chiefly it's modern and somewhat meta spin on the regency romance. But viewers and critics have been particularly fascinated with the show's distinctive and omnipresent narrator, ala Gossip Girl — Lady Whistledown. 
In the series, the seemingly faceless character is voiced by cinematic icon Julie Andrews, but like Gossip Girl, she also exists amongst the series' inner circle of characters. And as audiences discover, it's the sweet Penelope Featherington. Nicola Coughlan — the actress who portrays Penelope — didn't initially know her young teen character was Bridgerton's famous all-knowing gossip when she was cast. But in an interview with Vanity Fair, the Netflix star shared that she absolutely loves Penelope's turn and finds her loose-lipped alter-ego fascinating. 
She also revealed that in addition to checking message boards for author Julia Quinn's Bridgerton books to help get a stronger grasp of her character's duality, she sees the show's most prominent voice as an important part of her character's journey. 
"I think sometimes of Lady Whistledown as Penelope's sort of drag alter ego," Coughlan told Vanity Fair. "Sometimes drag queens say they find the confidence that they couldn't have themselves in this drag persona. It was useful to me to think that way about Whistledown."
This makes sense in the context of who Penelope is — a shy and insecure young woman who is overwhelmed by her crush. Whistledown provides Penelope a refuge and a voice from her timid existence, granting her the kind of confidence and visibility she feels she doesn't have in her own life.
"She's a total contradiction, in a way, because she's so low status. She's at every ball; her family doesn't pay attention to her; [her crush Colin Bridgerton] doesn't pay attention to her in the way that she wants," she explained. "But then she's also the most high-status character in any room she's in because she's Lady Whistledown." 
Nicola Coughlan's drag-comparison comes from her love of a popular reality competition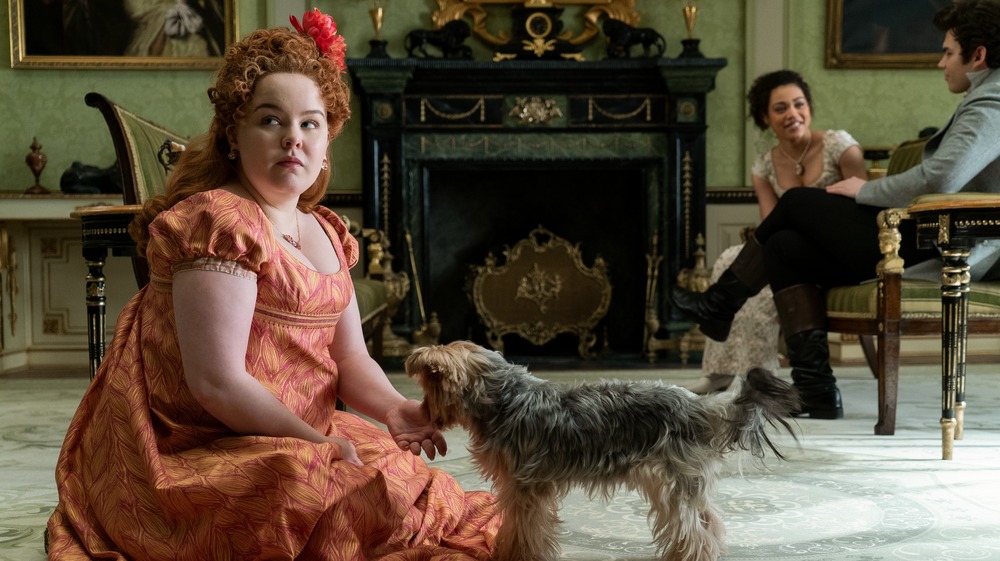 Netflix
Coughlan acknowledged that Lady Whistledown is Bridgerton's "puppet master," telling Vanity Fair that, "She pulls all the strings. She can change someone's fortune at the drop of a hat."
That's something she enjoys but ultimately had to be subtle about — somewhat the opposite of her alter-ego. Instead of bigger 'wink-winks," she attempted to plant easter eggs through the episodes until it was finally revealed in Bridgerton's season 1 finale. "It couldn't be played overtly... I couldn't be in the background sort of scribbling things in a notebook," the actress stated. 
While she wasn't allowed to go "big" with the twist, she shared that her drag-inspiration for it is certainly used to being over-the-top. Before she starred in the Shonda Rhimes streaming hit, she was a massive fan of RuPaul's Drag Race. "I could quote it 12 seasons back if you wanted me to," she said. 
To confirm Coughlan's claims, Vanity Fair identified several tweets in which the Irish actress and Derry Girls star, including one from 2018 in which she declares her desire to be a judge on the show. "If I don't get to be an Extra Special Guest Judge then I don't even know what my life has been working towards," Coughlan tweeted. 
Now that Penelope's alter-ego is out of the bag, she might be able to play up and into that performance a little more. And who knows, the success of Bridgerton may also put rising star Coughlan on the path to her dreams as a Drag Race judge.