The Bridgerton Scene That Author Julia Quinn Would Have Changed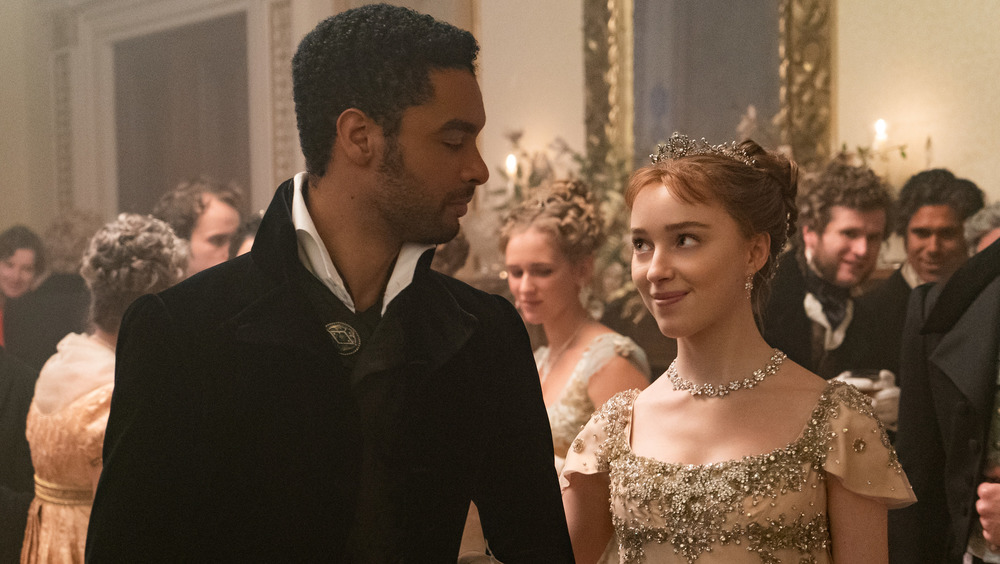 Liam Daniel/Netflix
By now, you've likely consumed all eight episodes of Bridgerton, Netflix's Regency-era series based on the historical romance novels by author Julia Quinn. The series, which was adapted for television by Chris Van Dusen (Grey's Anatomy) and which hails from Shonda Rhimes' production company Shondaland, debuted on Christmas Day and took the world by storm. According to Netflix, Bridgerton was watched by 63 million households within its first four weeks (via Twitter).
The series follows the aristocratic Bridgerton siblings as they search for love and attempt to stay out of a salacious gossip column written by the anonymous Lady Whistledown (voiced by Julie Andrews). Season 1, which is based on the first novel in the series, The Duke and I, follows the eldest Bridgerton daughter, Daphne (Phoebe Dynevor), as she enters the marriage market and attempts to find a husband. And boy, does she! 
After agreeing to fake a courtship with committed bachelor Simon Basset (Regé-Jean Page), the newly titled Duke of Hastings, in order to improve her own standings, Daphne and Simon eventually fall in love and wed. However, there's one problem: Simon doesn't want to have children — he wants his family line to die with him after suffering abuse from his late father — and Daphne very much does. This leads to quite a predicament for the newlyweds ... and a particularly controversial moment in the show. 
When Simon tells Daphne he can't have children, she believes it to mean he medically can't produce an heir, rather than it being a personal preference. But Daphne eventually discovers Simon has lied to her and decides to take matters into her own hands, maneuvering him into having sex with her and doing something against Simon's consent in order to prove her theory. As you can imagine, this didn't go over well with fans. Even author Julia Quinn has admitted she would change the scene, but not completely.
What Julia Quinn has to say about the controversial Bridgerton scene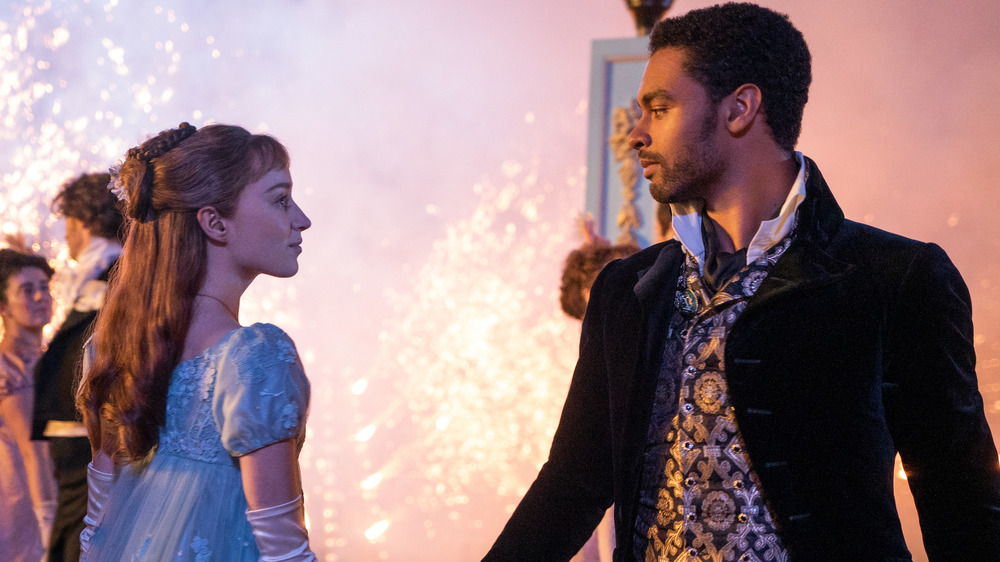 Liam Daniel/Netflix
Although much of the reaction to Bridgerton has been positive, especially with regards to the show's inclusive casting, the non-consensual sex between Daphne and Simon in episode 6, titled "Swish," has rightfully been criticized by viewers and critics alike. It's slightly different from how the scene plays out in the book, which is even more nonconsensual, but the scene in the show remains a clear violation of consent.
According to author Julia Quinn, there wasn't much of a reaction to the scene in question when The Duke and I was first published 20 years ago. "At the time, not a single person really said anything. If anything, the reaction was, 'You go girl!'" Quinn revealed in an interview with The Guardian. "Women's understanding of ourselves and our agency has changed so much. It's harder for us to identify with Daphne and the fact that, within that marriage and in that society, she has no power. I'm not saying what she did was right. I'm just saying it's harder for a modern woman to understand it than it was 20 years ago."
When asked if she would have changed anything about the scene had she written it today, Quinn admitted that she would have altered some things about it. "Certain things would be done a little differently," she said. "Even if I wouldn't actually change what happened, I might change how it is described."
Season 1 of Bridgerton is streaming on Netflix.