The Star Wars Show That Helped Ewan McGregor Prepare For Obi-Wan Kenobi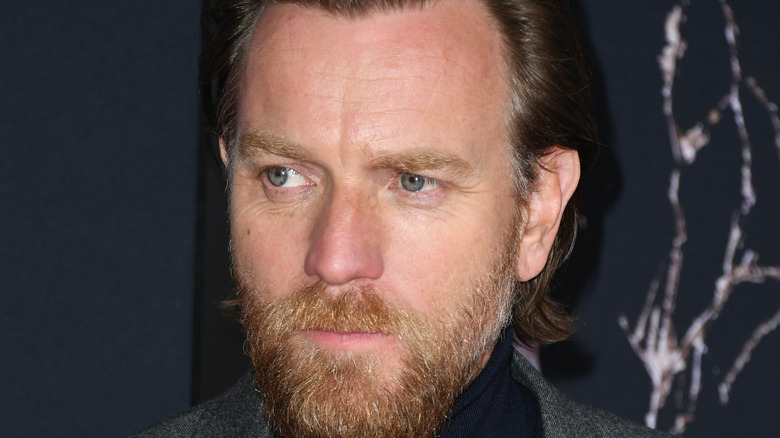 Jon Kopaloff/Getty Images
Ewan McGregor is a name almost everyone knows. But until 1999, he was a largely unknown actor (his most significant role up until that point being the cult-classic "Trainspotting"). It wasn't until McGregor landed the role of a young Obi-Wan Kenobi in "Star Wars: Episode I – The Phantom Menace" that he exploded to fame.
While the prequel trilogy was largely panned by critics and audiences alike, McGregor's portrayal of a younger version of Kenobi was a bright spot in an otherwise poor return to the world of the Skywalkers and the constant struggle between the Jedi and the Sith. So much so that he was tapped to reprise his role as the Jedi in Disney+'s new series, "Obi-Wan Kenobi" years later.
McGregor is beloved in his home of Scotland as Obi-Wan Kenobi so much that a petition was started to bring a life-sized statue of his portrayal of the Jedi to Scotland's tallest peak, Ben Nevis. But what kind of pressure does that put on the actor? How does he prepare to retackle the one silver lining of the prequel trilogy? Here is how McGregor prepared for his return as the titular Jedi master in "Obi-Wan Kenobi."
Ewan McGregor watches 'The Mandalorian' to prepare
After the sequel trilogy for "Star Wars" divided fans between those that enjoyed the different takes and those virile fans who criticized every moment, Disney needed a win. They got that win with the collective love for Jon Favreau's "The Mandalorian" (scoring over 90% from both critics and audiences on Rotten Tomatoes).
When appearing on the Jimmy Fallon show back in 2020, Ewan McGregor confessed that he watched "The Mandalorian" to prepare to return to his character, Obi-Wan Kenobi. The actor said, "I watched 'The Mandalorian,' I really liked it. I have been trying to keep abreast on all the new 'Star Wars' films that come out, and I am really excited about it. It's been a long time."
While "Obi-Wan Kenobi" will likely not crossover with "The Mandalorian" (though, who's to say after "The Book of Boba Fett"?), fans can get excited to hear that the lead actor is taking inspiration from the most unifying entry into the recent "Star Wars" slate of content. With the first look at the new series dropping on Wednesday, the hype train is no longer in sight from the station. Now, all we can do is wait for the long-awaited return of the man who defeated Anakin Skywalker and trained the Jedi who defeated his Sith form, Darth Vader.