Obi-Wan Kenobi Trailer Teases A Jedi Story 50 Years In The Making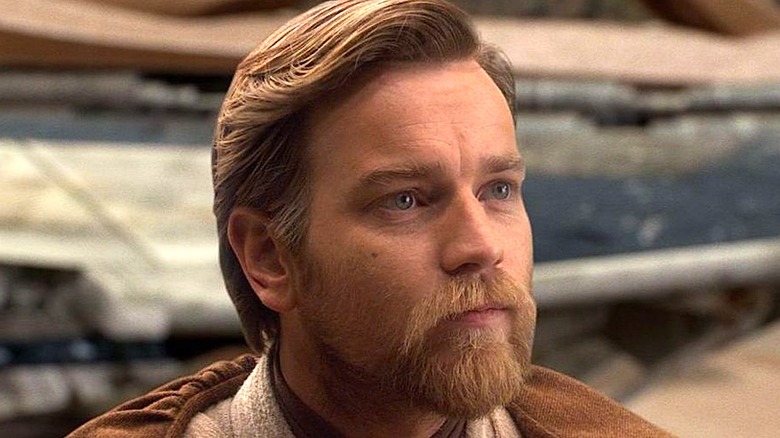 Disney+/Lucasfilm
Most "Star Wars" fans have been desperate to see Ewan McGregor return to the galaxy far, far away as Obi-Wan Kenobi ever since "Revenge of the Sith" arrived in theaters back in 2005. McGregor's portrayal was perhaps the most universally loved piece of those often-maligned prequel films. The outcry only grew louder when Disney and Lucasfilm started spinning off movies like "Rogue One" and "Solo: A Star Wars Story." Since the big "Obi-Wan Kenobi" announcement, however, Disney has managed to keep the series under wraps with minimal leaks about what to expect from the show. We've had a bit of exciting casting news, but that's really been it.
At last, we have an actual trailer for the "Obi-Wan Kenobi" series. It drops viewers into the "Star Wars" universe 10 years after "Revenge of the Sith," with the Empire at the height of its power and the Rebel Alliance on its heels. Kenobi is in hiding under an assumed name on the desert planet Tatooine, but clearly this new adventure is going to disrupt the Jedi's peaceful exile.
Kenobi's story will finally be told
Ewan McGregor has more than established his leading man bona fides at this point, so there was never any question that he could stand up his own "Star Wars" show. Thankfully, Kathleen Kennedy and McGregor announced in 2019 that the "Obi-Wan Kenobi" TV series was in the works for Disney+, with the actor reprising his role as the titular Jedi.
Disney eventually announced the impressive cast joining McGregor on his return to the "Star Wars" universe, some of whom are on display in this trailer. In terms of familiar faces from the franchise, Joel Edgerton and Bonnie Piesse will return to their prequel roles as Owen and Beru Lars, Luke Skywalker's (Mark Hamill) adoptive parents. But the most surprising addition to the show has to be Hayden Christensen, who is set to reprise his role as Anakin Skywalker, better known at this point in the "Star Wars" timeline as Darth Vader. Kathleen Kennedy teased that the former friends will duel again in "the rematch of the century" when speaking at the Disney Investor's Day event in 2020.
"Obi-Wan Kenobi" arrives on Disney+ on May 25, 2022.