The Chicago Fire Star Who Keeps A Teddy Bear In Their Bunker Coat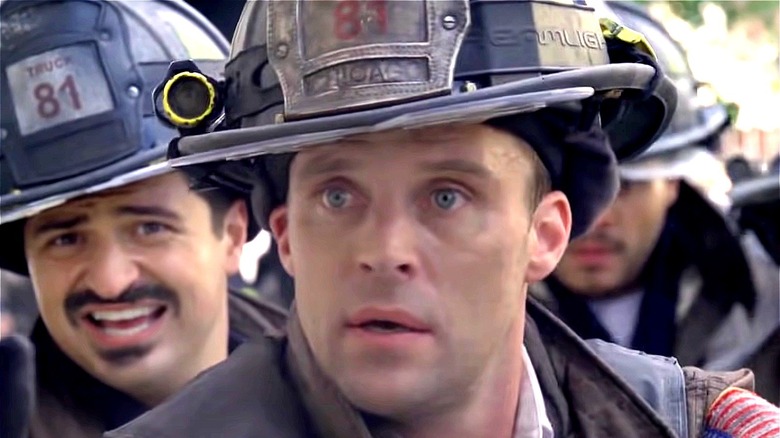 NBC/YouTube
Every one of the first responders in the long-running "Chicago Fire" procedural about heroes saving lives in the Windy City is bound to be a battle-hardened, flame-resistant, danger-braving tower of strength, right? Whether it's Rescue Squad 3 top dog Kelly Severide (Taylor Kinney), former captain Matthew Casey (Jesse Spencer), firefighter/engineer Stella Kidd (Miranda Rae Mayo), paramedic Sylvie Brett (Kara Killmer), or any other resident of Firehouse 51, the characters populating this hit series are, if nothing else, well-known for their stalwart, valiant natures. 
Of all the equipment and protective gear these brave firefighters lug with them as they race into a burning building during a "Chicago Fire" action scene, perhaps the most surprising thing of all would have to be a teddy bear concealed inside their "bunker coat." So who is the unlikely hero who carries an adorable, stuffed teddy bear safely tucked inside their heavy-duty bunker coat every time they head into those fiery danger zones? Let's find out.
David Eigenberg is the Chicago Fire star with a teddy bear on board
Known and loved by long-time "Chicago Fire" fans as veteran firefighter and company officer Christopher Herrmann, David Eigenberg has been a fixture on the series since the show's pilot episode debuted back in 2012. Since then, he's ridden along with his team on the second shift of Engine 51 to douse flames and rescue victims for 200-plus episodes and counting, as well as making multiple crossover visits to Chicago-verse sister shows "Chicago P.D." and "Chicago Med" (via IMDb). During that remarkable run on the NBC hit, Eigenberg's character has also shown himself to be a "serial entrepreneur," eager to follow up any potentially profitable side-gig, and as such is co-owner of the show's fictional bar Molly's along with fellow firefighter Randall "Mouch" McHolland (Christian Stolte).
And while Eigenberg's fearless firefighter persona is a given quantity in the show, he's also known to have a softer side when compassion or sensitivity are called for, whether comforting someone who's just lost their home to a fire or commiserating with fellow firefighters back at the station. So, maybe it shouldn't come as that much a of a shock to learn, as this TV Guide interview clip with Eigenberg and his co-star Stolte reveals, that Eigenberg is indeed the "Chicago Fire" actor who goes to work with a teddy bear hidden beneath their bunker coat. Is it for good luck? Sentimental reasons? Eigenberg isn't saying. Neither is the bear.
You can catch the most recent "Chicago Fire" episode — stealth-teddy included — Wednesday nights, 9/8c on NBC.