Here's What Kristen Stewart Really Thinks About Robert Pattinson's Batman Casting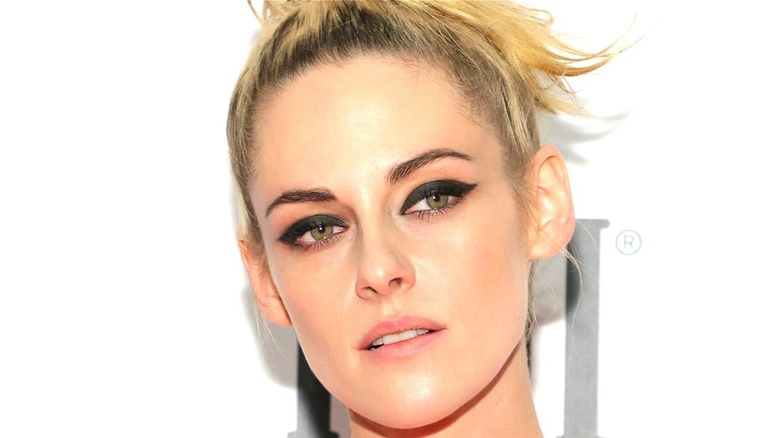 Dia Dipasupil/Getty
Robert Pattinson and Kristen Stewart will forever be linked in most people's minds, less for the fact that they were actually romantically involved and more for the star-crossed lovers they played in the "Twilight" franchise, the set of four hit movies that launched the careers of both young actors. The two have since branched out greatly from the vampire love saga based on Stephenie Meyer's popular book series.
Kristen Stewart has appeared in a number of bit films and major releases, including 2012's "Snow White and the Huntsman" and the "Charlie's Angels" reboot in 2019. Her career has arguably never been higher, though, with the actor up for an Academy Award in the actress in a leading role category for her performance in "Spencer" (via Academy of Motion Picture Arts and Sciences). Pattinson's career is aruably on an equal high with Stewart's, having cashed in on highly praised performances in movies like "Good Time" and "Tenet" to lead the charge for DC as the latest Bruce Wayne, aka Batman, in the critically acclaimed "The Batman."
What does Stewart think about her once on-screen romantic interest being cast as the latest caped crusader in a long line of names?
Robert Pattinson as Batman is 'crazy,' says Kristen Stewart
It didn't take long after Robert Pattinson's casting as Batman for his former co-star to reveal her thoughts. Kristen Stewart told Variety at the Toronto International Film Festival in September 2019 that she believes Pattinson is "the only guy that could play that part. I'm so happy for him. It's crazy."
Two years later, Stewart responded to a fan campaign to get her to join "The Batman" as the newest version of the Joker. While she shied away from the Clown Prince angle, Stewart did still appear supportive of Pattinson's Gotham City cinematic hijinks. "I love the energy behind that," she said of fans pushing for the potential "Twilight" reunion. "It's really been done so well. I feel like, maybe, we don't traipse over, but I love that gusto. Let's figure something else out. I'm totally down to play a freaky, scary person" (via Variety).