One Of Law & Order: SVU's Best Casting Choices According To Fans
Will Hart/NBC
Between its semi-revolving cast of non-lead detectives, recurring defense attorneys, criminals with extended arcs, and the ever-evolving A.D.A. position, "Law & Order: Special Victims Unit" has given audiences plenty of fresh cast members over the years without doing away with any of its sacred leads (that'd be Mariska Hargitay as Olivia Benson and Ice-T as Odafin "Fin" Tutuola). Inevitably, some of these cast members earn the love and approval of fans right off the bat (see: Raúl Esparza as Rafael Barba), while others, for one reason or another, simply don't make the cut. 
With regard to the deeply flawed and intentionally polarizing character of Detective Amanda Rollins, who joined the unit in Season 13, the audience reaction wasn't quite so black-and-white. For years, Rollins' gambling addiction, poor decision making, refusal to reject her toxic family, and problematic response to victims who forced her to confront her own latent trauma or bias turned fans off. "She has the wiring of a corrupt cop," wrote Reddit user GirlNamed__Mae on the NBC series-focused subreddit, while another fan called her "a disrespectful hypocrite (who) needs to work on her addiction issues." 
In a turn of events atypical of most fandoms, however, viewers' dislike of the detective doesn't seem to have bled into their thoughts on the actor who portrays her, Kelli Giddish. As Rollins continues to grow and evolve, more and more fans are singing Giddish's praises. In a recent thread on the series' subreddit, u/TheStunt-Twitch pointed out that Rollins "has outlasted Amaro, Kat and several ADAs/chiefs" and referred to her casting a "great call," noting that only Benson Tutuola have part of the show for longer periods of time.
Fans don't always love Rollins, but many agree Giddish is a great choice for the part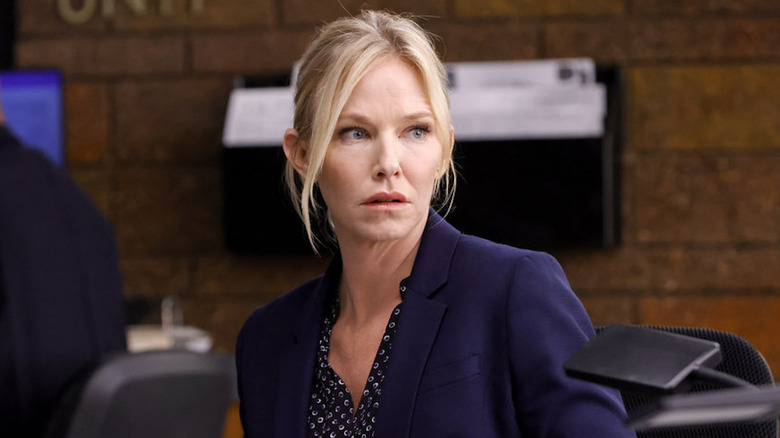 Will Hart/NBC
Many were quick to agree, including u/hannahsflora, who commented, "Kelli Giddish also sells the hell out of the material she's given," adding that they "couldn't imagine anyone else doing better as Rollins." Some fans on the thread went so far as to say that, if Mariska Hargitay were to leave, "SVU" star Kelli Giddish might be able to "carry the show." Redditor u/TropangTexter said Giddish's "ability to have chemistry with pretty much anyone is a testament to her great acting abilities ... regardless of what you may feel about Rollins." 
Elsewhere on the popular subreddit, fans highlighted the actor's performance in specific episodes. "After watching last night's episode," u/ravenqueen7 wrote of Season 23's "Burning with Rage Forever," "I was surprised by just how much Kelli Giddish's performance struck me ... What a great performance for the actress. I hope we are treated to more." In a separate thread, u/Dontsteponsnails wrote that "every emotional scene with Rollins feels so real ... most notably in (Season 16's 'Forgiving Rollins') and her scenes dealing with her kids/motherhood." User u/dogtorjen lauded the actor's performance in Season 19's heartbreaking "The Book of Esther," while another fan summed up their (and seemingly many others') appreciation for Giddish's portrayal in the following manner. "Rollins annoys the crap out of me because of her abysmal decision-making," wrote Redditor u/snarkypant, "but Giddish makes her believable and sympathetic; I understand why Rollins is a hot mess, even if it bugs me." 
And there you have it. Despite many viewers' ambivalence toward Rollins, they know exactly where they stand with regard to the series' decision to cast Giddish in the role.