The Real Reason Law And Order: SVU Fans Are Worried About Ice-T Leaving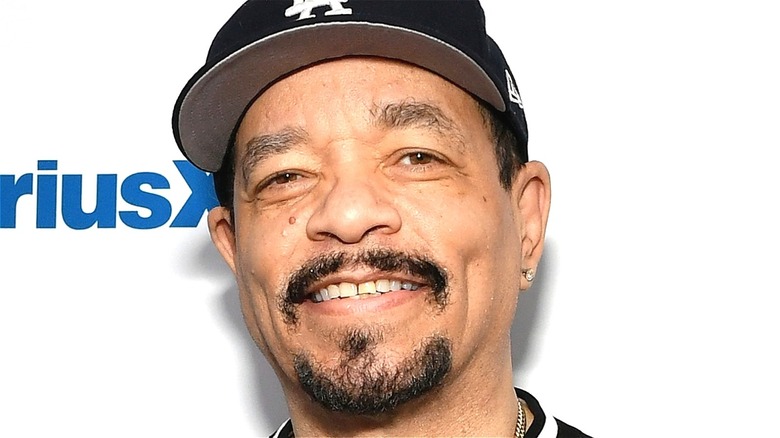 Slaven Vlasic/Getty
As "Law & Order: Special Victims Unit" proceeds further into its record-breaking run, rapper and performer Ice-T remains a series mainstay as Sergeant Fin Tutuola. Originally, when Ice-T was first cast as Fin, the character was only ever supposed to factor into a four episode story arc. However, Ice-T was apparently presented with the possibility of a recurring role at some point during his guest star turn. He accepted, as he ounce recounted, for predominately financial reasons.
Since then, of course, over his series tenure of more than 480 episodes (via IMDb), Fin has appeared at the center of a fair number of moments beloved by fans of the series. For example, Season 3 Episode 9 includes a joke exchange between Fin and his partner John Munch (Richard Belzer) that showcases their odd couple dynamic at its peak.
Recently, however, some "SVU" fans began to worry that Ice-T's time on "SVU" may soon be coming to an end. Here's why.
Ice-T has other work commitments
Fans of "Law & Order: SVU" recently started to think that Ice-T may have been planning on leaving the series in February of 2021 when he began promoting a new reality show of his titled "The Mediator," which was about to premiere in March. In the replies to an Instagram post he shared previewing the show, some fans worried that his new commitment meant he would no longer have time for "SVU." User tanstaafle, for example, commented "PLS don't ever leave SVU," while user mizzcherie wrote, "Oh no lets hope he's not leaving SVU- the show wld not be the same without him."
Later that year, in November, an "SVU" episode aired titled "Ballad of Dwight and Irena," in which Fin must answer for shooting and killing a suspect during an investigation. While he ends up cleared of any criminal charges, fans were surprised he was ever even positioned as a potentially guilty party. In a Reddit thread about the episode, for instance, user momstheuniverse shared their shock at the fact he, of all characters, was at the center of that storyline.
In the months since starring in "The Mediator" and appearing in an episode that seemed written to give him an out, Ice-T has nevertheless retained his "SVU" role, and seems primed to continue to do so for the foreseeable future.