Why Law & Order: SVU Fans Are Divided About The Rollins Family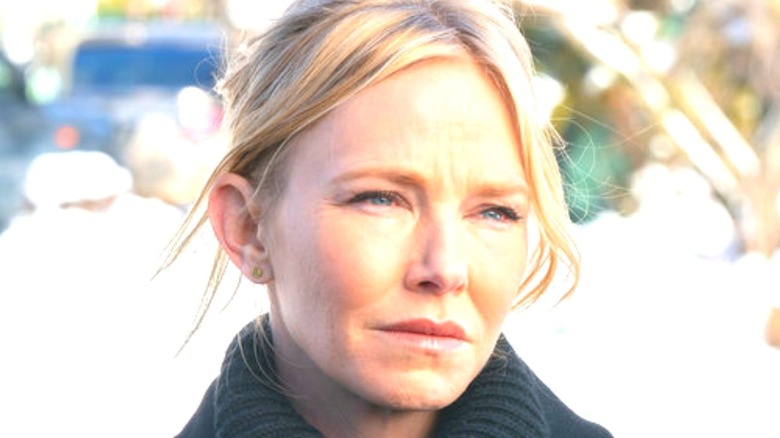 Virginia Sherwood/NBC
The Rollins family — comprised of Detective Amanda Rollins (Kelli Giddish), her messy sister Kimberly (Lindsay Pulsipher), her mother Beth Anne (Virginia Madsen), and her daughters Jesse (Charlotte and Vivian Cabell) and Billie — have made a home for themselves on "Law & Order: Special Victims Unit" ever since Season 13.
Over the course of 11 years, Amanda has experienced highs such as partnering with her idol, Olivia Benson (Mariska Hargitay), and crushing lows that include a gambling addiction spanning from Season 13 through 15. She's gone from wet behind the ears to mature and focused. Her romantic life has finally settled after years of turmoil; she's been dating ADA Dominick Carisi Jr. (Peter Scanavino), since the beginning of Season 23. That's a far cry from her past; Amanda's affair with Declan Murphy (Donal Logue) resulted in her daughter Jesse, and Billie was conceived via a brief reunion with her ne'er-do-well ex-boyfriend, Al Pollack (George Newbern).
Some fans, however, just haven't warmed up to the Rollins clan and their ways. Down at the "Law & Order: SVU" subreddit, fans are hashing out their feelings in regard to Amanda and her relatives. Here's why they're divided over Amanda, Kim, and the rest of the Rollins family.
Should Amanda keep forgiving Kim?
"Amanda generally annoys me anyway and it's rare I enjoy her/feel sympathy for her so I acknowledge that didn't help in the Kim episodes seeing as I couldn't root for anyone," wrote u/swollenlouvre in a post they made to the subreddit expressing annoyance with the whole Rollins family. Declaring that each episode featuring Kim recycles the same plotline over and over, they found it implausible that, "Amanda was STILL trying to protect Kim after having her apartment emptied and nearly being arrested on a murder conspiracy."
"Get that family is important but at some point seems like Rollins would stop completely caving in just because Amanda whines and says "please, we're sisters," remarked  u/aHungryHippo. 
Other fans disagreed. "Her family is intentionally horrible, and you're supposed to hate them!" argued u/not_a_psychopath96. They added that they loved Amanda's "messiness" but "I for sure don't agree with every opinion and every choice of hers."
Agreed u/notinmybackyardcanad, "I am glad she is getting better now and showing someone who had such a crappy upbringing can have and deserve a happy life with Carisi." But will their relationship keep on growing? "Law & Order: SVU" fans will have to keep tuning in to find out.