The Pop Star Who Almost Played The Vampire Diaries' Elena
Throughout the history of film and television, there have been numerous casting stories. Some stories involve people being the first choice for the role they ultimately defined, while others involve people getting replaced when the project is well into production.
One memorable TV casting in the last decade was that of Nina Dobrev in "The Vampire Diaries." The show, which ran on The CW, focused on the fictional town of Mystic Falls as the inhabitants deal with vampires, werewolves, witches, and other supernatural entities. Dobrev played Elena Gilbert, a resident who'd recently lost her parents and finds herself in the midst of a love triangle involving the Salvatore brothers, Stefan and Damon, played by Paul Wesley and Ian Somerhalder, respectively. Over the course of the show's run, Dobrev played a number of Elena's doppelgangers as well, most notably Katherine Pierce, the vampire who was responsible for turning the Salvatore brothers into vampires.
However, "The Vampire Diaries" almost looked like a very different show, as a former pop star almost landed the role of Elena instead.
The CW wanted Ashlee Simpson for the role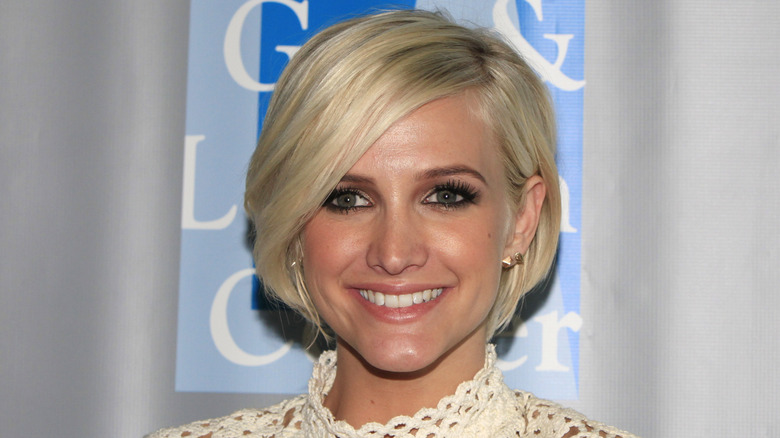 Joe Seer/Shutterstock
Per E! News, the frontrunner and studio choice for the role of Elena Gilbert was initially Ashlee Simpson, pop star of the early 2000s and younger sister of Jessica Simpson.
Ashlee Simpson followed in her sister's footsteps in both reality TV and pop music, initially appearing on the MTV series "Newlyweds: Nick and Jessica," which focused on Jessica Simpson's marriage to Nick Lachey. That led to a spinoff series focused on Ashlee, titled "The Ashlee Simpson Show."
Along with becoming a pop singer with hits such as "Pieces Of Me," Ashlee also appeared in shows such as "7th Heaven" and "CSI: NY." After losing the role of Elena Gilbert, The CW did cast Ashlee in their reboot of the series "Melrose Place," which ran for one season. In the show, Ashlee plays Violet Foster, a new transplant to California who has secretly come to the state to find her biological mother.
Ashley Tisdale, best known for her role in the Disney musical film series "High School Musical," was reportedly offered the lead role in "The Vampire Diaries" (per E! News), but ultimately opted to go to another CW show instead, the cheerleader drama "Hellcats."
"The Vampire Diaries" ultimately ran for eight seasons, with Dobrev appearing as Elena in six of those seasons before choosing to leave the series, but returning for the series finale.