Who Voices HUE On Final Space?
For fans of adult-oriented animation, the last couple of decades have been a legitimate golden age, with networks and streamers cranking out genre-bending hits like "Futurama," "BoJack Horseman," and "Rick and Morty," with staggering regularity. Over that span, Cartoon Network's late-night Adult Swim has proven as fruitful a home for such fodder as any, with "Rick and Morty" becoming arguably the biggest Adult Swim hit to date.
As it is, most Adult Swim series are happy to settle more or less for cult hit status. And among Adult Swim's many cult hits, the sci-fi farce "Final Space" continues to rank as a legit fan favorite. 
"Final Space," of course, made its debut on TBS in 2018 before finding a more suitable home on Cartoon Network. There it aired two more seasons of side-splitting, sci-fi insanity that followed block-headed astronaut Gary in his intergalactic adventures with a planet-destroying alien called Mooncake, a floppy-armed robot named HUE, and a rogue's gallery of spaced-out supporting players.   
Over its 36-episode run, "Final Space" boasted a cast of voice actors that would be the envy of any animated series, with the likes of Fred Armisen, Steven Yuen, Jane Lynch, David Tennant, Ron Perlman, Conan O'Brien, and more lending voice to characters. While you may not have realized it, the cheeky-but-largely emotionless voice you heard from HUE actually belonged to a titan of the voice acting realm.     
HUE is voiced by a true legend in the voice acting game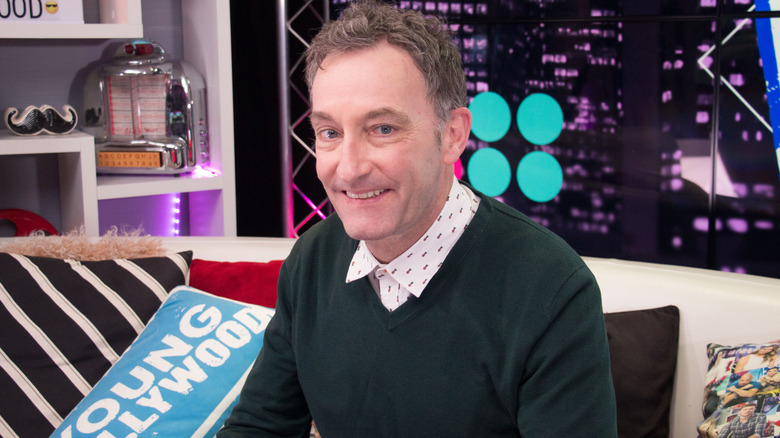 Young Hollywood/Getty Images
That's right, the voice behind HUE on "Final Space" belongs to the one and only Tom Kenny. And even if you don't recognize Kenny by name, you've almost certainly heard his voice before. That's because Kenny has spent the better part of the past two decades-plus using it to give life to one of the most beloved cartoon characters in history, Bikini Bottom's own SpongeBob SquarePants. To date, Kenny has voiced the star of Nickelodeon's smash hit animated program in all 270-episodes, over three feature films, and in every series' spin-off. And he'll almost certainly continue to do so as long as the wacky adventures of SpongeBob continue.
As for where else you've seen and/or heard Tom Kenny, one of his first breaks in showbiz came on Bob Odenkirk's and David Cross' the late-90s cult hit sketch series "Mr. Show with Bob and David." While he's dabbled in live-action roles since, he's had considerably more success as a voice actor, where you've heard him play the Mayor and Narrator on "The Powerpuff Girls," Carl from "Johnny Bravo," and various characters on dozens of other series including "Futurama," "The Boondocks," "Rick and Morty," "Trollhunters: Tales of Arcadia," the "Guardians of the Galaxy" animated series, and "Star Trek: Lower Decks."
As for "Final Space," it was sadly cancelled after its third season, so Tom Kenny's days voicing HUE are likely at an end. Unless, of course, some savvy streamer or other steps in to revive the series.