The Untold Truth Of SpongeBob SquarePants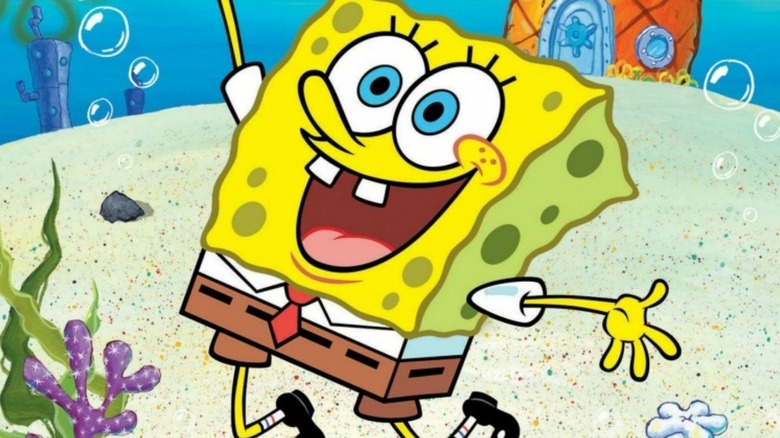 Who lives in a pineapple under the sea? SpongeBob SquarePants does, along with Squidward, Gary, Patrick, Sandy, Mr. Krabs, Plankton, and Karen the computer wife. Since 1999, the Nickelodeon series has dominated kid culture, sold millions in merchandise, and spawned multiple hit movies. Grab a Krabby Patty and dive below the waves to explore some things you probably didn't know about the yellow and absorbent SpongeBob SquarePants.
He was created by a marine biologist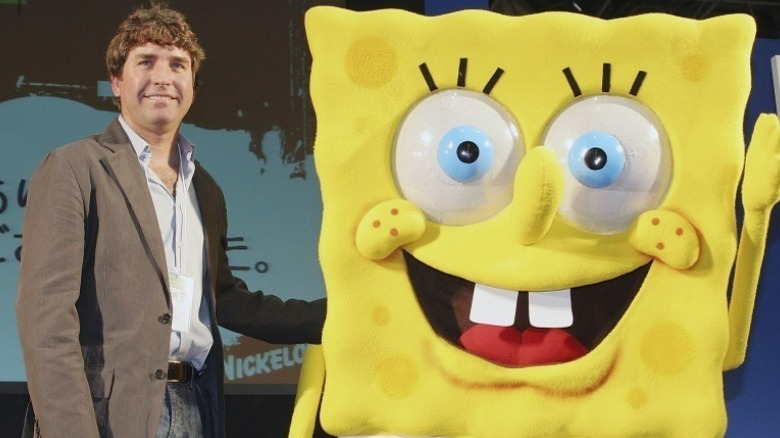 Getty Images
"SpongeBob SquarePants" creator Stephen Hillenburg graduated from Humboldt State University in 1984 with a degree in marine biology. He was teaching the subject at California's Orange County Marine Institute when he created "Intertidal Zone," a campus comic book about sea life. Among the characters: a joyfully dim sponge creature. Hillenburg eventually moved on to pursue animation full-time, landing a job as creative director of the Nickelodeon series "Rocko's Modern Life." 
One of the show's animators convinced him to develop "Intertidal Zone" into its own show, and Hillenburg came up with an underwater city populated with quirky sea creatures. When he pitched it to Nickelodeon in 1997, he reportedly placed a filled fish tank on the conference table and described all the different creatures inside to the assembled suits. Then he dropped a cartoon drawing of SpongeBob into the tank and said, "This is the star of your new show." "SpongeBob SquarePants" debuted two years later.
SpongeBob wasn't always named SpongeBob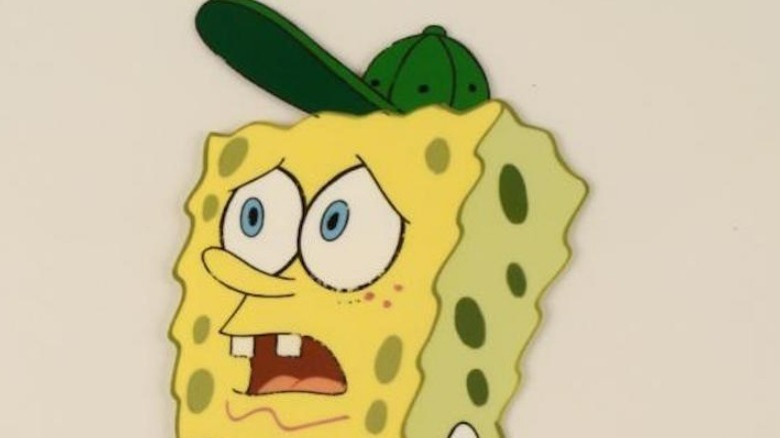 When Hillenburg came up with his first ideas and sketches, the main character was named "SpongeBoy" and the show was called "SpongeBoy Ahoy!" until he learned the name had already been copyrighted by a brand of mops. Hillenburg changed "boy" to "Bob" and made another significant change to the character: he removed his green hat. But the character's personality was there from the beginning. Hillenburg aimed to create a "young, boyish" character in the style of Pee-wee Herman or "Laurel & Hardy." To bring SpongeBob to life, Hillenburg asked "Rocko's Modern Life" voice actor Tom Kenny to use the same high-pitched voice he once used for an obscure, unnamed background character on that show.
SpongeBob is pushing 40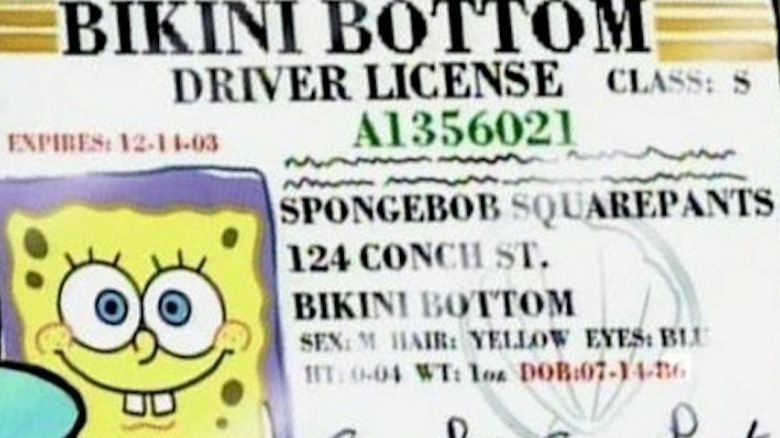 It's always been difficult to figure out if SpongeBob is a teenager or an adult. He's in Driver's Ed all the time and seems pretty immature, but he also lives on his own and holds down a full-time job. In one episode, however, viewers get a glimpse of SpongeBob's driver's license and it clears everything up –- sort of. 
It says SpongeBob's birthday is July 14, 1986, which means he would have been 13 when the show hit the air in 1999, and he'd be well over 35 by now. Another fun fact revealed: SpongeBob's hair is listed as "yellow," which means he does have hair (which is the exact same color as the rest of his body) and that he isn't just a solid mass of bald yellow sponge.
The characters might have dark symbolic meaning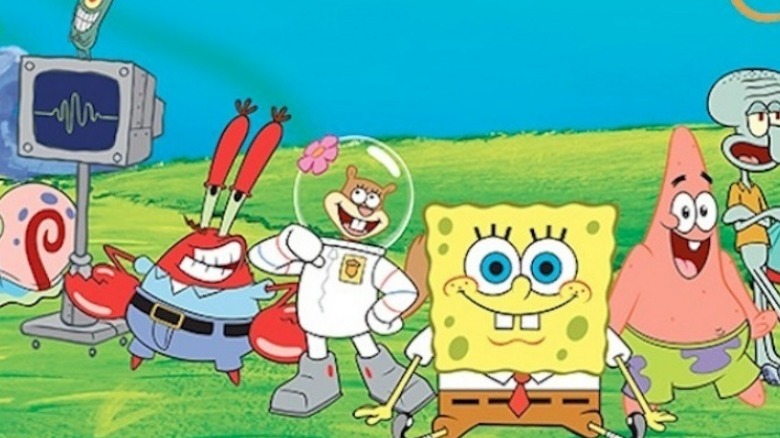 According to a popular although dark "SpongeBob SquarePants" fan theory, each of the seven major characters on the show represents one of the seven deadly sins. It's just a theory, but it's certainly compelling — and it kind of checks out. For example, Gary represents gluttony because he only cares about food; Patrick is sloth because he's lazy; Sandy is pride because she's very prideful; Plankton is envy because he's always devising ways to steal the Krabby Patty recipe; Mr. Krabs is greed because he loves money; and Squidward is wrath because SpongeBob and Patrick are always making him angry. 
As for SpongeBob? He's could represent lust, because he has an unbridled passion for pretty much everything.
Things almost got dirty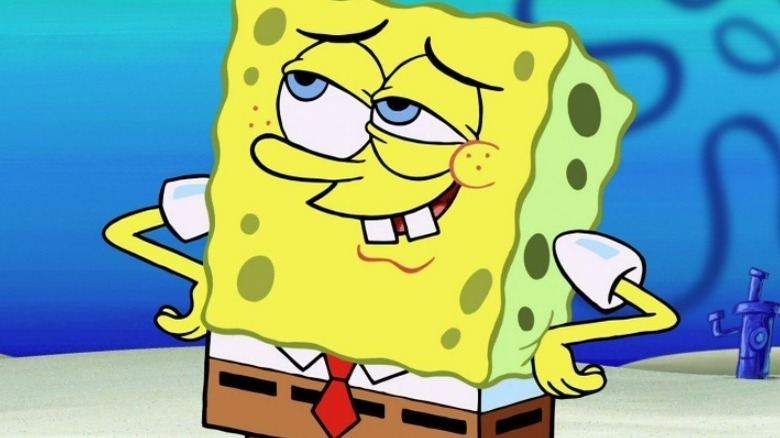 In 2003, Spike launched a late-night, Adult Swim-style animation block, anchored by Pamela Anderson's "Stripperella" and a new, more sexually graphic version of the Nickelodeon classic "The Ren & Stimpy Show" called "Ren & Stimpy Adult Party Cartoon." Executives from Spike approached Stephen Hillenburg to make a similarly ribald "SpongeBob SquarePants" for adults only, but he outright refused, even though Nickelodeon had the final say. The network agreed with him and refused to sell the rights, preventing the world from seeing SpongeBob and Sandy (or maybe SpongeBob and Patrick?) finally get freaky.
There's a real fungus named SpongeBob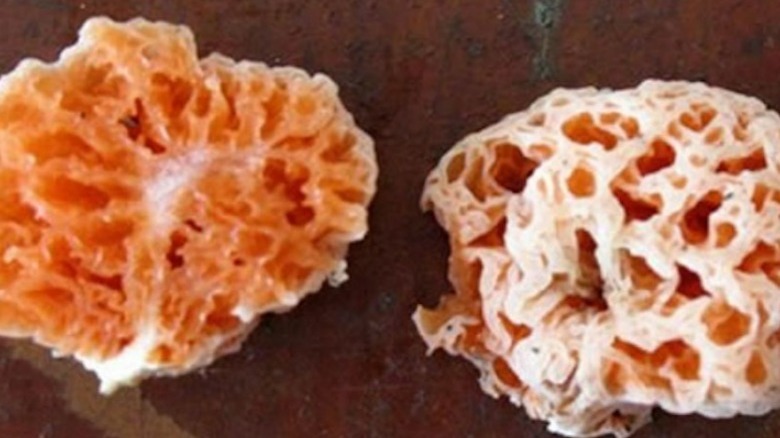 Creative Commons
SpongeBob's hometown of Bikini Bottom is said to be located beneath Bikini Atoll, the site of U.S. atomic bomb testing in the '40s and '50s. It's also not far from the tropical island of Borneo where, in 2011, researchers from San Francisco State University found a new species of mushroom. Because it's shaped like a sea sponge and is an actual member of the genus Spongiforma, researchers thought it would be fun to name it in SpongeBob's honor. The official scientific name: Spongiforma squarepantsii. When placed under an electron microscope, areas of the spongy fingus look like a seafloor — or Bikini Bottom.
It's Nickelodeon's longest-running show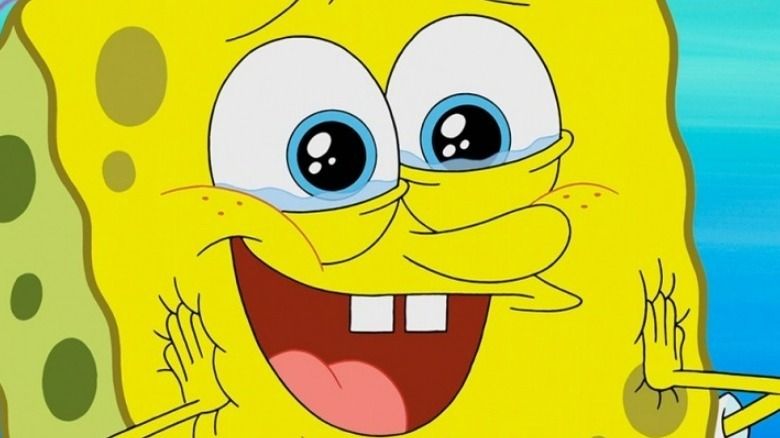 While "Rugrats" and "The Fairly OddParents" both enjoyed runs of more than a decade, no Nickelodeon series has endured quite like "SpongeBob SquarePants." The network aired 201 episodes between 1999 and 2011, and even the reruns still rank among the top of the cable ratings. Hillenburg had originally planned to end the show more than a decade ago with 2004's "The SpongeBob SquarePants Movie." But the film did so well that Nickelodeon asked (and kept asking) for more episodes. As of 2022, "SpongeBob SquarePants" has aired just over 300 episodes, making it one of the longest-running animated shows in American TV history.
SpongeBob's creator didn't want to do spinoffs
"SpongeBob SquarePants" debuted on Nickelodeon in 1999, and while it generated multiple big-screen movies, a TV spinoff of the show didn't hit the air for two decades. Announced in 2019 by Deadline, the young SpongeBob prequel show "Kamp Koral: SpongeBob's Under Years" arrived in February 2021, and it was followed five months later by "The Patrick Star Show," a series about SpongeBob's best friend Patrick hanging out at home with his family and making a TV show.
The reason that it took so long for Nickelodeon and parent company Paramount to capitalize on its intellectual property and expand the SpongeBob television universe was because "SpongeBob SquarePants" creator Stephen Hillenburg was adamantly opposed to spinoffs. "The show is about SpongeBob, he's the core element, and it's about how he relates to the other characters," Hillenburg told Television Business International in 2009. "Patrick by himself might be a bit too much. So I don't see any spin-offs." He also rejected the idea of a third movie. 
Yet, two spinoffs (including one specifically about Patrick) and a third big-screen cinematic outing came along — all after Hillenburg died in 2018 (via Variety). Hillenburg loyalists filed a Change.org petition to get Nickelodeon to cancel any spinoff but to no avail.
Some SpongeBob plots may never happen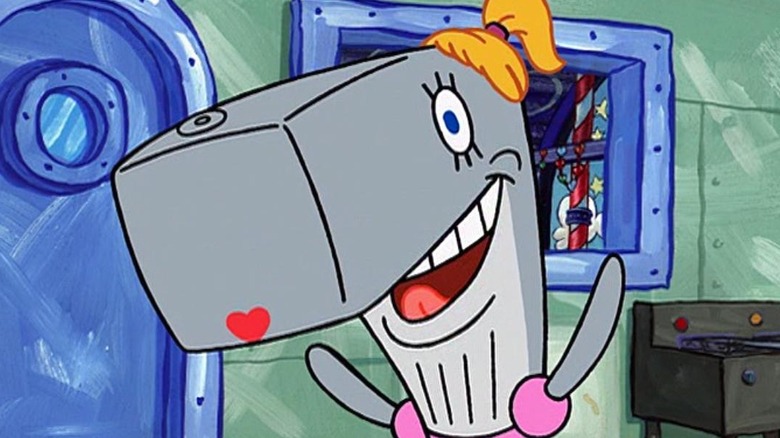 Nickelodeon
Despite Nickelodeon and Paramount's decision to green-lighting spinoffs against the wishes of Stephen Hillenburg after he died, the "SpongeBob SquarePants" creator successfully resisted some creative choices and suggestions he considered ill-advised. 
In response to a Twitter user's question about if SpongeBob would ever get a girlfriend, "SpongeBob SquarePants" writer and creative director Vincent Waller said that such a plot development was "definitely on the Steve short list of NOs." He added that there had once been an internal plan, rejected by Hillenburg, that squirrel Sandy Cheeks was supposed to be a love interest for the show's title character. Hillenburg told Complex that he specifically came up with Sandy for the presence of "a strong female character that could be a friend to SpongeBob but not a love interest."
Another entry on "the Steve short list of NOs," according to Vincent Waller: the origin story of Pearl Krabs. How a crab father has a whale daughter is a conspicuous mystery in the series that will likely never be fully explained. Waller said that the show's writing staff prepared an outline of an episode that would explain "the truth of her origin," but it was shelved and never produced, as Hillenburg wouldn't approve it.
SpongeBob played the Super Bowl halftime show (sort of)
After "SpongeBob SquarePants" mastermind Stephen Hillenburg died at age 57 in November 2018, the official tributes rolled in. Per The Orange County Register, Hillenburg's alma mater, Savanna High School in Anaheim, California, installed a SpongeBob-yellow metal bench in his honor. Meanwhile, Nickelodeon, where "SpongeBob SquarePants" was a mega-hit and a flagship show, ran an eight-hour marathon of milestone episodes, including the pilot and the 2001 installment "Band Geeks."
In "Band Geeks," SpongeBob and friends, all dresssed in marching band uniforms, perform an original song called "Sweet Victory" at the Bubble Bowl, Bikini Bottom's version of the Super Bowl. With the real-life Super Bowl set to be played in February 2019, scarcely two months after Hillenburg's death, and on Nickelodeon's corporate sibling CBS, "SpongeBob SquarePants" fans engineered a push to get the big game's official halftime show performers, Maroon 5, to play "Sweet Victory" (per CBS News). 
A Change.org petition garnered a whopping 1.23 million signatures, but the big moment didn't ever truly arrive. However, just before special guest Travis Scott took the stage at Mercedes Benz Stadium in Atlanta, a brief clip of the "Sweet Victory" performance from "Band Geeks" was played on the mega-screen.
A SpongeBob by any other name is still a SpongeBob
"SpongeBob SquarePants" is likely not a sequence of words that appeared in the world before Stephen Hillenburg created the cartoon and character of that name. A unique, silly, and alliteration-driven construction of the English language, making it difficult to translate that name into other world languages. So, after "SpongeBob SquarePants" grew immensely popular in the English-speaking world and Nickelodeon started sending it out into the world for presentation in other countries, localities had to change the name of the show. In other words, "SpongeBob SquarePants," show and character, are known by many labels.
In accordance with Icelandic naming convention, in which the last name is constructed by adding the name of one's father to "son" or "daughter," "SpongeBob SquarePants" is called "Svampir Sveinsson" in Iceland, which translates to "Sponge son of Svein." The German "SpongeBob Schwammkopf" means "SpongeBob SpongeHead," and Francophone regions call the series either "Bob l'éponge" or "Bob a la mer," or "Bob the sponge" and "Bob of the sea," respectively.
Many SpongeBob SquarePants character names are subtle jokes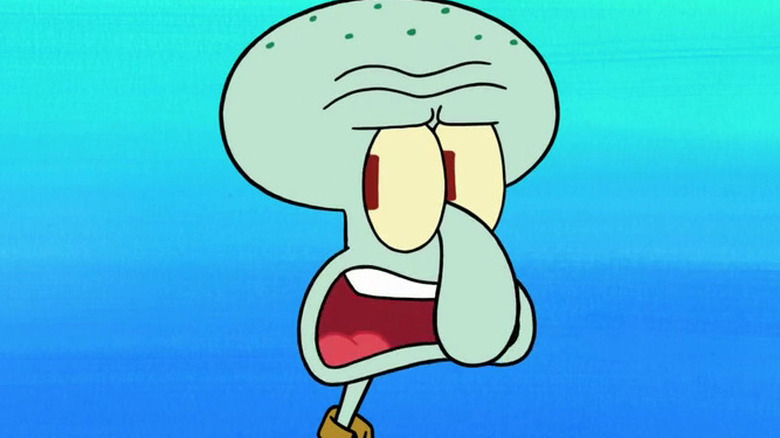 Nickelodeon
"SpongeBob SquarePants" is an unabashedly and gloriously silly cartoon with an audience of primarily children in mind. Still, the show's writers throw in a lot of funny names for main characters, built upon jokes that only older members of the viewership may ever notice. For example, squirrel Sandy Cheeks' name is a mildly naughty play on words, suggesting a rear-end covered in beach sand.
Then there's the elaborate joke that is the name "Squidward Tentacles." SpongeBob's dour coworker may be named like he's a squid, but according to "The SpongeBob SquarePants Movie" DVD featurette, he's an octopus — despite the fact that he's also only got six tentacles instead of the customary eight found on an octopus. "He's an octopus, but they call him Squidward. I never understood it," the character's voice actor Rodger Bumpass said in another DVD featurette. "I guess 'Octoward' just didn't work for a name."
As for Plankton's long-suffering "computer wife," Karen, she's a collaboration-meets-tribute by two integral "SpongeBob SquarePants" figures. Show creator Stephen Hillenburg named her after his wife, Karen Hillenburg, and she's voiced by comedian Jill Talley, who's married to Tom Kenny, the voice of SpongeBob.