How John Cena's Peacemaker Could Have Been A Wildly Different Character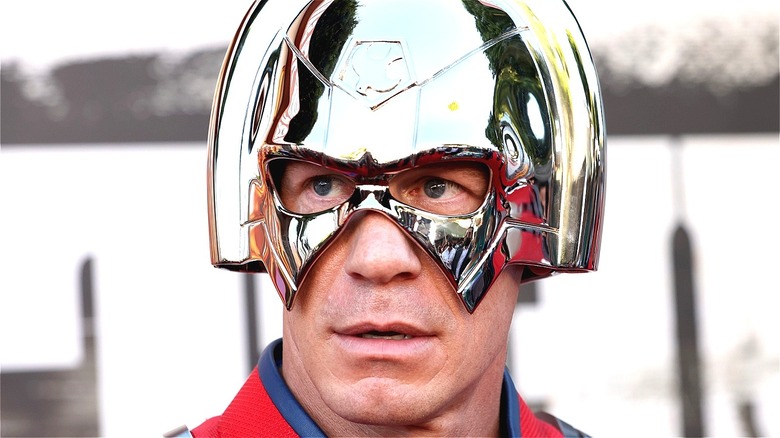 Kevin Winter/Getty
Perhaps the biggest revelation to come out of writer-director James Gunn's 2021 DC supervillain movie "The Suicide Squad" was that it showed just how funny John Cena — who perfectly realized the gun-toting, freedom fighter Peacemaker — could be. Sure, Cena had shown glimpses of his comedic promise in smaller roles in films like "Trainwreck" and a cameo in "Daddy's Home," but his ability to sustain an amusing presence throughout the entirety "The Suicide Squad" showed audiences that there was so much more to the actor than the brawn he'd brought as a superstar wrestler in the WWE.
Even more unexpected, though, is the much wider range of emotions Cena showed in the titular role of "Peacemaker," which just wrapped up its first eight-episode season on HBO Max. Re-teaming with A.R.G.U.S. agents Emilia Harcourt (Jennifer Holland) and John Economos (Steve Agee) from "The Suicide Squad" — and adding agents Leota Adebayo (Danielle Brooks), Clemson Murn (Chukwudi Iwuji), and superhero wannabe Vigilante (Freddie Stroma) to the mix — Cena continued to show Peacemaker's funny side, but went on to trip up audiences with the character's depth and complexity.
In short, Cena's acting career took a big step by taking on this DC role. However, it sounds like his original read on the character was way different from what ended up on the screen.
Cena initially wanted to channel Full Metal Jacket's drill instructor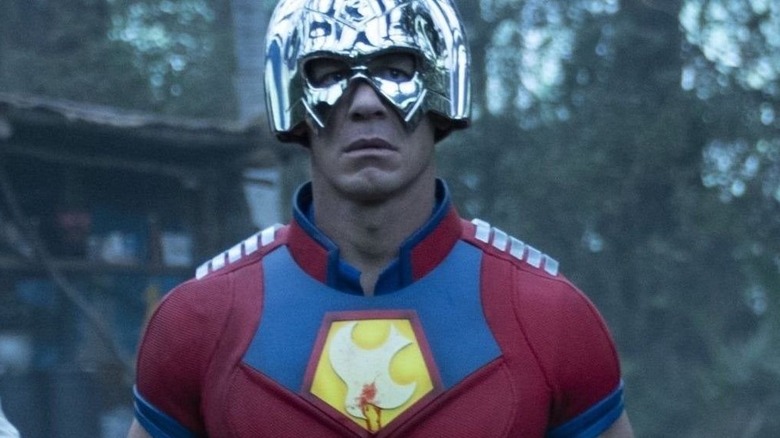 Warner Bros/HBO Max
Discussing his biggest roles in a video interview with GQ, Cena shared his original vision for the famed DC Comics character, and is turns out, it was decidedly different than what fans got to experience in "The Suicide Squad" and ultimately, "Peacemaker."
"I saw Peacemaker, especially with this outfit, so I began to take cues from like [U.S. Army General] George Patton, who was always the most vibrant looking general in a photo, and why would you wear a vibrant uniform to lurk in the shadows, so to speak," Cena revealed to GQ. "Then I started taking personality traits of, like, [U.S. Army General Douglas] MacArthur, sort of first on the battlefield and then trying to harness that attitude of, like, a proud soldier who, if he's gonna have a team behind him, he is gonna be the one to tough-love motivate that team, and I really gravitated towards [R.] Lee Ermey's role in 'Full Metal Jacket.'"
Ermey, of course, played the iconic role of the malicious Marine drill instructor, Gunnery Sergeant Hartman, in the Stanley Kubrick 1987 war film, which he partially molded on his own experiences as a drill instructor during the Vietnam War (via the BBC). "I wanted to be that sort of persona," Cena explained, "and it fit the words because Lee Ermey rattled off a litany of curses that would make anybody proud in that movie, and he said it with such conviction and such direction that it made sense."
However, that wasn't the take James Gunn was looking for.
Gunn encouraged Cena to go with a much lighter approach to Peacemaker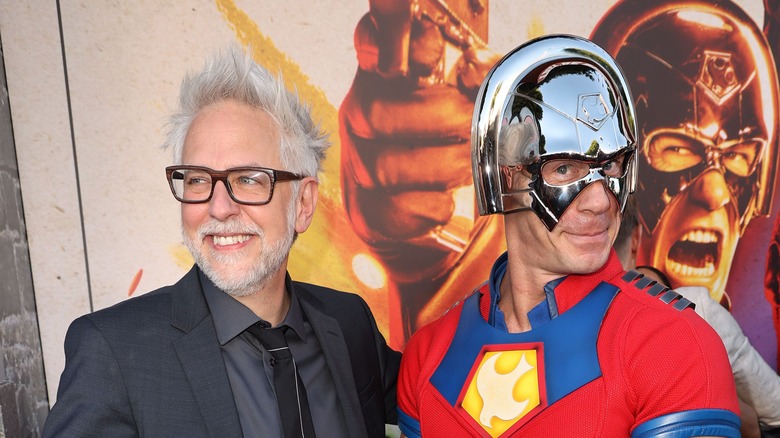 Kevin Winter/Getty Images
To James Gunn — the man at the helm of "The Suicide Squad" and eventually, "Peacemaker" — it soon became apparent that the tone Cena had adopted for the character was much more serious than what he was looking for. Gunn is, after all, the filmmaker who brought an irreverent spin to the Marvel Cinematic Universe with the first two volumes of the "Guardians of the Galaxy" movies, and he clearly intended to do the same for "The Suicide Squad." Once shooting started, Cena's Patton-MacArthur-Ermey take on Peacemaker went out the window.
"So, a couple takes like that [with the serious tone], and then, finally, James is like, 'No, wait, this isn't what Peacemaker is. He's a douchey Captain America,' and that was it, it's a wrap," Cena recalled for GQ. "I wish he told me that months ago. And Idris and I just riffed, and everybody was like, 'What the f*** happened? Like where did all this come from?' One, our perceptions can be different, and I'm very fortunate to have the trust and faith in James. When he said that, I didn't be like, 'No, he's not. I view Peacemaker as this, so he's this.' James is the director. He's the one moving the chess pieces, and he tells me, 'Okay, your chess piece is this.' 'Got it, okay.'"
Clearly, Gunn's vision proved to be the right one, as the success of "Peacemaker" has proven. The complete first season of "Peacemaker" is streaming exclusively on HBO Max, and a second season is confirmed to be on the way.