Freddie Stroma Discusses Vigilante In Peacemaker And Working With James Gunn And John Cena - Exclusive Interview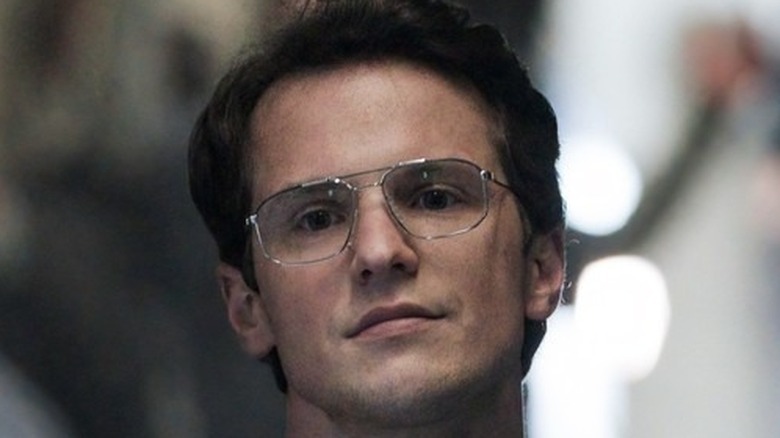 HBO Max
The new streaming series "Peacemaker" has been an incredibly wild ride for fans, not only because they're getting more of the brawny antihero defined by John Cena in "The Suicide Squad," but because there's plenty of action involving the colorful group of supporting characters around him.
Among those new to the fold of the DC Comics series adaptation from writer-director James Gunn is Freddie Stroma, who plays Adrian Chase, AKA Vigilante. A busboy/wannabe superhero, Vigilante — who dresses in full, crimefighting regalia — worships Peacemaker and desperately seeks his approval. Eventually joining up with Peacemaker's Black Ops team, the surprisingly lethal Vigilante finds himself in the thick of the fight with alien invaders known as "Butterflies," as well as a white supremacist group led by Peacemaker's estranged father, Auggie Smith (Robert Patrick).
"Peacemaker" isn't the first major franchise to which Stroma has lent his talents. In 2009, the actor landed his breakthrough role as Hogwarts wizardry student Cormac McLaggen in "Harry Potter and the Half-Blood Prince," and reprised the role in parts 1 and 2 of "Harry Potter and the Deathly Hallows" in 2010 and 2011. Stroma was featured in the first "Pitch Perfect" movie in 2011 and later went on to star in 2016's "13 Hours: The Secret Soldiers of Benghazi." Stroma has also compiled an impressive list of TV credits, including the lead role of H.G. Wells in ABC's fantasy series "Time After Time" in 2017, and he was featured in the recurring role of Prince Friedrich in hit Netflix romance drama "Bridgerton" in 2020.
In an exclusive interview with Looper, Stroma details his work on "Peacemaker" with Gunn and Cena and his approach to playing Vigilante. Plus, he dropped a teaser as to what audiences can expect with the upcoming season finale.
Passing the James Gunn test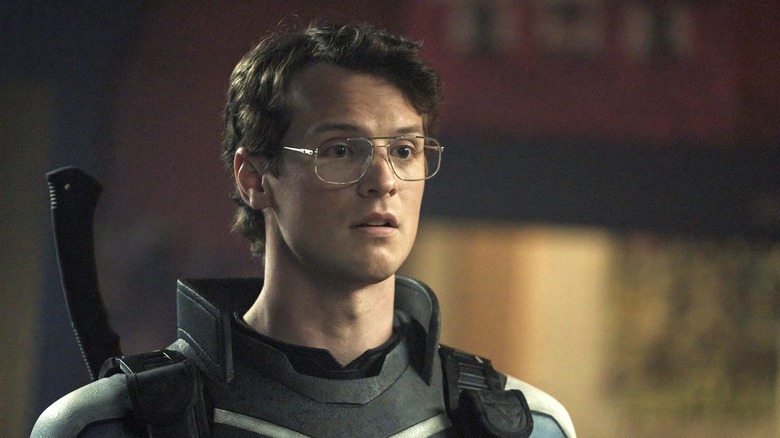 HBO Max
Your introduction to Vigilante in Peacemaker came in an unusual way. There was an actor cast in the role before you, and luckily for you, you came in and you mowed down the role. Were you surprised to get a call from James Gunn about the role? I understand that you were verified by Elizabeth Banks, who worked with you previously and said you were a good guy.
For me, it was a case of reading for the role. I read for two scenes and then got a call that James Gunn wanted to call me, which was a very cool phone call to get. Then it was another call back. We did multiple scenes, and then he was like, "I spoke to Elizabeth Banks," because we did "Pitch Perfect" together and knew each other. As James said, he was like, "I did an a****le check" [Laughs]. He was like, "You always make sure, just in case." I passed that, which is good. It was crazy to suddenly be working with James Gunn.
It's a good lesson, Freddie, for anybody who's reading this. Be a good guy when you work, then the opportunities are going to open up.
Yeah. Good life lesson. In general, just don't be an a*****le.
Stroma followed Gunn's lead for Vigilante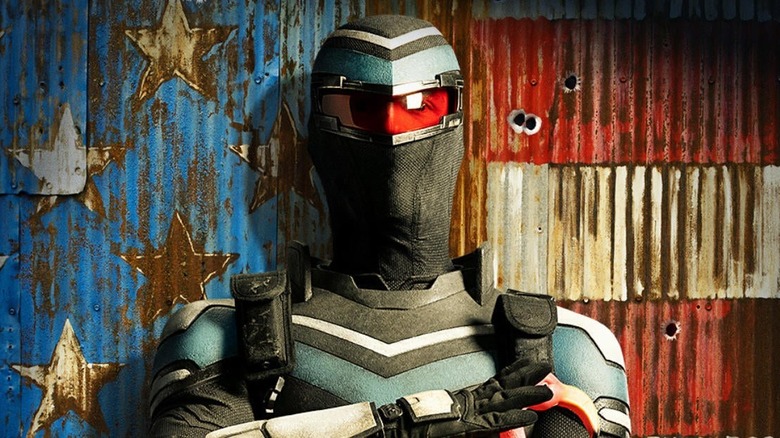 HBO Max
How much studying up did you do on Vigilante in the DC comics? I ask because he is different in the comics. He's a district attorney in the comics, and here, he's a busboy. Fundamentally, the characteristics, the costume is similar. That sort of stuff is still there in the series, but how do you combine those two sensibilities together, or are you simply guided by James's script and his vision?
I was guided by James. Once the ball was rolling and I read the scripts for the episodes, I realized that there were no big similarities between Adrian Chase, the DA, [and] Adrian Chase the busboy. They were very different characters. Once you have [the scripts to] all the episodes, which is a joy as well ... and everyone had all the episodes straight up front, I learned pretty quickly that there's no point trying to make him like that. [I thought], "I'm going to make him what he is on these eight episodes" and let James guide me into where we're going.
Revealing the true Vigilante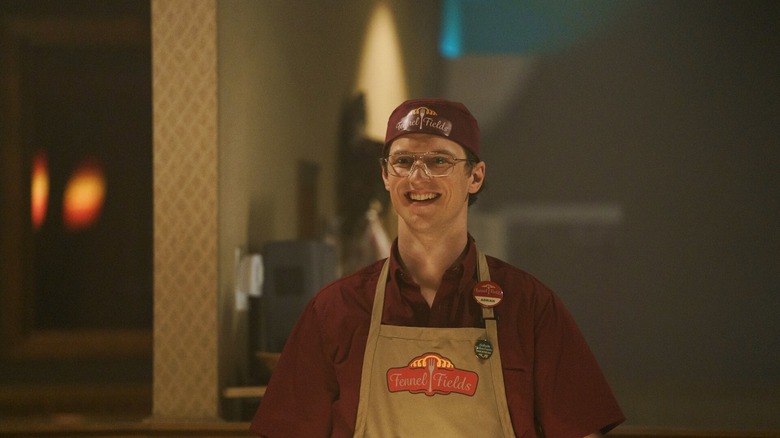 HBO Max
What I love about your portrayal of Vigilante is you give off this feeling that this guy's a real doofus. At first, he seems to be a wannabe superhero, but then we get a tease of what your capabilities are in the bro scene with you and Peacemaker when you're blowing up stuff together. After that, it was wham! Once you are in that jailhouse scene and you lay waste to Augie Smith's guys, it's like, "This character is a force to be reckoned with!" It has to be a blast playing a character that gives off the air of one thing, but really deep down, he's different, and he really does know his stuff.
It's a fun character in that sense, because it's one thing to play a character who looks tough, is tough, [and] talks tough. When it comes to a fight scene as an audience member, you're not massively surprised by the fact that he'll then beat everyone up. It was nice to have this sense, when he is walking into [jail], that something's not right about the character at first. You see him walking down [between other inmates] and his head's somewhere else, but it looks like it's a lamb to the slaughter ... Then, all of a sudden [the scene] flips on its head, and you go, "Oh, that's why he's so confident," because he knew he was absolutely fine the entire time because he has those skills. It was a very well-written scene and a real joy to get to perform it.
Stroma admits he was in awe of John Cena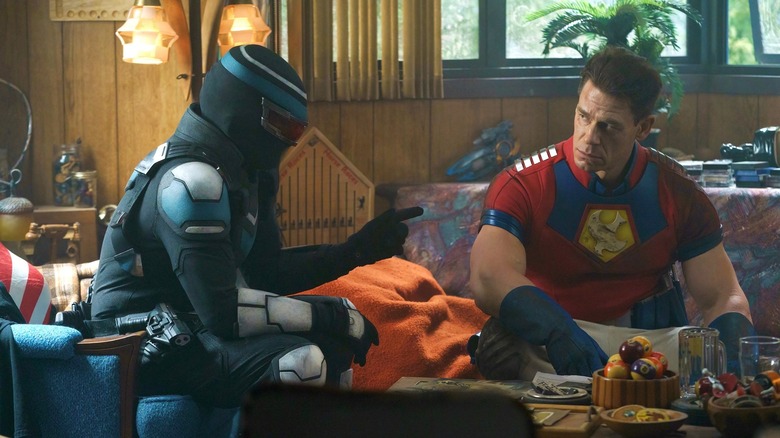 HBO Max
I came into "Peacemaker" knowing John Cena could be funny. I thought he was terrific in "The Suicide Squad" and in other things like "Trainwreck," so we knew the guy could be funny, but with "Peacemaker," I thought, "Wow, he really knocks it out the park in the dramatic realm." He's got these subtle, dramatic moments, which are pretty amazing. How do you sum up your experience with John?
I was absolutely in awe of John. He can do everything. You literally look at him, you go, "Okay, there's this hulk of a man, who then also plays the piano, who then also reads a book a day. He speaks Mandarin. He's kind, he's professional, he's understanding. He's really intelligent," which it's not the first thing you think when you see a man of his size. You'd think that going to the gym would be his main focus, but he's absolutely incredible, and a great actor, and a great comedian and a great improviser. Yeah, it was such a joy to work with him.
He's a real surprise, and speaking of surprises, did you ever in your wildest dreams ever imagine with any project of yours that you'd be in a series that opens with this kick-ass dance number, and that this kick-ass dance number would light the internet on fire?
When I read it in the script, it was almost confusion, but then you go, "Oh, my God, this is ... it sets the tone for the whole show." There's a moment where you go, "Huh, I wonder if this will get received well, because it could go the other way." The internet definitely likes the opening credits.
Springing into action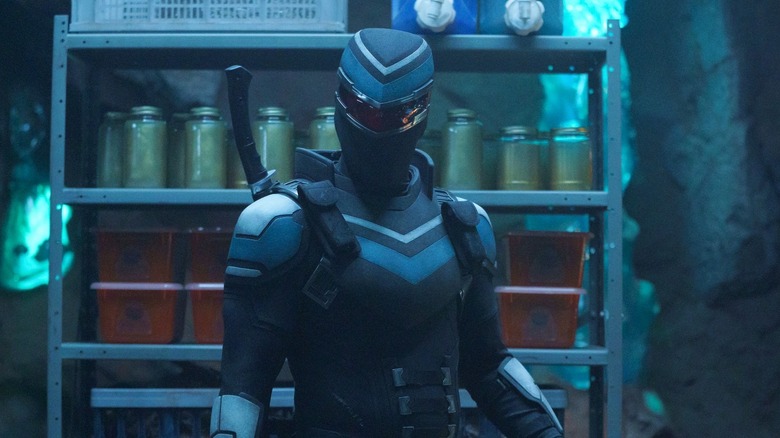 HBO Max
John Cena has a "Peacemaker" action figure, and there has to be a Vigilante action figure on the way. So, Freddie, if you're calling the shots, what accessories come with a Vigilante action figure? Perhaps, most importantly, does he have a removable toe?
[Laughs] A removable toe is not bad. That would be good. I think [for an] accessory, maybe some glasses, maybe you can switch the head out for one with glasses, and probably a scimitar as well. That was a really cool little cool weapon to have. My wife got me an action figure of Vigilante and he has this sniper rifle, and I think maybe some pistols as well. I always had pistols and knives, so probably those.
Getting into a project with James Gunn, knowing what he's done, "Guardians of the Galaxy," "The Suicide Squad," and now "Peacemaker," how do you not jump up and down like a little kid? Because this is real big childhood fantasy stuff coming to fruition, isn't it?
When they said this is a James Gunn project, you think, "Oh, God, okay. Well, this is another level." Being able to put on a superhero outfit for the first time was very, very cool, so even if it's hot and it gets a little sticky and it could be uncomfortable, you don't care because you're in a superhero outfit, and it's so cool. There was a moment on set where we were doing stunts, and I was watching the stunts, and they were so good, that I had this moment. I was like, "Oh yeah, this is another level." This is not, "Okay. Then we'll have a quick little fight scene." When you see it, you go, "Oh, okay. This is James Gunn level."
Revisiting the wizarding world of Harry Potter
You've had a lot of amazing opportunities in your career and you're in your 16th year in the business, so congratulations. Looking back on your earlier screen endeavors — the work on the "Harry Potter" films, and they celebrated the 20th anniversary of the first film earlier this year — you have to be very proud knowing you were a part of that. It really, for the lack of a better word, had to have been a magical time in your life and your career.
Oh, it really was. It was by far a much bigger job that I had at that time, and everyone in the cast, the crew was wonderful, wonderful people. I love the books. I love the movies, and to know that I got to be a small part of that world definitely makes me very happy.
Stroma teases the 'incredible' season finale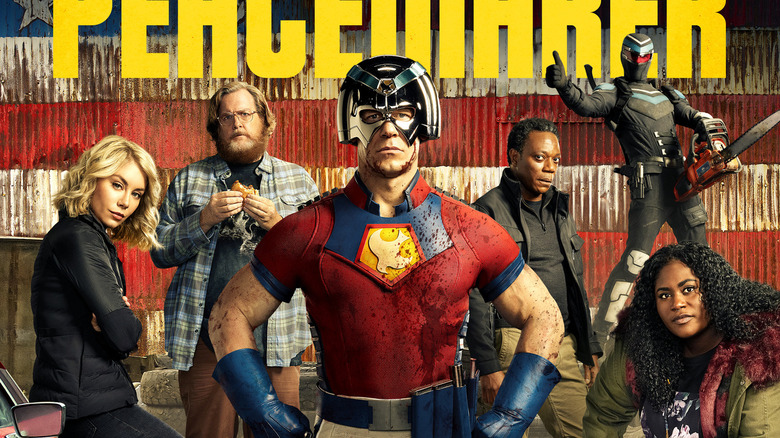 HBO Max
Congratulations again on "Peacemaker," Freddie. It must be interesting to do an interview knowing already how much the audience loves the show. Are you tempering your expectations for their reactions to the finale? Because now it seems like the stakes are really high now. The bar is set really high for that last one in the season.
I could have started thinking that way, but James ... I luckily got to watch [Episode] 7 and 8 with James and some of the cast members a few days ago, and all I can tell you is that it's going to be incredible. I was amazed. It ramps up to levels you would not expect. I'm so excited for everyone to watch it.
Also starring Jennifer Holland, Danielle Brooks, Steve Agee, and Chukwudi Iwuji, the first seven episodes of "Peacemaker" are streaming exclusively on HBO Max, with the finale set to debut Thursday, February 17.
This interview was edited for length and clarity.