Why The Trailer For Pixar's Turning Red Has Twitter In An Uproar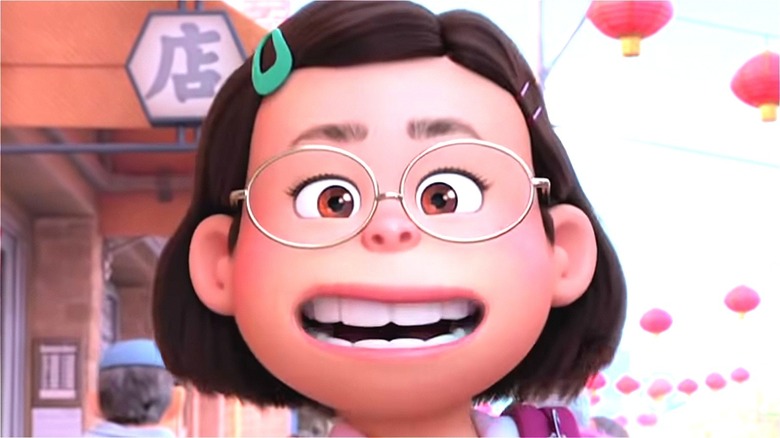 Walt Disney Studios Motion Pictures/Disney+/YouTube
Another day, another meeting of the minds on Twitter, the website where the greatest luminaries of our society go to solve the world's problems through respectful dialogue. Just kidding. Today, they're getting furious about a Pixar movie.
It all started with the trailer for Pixar's upcoming feature film, "Turning Red," a movie which tells the story of a tween girl who finds that outbursts of emotion cause her to transform into a giant red panda. Directed by Domee Shi, whose previous contributions to Pixar include "Incredibles 2," "Toy Story 4," and the short film "Bao," "Turning Red" stars Rosalie Chiang as the precocious Mei alongside Maitreyi Ramakrishnan, Sandra Oh, and more. It was reportedly influenced by the works of Wes Anderson.
In advance of the movie's March 11 release date exclusively on Disney+, the studio released a full-length trailer which explains the general premise of the movie and shows off yet another unique approach to animation from Pixar, which has experimented with a range of styles over the years. The video quickly racked up tens of millions of views on YouTube. Now, the trailer has sparked a heated Twitter debate, with opinions causing Pixar to become a trending topic on the micro-blogging site.
Some say Turning Red is a step down in animation for the studio
Though the trailer for "Turning Red" was released back in November of last year, the drama seems to have kicked off in earnest this week when Twitter user @Bolverk15 tweeted about the style of animation Pixar went with for the children's movie. Along with a screenshot of Mei in "Turning Red," the Twitter user wrote, "Pixar fell off so f***ing hard ike [sic] what the [f***] even is this?"
Battle lines were formed, with many quick to point out that the target demographic of the movie is, in fact, kids. "a child ? in a children's movie ? say it ain't so," @meatgirl tweeted with apparent sarcasm. Others said they actually prefer the more dramatic, embellished style of animation over Pixar's previous attempts at realism, with @ungrassedgrass commenting, "This criticism is so tiring because Pixar's shift towards more expressive and exaggerated animation is one of my favorite things about their recent movies. Grown men just cant stand seeing a female character who isn't perfectly adorable, and expressionless all the time."
However, some agreed with the original tweet. @moriibee tweeted, "The characters look so ugly who approved this." On the other hand, many looked to Pixar's long history to demonstrate how far the studio's animation has come. With a picture of the dog from "Toy Story" attached, @king_of_limb joked, "bro pixar thought this was a dog in 1995."
There's no way to know for sure how good "Turning Red" will be before it debuts next month on Disney+, so perhaps judgement is best reserved for that time.