Pixar's Turning Red - What We Know So Far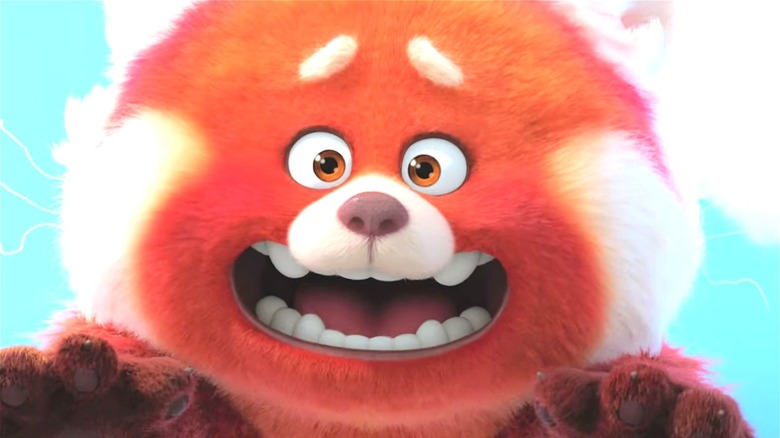 Disney/Pixar
Pixar has spent the last month reveling in the success of its coming-of-age sea monster story, "Luca." However, that has not stopped the legendary animation studio behind "Toy Story" from its commitment to the grind. Not even 30 days following "Luca's" release, Pixar has already announced its next feature-length project, complete with a teaser trailer and release date.
Drawing on the directorial talents of Domee Shi — a name you might recall from the Oscar-winning Pixar short, "Bao," about a mother who just can't bear to let go of her Chinese dumpling son — Pixar is proudly and boisterously moving forward with "Turning Red" (via IndieWire). Like "Bao" before it, "Turning Red" focuses heavily on family, and heavily draws inspiration from East Asian culture. Combining Pixar's iconic animation and a premise similar to "Dr. Jekyll and Mr. Hyde" or "The Incredible Hulk," it looks like "Turning Red" is the perfect recipe for a family romp.
Although Pixar has released a trailer and given an official release date for "Turning Red," much about the project still fits into the realm of the unknown. That being said, what little we know about the cast and plot hints at a story with potential worthy of Pixar's legacy as a creator of classic kid's films. With all of this in mind, here is what we know so far about "Turning Red."
When will Turning Red release?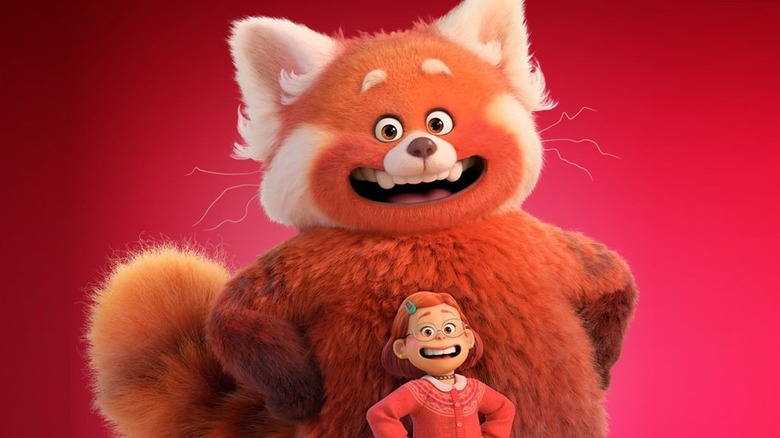 Disney/Pixar
This year in particular, it seems as if Pixar has been dedicated to the grind. Refusing to falter after "Luca's" release, "Turning Red" is set to debut on March 11, 2022, less than a full year from its predecessor. Needless to say, this is amazing news for Pixar fans and people with kids alike. Unlike "Luca," however, it seems as if Disney and Pixar are opting to make "Turning Red" their first widespread theatrical release, following the onslaught of closures and delays caused by the COVID-19 pandemic.
The cherry on top of this animated sundae is that fans can be sure that there won't be any delays for this project. Creative studios in almost every artistic medium have spent the past few months opening their offices back up, meaning that all productions are going much more smoothly than they have in the past year or so, "Turning Red's" included. So, unless a second pandemic were to appear from the ether, "Turning Red" won't be turning tail anytime soon.
Who is in the cast for Turning Red?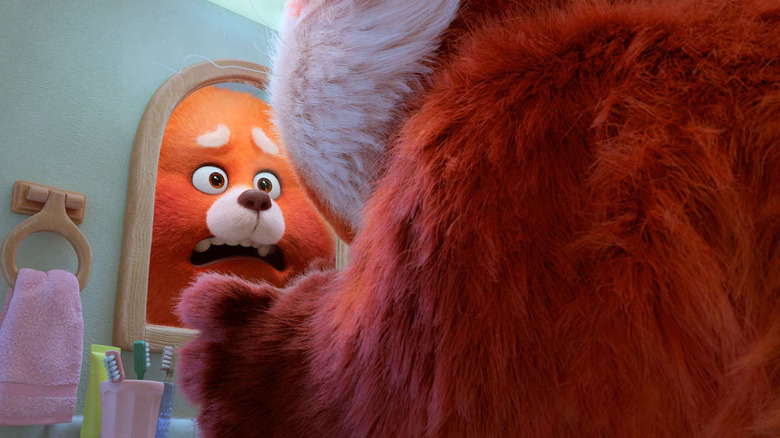 Disney/Pixar
Like all of Pixar's works, "Turning Red" has all the makings of a great character-driven story. Unfortunately, the official teaser trailer only shows us two of the major characters viewers will be set to see in the full film. Thankfully, Pixar has balanced out its lack of character reveals by being quite forthcoming with casting information.
The film follows Mei Lee, an average North American high schooler of Asian descent with a seriously weird transformative issue. Mei will be portrayed by child actress Rosalie Chiang. Mei Lee's overbearing and embarrassing mother, Ming, will be portrayed by "Grey's Anatomy" veteran Sandra Oh.
It's clear from all of this that authenticity is the name of Pixar's game. Writer/Director Domee Shi is of Chinese ancestry herself (via IMDb), something which has obvious influences in both "Turning Red" and her previous work in "Bao." As such, "Turning Red" seems rightfully dedicated to enlisting Asian talent to coincide with "Turning Red's" distinctly Asian aesthetic, characters, and premise.
What is the plot of Turning Red?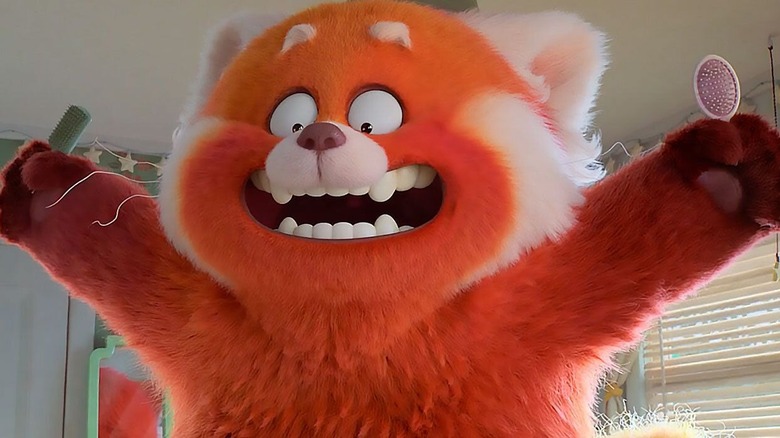 Disney/Pixar
It's fair to say that most kids would dive at the opportunity to have superpowers. In Mei Lee's case, however, her superpower seems more like a super problem. If she gets overworked, excited, or stressed in general, then there's very little she can do to prevent herself from suddenly poofing (complete with a big, pink cloud) into a giant red panda. As you might expect, it's the kind of power that only becomes a problem when it happens at inopportune times. Unfortunately for Mei Lee, almost every time is inopportune.
The situation is not helped by her doting mother, whose nosey antics never fail to get on Mei Lee's nerves. As soon as her mother causes a scene (and she will) Mei Lee can't help but transform. Luckily, it just takes a bit of relaxation for Mei Lee to become human again, if only that were so easy.
This premise makes for an interesting story exploring family, childhood embarrassment, and an exciting dose of the supernatural. More antics are sure to ensue as Mei and Ming iron out the rocky bits of their relationship and find some way to manage Mei's panda proclivities. If you're a fan of Pixar films, look out for "Turning Red" in March 2022.