Who Are The Brothers In Toyota's Super Bowl 2022 Commercial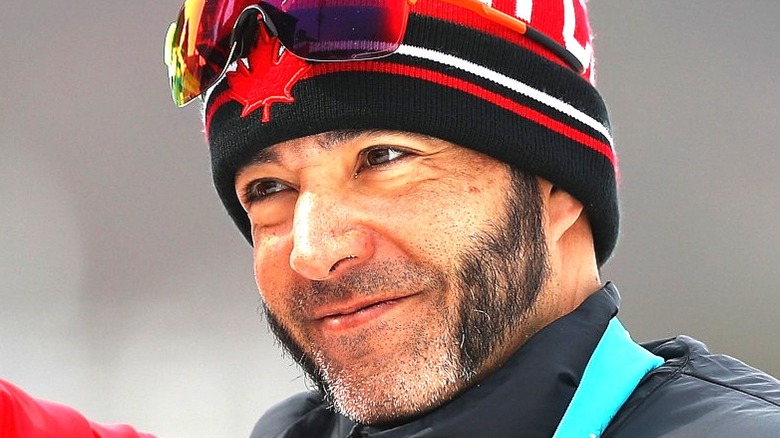 Naomi Baker/Getty
There's been no shortage of exciting new ads to check out this week as Super Bowl 2022 prepares to touch down (no pun intended) on Sunday, February 13. From TurboTax to Expedia to Oikos, every company is, as usual, taking advantage of the event's coveted commercial slots to promote their products or services. This includes Toyota, whose new ad for Super Bowl LVI compels consumers to "start (their) impossible" after depicting two brothers' atypical journey from childhood to a gold medal win in the Paralympic Winter Games.
The ad shows two young brothers navigating a variety of activities, including one teaching the other to ski, racing on bicycles, and watching a skiing event at the 1988 Winter Olympics in Calgary, Alberta, Canada. But their carefree existence comes to a halt when one of the brothers is diagnosed with Stargardt Macular Degeneration, an incurable genetic condition that causes an individual's eyesight to deteriorate rapidly, eventually causing a loss of vision (via Fighting Blindness).
The Toyota Super Bowl spot then shows the brothers as teens, working together through various tracks and obstacles as one guides the other through the woods and up a snowy mountainside. Eventually, we see the two brothers cross the finish line and take home the gold in the cross-country skiing event at the Paralympic Winter Games. After cutting to the duo celebrating a small victory as children, a caption introduces the stars of the commercial to the viewer.
Toyota brings attention to the McKeever brothers' incredible story
"After Brian lost his eyesight," the caption reads: "The McKeever brothers went on to win 10 Paralympic medals. Together." Though the ad manages to give a decent outline of the pro athletes' origin story, there's much more to it than we see in Toyota's touching Super Bowl spot. 
As USA Today reports, when Brian McKeever was diagnosed at 19, both he and his older brother, Robin McKeever, had promising Olympic careers. Though McKeever revealed to the outlet that his "knee-jerk reaction" was to assume his ski career would be over before it ever began, he soon discovered he'd underestimated his own adaptability. He began focusing on a Paralympic career and, despite achieving success on his own, received some advice early on that would change his approach to the sport — and his brother's. The outlet explains how, at one point, a team of Germans who defeated McKeever suggested he team up with a guide. After Robin's Olympic career hit a roadblock when he failed to qualify for the 2002 Winter Olympics in Salt Lake City, he took on the role of guiding his younger brother.
Although the pair had to cope with the various trials and tribulations that accompany working so closely with a sibling, they remain a team to this day. As Yahoo reports, Brian hopes his journey "inspires viewers to start their impossible" and says he's "learned firsthand that anything is possible with perseverance and the support of a brother."