What Is The Song In Lay's Super Bowl 2022 Commercial?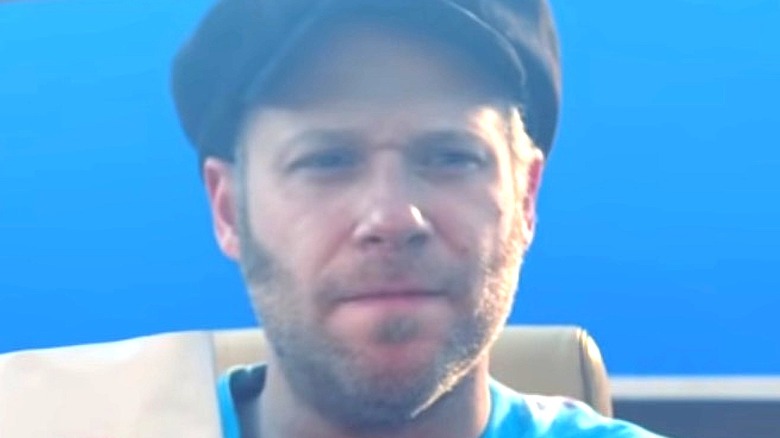 Lay's/YouTube
The annual tradition of major brands spending jaw-dropping sums of money on star-studded Super Bowl ads is once more upon us, and Lay's has secured two of Hollywood's most beloved stars to sell some potato chips. People's Sexiest Man Alive Paul Rudd appears alongside marijuana connoisseur Seth Rogen in the commercial, which features the longtime collaborators taking a literal trip down memory lane.
Rudd and Rogen have been working together since 2005, when they both took roles in comedies like "The 40-Year-Old Virgin" and "Knocked Up," and have starred alongside each other many times since then. The commercial takes the concept of their long friendship and runs with it. Rogen is getting married (to a malicious ghost, as it turns out) with Rudd as the officiating minister, and to stave off the pre-wedding nerves, the duo munches on chips and reminisces about their past in a series of flashbacks, which all prominently feature Lay's chips.
The versatility of chips in this commercial cannot be overstated. Apparently, you can escape a biker gang by karate kicking a bag of Lay's at your attackers, or use an empty chip bag for stress breathing during an airplane crash.
At one point, Rogen feeds chips to Rudd as they sing car karaoke to the tune of a hit song from the '90s. It's a catchy tune, and later, at the wedding party, they dance to it again. So, what's that song?
Seth Rogen and Paul Rudd get down to a Shania Twain hit to sell some potato chips
In the Lay's Super Bowl commercial, Seth Rogen and Paul Rudd think back on their decades-long friendship, including a brief moment of car karaoke during a road trip. The song they're singing, featuring the lyrics, "You're still the one I run to," is Shania Twain's 1998 country-pop crossover hit "You're Still the One." The song debuted in January of that year and became Twain's first to be a Top 10 hit in more than one country, making the cut in both the U.K. and U.S., while reaching No. 1 in Australia (via Songfacts).
Companies traditionally reserve their largest advertising budgets for Super Bowl spots and licensing a song like "You're Still the One" cannot have come cheap for Lay's. The song won two 1998 Grammy Awards for best female country vocal performance and best country song. It remains an earworm, and both Rudd and Rogen seem to be having the time of their lives belting it out.