The Iconic Friends Prop You Didn't Know Was A Complete Accident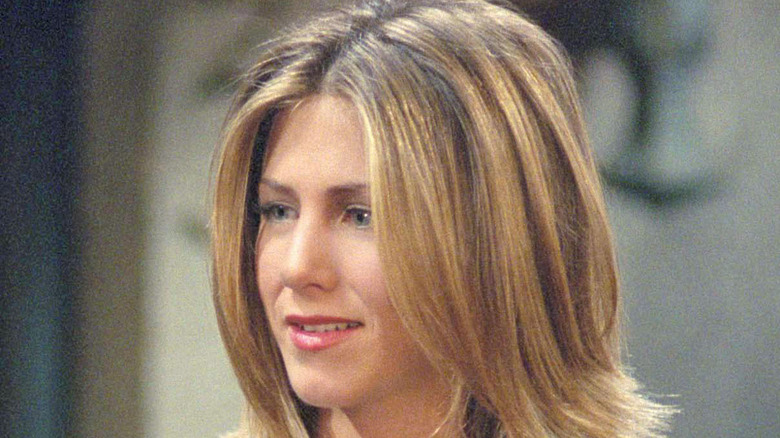 Getty Images/Getty Images
For 10 seasons, "Friends" followed six New York City besties as they hung out in their apartments and at the downstairs coffee shop hangout, Central Perk. And over the years, some of the décor featured at the gang's favorite haunts really stood out for fans. Who can forget the identical Apothecary tables that both Rachel (Jennifer Aniston) and Ross (David Schwimmer) bought from Pottery Barn, or the Etch A Sketch-style doodle board that hung on the back of Chandler (Matthew Perry) and Joey's (Matt LeBlanc) apartment door?
"Friends" set decorator Greg Grande told Entertainment Weekly that for the doodle prop, a crew member was "actually really good at doing that Etch A Sketch," so he'd whip up a drawing based on something that happened on the set that week. "It wasn't necessarily for any story point, but maybe something that had happened in rehearsal," Grande noted.
While the Etch a Sketch messages were intentional, "Friends" featured another door-related prop that came to be by total accident.
The yellow peephole frame on the back of Monica's apartment door was supposed to be something else
It would be impossible for any true "Friends" fan not to remember the bright yellow frame that hung around the peephole of Monica's (Courteney Cox) purple apartment door. But the piece wasn't originally purchased for that purpose. The yellow frame was actually a mirror that a crew member accidentally broke, so the set designer hung it on the back of the door instead.
Production designer John Shaffner revealed that before the yellow frame turned up, he and set designer Greg Grande discussed adding a row of hooks to the back of the Monica's door to make it look less bland. "A couple of days later, I came on set and Greg pulled me aside and said, 'John, what do you think of this?' He held up that little yellow picture frame and put it over the peephole, and I said, 'I think it's wonderful. Nail it on, and we'll see if they like it.' Everybody loved it," Shaffner told Refinery29. "It became a real touchstone for our show."
The accidental yellow frame is such an iconic part of 'Friends" history that In 2019, 10 "studio-edition reproductions" of the frame went up for bid at a Warner Bros. Prop Store auction, per Deadline. And nearly 30 years after the show wrapped, replicas can still be purchased anywhere from Walmart to Urban Outfitters – and it's all due to a set designer with a savvy eye. "It's everywhere, but Greg is the one who found that," Shaffner said. "I give him tremendous credit."