How Friends Ruined David Schwimmer's Acting Career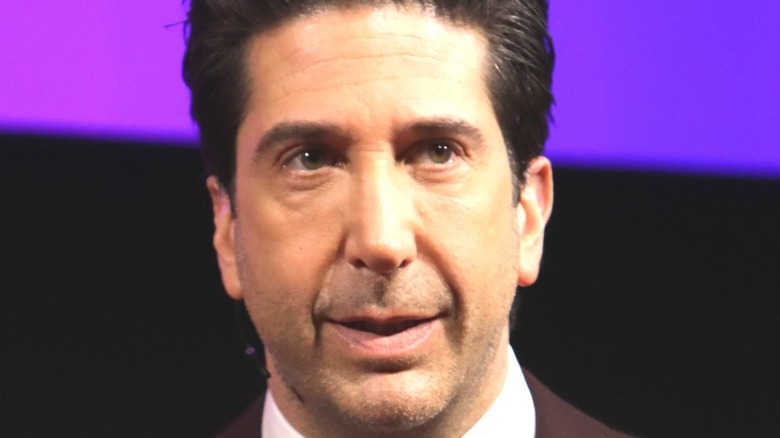 David M. Benett/Dave Benett/Getty Images for Sky
David Schwimmer is best known for playing Ross Geller on "Friends," but did his breakout role destroy his acting career? The actor played the quirky-yet-lovable paleontologist for 235 episodes on the Emmy-winning NBC sitcom, per IMDb, and his character's on-and-off romance with Rachel Greene (Jennifer Aniston) was a major storyline on the series. "Friends" originally aired from 1994 to 2004, and Ross became so ingrained in Schwimmer's persona that it was hard to imagine him playing anybody else.
Schwimmer sporadically acted after "Friends" wrapped in 2004, but he didn't log a recurring role on a television series until nearly a decade later when he turned up on the show "Web Therapy" for four episodes and "Will & Grace" for seven.  The actor's biggest attempt at shedding his "Ross" image was in 2016 when he played attorney Robert Kardashian in "American Crime Story: The People v. O.J. Simpson." To prep for that role, Schwimmer told Variety that he had a two-hour phone conversation with Kardashian's ex, Kris Jenner, to get his backstory. He ultimately purchased a leather Bible engraved with the late attorney's name on it so he could mimic his habit of daily scripture readings and better understand his close relationship with God.
Schwimmer's most recent acting credit is for his role as Jerry Bernstein in the British sitcom "Intelligence," but those "Friends" reruns are still airing syndication all over the world as a constant reminder of the character he will forever be associated with.
David Schwimmer said his Friends fame made him want to hide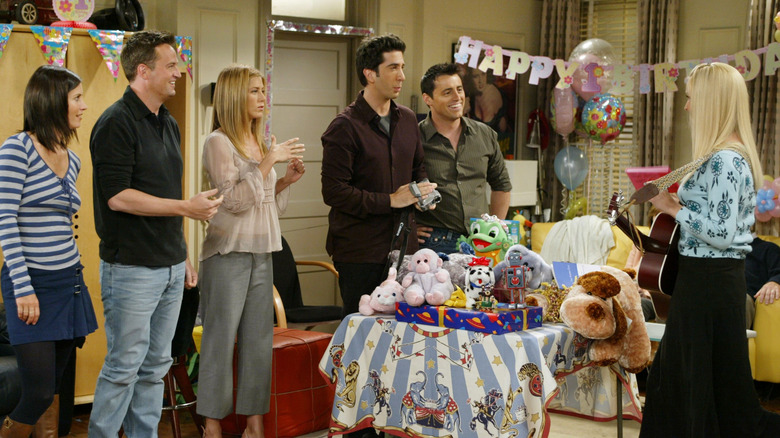 David Hume Kennerly/Getty Images
While he achieved massive fame –- and $1 million-per-episode paychecks –- on "Friends," David Schwimmer wanted to crawl in a hole during the height of his acting career. In an interview with The Hollywood Reporter, he explained that he was trained as an actor to "observe life and to observe other people" and that he used to walk around with his "head up, really engaged and watching people" as he perfected his craft. "The effect of celebrity was the absolute opposite: it made me want to hide under a baseball cap and not be seen," Schwimmer revealed. "I realized after a while that I was no longer watching people; I was trying to hide."
Schwimmer said his experience with the dark side of celebrity was "jarring," and that it took him "years" to feel comfortable because his notoriety "messed" with his relationships with other people. He also noted that playing the same role for 10 years made him feel typecast, and made others think they knew him like an actual "Friend." "In our show I'm the same guy for 10 years. You can rely on me to be a certain way, and you know me—or you think you know me," he explained.
Interestingly, Schwimmer had never planned to become an actor. He once told The Guardian he had always wanted to be a surgeon, and, like Ross, he was a "big science geek." After joining a summer program at Oxford University, Schwimmer discovered his love for acting and took that career path instead.