The Best TV Weddings Of All Time
When it comes to TV love, weddings act as the biggest milestone audiences are given for their favorite couples. Sometimes it takes seasons for couples to admit their love for one another, let alone make it down the aisle. That's what makes these events so memorable, they were well worth the wait. And while their special day should be a magical experience filled with love and happiness (cue the Al Green song), sometimes, the best and most memorable TV weddings are filled with drama. This list of weddings has a large supply of just that and more.
While these culminations of will-they-or-won't-they romances have taken over our screens time and time again, it's really only those lucky relationships that end up with the wedding bells ringing. Let's take a look at some of TV's best weddings of all time — including all the good, the dramatic, and the romantic TV moments.
FitzSimmons, 'Agents of S.H.I.E.L.D'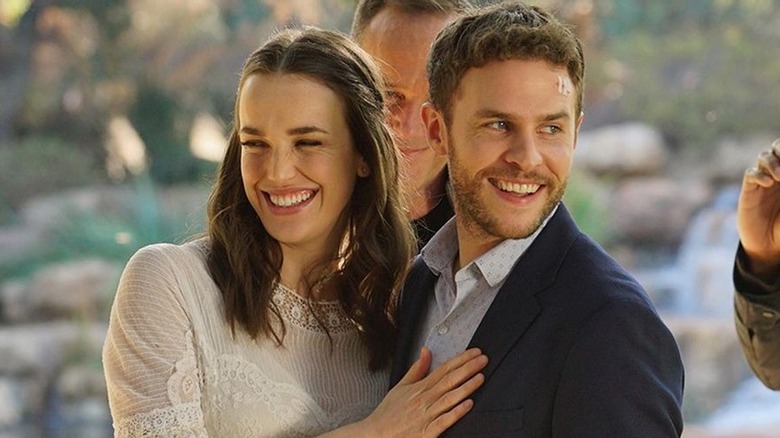 Walt Disney Television
A wedding is the perfect way to make an unforgettable 100th episode, and that's exactly what "Marvel's Agents of S.H.I.E.L.D" did. While audiences knew that Leopold Fitz (Iain De Caestecker) and Jemma Simmons (Elizabeth Henstridge) would end up together, their wedding was incredibly special for a big reason: It was the dying wish of team captain Agent Coulson (Clark Gregg). Fitz and Jemma, or FitzSimmons as most call them, have gone through a lot — aliens, time jumps, you name it.
The episode began with our cast of heroes battling their worst fears. Once they all escaped, FitzSimmons decided that they no longer wanted to wait, opting to get married ASAP. As one of Marvel's most underrated shows, "S.H.I.E.L.D" was able to give us realistic characters in a world of lies, spies, and everything in between. The relationship between FitzSimmons was five years in the making, so their wedding had to be special. According to Fandom, showrunners Jed Whedon and Maurissa Tancharoen took inspiration from their own vows and included them in the episode, making this wedding incredibly emotional for the cast and audience alike. However, the episode left a slight cliffhanger, revealing that their new friend Deke (Jeff Ward) from an alternate future was actually related to FitzSimmons — most likely being their grandson!
Nathan and Haley, 'One Tree Hill'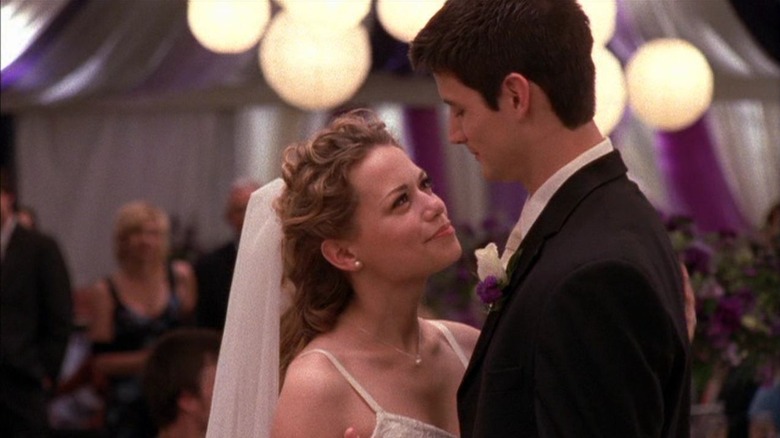 Warner Bros. Television Distribution
The main romance in "One Tree Hill" may have been the love triangle between Payton (Hilarie Burton), Lucas (Chad Michael Murray), and Brooke (Sophia Bush) — but let's be honest here, the best relationship on the show was between Nathan and Haley. "Always and forever" will always and forever be in our memories when looking back at "One Tree Hill." Portrayed by James Lafferty and Bethany Joy Lenz, Nathan and Haley actually had two weddings throughout the show because their love needed to be celebrated twice.
Initially, Nathan and Haley quietly married at a waterfront beach when they were just 16 years old, with only her parents as witnesses. After their first year of marriage, the couple experienced a rocky path, and Haley was determined to get them back on track. Fans were delighted to see the two reconcile, with Nathan deciding that they should renew their vows and have another wedding. He wanted to give Haley everything they didn't have the first time around. "Naley's" second wedding took place during Season 3's finale episode, and while the day was a perfect affair, a car crash after the wedding left everything up in the air. This wouldn't be a TV wedding without a little drama now would it?
Uncle Jessie and Becky, 'Full House'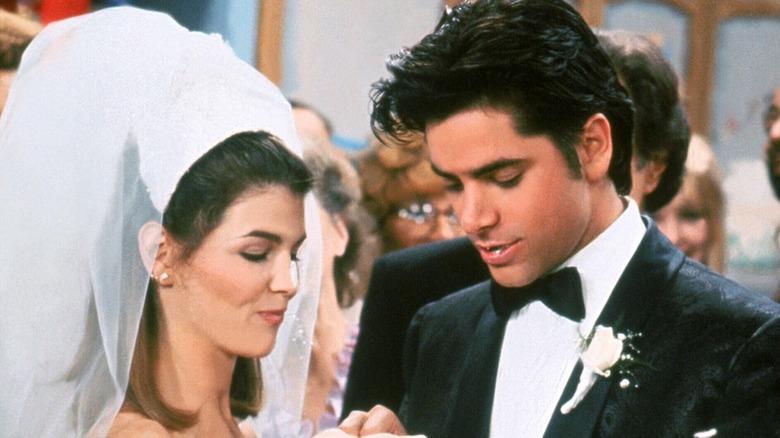 Warner Bros. Television Distribution
"Full House" and "Fuller House" may be gone, but their legacies lives on in our hearts forever. One of the main reasons: Uncle Jesse (John Stamos) and Becky's (Lori Loughlin) relationship and wedding. Naturally, the day itself started out as a complete disaster. Right off the bat, Jesse and Becky's father get off on the wrong foot, causing the bride much turmoil. Things continued to go downhill when Jesse decided that he wanted to experience one last adventure before getting married. The adventure he picked: skydiving, the night before the big day. Unfortunately, he end up trapped in a tree when the wedding's about to begin. 
While he does eventually get rescued by a truck driver, Jesse ends up being arrested in put in jail by the local sheriff, having to call Becky to come and bail him out. Eventually, the two make their way back to the church and get married. While it was a mess to get there, the day was made complete when Jesse serenaded Becky (and audiences) with a cover of "Forever" by the Beach Boys. 
When most of the cast was brought back for "Fuller House," Lori Loughlin was absent for the show's final episodes due to her involvement in the college admission scandal from 2019. Luckily, her absence didn't affect the relationship between Uncle Jesse and Becky, as her character was described as being in Alaska, helping her mother.
Jake and Amy, 'Brooklyn 99'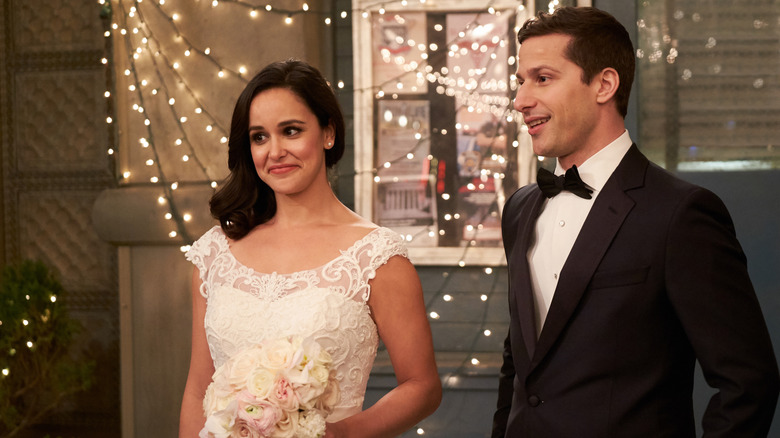 NBCUniversal Television Distribution
Jake and Amy – one of the sweetest and least problematic couples to have come out of TV land. They two tied the knot in the Season 5 finale, and it was pretty noice for viewers to experience. The day of their wedding was anything but perfect, with Amy's ex calling in a bomb threat to their venue, but the 99 were able to pull everything together to give the couple their special day. It was especially nice to see Captain Holt (Andre Braugher), a father figure to both Jake and Amy, step in as the officiant for the couple. 
Andy Samberg of "Saturday Night Live" fame portrayed Jake Peralta, with Melissa Fumero as his on-screen wife Amy Santiago. Although their wedding day was a chaotic as it comes, Jake and Amy's relationship was anything but. While they had a competitive nature, they deeply respected one another, so it was the perfect payoff for audiences to see them go from friends to married with a family. At the end of the series, Jake decides to quit his job to stay home and take care of their son, while Amy starts a new job heading the police reform effort with Holt. He tells her that being a detective was all he wanted until now. Adorable. 
Chandler and Monica, 'Friends'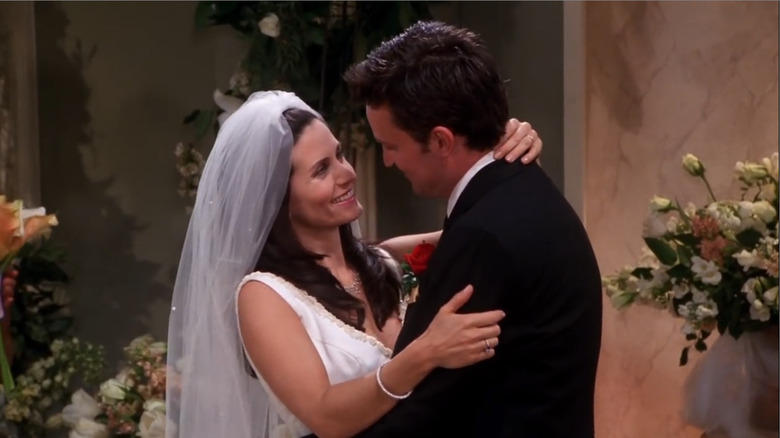 Warner Bros. Television Distribution
"Friends" was a classic, so much so that the gang came back together for one last hoorah 17 years after the series ended. The HBO "Friends: The Reunion" special brought the cast together again to spill some tea! For example, it was revealed that Monica and Chandler's relationship was cemented due to the audience's positive reaction to the two hooking up in London. Initially, their London adventure was supposed to be a one off, but the chemistry between the actors, Courtney Cox and Matthew Perry, was too good an opportunity to pass.
It's because of this that makes the wedding between Monica Geller and Chandler Bing stand out above all others that were featured on this show. "Friends" may have had many great love stories, but it's the Bings' chemistry that stole our hearts. The night before the wedding, Chandler gets cold feet and decides that he can't go through with it. He's worried that a wedding will be the downfall of their relationship, just as it was for his parents. However, once he realized that the love he has for Monica is stronger than his doubts, the two deliver incredibly moving vows that set everyone's minds at ease. These two were in it for the long haul. Like most weddings on this list, everything had to go wrong for something beautiful to go right.
Lois and Clark, 'Smallville'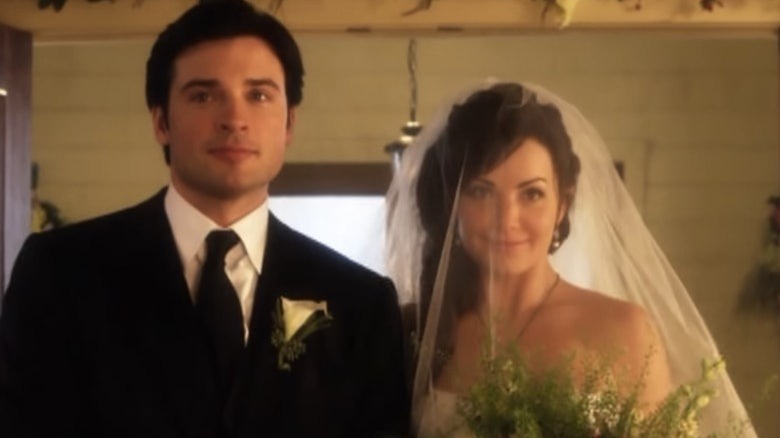 Warner Bros. Domestic Television Distribution
"Smallville" was a show about Clark Kent before he became Superman. The series outlined Clark's life in the small town of Smallville and how he managed his superhuman powers with his friends and family while juggling his romantic relationships. And while the first few seasons focused heavily on Clark's relationship with Lana Lang (Kristin Kreuk), audiences knew that when Lois was introduced, her relationship with Clark was fate.
Portrayed by Erica Durance and Tom Welling, Lois and Clark's wedding was a long time coming. While the official ceremony was interrupted by a possessed Oliver Queen, fans were able to hear the wedding vows — and see Clark's father, Jonathan Kent (John Schneider) return to the series one last time. Their wedding marked the 200th episode for "Smallville" and was part two of the show's series finale, and it went out with a bang when by finally bringing comic book royalty together. Naturally, this wouldn't be "Smallville" without an end of the world crisis for Clark to face right when he's about to get married. But he's Superman, of course he saves the day and gets the girl. 
Amy and Rory, 'Doctor Who'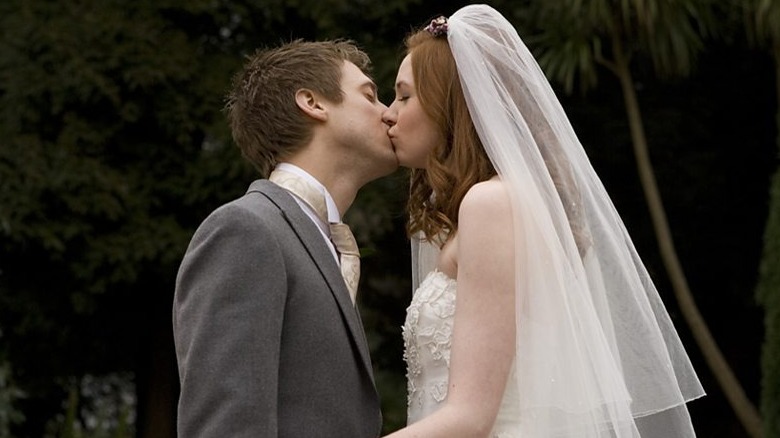 BBC Studios
"Doctor Who" is a British sci-fi show that has been on the air since 1963. The show outlines the adventures of The Doctor, an alien time lord that's reincarnated into different people as the series goes on. Each Doctor famously has a companion that joins him on his adventures, with the Eleventh Doctor's (Matt Smith) companion being Amy (Karen Gillan). In the Season 5 finale, The Doctor attends Amy's wedding to her childhood friend Rory (Arthur Darvill). While Rory always had feelings for Amy, she was blissfully unaware for the majority of their friendship. 
Due to the nature of the show, Amy and Rory's wedding had various timelines, memory wipes, and entanglements with The Doctor. The episode sees The Doctor trying to save the universe as it was accidentally destroyed. He finds a way to create a second Big Bang, to bring everything back to normal. Unfortunately, he must stay outside the universe for this to happen. On Amy and Rory's wedding day, neither have any memory of The Doctor until Amy is given a diary by River Song, her daughter — who also happens to be a time traveler. Reading this helps bring her memories back, and she stops her wedding to invite The Doctor back. This allows him to return to our universe once more. Talk about a dramatic wedding day!
Cam and Mitchell, 'Modern Family'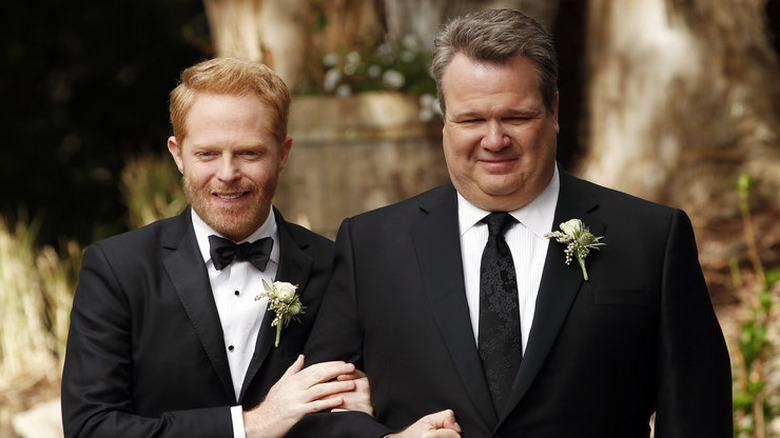 20th Television
This wedding was a long time coming, as Mitch and Cam were already an established couple at the beginning of the show. They're loving partners, homeowners, and parents before they ever tied the knot. However, the Season 5 finale saw their chaotic wedding have a beautiful conclusion with the two finally saying their I do's. 
Unfortunately for the couple, their wedding day started out with one disaster after another. First, a wildfire engulfs their venue. Then, their wedding officiant has to be replaced where they lose their backup venue. Through all the chaos, Mitch and his father Jay Pritchett (Ed O'Neill) butt heads when Mitch feels that his behavior towards their wedding is anything but positive. Luckily, Jay comes to the rescue with one final venue option at his golf club. Mitch and Cam have the wedding of their dreams, while Mitch and Jay finally come to understanding.
Jim and Pam, 'The Office'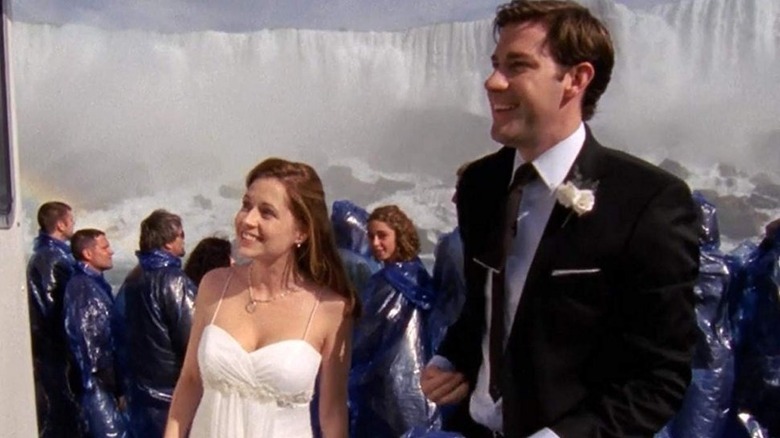 NBCUniversal Television Distribution
These two made us believe in true love. It was clear as day that Jim and Pam would be the endgame, and once they finally confessed their love for one and another, "The Office" fans just knew that a wedding was in their future. And while the day might have started out in complete disarray, it truly ended up being one of the most heartfelt moments in the entire show.
What made their wedding so special was Jim and Pam's decision to do things their own way. Pam expressed her dismay over having their families' negative opinions and co-workers' shenanigans ruin their perfect day. So they decide to run off and get married without them, aboard the Maid of the Mist ferry boat. Jim later revealed that he had already prepared a ferry boat marriage in advance, knowing that Pam would want to escape the wedding drama. 
Ben and Leslie, "Perks and Recreation"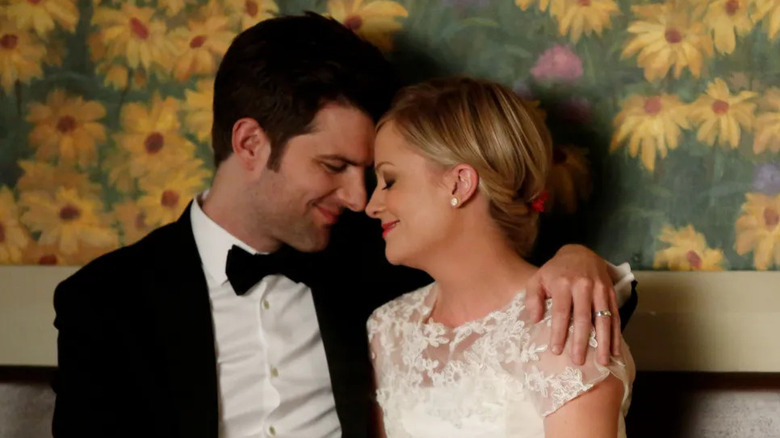 NBCUniversal Television Distribution
"Parks and Recreation" was a workplace sitcom that grew to be one of the most beloved on television. The series follows a group of people working for the Pawnee Parks and Recreation Department, with Leslie Knope serving as the Deputy Director. While Leslie has various relationships throughout the show, it was the slow burn between her and Ben that made them the show's cutest couple.
Ben and Leslie's relationship started out a bit rough, with neither seeing eye-to-eye. However, the two soon blossomed into one of television's most admirable couples, as Adam Scott and Amy Poehler showcased how a relationship can develop out of two supportive partners. Ben and Leslie's wedding day was a spur of the moment affair, when, out of the blue, the couple decided not to wait. They choose to get married at a gala, as everyone who was important to them was already gathered and dressed to impress. Naturally, arranging a wedding last minute didn't run too smoothly, but the end result had Leslie say the cutest line to Ben, "I love you and I like you." Same, Leslie, same. 
The Red Wedding, "Game of Thrones"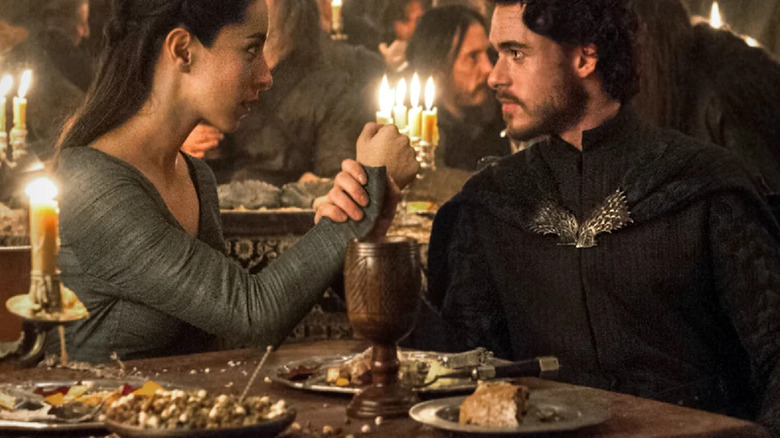 Warner Bros. Television Distribution
While this wedding isn't necessarily a happy one, it was one of the biggest TV weddings of all time. Due to the shock value alone, the Red Wedding deserves as spot on this list as it was one of the most memorable moments in "Game of Thrones" — and in TV history. After the death of Ned Stark at the end of the first season, audiences knew that no character was safe. However, The Red Wedding was a tense-filled moment in "GoT" that left audiences stunned as no one (except, perhaps, those who read George R.R. Martin's novels) was ready for this bloody event that saw the death of not one, but two of the main Stark characters. 
When Robb Stark (Richard Madden) asked Talisa (Oona Chaplin) to marry him, he broke a promise he made to Walder Frey (David Bradley). In a political move to alley House Stark with House Frey against the Lannisters, Robb was meant to marry Frey's daughter. To appease House Frey, Robb's uncle, Edmure Tully (Tobias Menzies) married Frey's daughter instead. Once the ceremony was complete, Frey enacts the greatest betrayal by murdering Robb, his pregnant wife, his mother, and all of his men during the reception. Unfortunately, this wedding met a bloody end rather than a happy one. 
Beth and Randall, 'This Is Us'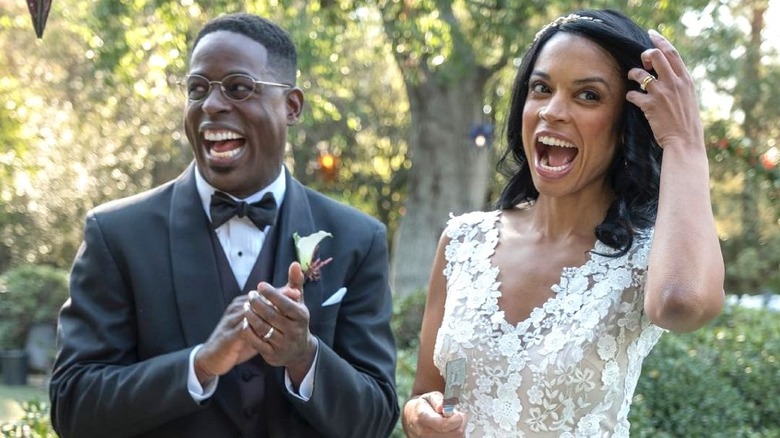 NBC
The hit series "This Is Us" has given audiences many weddings throughout its run, however, Beth (Susan Kelechi Watson) and Randall's (Sterling k. Brown) is the standout. Season 3 Episode 17 featured not just their wedding, but their entire love story from beginning to end, making their final walk down the aisle even more special. 
The episode, titled "R & B," took audiences on a unique journey of Randall and Beth's relationship by tracing the couple's lives through their arguments. This gives the show one of its most romantic moments to date, as — a mere five minutes before the start of the wedding — neither character was able to write their vows. Beth suggested that they write them together, as they work better working together than separate. Audiences are given a look into this special moment of the two reciting their vows from the heart, with Randall saying "I want to be the man that you deserve," and Beth responding with, "You are the only thing I am ever going to need." This couple went above and beyond, and you can see how deeply they love and rely on each other in their vows. Cue the tears.
David and Patrick, 'Schitt's Creek'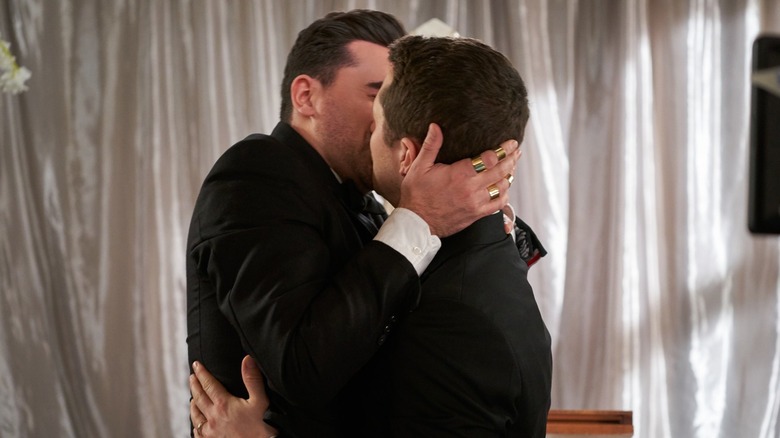 Lionsgate Television
Everything about David (Dan Levy) and Patrick's (Noah Reid) love story was perfect. From Patrick serenading David with a love song to David's rambling voicemail on Patrick's phone, they were couple goals. Naturally, when it came to their wedding, the day was filled with dramatic moments, including their venue being rained out and their officiant cancelling on them the night before. Luckily, the town of Schitt's Creek pulled together to make a special day for the two. Their venue was moved to Town Hall, and Moria (Catherine O'Hara) officiated in an outfit that only she could have pulled off. 
Tissues were at the ready as audiences got to watch David Rose and Patrick Brewer say their I Do's while simultaneously say goodbye to the town, with the show checking out for its final season. The couple's heartfelt vows outlined how perfectly matched they were for each other, with David's in particular seeing him open up to his partner in a way audiences had yet to experience. Our little rose was in bloom!
Cory and Topanga, 'Boy Meets World'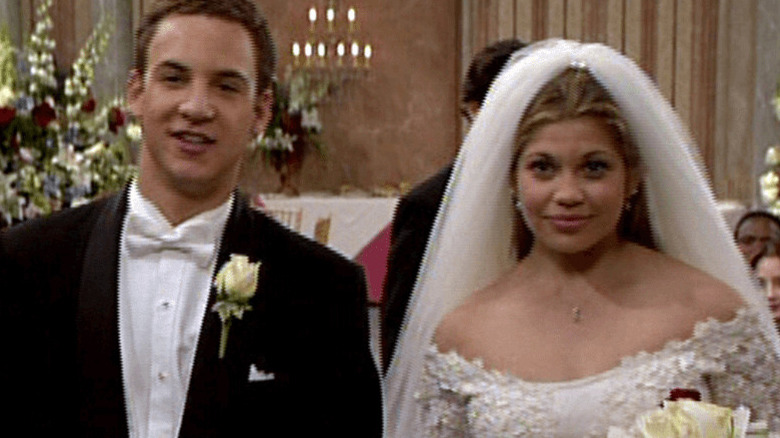 Buena Vista Television
If you grew up in the 90s, then you know that Cory and Topanga's love is something of a legend. Their wedding was one for the ages, and a well-deserved treat for fans of the show "Boy Meets World." And luckily, the same can be said about the friendship between actors Ben Savage and Danielle Fishel who were each other's first TV kiss!
While other weddings on the list had to deal with everything imaginable, Cory and Topanga simply had to come to terms with growing up. While they had been together their entire lives, their wedding marked a change for them and those around them. This was especially the case with Cory's best friend Shawn (Rider Strong), who felt that Cory was leaving him behind. Luckily, he accepts that Topanga is now Cory's best friend, and he's happy for the changes that adulthood brings. The wedding episode was titled "It's About Time," which was appropriate because Cory and Topanga were destined to be together. Watching their wedding was, truly, about time.